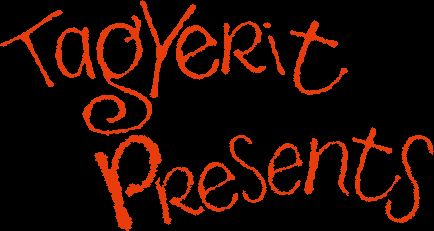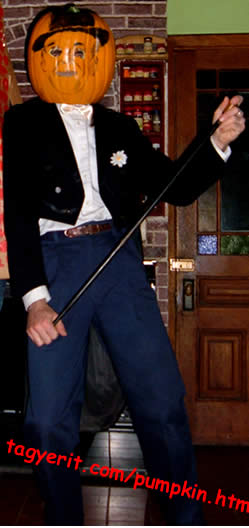 Pumpkins carved from 2019 and Beyond
The pumpkins you find on these pages were either done by Rich & Flo Newman (aka TagYerit) or sent in by friends & contributors. We've been carving for many years, so give yourself plenty of time to explore the vast range of wonderful creations assembled here!
---
2019
Scary Storybook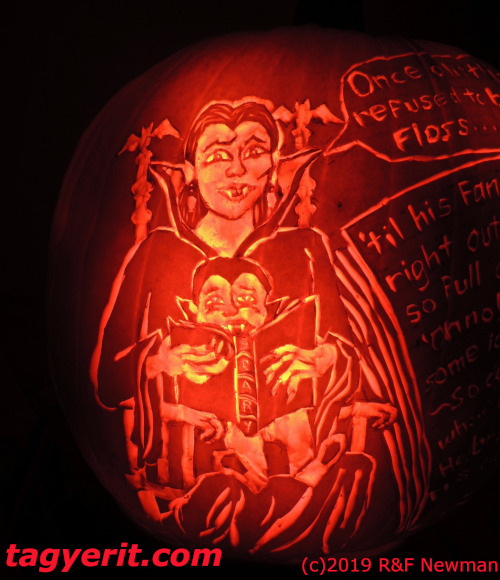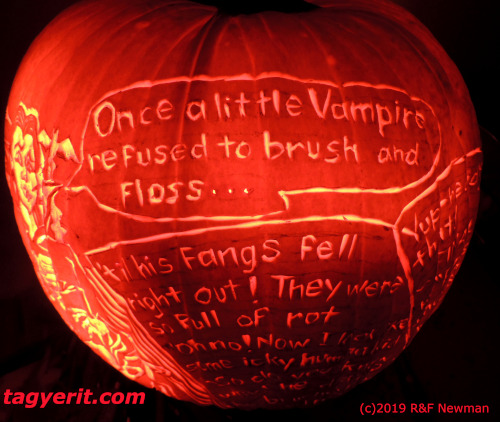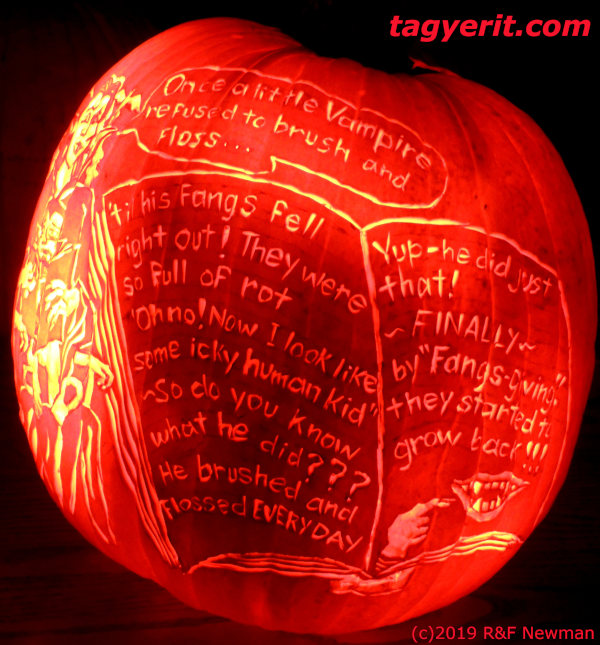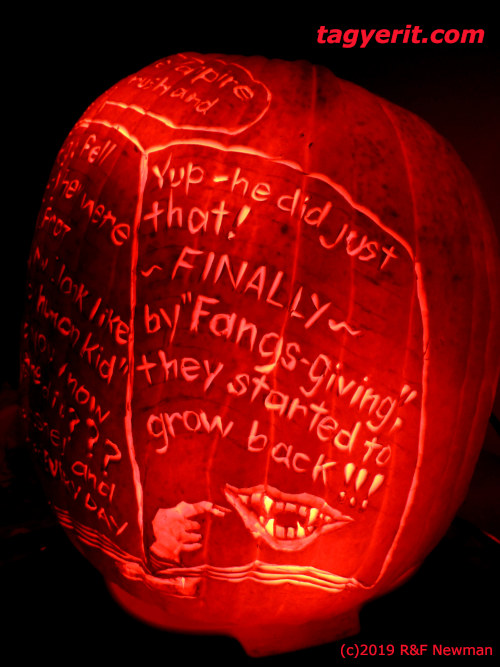 This very large pumpkin called "Scary Story" was carved for the "Highland Dental Group" in Salem, Ma. .....This Mommy Vampire is reading to her child in a rocker that is complete with bat finials and claw-shaped arms. Mom even has coffin-shaped earrings and the boy's footie-pajamas have coffin-type non-slip treads. ......When dentist Dr. Cassandra Richard asked us to carve this----somehow the story of 'lost fangs' occurred to me. It's the most lettering I've ever carved on a pumpkin and you have to walk partway around the pumpkin to read the whole 'book'.
---
There Be Ghosts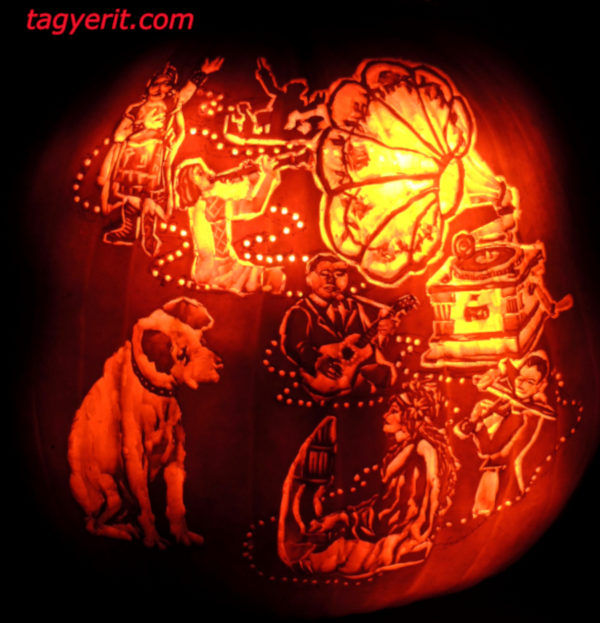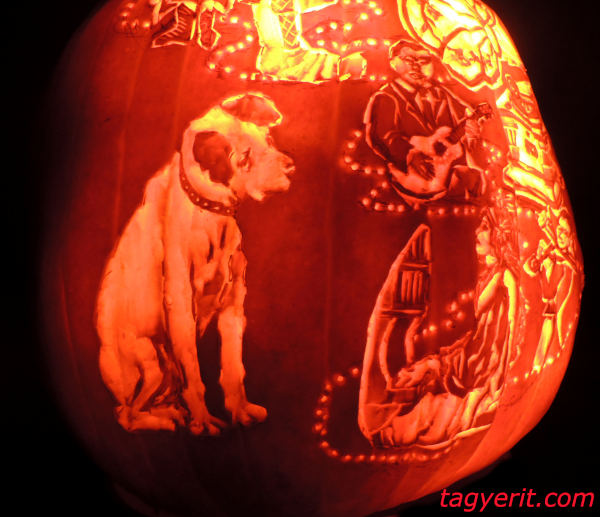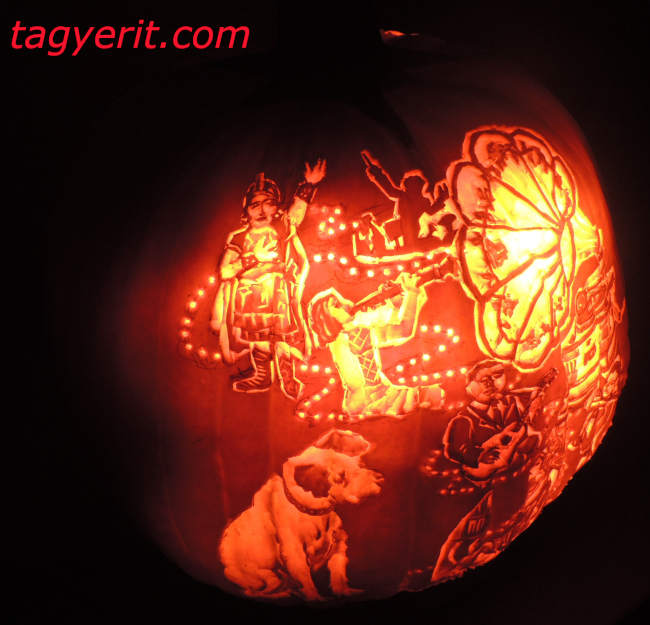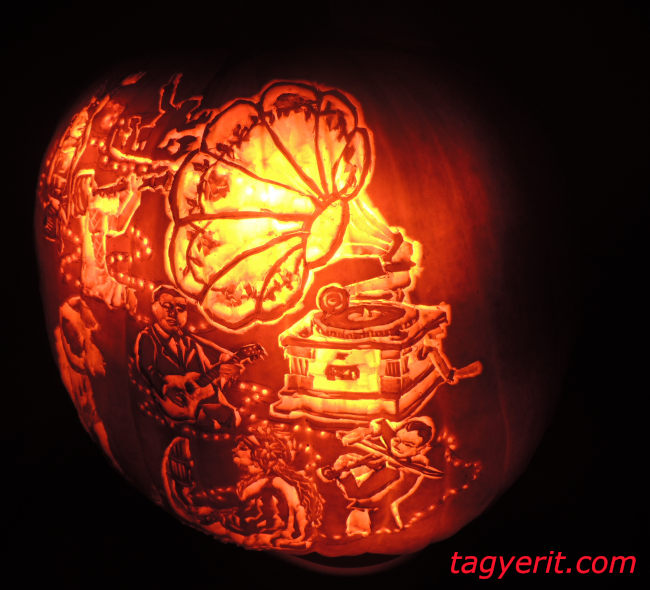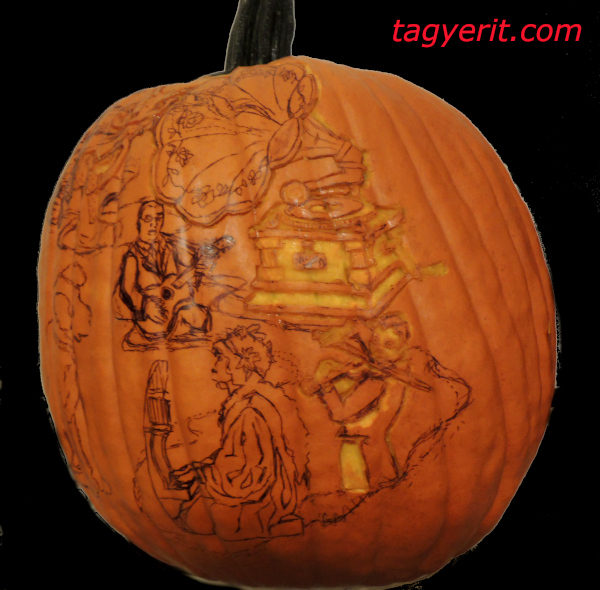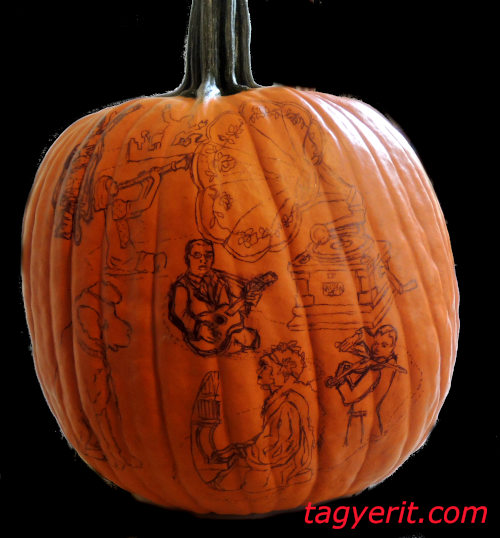 "Whoa! There be ghosts in that machine" says a descendent of Nipper'. The 'morning glory ' horn of this Victrola is sending forth some ghostly musical spirits. Some of these images are adapted from 1915-1930's "the Etude "music magazine....the two 'known' figures are Enrico Caruso in full opera costume and blues guitarist 'Blind Lemon Jefferson'. I made an 'attempt' at micro-carving the victrola logo-label....and , yes, Nipper the dog really did exist and actually did tilt his head towards the music. this pumpkin is in celebration of Alison's birthday cause she loves retro stuff and also loves to sing herself!
---
Saint Hubert Revisited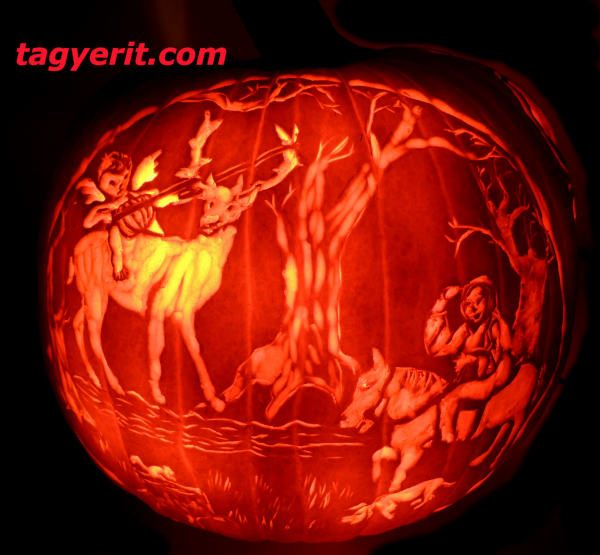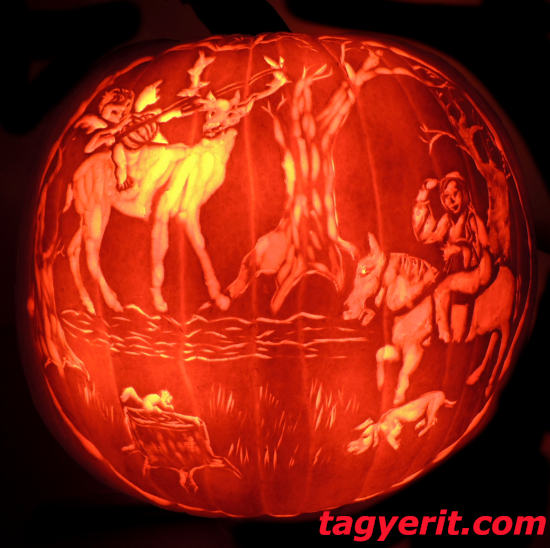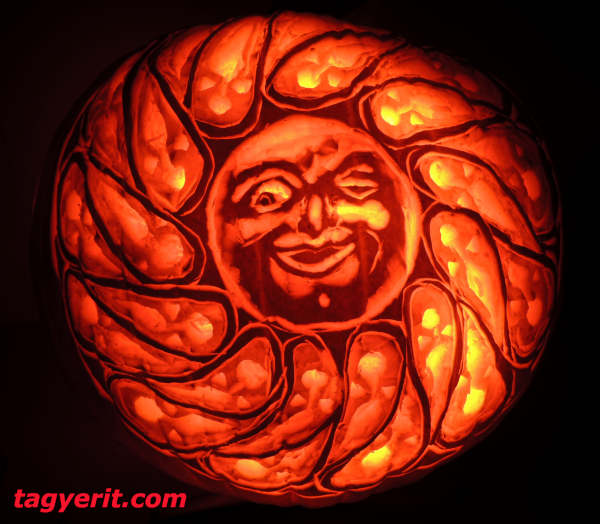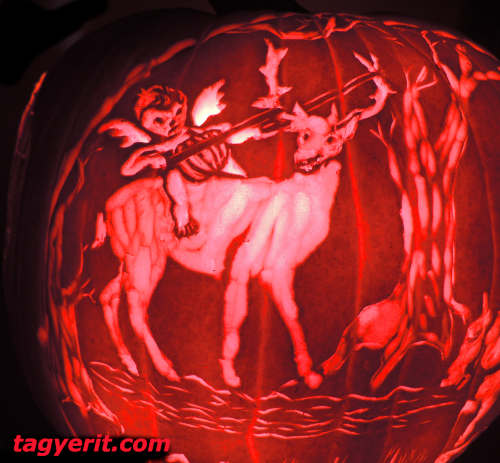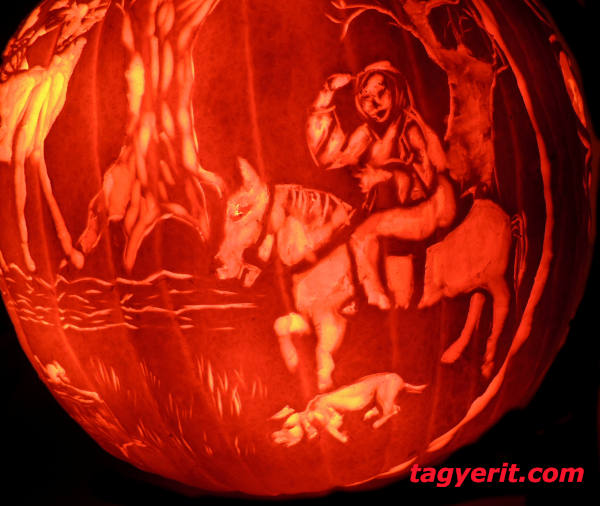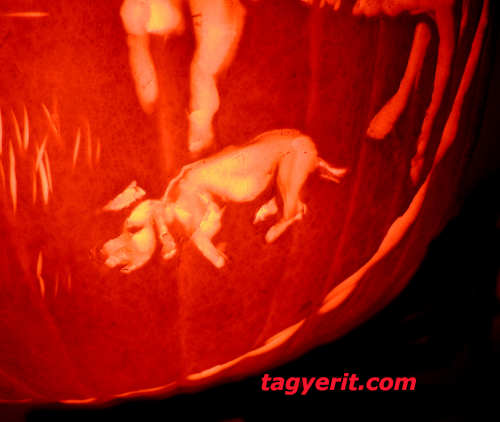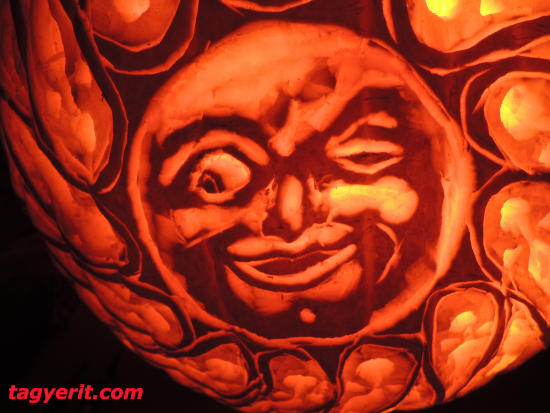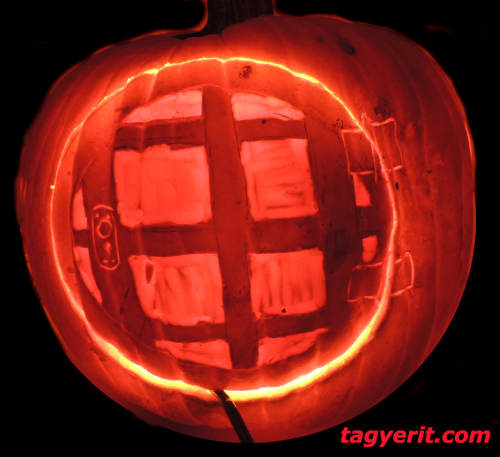 The pumpkin carving depicts the outside and inside of a prayer bead. However I made some modifications. I added the winking moon on the outside. And on the inside, I substituted Saint Hubert's vision from my own whimsical view. Saint Hubert was a courtier who loved hunting and avoided the church. On a Good Friday while off on the hunt he saw a stag with a crucifix between its antlers. Not surprisingly, he became a devout Catholic. In my version, borrowing from a story in the Struwwelpeter, the stag prepares to fight back with the aid of a cherub and pumpkin.
Incredibly intricate boxwood prayer beads were made in Northern Europe in the 16th century. They are small enough to fit in the palm of the hand.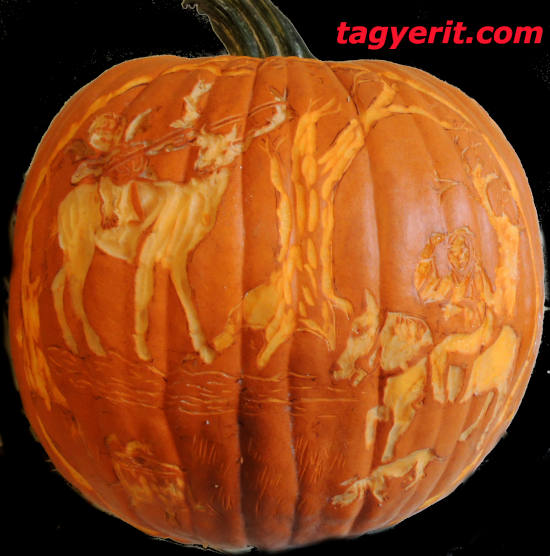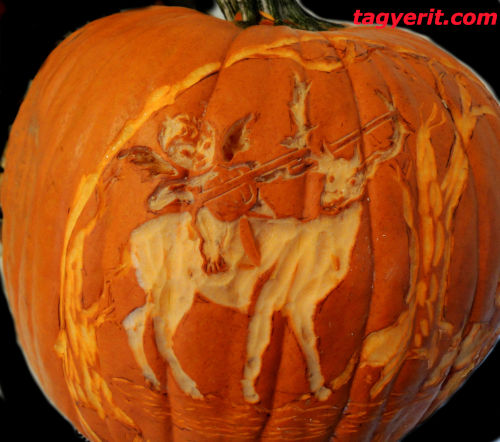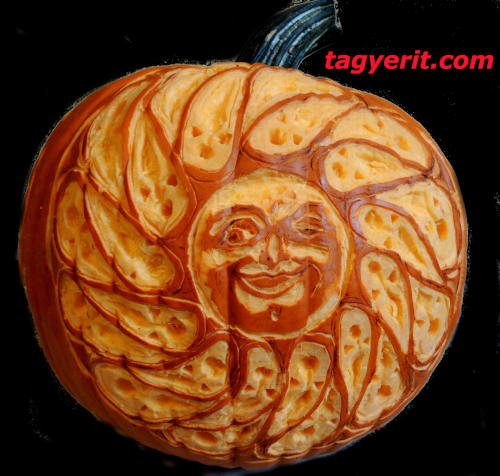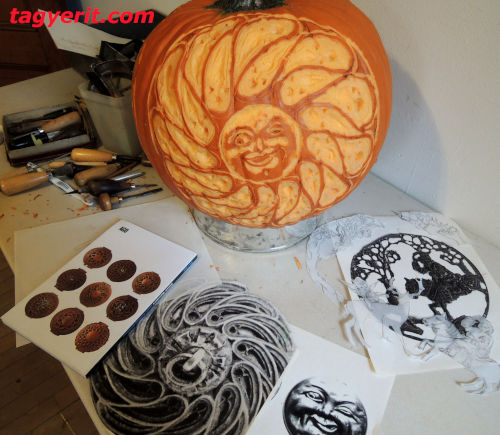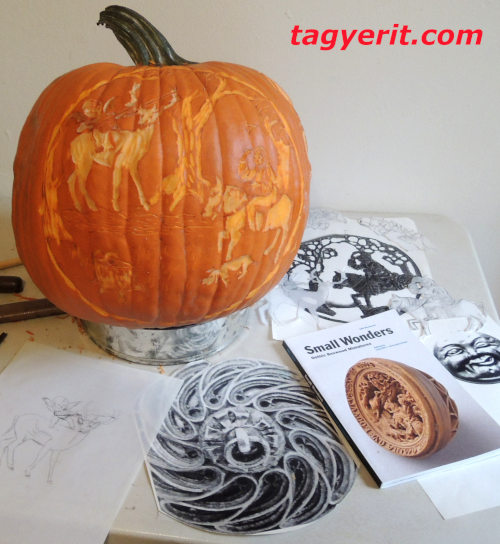 ---
For the Kids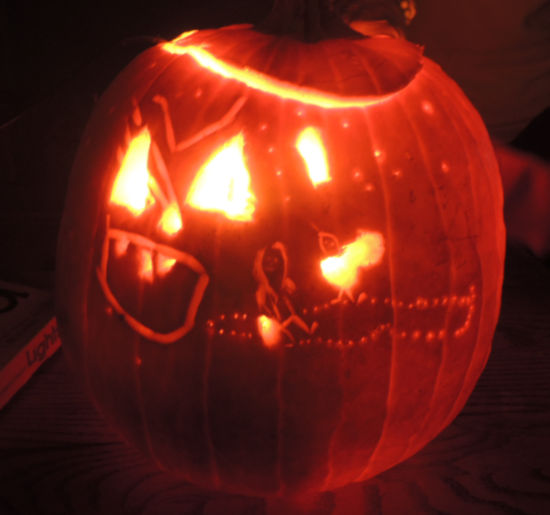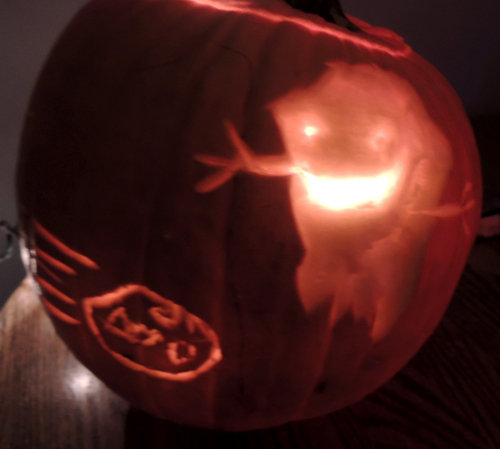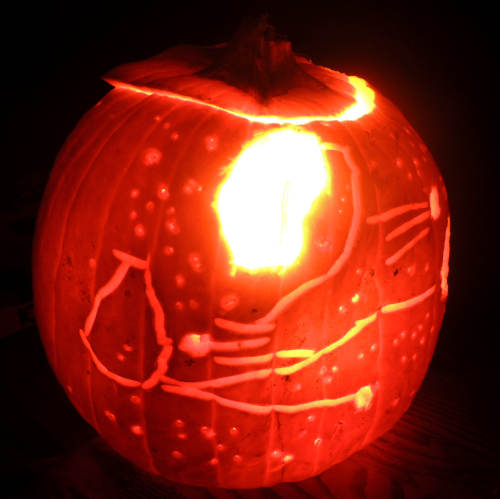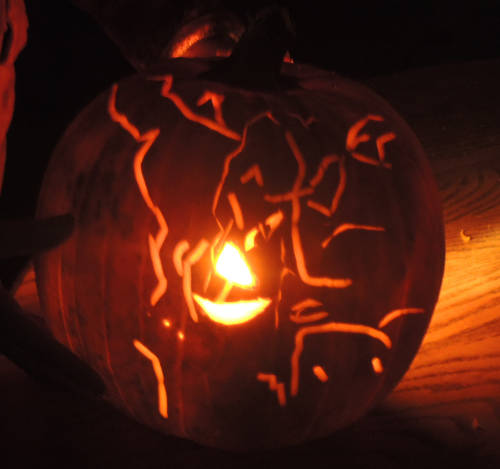 Here are some pumpkins that 2 to 7 year olds drew and then we carved their lines. They helped carve with some of the tools.
Two Trick-or-treaters with glowing treat bags approach a haunted house . The house is disguised as a giant Jack-O-Lantern.
The 5 year old did the Ghost and Meteorite design. While the 4 year old had a multitude of meteorites heading towards earth. The 2 year old told us she was drawing a witch and we just followed her lines.
---
Keep going, there's so much to see!

Don't stop now ... visit the following pages for more great pumpkins!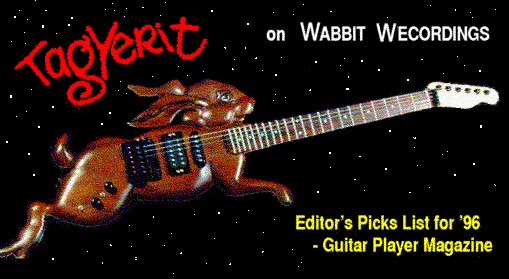 Click the Guitar to hear TagYerit's music.
Click here to fully explore the tagyerit.com pages
---
TagYerit Tails
Subscribe to TagYerit Tails TagYerit Tails is the newsletter for TagYerit (The Website) and TagYerit (The Band). This newsletter is our way to tell you when something new or exciting is happening. In other words expect it no less than twice a year and no more than once a month. Click here to sign up now.
---
Contact us
Whether you'd like to say hi; make a request or a suggestion; discuss the use of any of these images; swap links; we'd love to hear from you!
Do you carve pumpkins?

Occasionally we get requests for skilled carvers for festivals or special projects. Contact us if you're interested, and we'll do our best to facilitate.
We're always interested in posting examples from carvers of all skill levels. Contact us if you'd like to have your pumpkins up on our galleries.
Just so you know: We never disseminate email information. We are ever mindful of the privacy needs of our friends.

All text and images ©1998 - 2020 Rich & Flo Newman
(Any images credited to others remain their property and appear here by permission.)