Click here to hear TagYerit's song SciFi (first half) in RealAudio while you enjoy some of our carvings.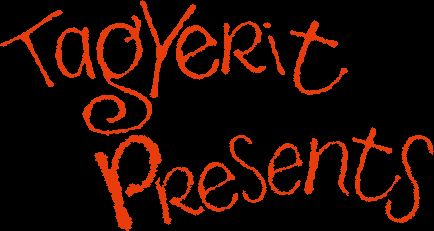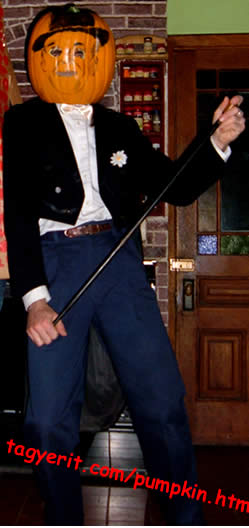 Pumpkins carved from 2010
The pumpkins you find on these pages were either done by Rich & Flo Newman (aka TagYerit) or sent in by friends & contributors. There are easily more than 10 pages by now, so give yourself plenty of time to explore the vast range of wonderful creations assembled here!
---
Chinese Wedding Pumpkin - Shenyang Phoenix Dragon
We were asked to create a pumpkin centerpiece for friends who had met while teaching English in Shenyang China. As you can see, we went all out. Flo's only regret was there wasn't time to include the Great Wall as well.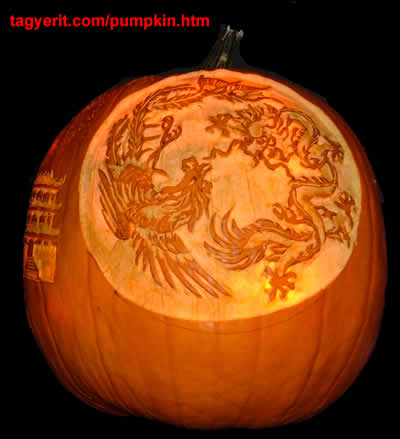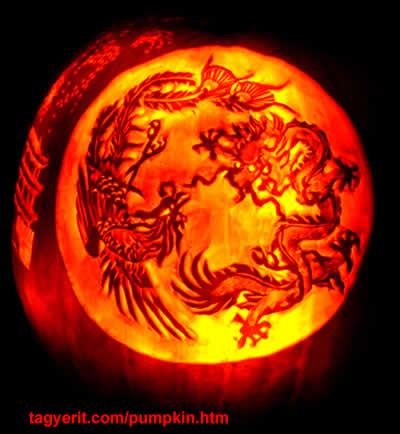 The Phoenix (Fenghuang) and the Dragon in Chinese tradition are each symbols of good luck. Together they represent balance and harmony in marriage. - a balance between the Yin and Yang. The Dragon represents the male (Yang) and the Phoenix represents the female (Yin).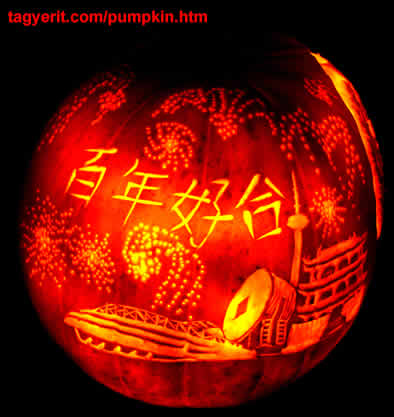 The 4 Chinese characters are for the traditional saying
"100 - years - good - marriage forever"
Landmark buildings in modern day Shenyang (left to right):
Shenyang Olympic Sports Center Stadium
The Fangyuan Mansion Coin Office building - made to look like an old coin
The Liaoning Radio and TV Tower
The Imperial Palace - Qing Dynasty built 1625 (Mukden Palace / Shenyang Gugong)

Finally Chinese Fireworks fill the sky on this joyous occasion.
Click to see this pumpkin in various perspectives on youtube
with TagYerit's song "Adam & Eve"
---
SciFi Pumpkin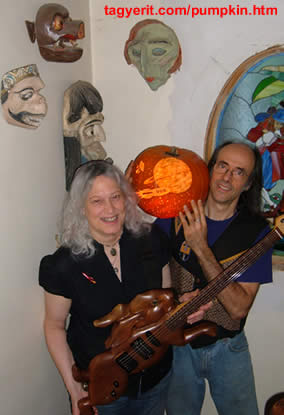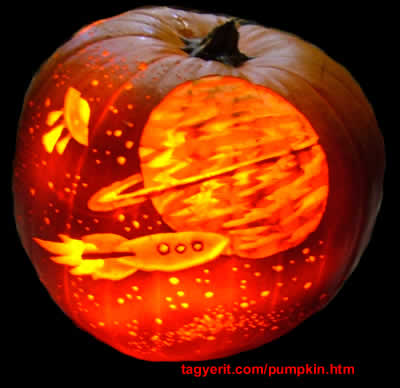 We needed a TagYerit band promo pic for a press release for our Halloween song "Trick or Treat Trials". Flo decided to carve this Sci Fi pumpkin for the shot.
---
Kaleidoscopic Dance Pumpkin
This pumpkin was inspired by the movie choreography by Busby Berkeley; Flo Ziegfield's Follies, as well as the June Taylor Dancers on the Jackie Gleason Show. We carved this for our niece who loves Dance. We also wanted to create a design that uses the shape and lines of the pumpkin itself. Six different levels or depths of carving were used to capture the various shades of light and color.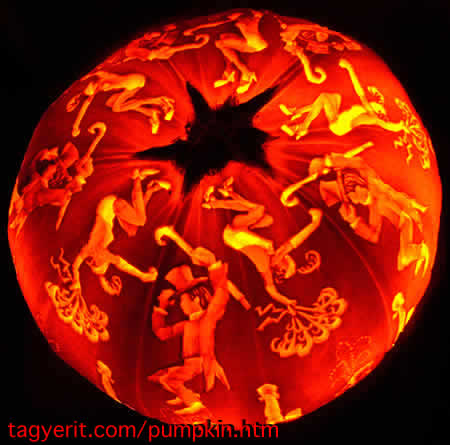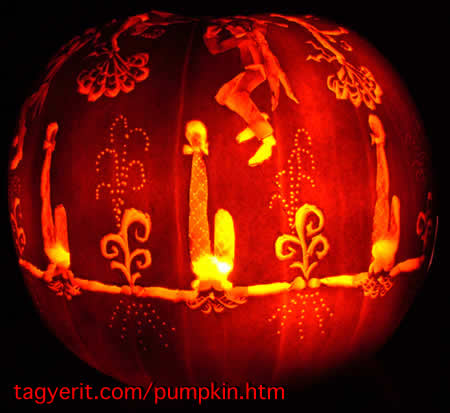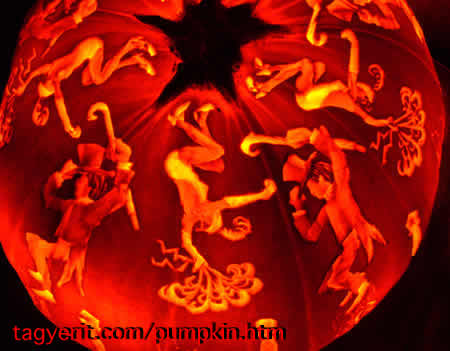 Haven't thought of the right title for it ... some contenders are "So you think you can carve", "America's Best Dance Pumpkin (crew)", "Gotta Dance Kin" ...
---
Tai Chi Pumpkin
Our Tai Chi center was celebrating its 11th anniversary and Flo & Rich carved this pumpkin with 2 images for the party. The lotus is the logo for our school The International Center for Harmony (classes in Springfield, MA). On their web page you can also see Shifu (the master) in the "dan bian" position.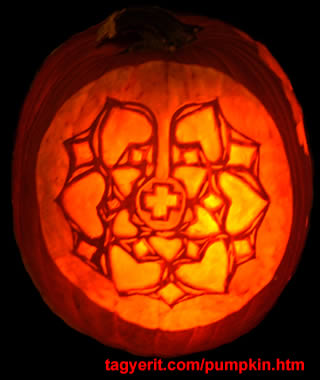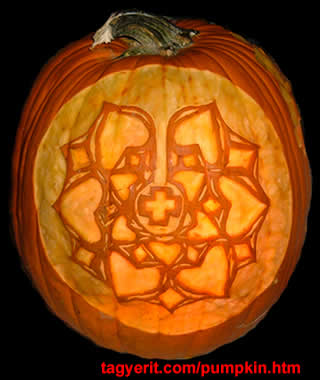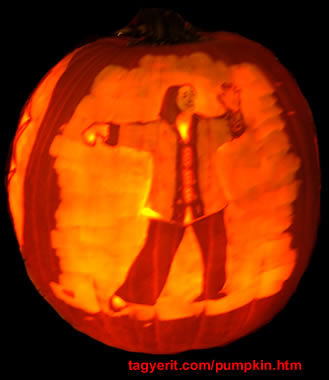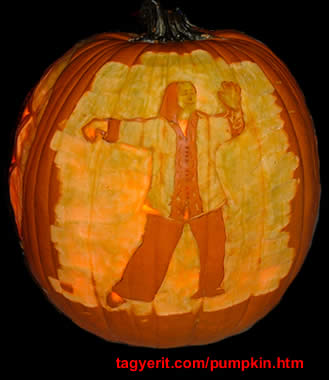 ---
Don Witt
Don Witt has been carving pumpkins at "BOO at the Zoo" in Akron, OH for the past 18 years. He uses helpers so he has time to be for the more creative and difficult designs. He makes all the patterns himself which sometimes takes longer than the actual carving. This year is his first at sculpting. and his second year sharing some of his wonderful designs with us. See also 2009 and the pumpkins at his website (you can also find out more about Don and his techniques and inspirations by reading his book at his site. He shows quite a breadth of ideas from We The People to the hypnotic Tunnel of Love. He has carved a lot more for 2010, we are just showing a sampling (believe it or not)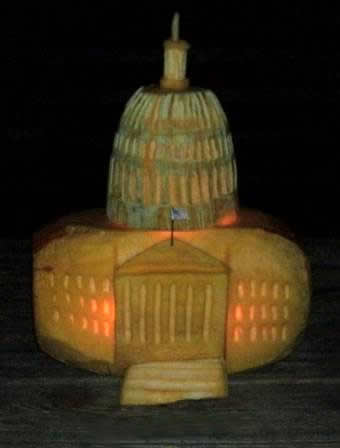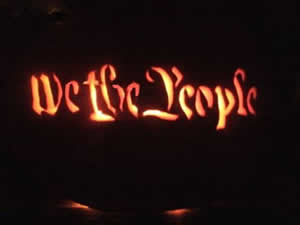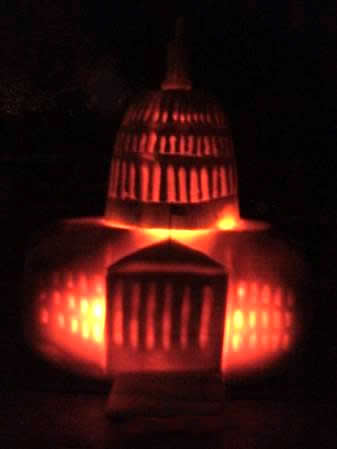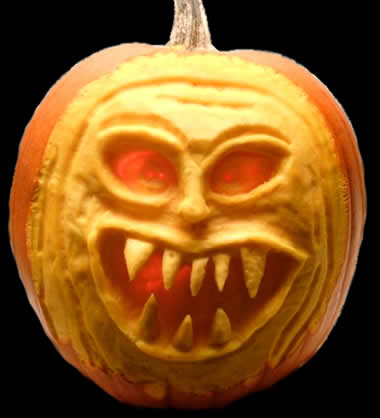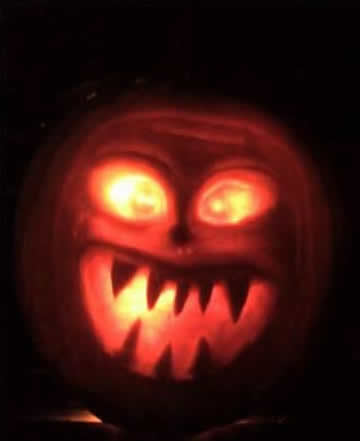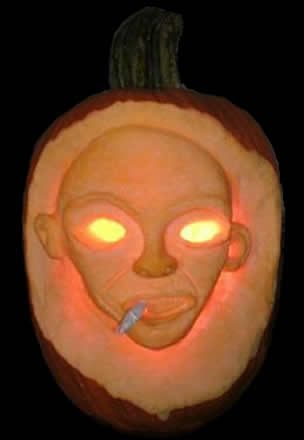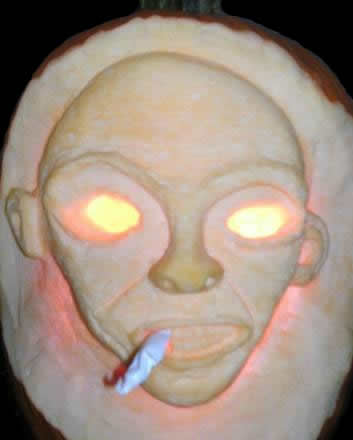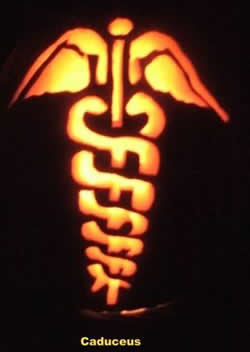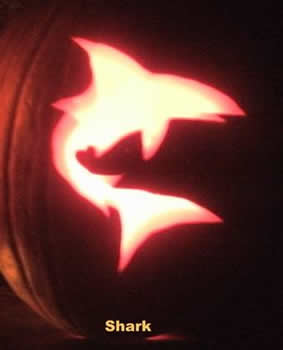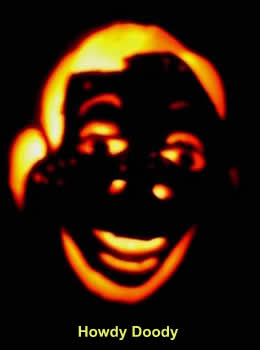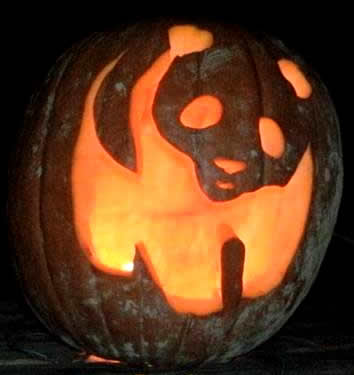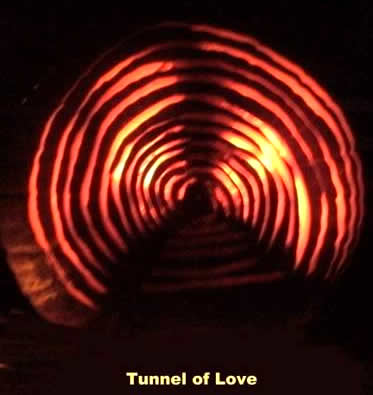 ---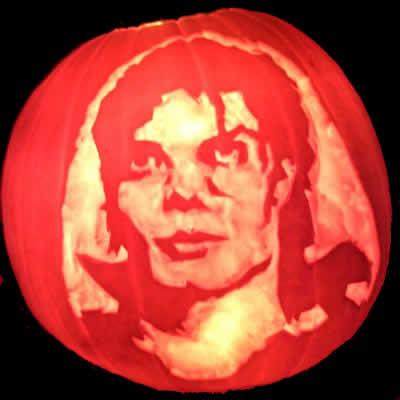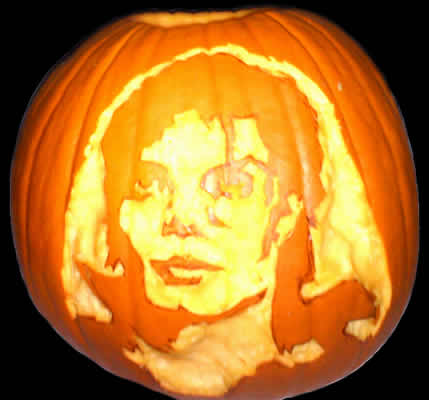 Michael Jackson carved by Clinton Chavez
Clinton is a 26 year old musician who loves art. "This is actually only the 3rd pumpkin I've carved but I've always enjoyed working with new media to create art.
I did hollow it out but a candle wouldn't suffice - I guess theres a certain etching technique to getting the layers thin enough for a candlelight to penetrate, but I had to stick a lamp inside for it to shine through."
---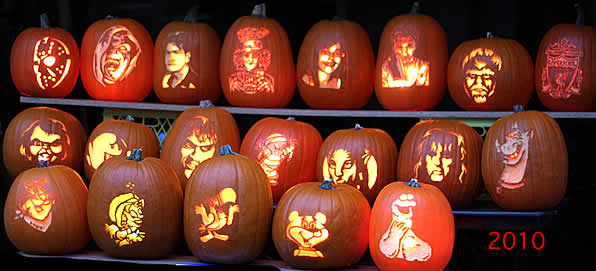 Once again Rick Chong with the help of his daughter carved a pile of pumpkins. You can see these and others up close at .tagyerit.com/pumpkin_tips.htm
---
Linda Fehr used a design from the cover of Southern Living magazine as inspiration for her leafy pumpkins. She decided to skip hollowing the pumpkins in the hope that they might last longer this way.
She also carried out an experiment. After she finished carving, she soaked the larger pumpkin in some bleach water but not the small one. She reported back two weeks later. "The pumpkin that I put in water and bleach did much better than the one I didn't. The smaller one started getting moldy. I had them both in the refrigerator for a while because the weather. Got them out last week since it's cooler now. The bleached one still looks good." On Dec. 11, Linda reported in, "Just to let you know my pumpkin still looks good! I dipped it 2 different times in bleach water. It's setting in my garage now and will probably freeze one of these days"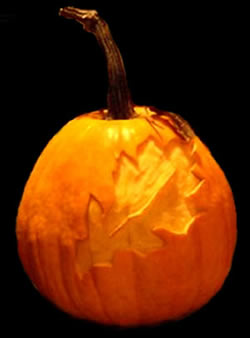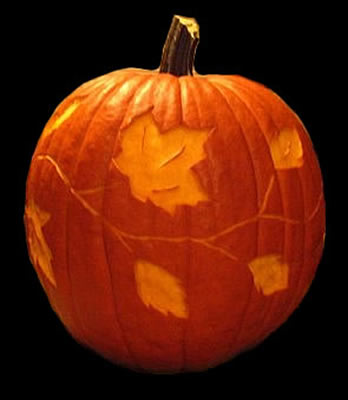 ---
Keep going, there's so much to see!
Don't stop now ... visit the following pages for more great pumpkins!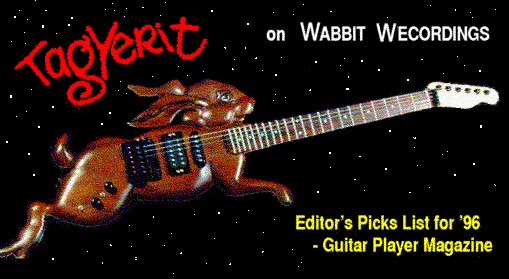 Click the Guitar to hear TagYerit's music.
Click here to fully explore the tagyerit.com pages
---
TagYerit Tails
Subscribe to TagYerit Tails TagYerit Tails is the newsletter for TagYerit (The Website) and TagYerit (The Band). This newsletter is our way to tell you when something new or exciting is happening. In other words expect it no less than twice a year and no more than once a month. Click here to sign up now.
---
Contact us
Whether you'd like to say hi; make a request or a suggestion; discuss the use of any of these images; swap links; we'd love to hear from you!
Do you carve pumpkins?

Occasionally we get requests for skilled carvers for festivals or special projects. Contact us if you're interested, and we'll do our best to facilitate.
We're always interested in posting examples from carvers of all skill levels. Contact us if you'd like to have your pumpkins up on our galleries.
Just so you know: We never disseminate email information. We are ever mindful of the privacy needs of our friends.

All text and images ©1998 - 2021 Rich & Flo Newman
(Any images credited to others remain their property and appear here by permission.)