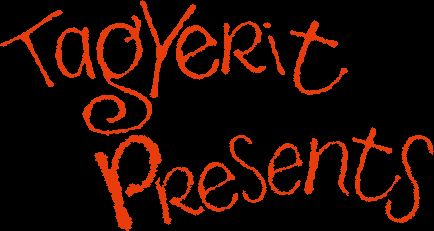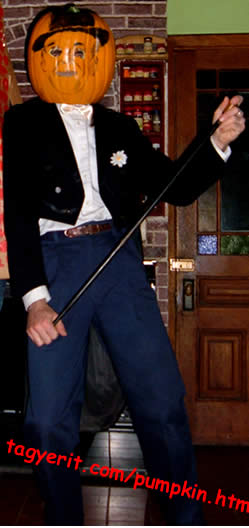 Pumpkins carved from 2014 and Beyonds
The pumpkins you find on these pages were either done by Rich & Flo Newman (aka TagYerit) or sent in by friends & contributors. We've been carving for many years, so give yourself plenty of time to explore the vast range of wonderful creations assembled here!
---
2018
This year, we've carved pumpkins with the kids. Sometimes it's good to bring it back to the simple, quick, off-the-cuff ideas. We have 5 grand nieces and nephews. For the youngest we carved simple faces. The 2 boys wanted "The Hulk" which we carved to their specs. And for the 6 yr. old, well we carved her most excellent drawing.
For the Kids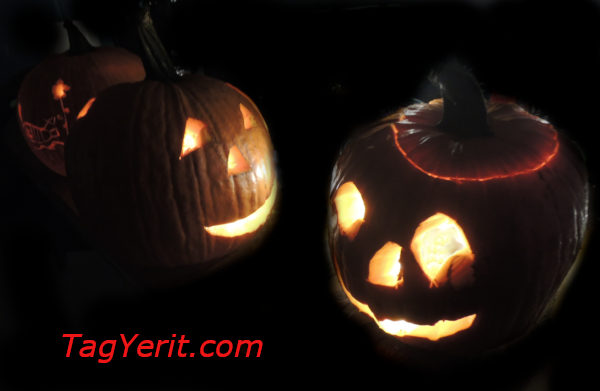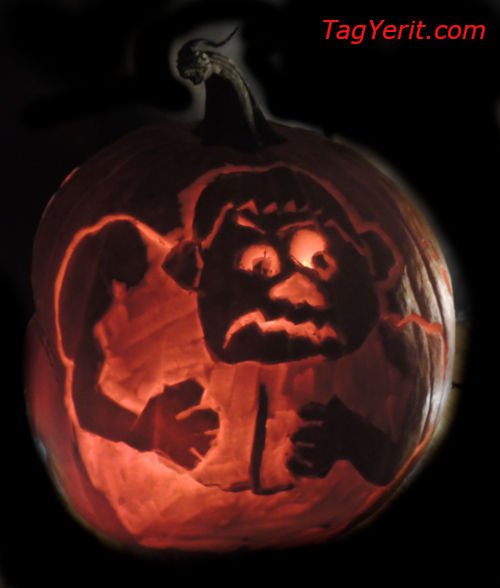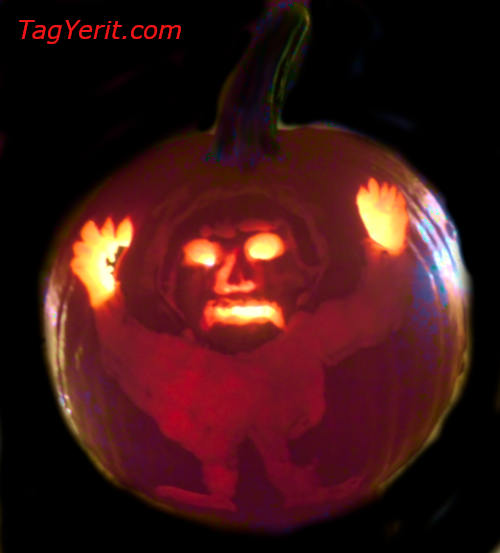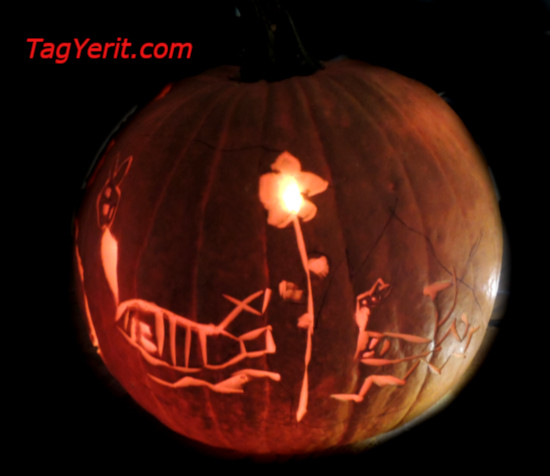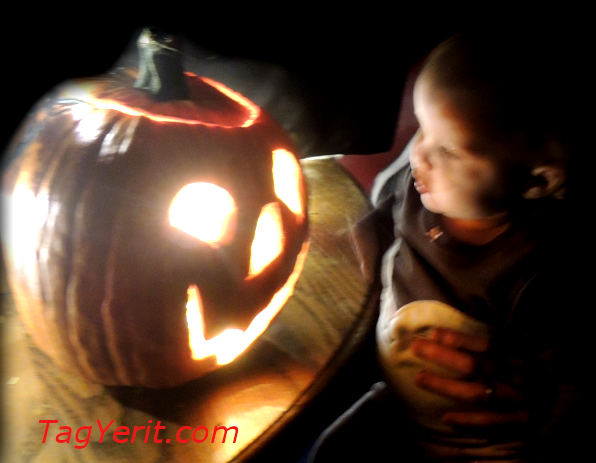 Portrait Pumpkin - On The Swings
Taken directly from a photo.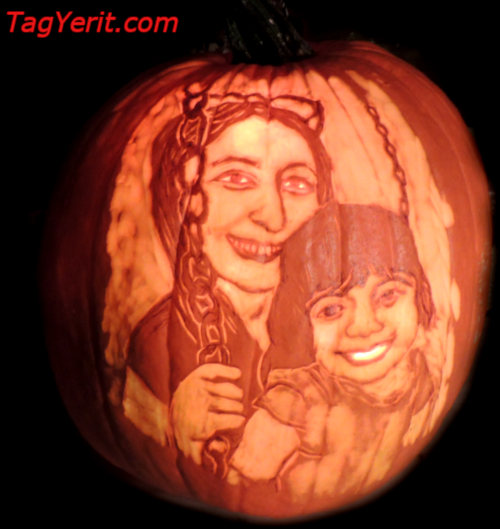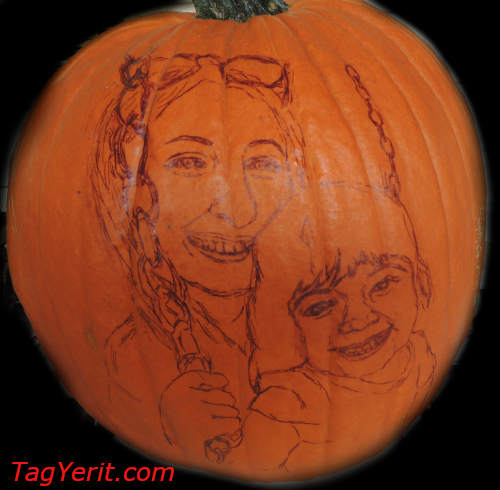 2017
Flo and Rich each carved just one pumpkin for Halloween 2017
The Disembodied Spirits Puppet Show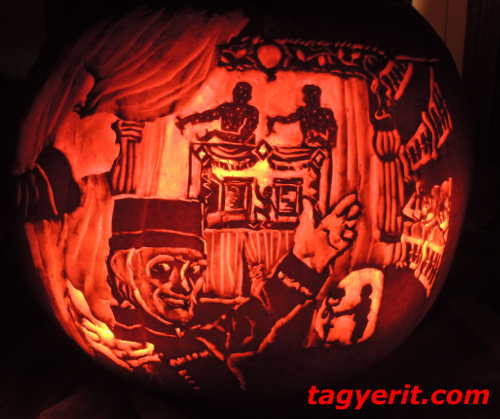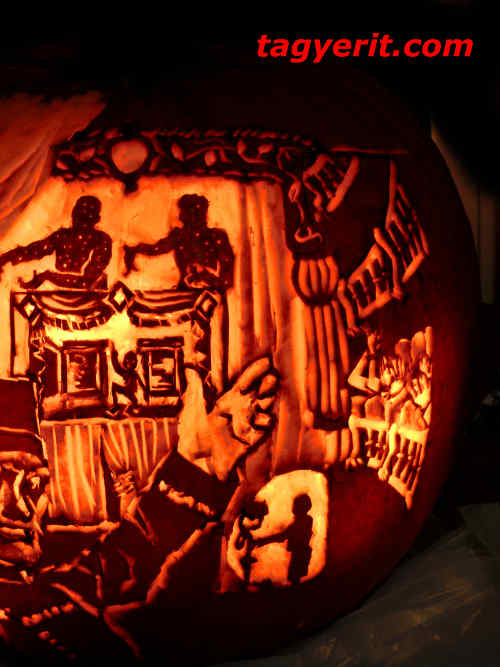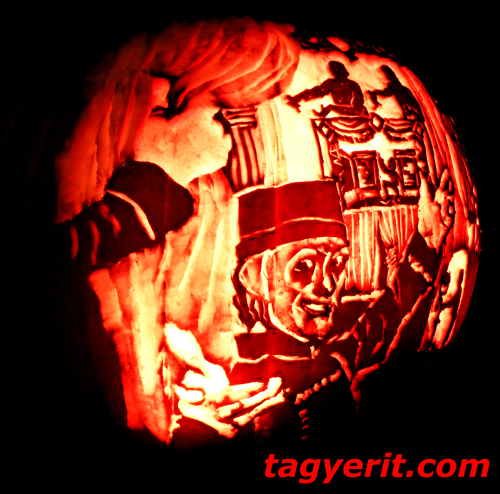 Flo:"A tough challenge to design and carve all the levels of the scene. The puppeteers are made of pieces of sky and the spirit audience in the balcony on the right is only visible because they are wearing gloves and jewelry."
Trilby & Svengali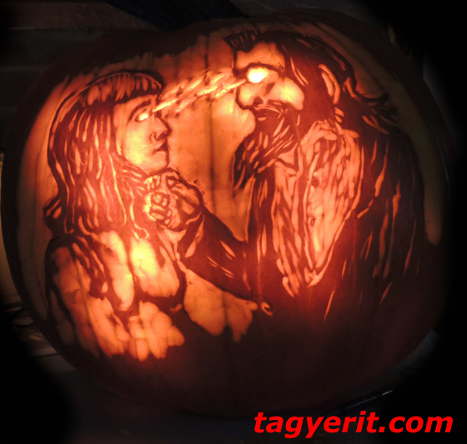 This is Trilby and Svengali from the story "Trilby" by George du Maurier. (1894) - The image is from the 1931 movie Svengali with John Barrymore as Svengali and Marian Marsh as Trilby. It's definitely a tragic #metoo story, where Svengali uses his powers to control Trilby and when he stops her life deteriorates.
---
2016
8 Views of the Ghost Train Pumpkin
This pumpkin has a bit of everything. A cross between an old woodcut print and a 3 dimensional lithophane. Showing several trains - One in the distance on a trestle; a steam locomotive engine train pulling into the depot; the caboose of a train as it enters the mountain tunnel, 2 buildings in a ghost town along with the old water tower.
How many ghosts can you spot? Did you see the open door on the caboose, and the ladder in the ghost town?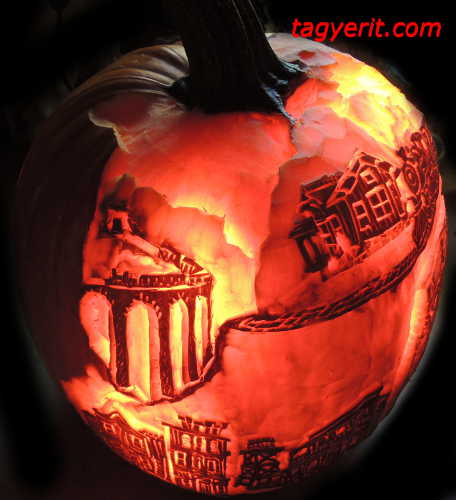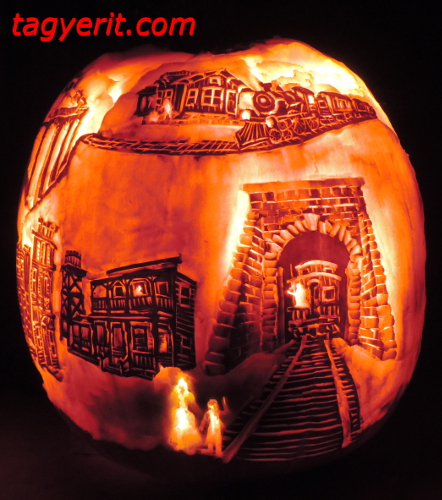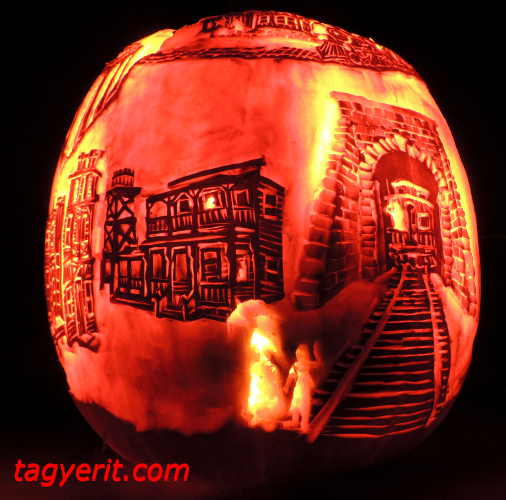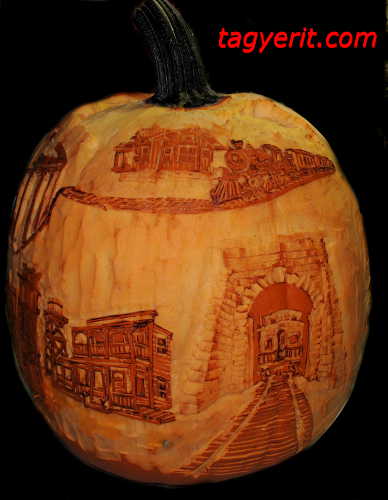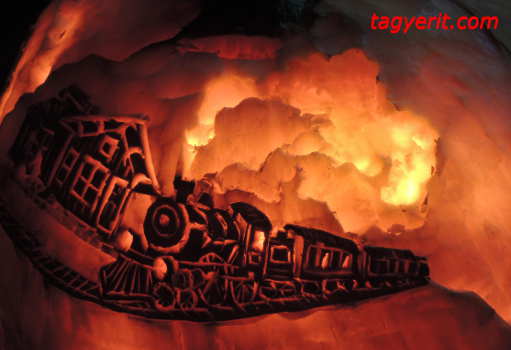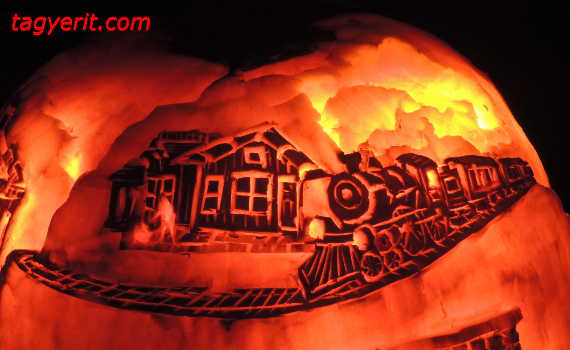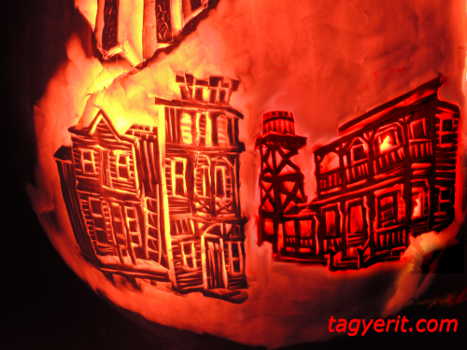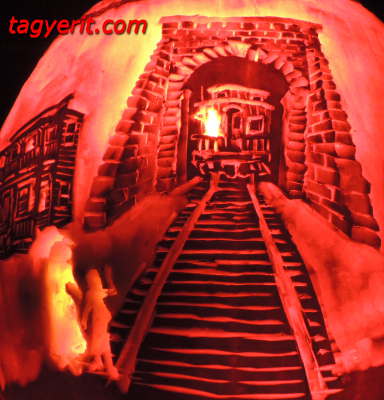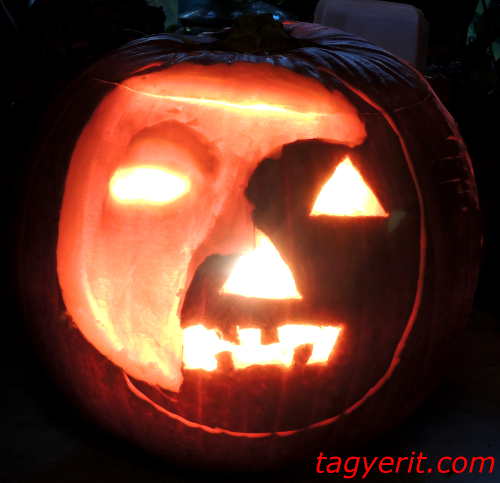 "Phantom of The Pumpkin Opera" (of course)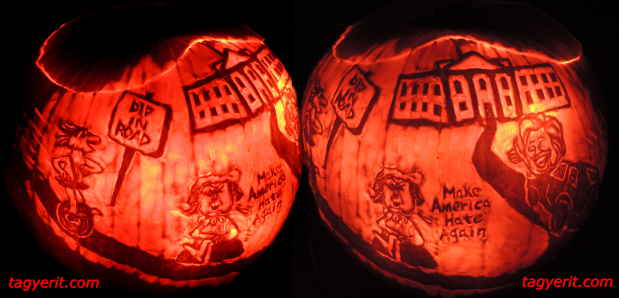 Click here for 2016's Political pumpkin
---
2015
Badass Babes: 4 Nesting Matryoshka Dolls
From left to right: Medusa; Wednesday Addams; The Bride of Frankenstein; Vampire (w/ trad. design)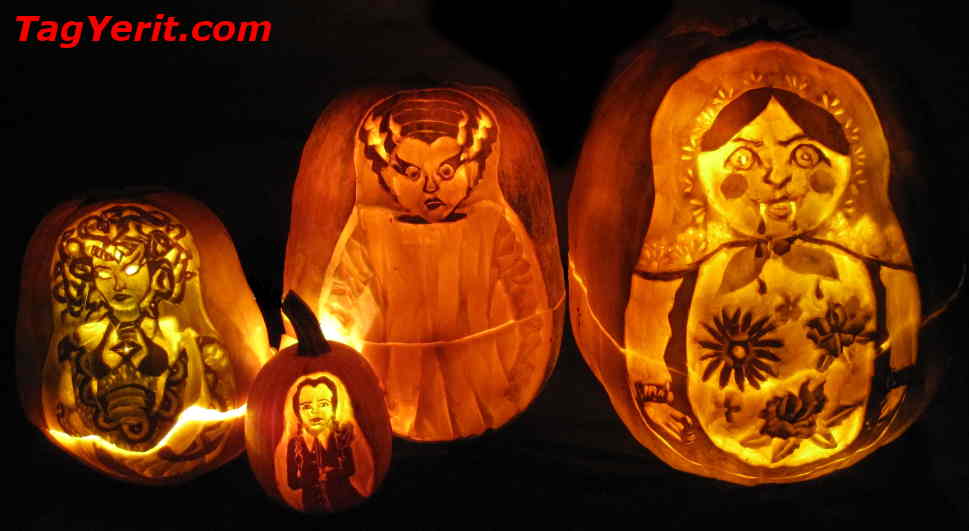 From largest to smallest: Vampire (traditional costume); The Bride of Frankenstein; Medusa; Wednesday Addams.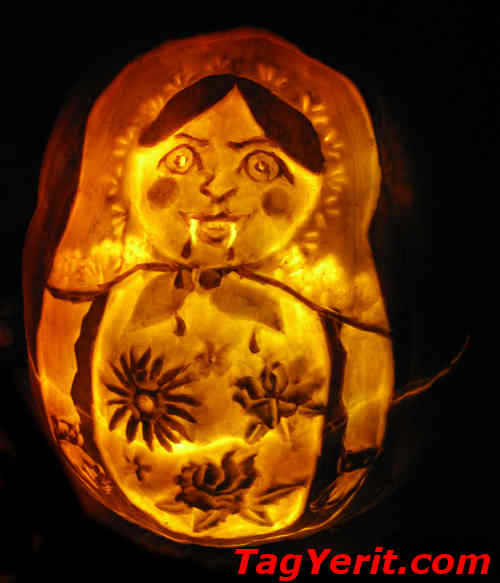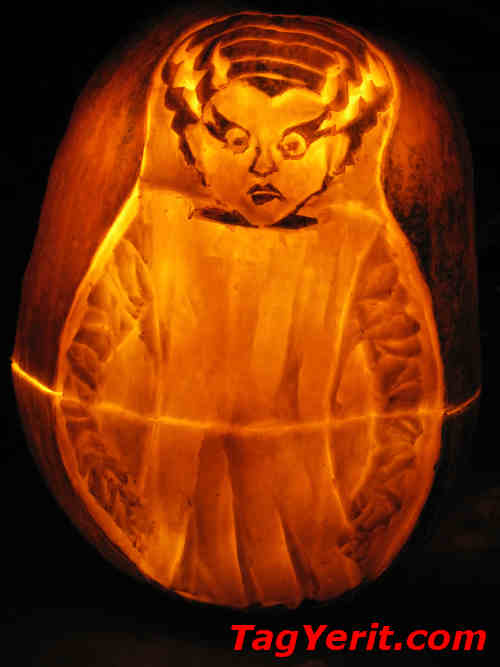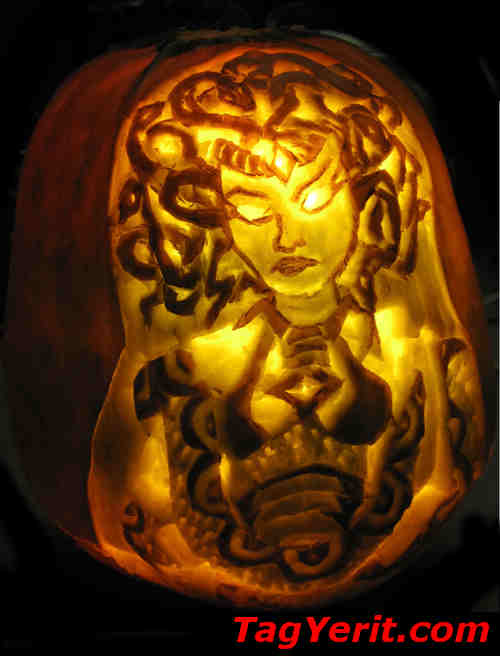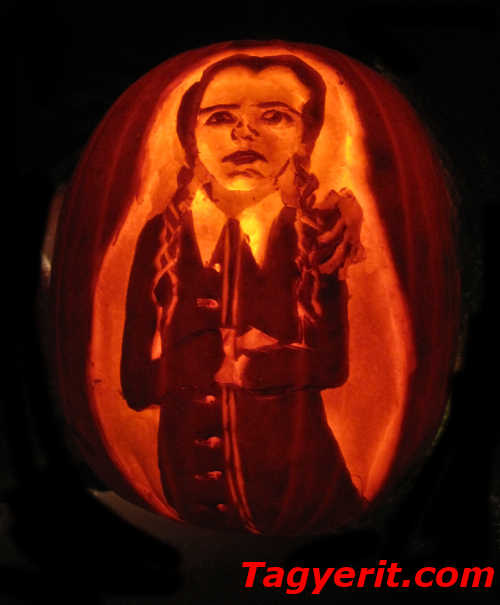 ---
Chinese 6 Panel Hanging Lantern
The six panels for this hanging pumpkin lantern are a Tambourine player on stilts; a dragon; a girl in a kimono; a pagoda; and a couple dancing the jitterbug (Lindy Hop). I've mixed images from different Asian cultures as well as the American dancing couple. The bottom is cut off; a hole drilled up through the stem with the light fixture in the top and it's hung on a stand. The secret to hanging it is a very large lamp washer.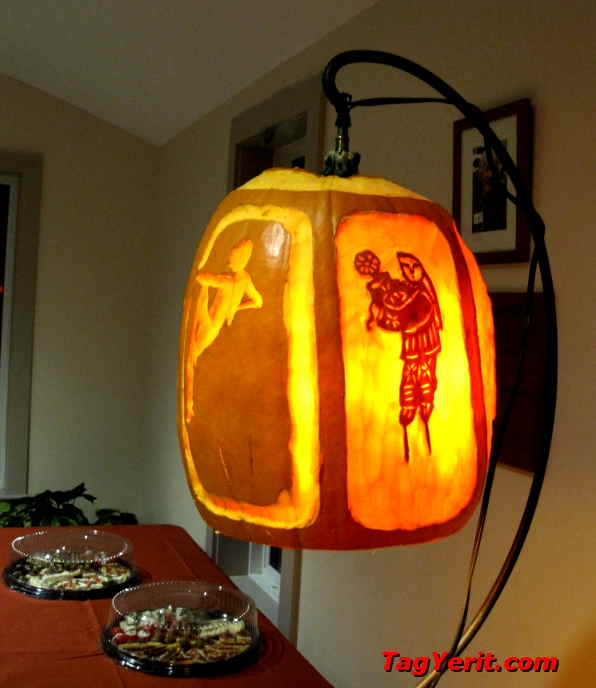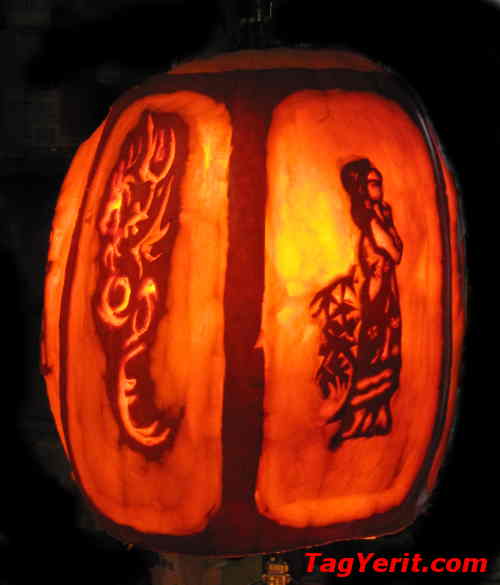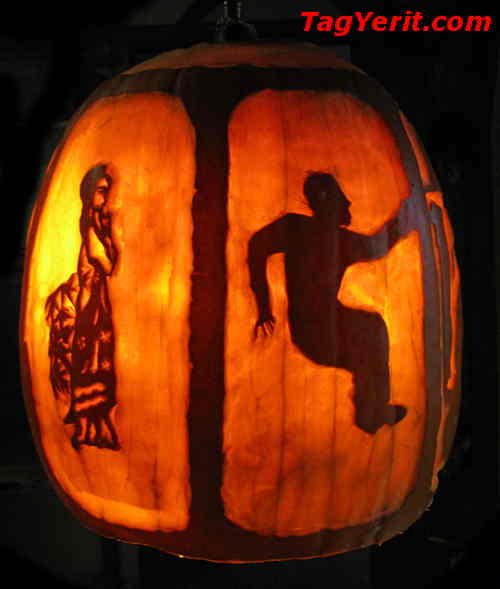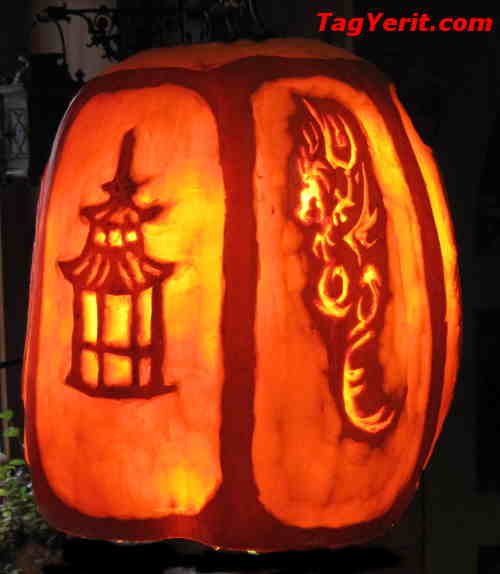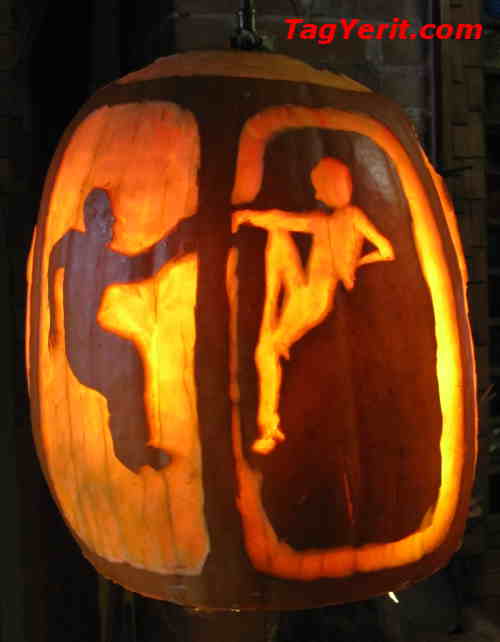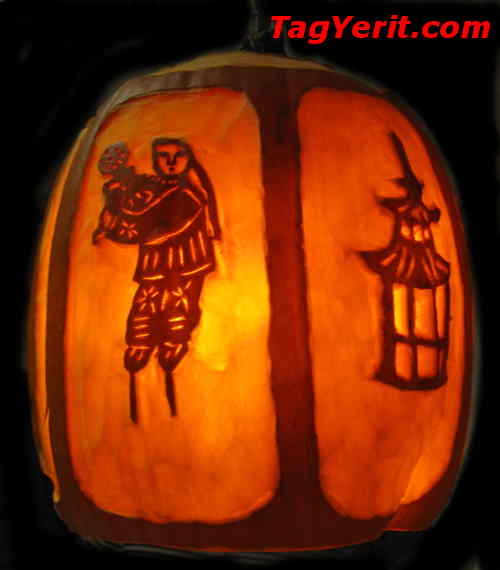 Using images found on the web from a search for "paper cutouts". Please let me know if I've used your images and would like credit (and link).
---
Winnie The Pooh & Christopher Robbin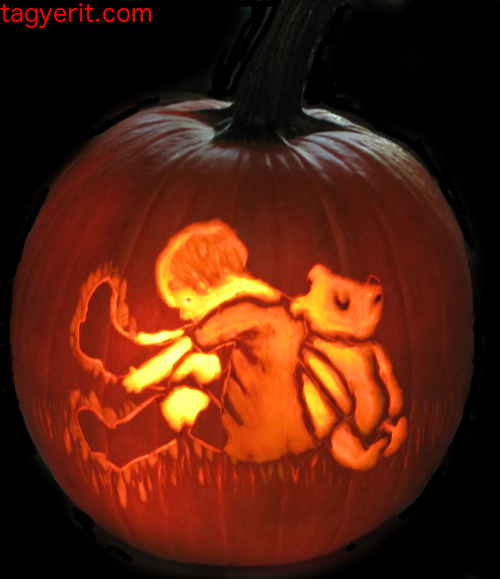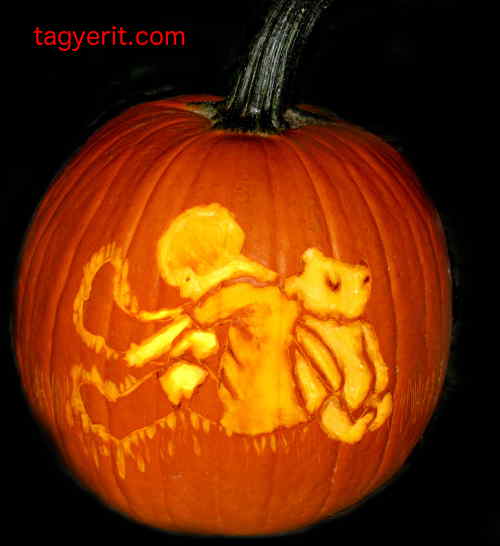 I believe this is from the E.H. Shepard illustrations for The House at Pooh Corner by A. A. Milne. Carved to celebrate Sydney's 3rd Birthday.
---
2014
Boycott Whole Foods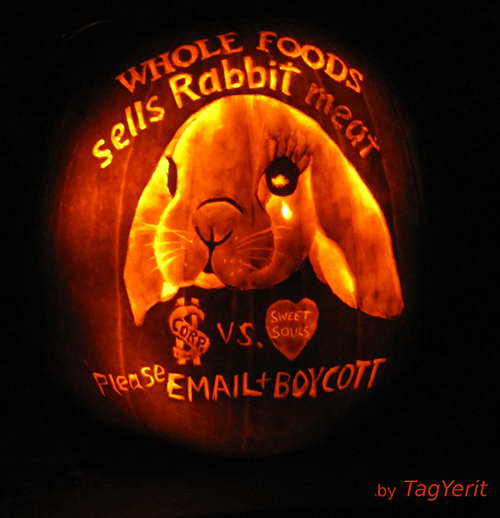 When Whole Foods announced they would start selling rabbit meat, we had to join the forces to stop them. Write to them - call them - email them - boycott. How will you feel when they decide it's okay to put the family of your beloved pet on the menu?
Designed by Dianne Stawiarz and carved by Flo Newman (TagYerit)
---
"Play is The Way"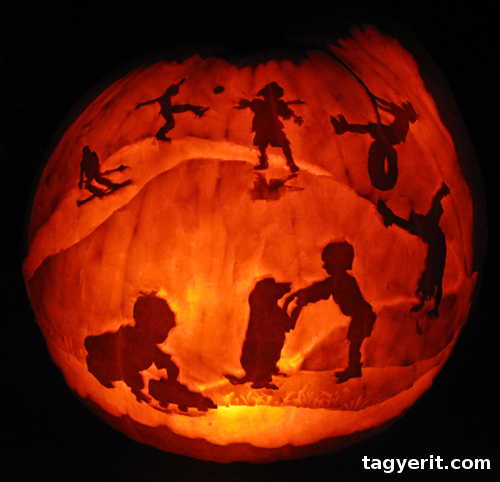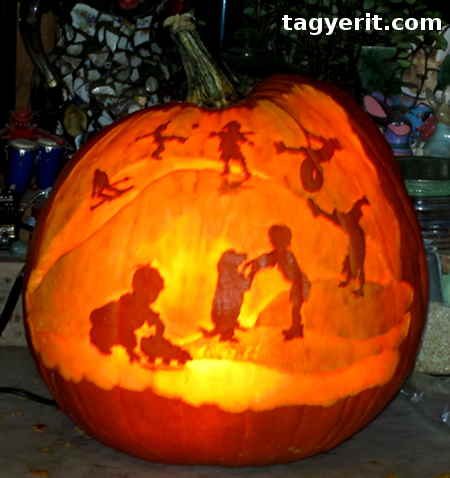 Carved for our new nephew Tyler, so that he'll always find joy in his path. This carving was very multi-level - and we constantly had to keep track so that the figures appear to recede into the distance. Because of the details, most of the carving was done while wearing jewelers glasses. The details on the violinist was especially wicked to carve.
---
Spider Web Tiffany Hanging Lamp
Years ago, I carved a copy of a Tiffany Wisteria lamp on a pumpkin and set it on a table lamp base. It looked great, unfortunately I never got a good picture of that, but recently decided to revisit the concept. This spider web hanging pumpkin lamp is the result. People call these Tiffany style lamps. Though Tiffany Studios was one of several stained glass lamp manufacturers, his name is most known.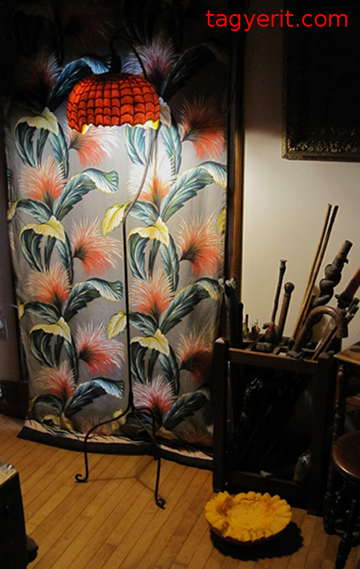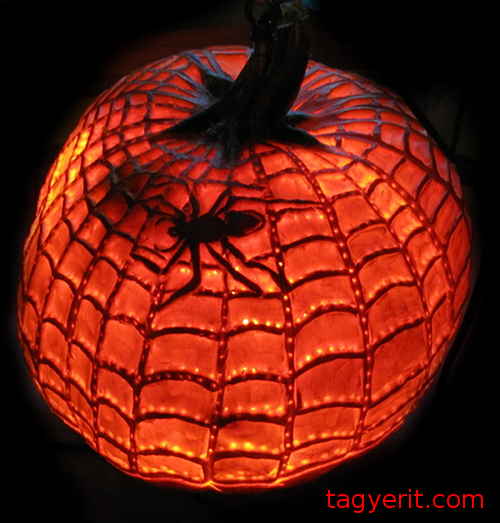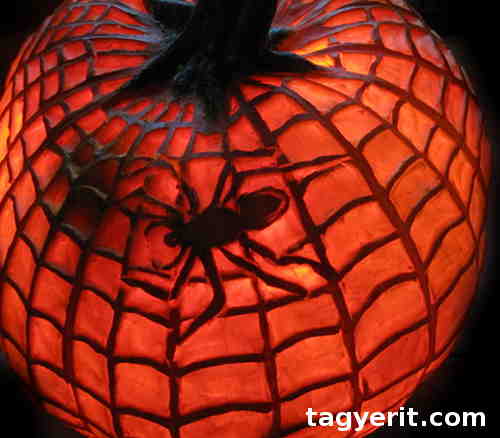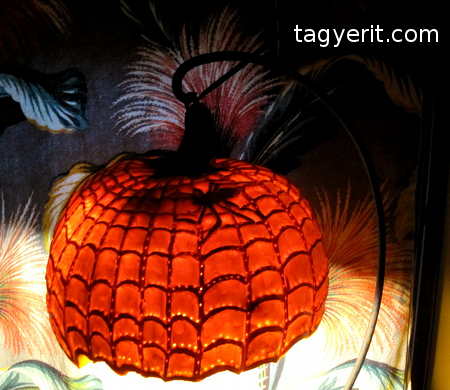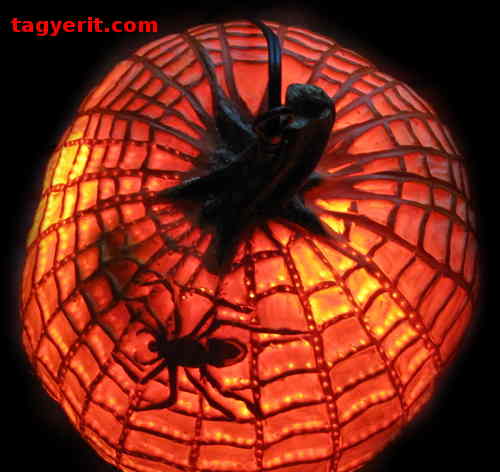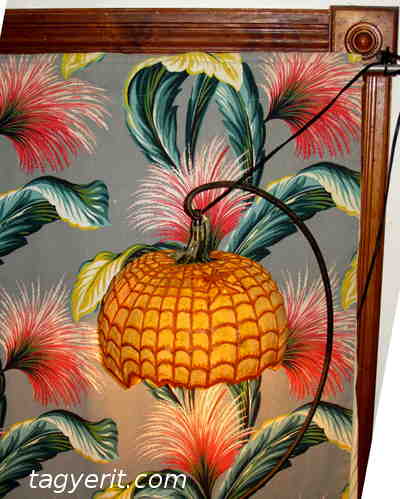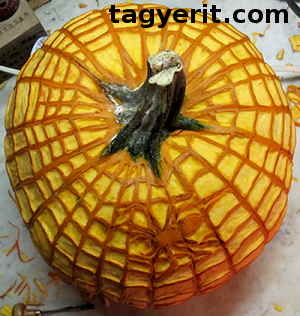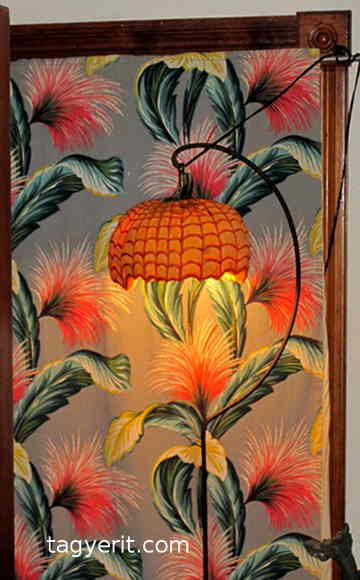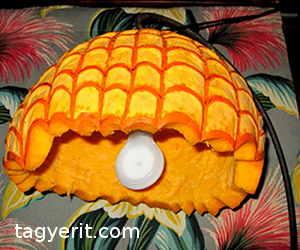 We were photographed for the Oct. 30, 2014 issue of the Valley Advocate carving this pumpkin.
---
Kitties - 8 of 'em
Sydney's theme for Halloween this year is kittens, so we (mostly Flo) carved this at her Birthday party.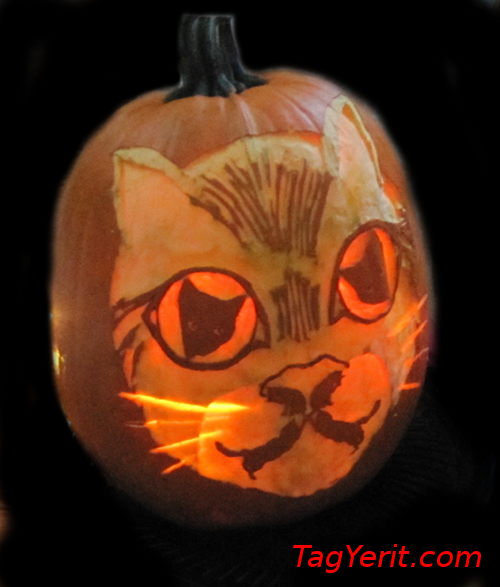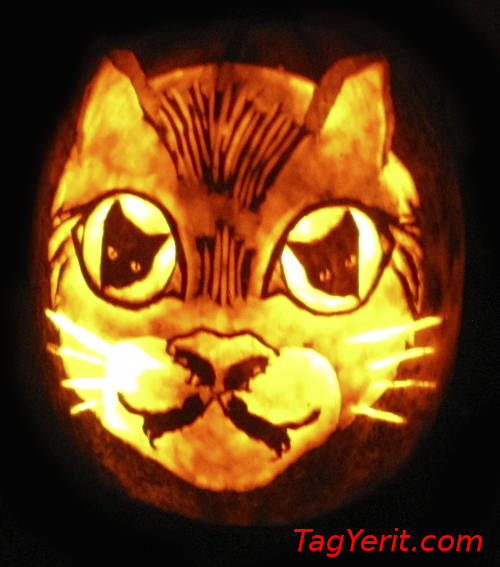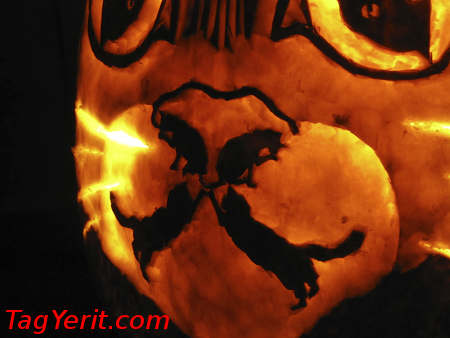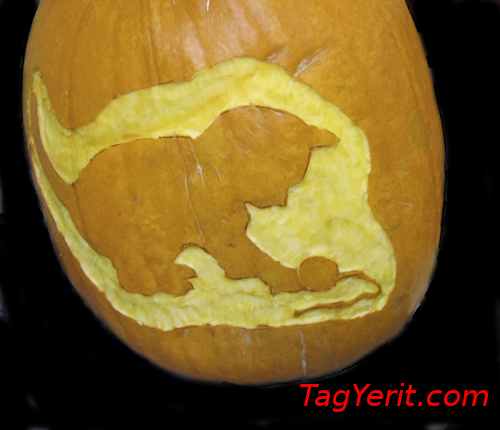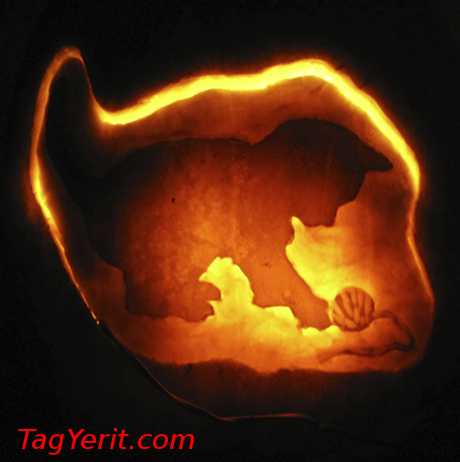 The kitty with the yarn is the back door where the light is installed.
---
Happy HULAween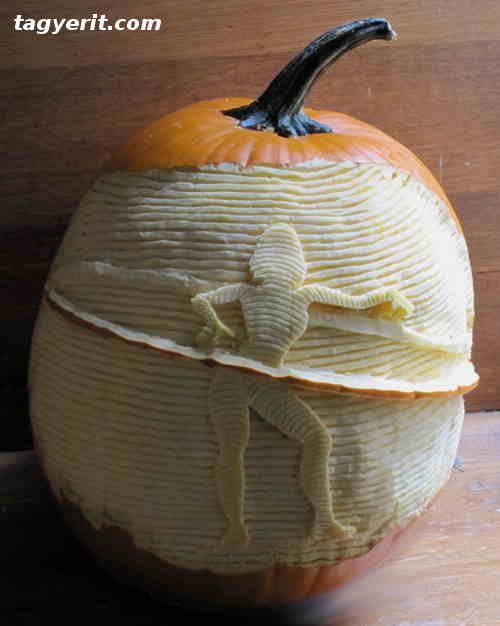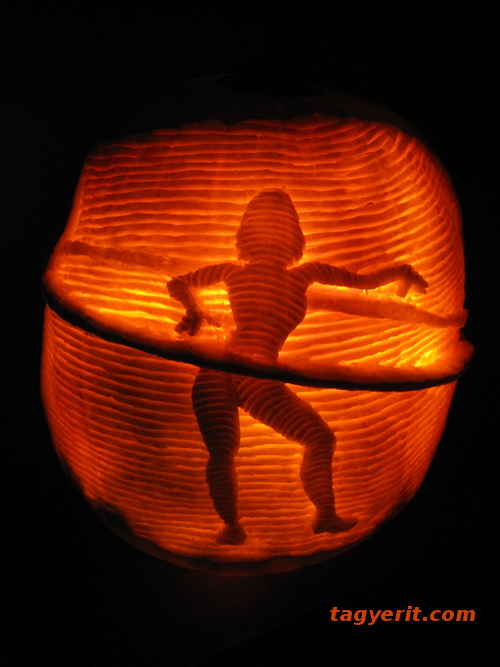 Thought a hulahoop would be a perfect way to use the pumpkin's natural shape. This was an experiment with contour lines. One of the few pumpkins we've carved that also looks good unlit. It has an op-art feel to it. Animator Doug Rappin kindly consulted with Flo on the original drawing.
---
Keep going, there's so much to see!

Don't stop now ... visit the following pages for more great pumpkins!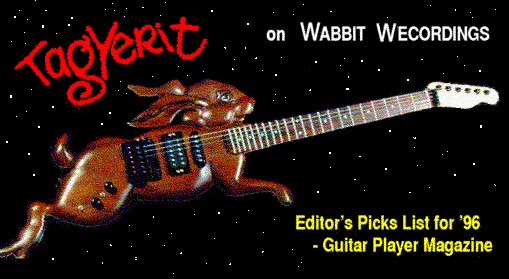 Click the Guitar to hear TagYerit's music.
Click here to fully explore the tagyerit.com pages
---
TagYerit Tails
Subscribe to TagYerit Tails TagYerit Tails is the newsletter for TagYerit (The Website) and TagYerit (The Band). This newsletter is our way to tell you when something new or exciting is happening. In other words expect it no less than twice a year and no more than once a month. Click here to sign up now.
---
Contact us
Whether you'd like to say hi; make a request or a suggestion; discuss the use of any of these images; swap links; we'd love to hear from you!
Do you carve pumpkins?

Occasionally we get requests for skilled carvers for festivals or special projects. Contact us if you're interested, and we'll do our best to facilitate.
We're always interested in posting examples from carvers of all skill levels. Contact us if you'd like to have your pumpkins up on our galleries.
Just so you know: We never disseminate email information. We are ever mindful of the privacy needs of our friends.

All text and images ©1998 - 2021 Rich & Flo Newman
(Any images credited to others remain their property and appear here by permission.)