Click here to hear TagYerit's song SciFi (first half) in RealAudio while you enjoy some of our carvings.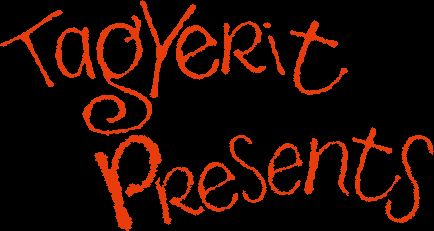 Pumpkins carved from 1998 to 2001
The pumpkins you find on these pages were either done by Rich & Flo Newman (aka TagYerit) or sent in by friends & contributors. There could easily be 10 pages by now, so give yourself plenty of time to explore the vast range of wonderful creations assembled here!
2001 Highlights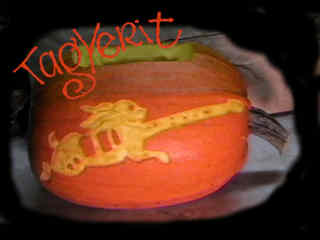 This series shows Flo's guitar in a new incarnation. It's not playable. You'll note that in the 3rd and 4th pictures, I've added a cord between the guitar and amp, but alas - the bunnies eye is missing. ...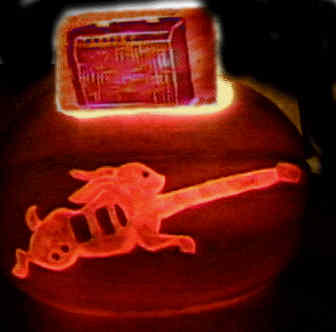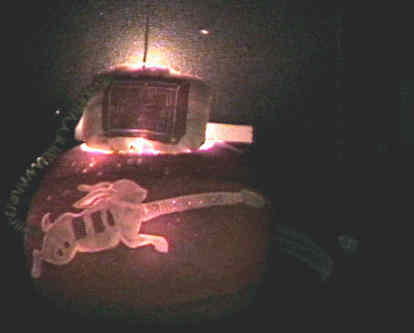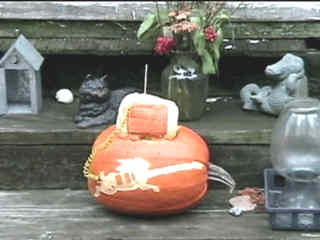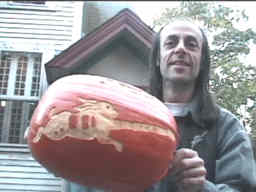 Harry Potter Reaches for the Snitch
By now, the world knows that Harry Potter is a student at Hogwarts for his witch studies. We carved this by request. It seemed appropriate to show Harry at his favorite activity during this most important time of year.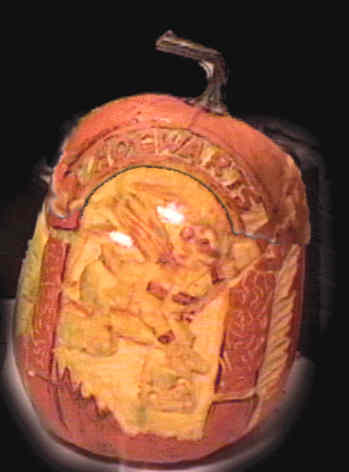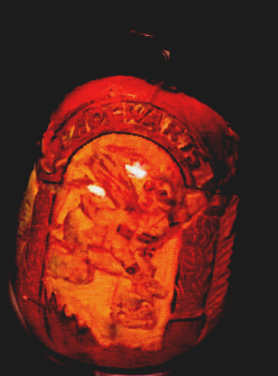 Sorry about pic quality. I was between cameras
The Pumpkin Tiffany of 1999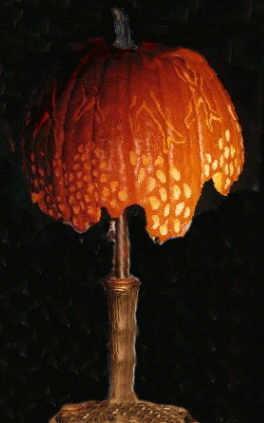 This lamp was inspired by Tiffany's Wisteria Lamp. To make the shade, the bottom was discarded and the top became the lamp shade. The stem, not visible here was a great lamp finial. I wrapped simple white x-mas type lights around the inside top, for just the right glow.


And here's several done by good friends ...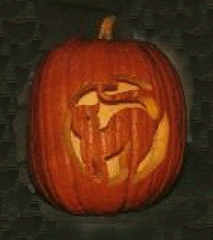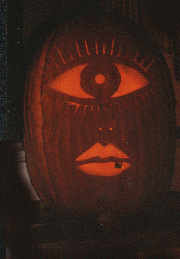 1999 Pumpkin Highlights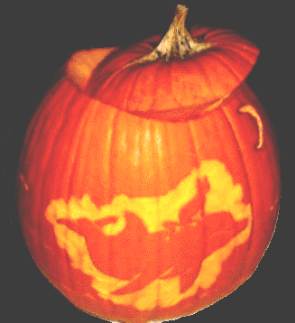 The "cat on dolphin" silhouette was inspired by someone who had the chance to swim with dolphins in Israel. Shot with a digital camera, I have made a feeble attempt to simulate the effect of the candle glow.
1998 Pumpkin Highlights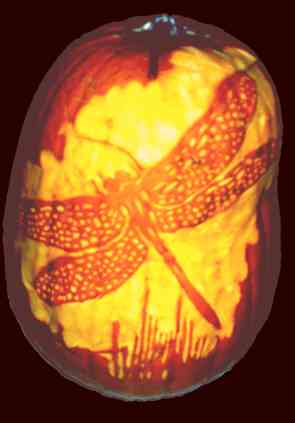 The dragonfly proved to be a wonderful study for a pumpkin carving. The lacy winged pattern really played with the light. Even after the pumpkin had rotted, it looked like the dragonfly was ready to lift off.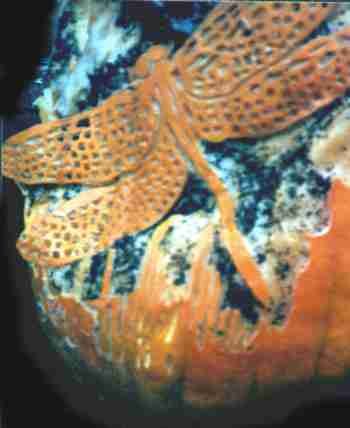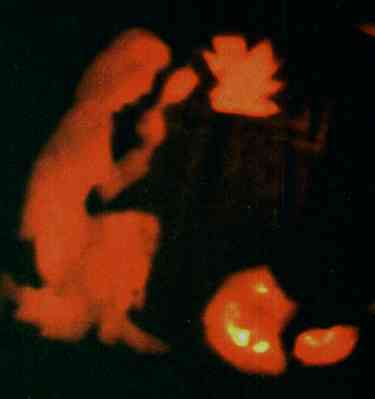 Here's Flo explores a fictitious Nancy Drew story, "The Case of the Smashed Pumpkin" in silhouette. Notice, that the contrast on the photo eliminated all traces of the original pumpkin except for the glowing silhouette.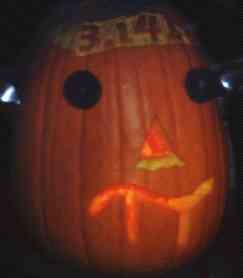 Last October we held a birthday party for a friend, and the major activity was carving pumpkins. One group of partiers decided to memorialize the occasion by offering their own "Pumpkin Pie". This included a few bottle corks for eyes as well as fork and spoon for ears. A little mathematics and this guy became a 'little long on the tooth'. We even gave him a headband!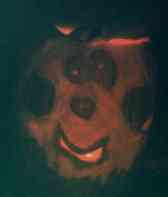 A drawing by 4 year old Grace, inspired this kooky character.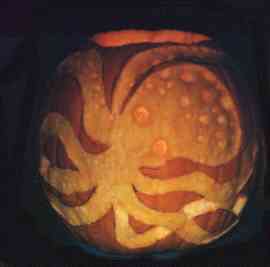 Another party visitor ....

If you have any pumpkin pictures that you'd like to post, Contact us
---
Keep going, there's so much to see!
Don't stop now ... visit the following pages for more great pumpkins!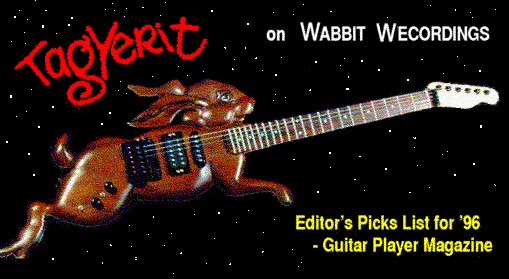 Click the Guitar to hear TagYerit's music.
Click here to fully explore the tagyerit.com pages
---
TagYerit Tails
Subscribe to TagYerit Tails TagYerit Tails is the newsletter for TagYerit (The Website) and TagYerit (The Band). This newsletter is our way to tell you when something new or exciting is happening. In other words expect it no less than twice a year and no more than once a month. Click here to sign up now.
---
Contact us
Whether you'd like to say hi; make a request or a suggestion; discuss the use of any of these images; swap links; we'd love to hear from you!
Do you carve pumpkins?

Occasionally we get requests for skilled carvers for festivals or special projects. Contact us if you're interested, and we'll do our best to facilitate.
We're always interested in posting examples from carvers of all skill levels. Contact us if you'd like to have your pumpkins up on our galleries.
Just so you know: We never disseminate email information. We are ever mindful of the privacy needs of our friends.

All text and images ©1998 - 2021 Rich & Flo Newman
(Any images credited to others remain their property and appear here by permission.)