Click to hear part of TagYerit's song SciFi.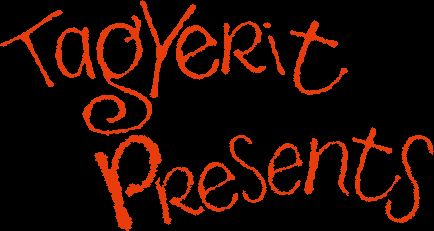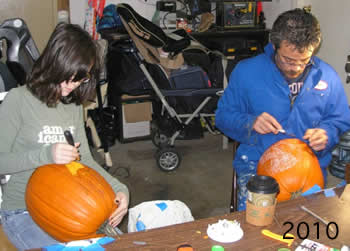 Rick's Tips
Rick Chong's pumpkins:
Rick Chong has shared some of his creations on this website since 2004. He lives in Vancouver BC and began carving in 2000. Every year he has carved a portrait pumpkin of his daughter Ashleigh and over the years she has learned how to carve pumpkins also and is now his carving partner.
"Many carvings are done from a pattern, some I do from a coloring book pic and the ones of my daughter are done from photos. I always do pumpkins the little ones will recognize, after all Halloween is all about the kids!!
"When I use a coloring book I try and decide on ones I know the colors of. For example.. Shaggy I know has light brown hair and fair skin tone. So between the face and hair I leave skin on to separate. So basically all the lines on the coloring book pic is left as pumpkin skin. The mouth... when people open their mouths it's dark so that's how I knew to leave it dark (skin still on). A good tip for all fellow carvers is once you have your pic use fabric transfer paper to get the pic onto pumpkin. Tape the transfer paper to kin and then tape pic to transfer paper and go over all the lines with a pen, blunt instrument or whatever. Peel the paper off and voila. I like to use a dark color transfer paper such as blue. I only like cutting right thru for the white of the eyes and teeth. Like the effect better when there is less area that I cut right thru."
"My daughter for example has dark hair so I peel a thin line on the outside border so it highlights it."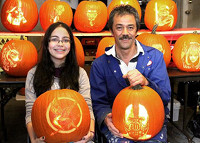 You can read an article about Rick & Ashleigh for 2012 here.
Rick's Daughter Ashleigh through the years ...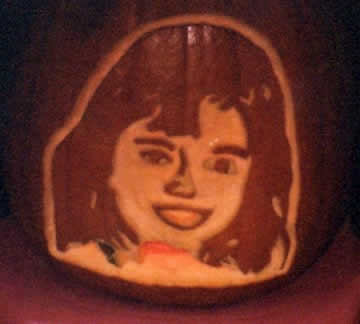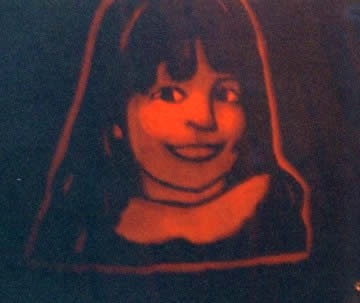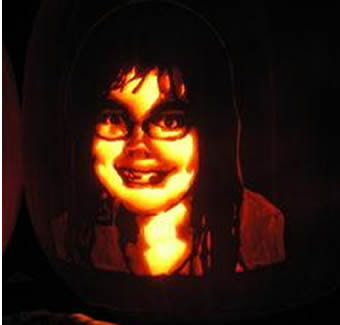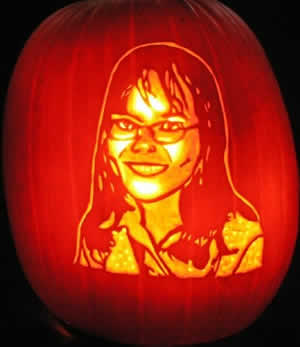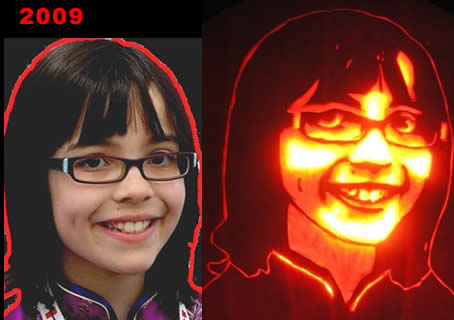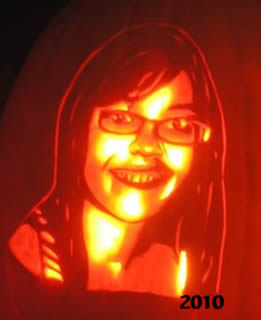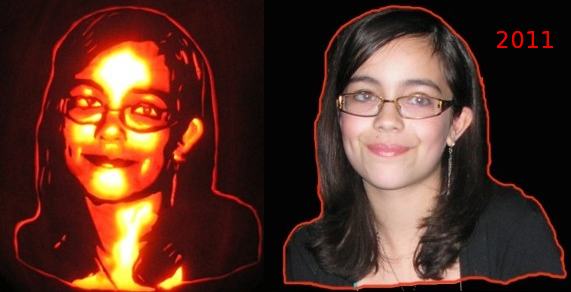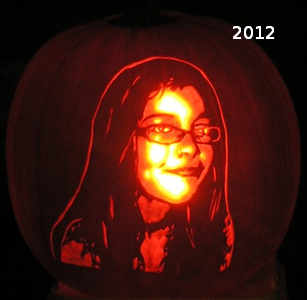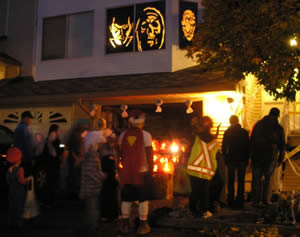 He sets the pumpkins up in his garage and gets quite an appreciative audience.
---
Ashleigh & Rick Chong Strike Again in 2012
Ashleigh carved Tweety Bird, Winnie The Pooh, Marvin Martian, Johnny Depp, Simon Cowell, Peeta Mellark, Katniss Everdeen and the MockingJay of The Hunger Games . . . Yoda, Quasi (Hotel Transylvania) - and her school logo (Bateman). Rick won a contest with these 2 carvings of a Mad Dog and a Werewolf. He also carved an ultrasound image for the Abbotsford Regional Hospital (brilliant idea - carvings of ultrasounds and xrays.) . . . Then there's Bane (Batman), Barnabus Collins, Bugs Bunny (dressed as Elmer Fudd), Decrepit, Evil Face, Fairy, Goblin and Piglet to fill out another successful Halloween.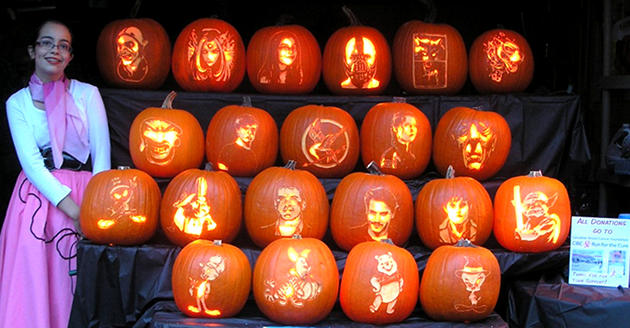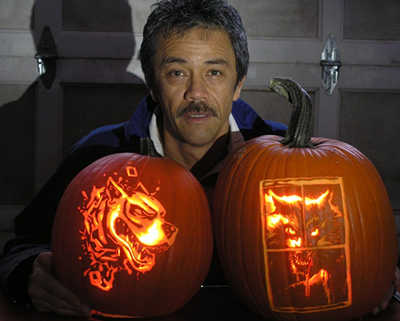 ---
Team Rick & Ashleigh's 2011 Pumpkins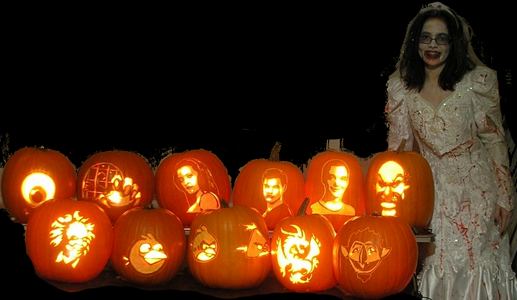 Ashleigh with her share of the pumpkins: Cyclops; "Not Too Close"; Bella, Jacob & Sheldon from Twilight; Scary Clown; Beetlejuice; Several Angry Birds; A Dragon & The Count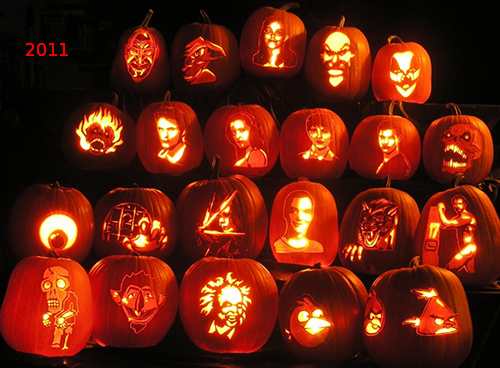 Among the other luminaries that Rick carved are: his annual daughter portrait; various classic Halloween figures (clown, goblin. skulls, werewolf, zombi...); Edward Scissorhands; Michael Jackson (carved after Halloween with a leftover pumpkin AND Ryan Kesler from the Vancouver Canucks who had been photographed nude for ESPN magazine. Several of the patterns are from stoneykins.com & zombiepumpkins.com
Edward from Twilight (2011)
Bella from Twilight (2011)
Alice from Twilight (2011)
Jacob from Twilight (2011)
Sheldon from Big Bang Theory (2011)
Ryan Kesler Vancouver Canucks (2011)
Cyclops (2011)
Not Too Close (2011)
Angry Birds (2011)
Edward Scissorhands (2011)
Michael Jackson (2011)
Werewolf (2011)
"There wolf. There castle"
Creepy (2011)
Scary Clown (2011)
Flaming Skull (2011)
---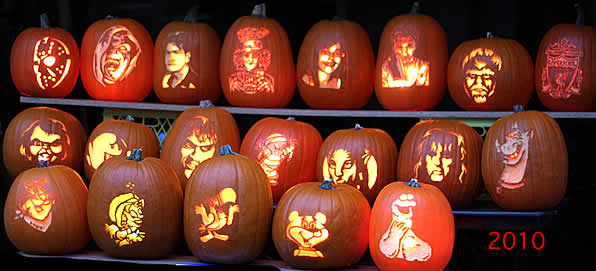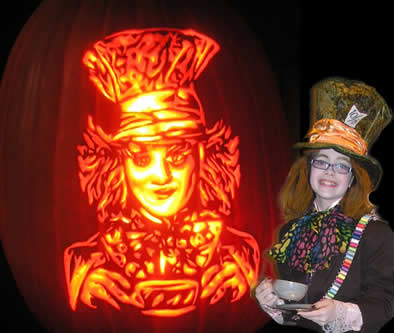 Rick's daughter Ashleigh carved 12 pumpkins for 2010:
The "Cereal Killers" (Toucan, Lucky Charms, Sugar crisp bear. Tony,) Cookie Monster, Scooby, Jason, Charlie Sheen (she says he was her toughest yet), Wolfman, Neytiri, Alice Cooper, and Boo



PUMPKIN - It's what's for breakfast: Here are The Lucky Charms Elf, Tony The Tiger, Toucan and Sugar Bear.
| | | |
| --- | --- | --- |
| | | |
| Chef Ramsey (2010) | Gene Simmons - Kiss (2010) | Alice Cooper (2010) |
| | | |
| Charlie Sheen (2010) | Chucky ( though it could almost be Jack Black too) | Evil Laugh (2010) |
| | | |
| Mummy Casper (2010) | Cookie Monster (appeased) (2010) | Lurch - Addams Family (2010) |
| | | |
| Neytiri te Tskaha Mo'at'ite, Avatar (2010) | The Wolfman (2010) | Liverpool Football Club (2010) |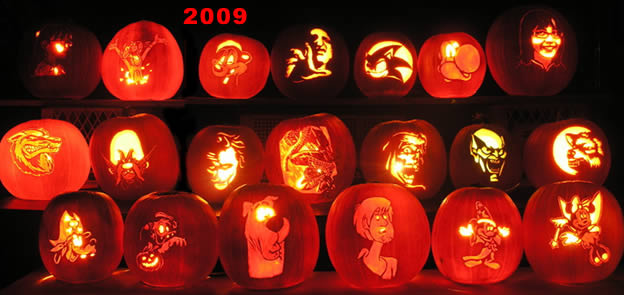 Rick carved many of these pumpkins, but his daughter Ashleigh carved the pink panther, pepe lepew, yoshi, sonic the hedgehog, and once again "he who shall not be named. (the middle 5 in the top row)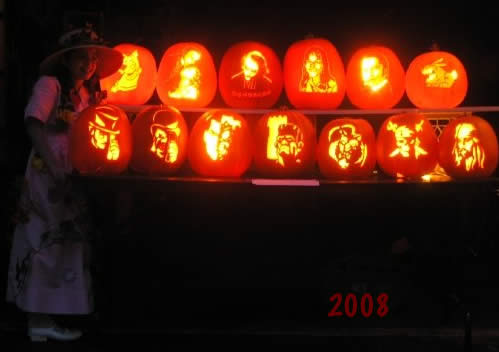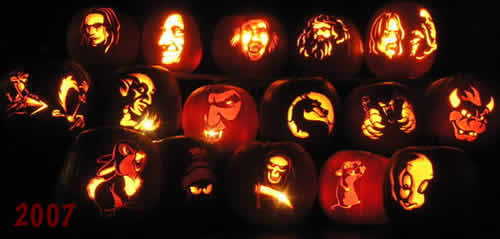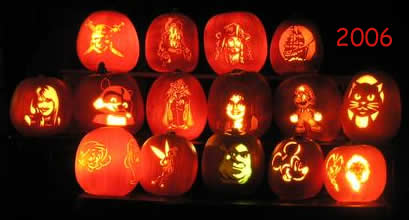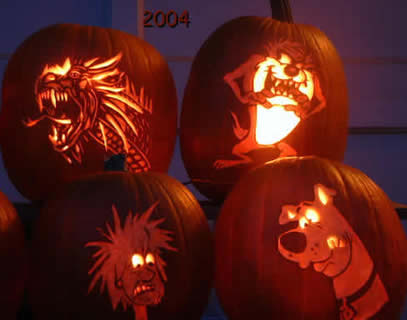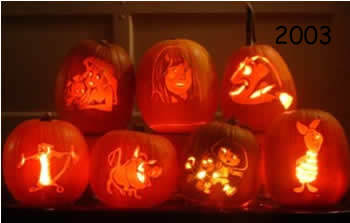 aDonald Duck with his Jack-O-Lantern (2009)
The Pirate Goofy (2009)
The Fairy God-mother Minnie Mouse (2009)
Yoshi (Mario Brothers) (2009)
The Pink Panther (2009)
Pepe Le Pew (2009)
Snarling Wolf #1(2009)
Snarling Wolf #2 "Growling at The Moon"(2009)
a
aThe Green Goblin (2009)
Pensive Spidey (Spiderman does not look too happy)
Dr. Jeckyl & Mr. Hyde (2008)
The Joker (Heath Ledger - 2008)
The Phantom of the Opera & Christine (2008)
Rabid Rabbit (2008)
2007 Igor (Marty Feldman) Road Runner Wile E. Coyote etc.
2007 - Hagrid, Snape, Dragon, Troll, Not-So-Grim Reaper, Mouse, Casper
Thumper (2007)
Ashleigh at work (2007)
Dragon (2004)
Shucks 2005
Donald Duck, Goofy & Mickey Mouse(2004)
Snow White (2004)
Taz (2004)
Shaggy & Scooby Doo
Oscar & Scooby Doo (2004)
Tigger
Ariel - The Little Mermaid 2003
Dori
Pirates of the Carribean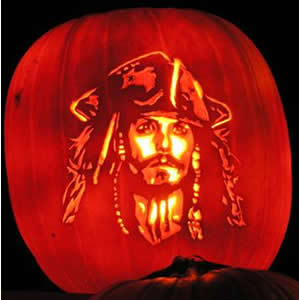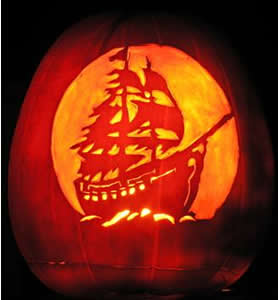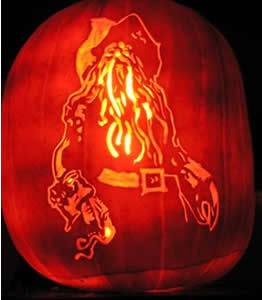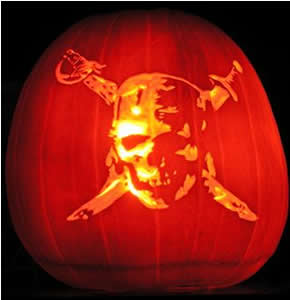 Rick's Window Treatments: They are made with black felt and tissue paper.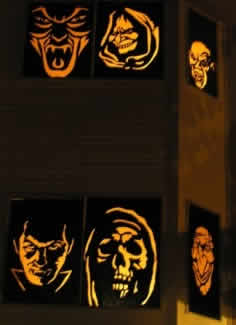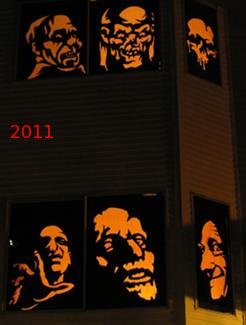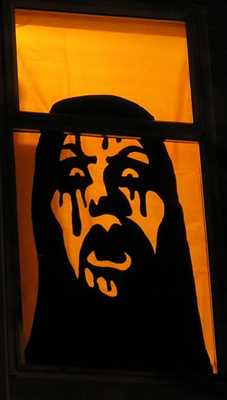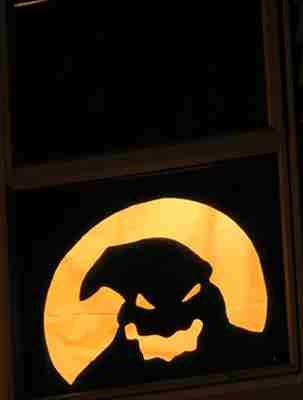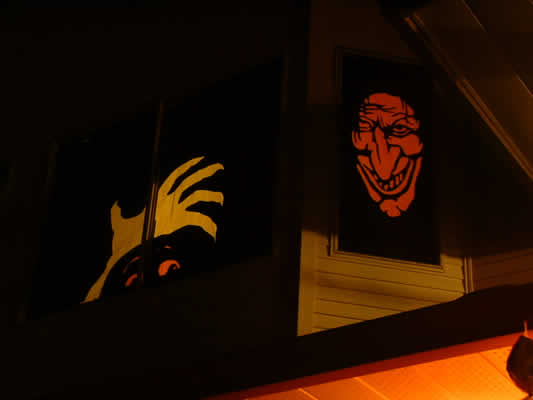 If you have any pumpkin pictures that you'd like to post, Contact us
---
The pumpkins you find on these pages were either done by Rich & Flo Newman (aka TagYerit) or sent in by friends & contributors. There are more than 10 pages, so give yourself plenty of time to explore the vast range of wonderful creations assembled here! Keep going, there's so much to see!
Don't stop now ... visit the following pages for more great pumpkins!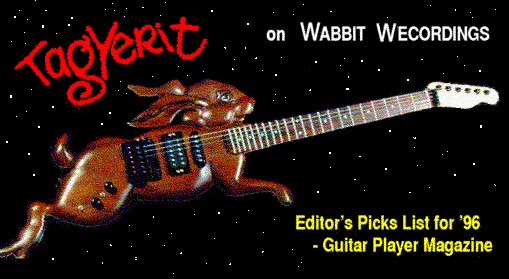 Click the Guitar to hear TagYerit's music.
Click here to fully explore the tagyerit.com pages
---
TagYerit Tails
Subscribe to TagYerit Tails TagYerit Tails is the newsletter for TagYerit (The Website) and TagYerit (The Band). This newsletter is our way to tell you when something new or exciting is happening. In other words expect it no less than twice a year and no more than once a month. Click here to sign up now.
---
Contact us
Whether you'd like to say hi; make a request or a suggestion; discuss the use of any of these images; swap links; we'd love to hear from you!
Do you carve pumpkins?

Occasionally we get requests for skilled carvers for festivals or special projects. Contact us if you're interested, and we'll do our best to facilitate.
We're always interested in posting examples from carvers of all skill levels. Contact us if you'd like to have your pumpkins up on our galleries.
Just so you know: We never disseminate email information. We are ever mindful of the privacy needs of our friends.

All text and images ©1998 - 2021 Rich & Flo Newman
(Any images credited to others remain their property and appear here by permission.)