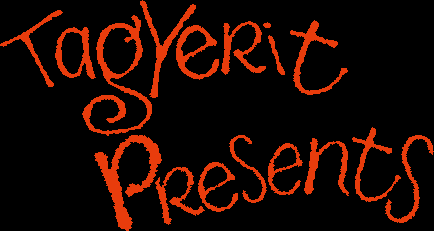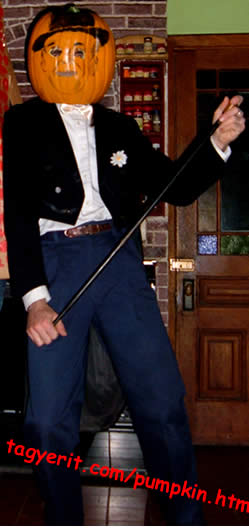 Pumpkins carved from 2011, 2012 & 2013
The pumpkins you find on these pages were either done by Rich & Flo Newman (aka TagYerit) or sent in by friends & contributors. There are easily more than 10 pages by now, so give yourself plenty of time to explore the vast range of wonderful creations assembled here!
---
CLick for 2014 pumpkins The pumpkins carved in 2014 were moved to a new gallery.
---
2013
"Patience, Love And A Forever Home"
This is a "call to action" pumpkin:
Get a friend or two out of jail
Donate to your local no-kill shelter
Please SHARE this pumpkin picture
When we learned of the huge numbers of animals euthanized every day, we were inspired to send this message onward to help find homes for these sweet animals awaiting homes in shelters.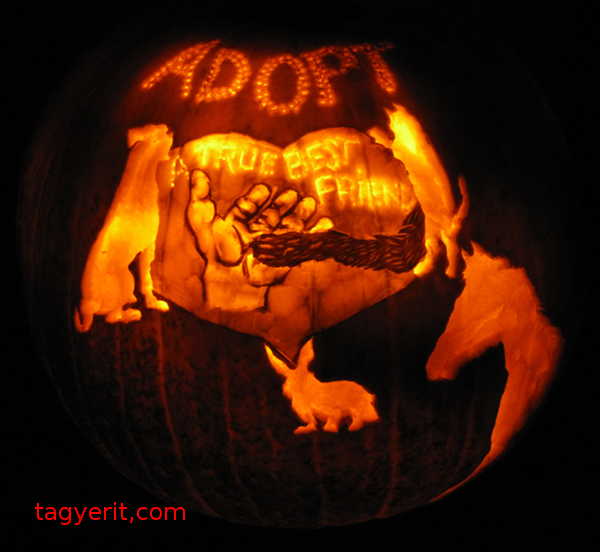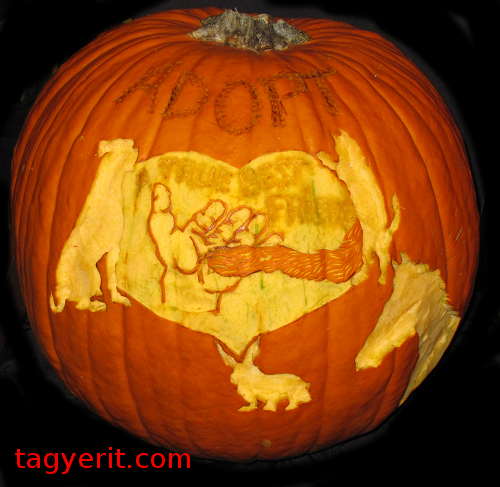 ---
"Maine Works Its Magic" Wedding Pumpkin
The pumpkin tells it all. Meg and Eric met at Long Lake in Maine. Their wake board Tige' boat travels between their families' houses under the full moon.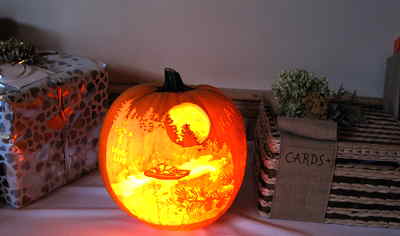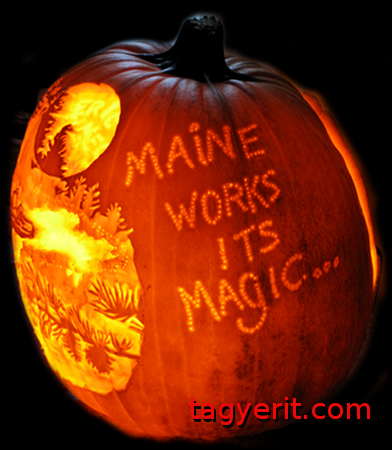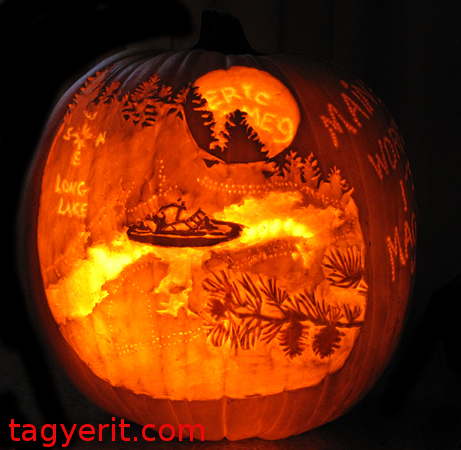 Brooklyn Bridge Carved Watermelon (2013)
First time carving a watermelon. Our niece was getting married in the spring, outside of pumpkin season, so a different vegetable was in order. Since her fiance' had proposed to her on the Brooklyn Bridge, it made a great subject for the carving. The original image was from an old postcard.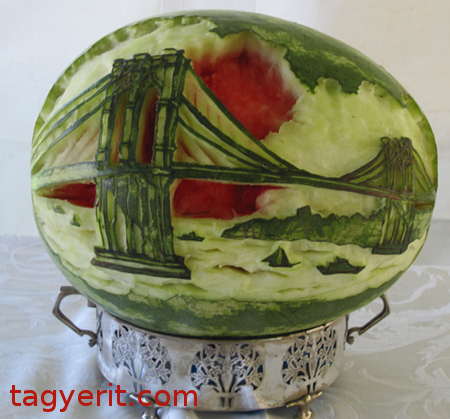 &nbr;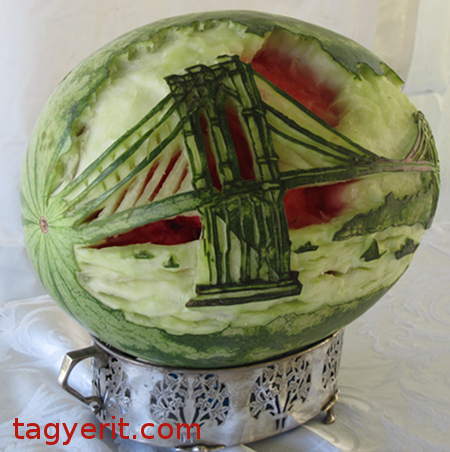 Sydney's First Birthday Pumpkins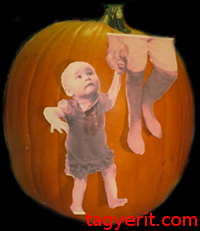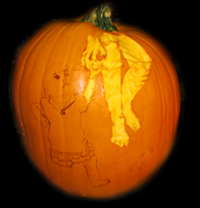 Sydney got 2 pumpkins for her birthday this year. First we created a composite picture which you can see in the set up picture. And here's the final result lit up. The unlit pumpkin was photographed before the final touch-ups. Rich carved the majority of this pumpkin, but Flo put on her jeweler's glasses and cleaned up some details, especially around the ears and eyes.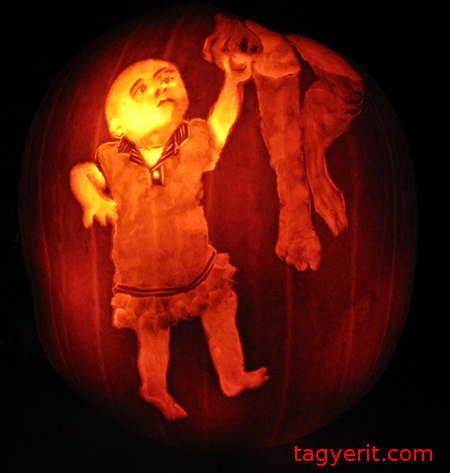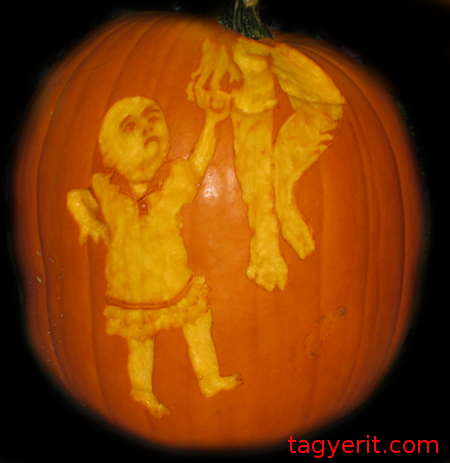 But then we all wanted Sydney involved in the process, so we headed down to the farm - Sydney thumped on a bunch of different pumpkins before she settled on this one. Sydney was born in the Chinese year of the dragon and she'll also be trick-or-treating in a purple dragon outfit. So, during the party we teamed up and carved the dragon in about 45 minutes.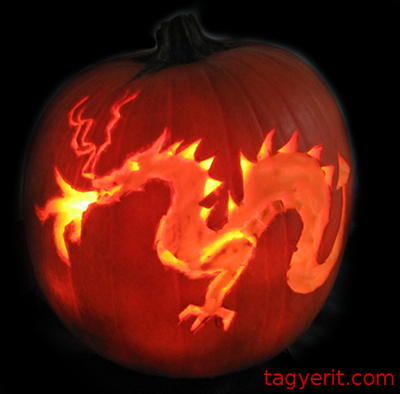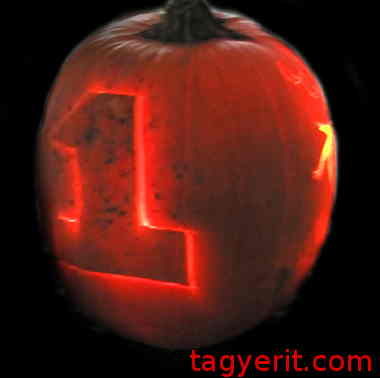 Masquerade by Beardsley
Print makers are a rich source of material for pumpkin carvings. This was a single level peeled pumpkin. Even the unlit pumpkin shows up nicely. Aubrey Beardsley (1872 - 1898) was a master of simple effective designs which he created for posters and book illustrations, though some of his pictures will surely make you blush. In fact, in his year, when he converted to Roman Catholicism, he begged his publisher to destroy some of his own works.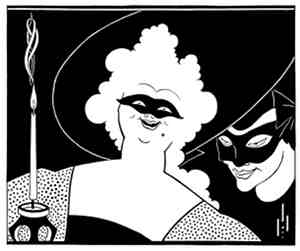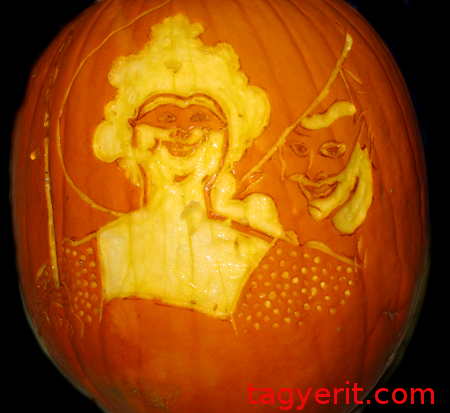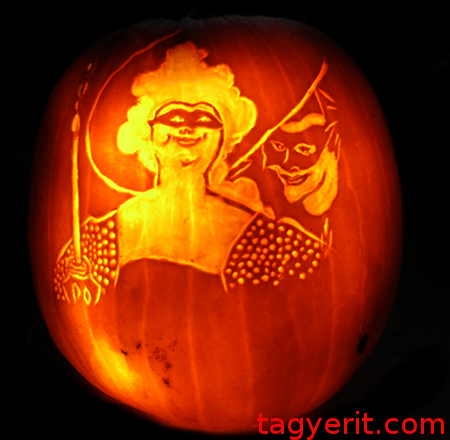 ---
Alice - Trapped (2012)
Flo made 3 carvings on this pumpkin as a gift to our favorite Alice collector.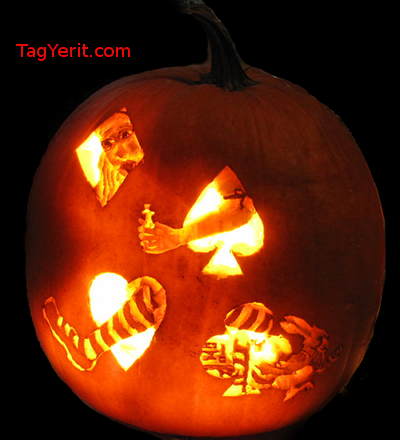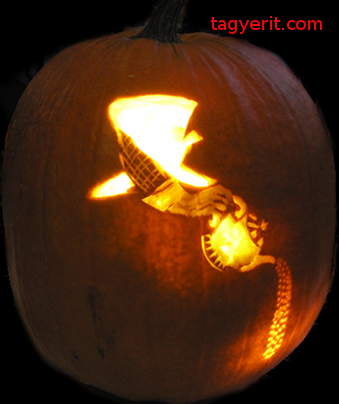 Alice in Wonderland, or maybe in this case Alice in Pumpkin Land. On the reverse side, the Mad Hatter serves tea!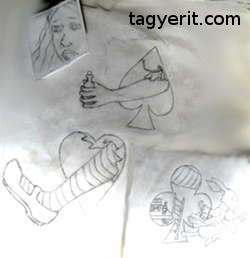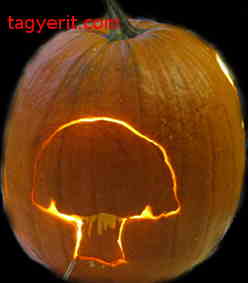 Flo started with this pattern. On the side the mushroom was cut out to hollow out the pumpkin and to get the compact fluorescent inside to illuminate the pumpkin. Was this the Caterpillar's mushroom, or the one where a nibble on the left or right changed Alice's size?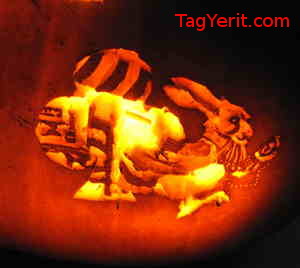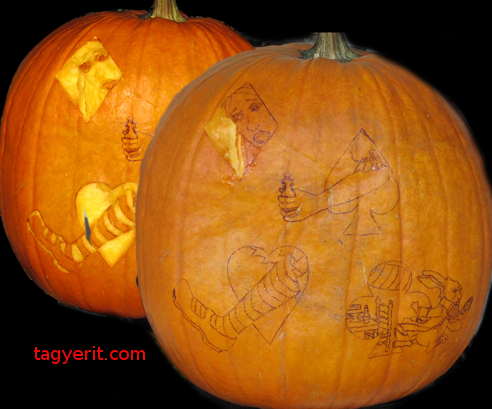 Detail showing the White Rabbit dashing past the "Eat Me" Cake and table. And 2 pictures of carvings in progress.
---
Sydney Go Round
Flo carved this for Sydney's first carousel Merry-go-round ride.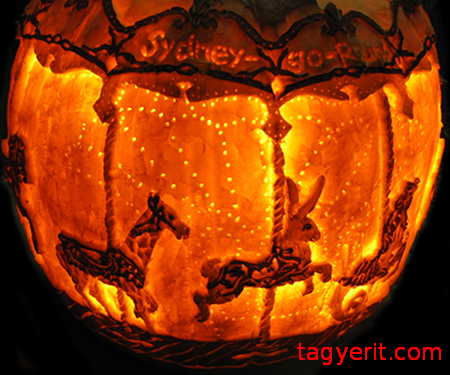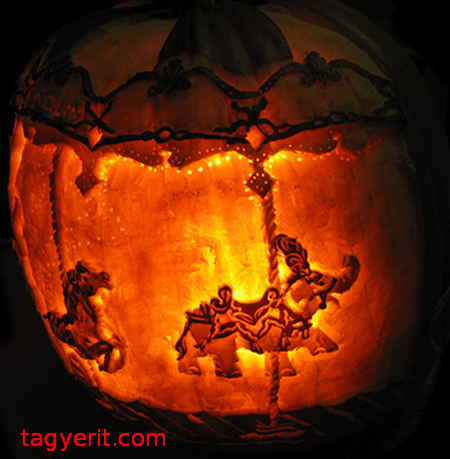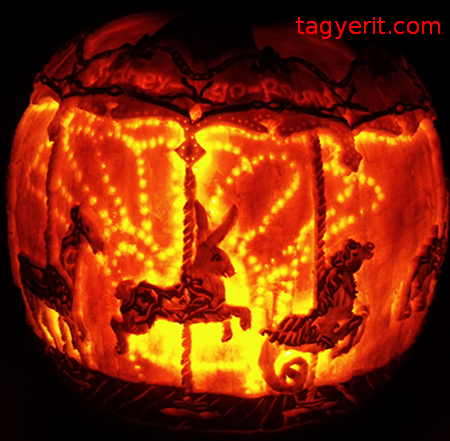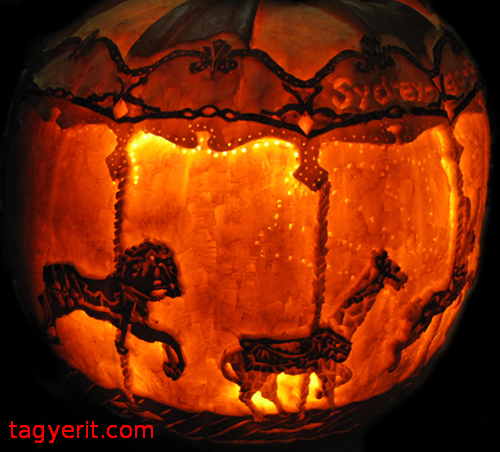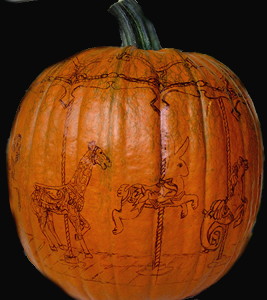 ---
Praying Mantis - Microcosmos (2012)
Rich saw a poster for the movie Microcosmos showing a praying mantis backlit by the moon and thought it would make a wonderful pumpkin … Here's the result!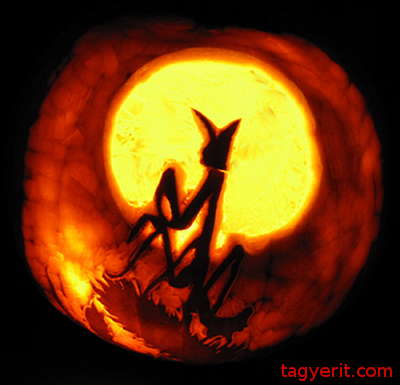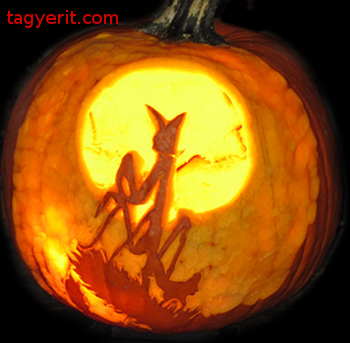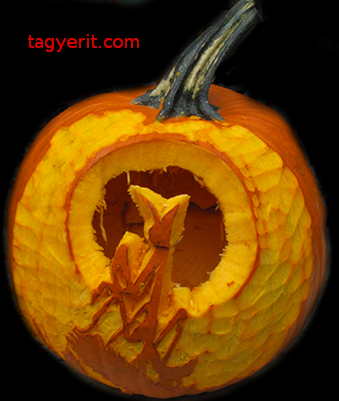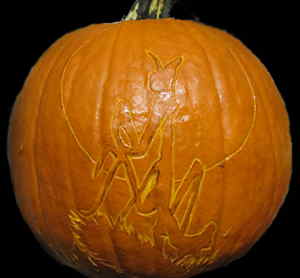 ---
Pirate Bride (2011)
Flo carved this beauty featuring three views of the Pirate Bride showing off her tattoos.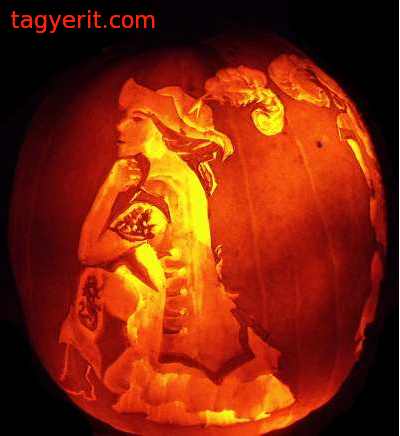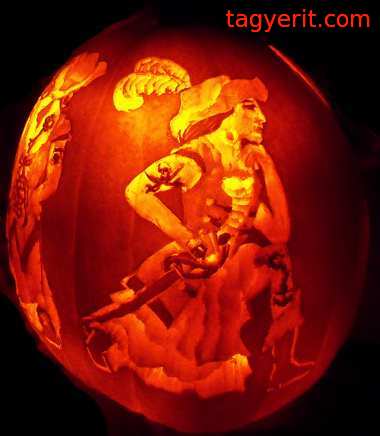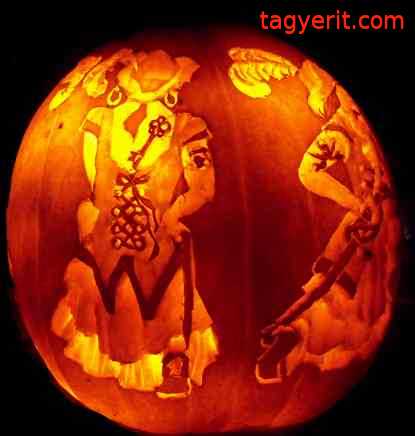 In order to carve the minute details that created the tattoos, Flo was wearing a jeweler's magnifier - the kind that's worn on the head and looks like a visor. As you can see, the ship tattoo, the mermaid tattoo, the "Treasure Chest Key" tattoo and the "anchor & chain" tattoos came out really clear. The skull & crossed swords works really well too, though that was touch and go for a while. The only one you can't decipher is the treasure map tattoo which was on her right arm. The corset lacing on the back of her dress was also a big hit among the viewers.


You can watch the pumpkin carvings as they evolve to TagYerit's song "Pirate Bride"
---
Feathertop Redux (2011)
In 1852 Nathaniel Hawthorne told the story of how Mother Rigby imbued her pumpkin headed scarecrow, Feathertop, with life. Feathertop was able to maintain his life as long as he kept his pipe lit.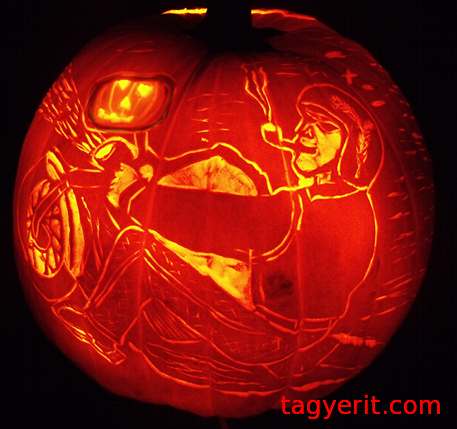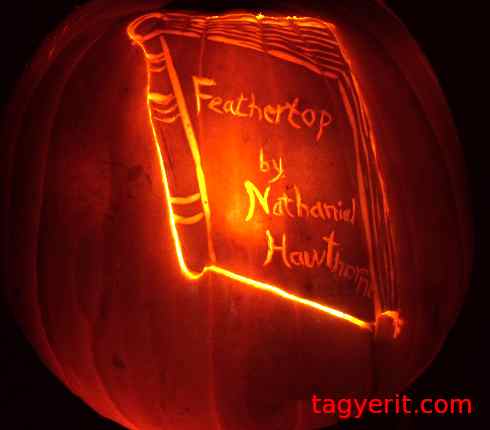 I don't want to give away the story which is well worth reading, but when Feathertop saw that the mirror revealed his true make-up, Mother Rigby decided that his "feelings are too tender ... in such an empty and heartless world". She decided he was most fit to be a scarecrow after all.
And that was certainly the end of the story as Hawthorne knew it. BUT in her last years, Ms Rigby decided that it was safe to let Feathertop come alive for one day each year. She was careful to make sure he knew the stuff he was made of before letting him venture forth and this was a much happier arrangement for him. In fact she taught the secret of his transformation to a successor before she died. It is still rumored that on a certain day each year, Feathertop can be seen visiting amongst us in this our fair city.
---
Jada Lane (2011)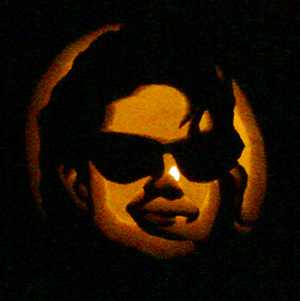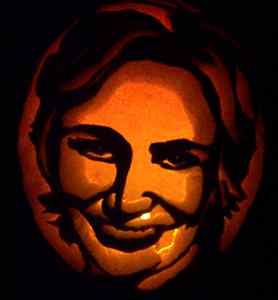 ---
Rick & Ashleigh Chong (2011 & 2012)
Rick has been sending us his pumpkin pictures for years and now his daughter is carving as many as he does. Visit his gallery to see more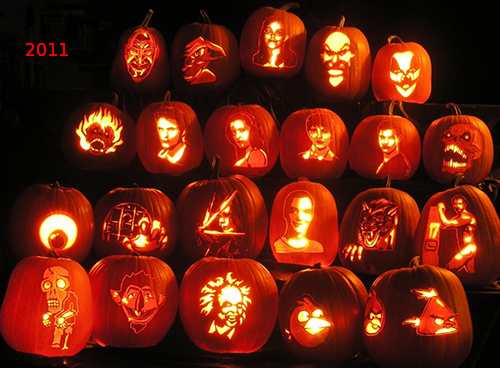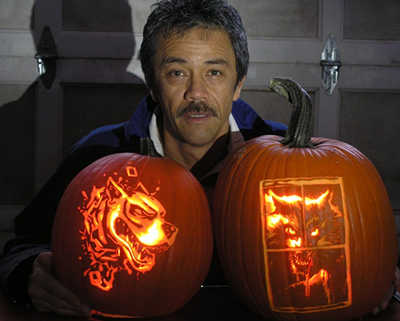 ---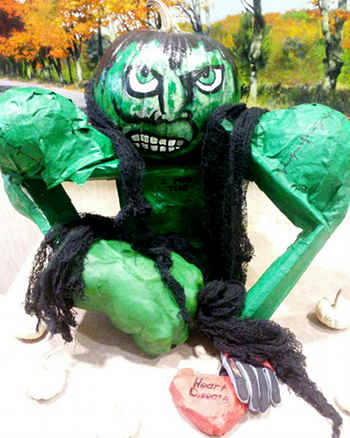 Yet again, Nurse Karen sent in another of her colorful creations. For 2012, Karen made this sculpted painted pumpkin: "The Incredible Hulk", who smashes out heart disease!
To see more work from Karen and other wild pumpkin painters, visit our Painted Pumpkins page.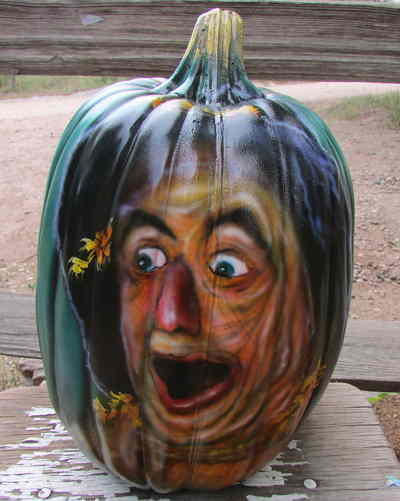 Miles Best Contributed his painted pumpkins to our website. Check them out at our Painted Pumpkin page.

---
Keep going, there's so much to see!

Don't stop now ... visit the following pages for more great pumpkins!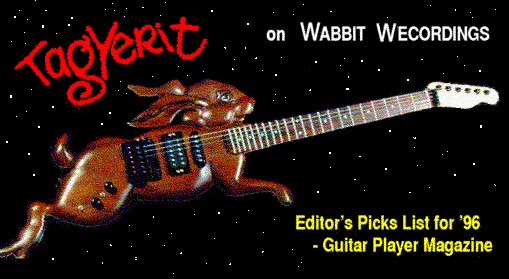 Click the Guitar to hear TagYerit's music.
Click here to fully explore the tagyerit.com pages
---
---
To contact us please type in the email address shown in this image.

After our website moved, I gave up trying to get the forms working again. - Whether you'd like to say hi; make a request or a suggestion; discuss the use of any of these images; swap links; we'd love to hear from you!

Just so you know: We never disseminate email information. We are ever mindful of the privacy needs of our friends.

All text and images ©1998 - 2022 Rich & Flo Newman
(Any images credited to others remain their property and appear here by permission.)