Friends of TagYerit
Other interesting music sites and more. A list of links I hope you'll find entertaining and useful.
and the categories are ...
Search Tips
Looking for specific keywords on this page? Try hitting the CTRL + F keys on your keyboard, and filling in your topic...
SPECIAL listings:
HepC Coalition is a coalition of Artists and Musicians raising awareness about Hepatitis C - If you're in a band, here's an excellent opportunity to spread awareness through their postcard campaign. Hepatitis is a preventible disease that infects 35,000 additional people every year. Get educated and educate others.
The Indie Bible - This is a terrific resource meticulously updated yearly - Thousands of contacts to send your songs for airplay and review. Spend more time promoting your music and less time researching. I've been using this resource for over 10 years.

Each listing features a contact name, e-mail, phone, fax and physical address.
The Indie Bible is the ONLY resource that is TOTALLY dedicated to Musicians and Songwriters that have recorded a CD or a Demo.
The brand new 12th Edition of the Indie Bible contains:
- 4200 publications from around the world that will REVIEW your CD!
- 3400 radio stations from around the world that will PLAY your songs!
- 600 vendors and services that will help you to SELL your music!
- 330 sites where you can UPLOAD your band's MP3 files!
- 500 helpful resources and sites where you can PROMOTE your band!
- 52 articles that will help your career to MOVE forward rapidly!

BANDS:
MORE MUSIC SITES:
Songwitch - an experiment in lyric search for independently released songs by the friendly folks of TagYerit
The Getting Up Anthem About the theme song for Atari & Marc Ecko's video game, "Getting Up Contents Under Pressure featuring TagYerit, Rakim & Talib Kweli.
Applause Music Careers Learn a career in the music and entertainment production touring industry! ... from performing and artist management to sound, light, and technical production.
Arabic Music - BKP Music is one of leading Dubai Based Music, Audio & Video Production Company with over 9 state of the art Sound Studios established across the Middle East.
Artist Direct - music links, news & reviews
Artist Pr: www.artistpr.com is the #1 Music Promotion site for unsigned Bands and Artists
The Audio Production Suite - ampthetex.co.uk - the audio production suite, covering all areas from music production, audio technology, sound engineering, courses, and more.
CD Manufacturing -CD & DVD packaging and printing, production services, manufacturing and short run as well as high volume duplication are available at discount pricing from industry leader, Bison Disc.
Concert Tickets : Premium tickets for concert, theater, and sports events nationwide. Buy concert tickets online 24/7
Encore Music Lessons - Besides helping you to find a music teacher in your area, the Encore Music site has an engaging collection of free online lessons & videos
Entertainment - Bis Majeur organisatiebureau is uw partner voor artiesten, entertainment, evenementen, workshops, feesten, shows & theater.
FemMuse Female musicians network
GEMM - Global Electronic Music Marketplace
Go Girls Music Network Site for women who rock.
Hip Online The premier entertainment site for interviews, reviews and much more
Holton Media Services - Services for Country - Christian Country & Gospel Music Fans & Artists.
Kind WebMusic Links, Resources, News, Events, Activism and more
Lyricstrax.com - song lyrics - rock rap country music, mp3 downloads plus music news and trivia.
Midnight Rain Productions Music Promotion News, Reviews, and Opportunities on the Internet.
Music Network USA - includes music industry free classifieds
The Music Room - sheet music, books about music, tutor methods, and instructional videos and DVDs.
Music World - voice training
Northeast Digital Recording - A highly acclaimed mastering studio. TagYerit and friends use them, (also so does Bowie, and Rykodisc!)
Piano Lessons New York For piano lessons in NYC look no further than Kathryn Brickell Music at Music-Instruction.com. We offer beginner piano lessons in and around NYC and will provide piano lessons in your home.
QuitDay.org - musicians and vocalists quit smoking and lead healthier lives
Singer Song - Dedicated to linking unsigned and independent artists with the best singer and songwriter resources.
Songwriter's Collaboration Network Molly-Ann Leikin, Songwriting Consultant, has created this site, where singers looking for songs, publishers looking for hits, and songwriters looking for writing partners, find each other. and a one-month listing is free! I Also highly recommend Molly's bi-weekly column, Success Strategies for Songwriters.
Sound Effects cd - Sound effects (fx) cd, high definition, surround sound effects offered by Sound Effects Shop, the largest collection of professional sound effects and royalty free music for post production, broadcast, podcasting, motion picture and more.
Sound Effects Online - Sound Effects Online is your go-to source for an incredible selection of Sound Effects Libraries, Royalty Free Music and Production elements. Our sound effects libraries are available on CDs, DVDs and HDDs.
SYNTHMUSEUM.COM - The largest online museum of vintage electronic musical instruments
Terra Firma Music Service - Plays 3 new bands each month in RealAudio
What you MUST know about using Stock Music ProductionMusic.info contains valuable information for users of Stock Music or Royalty-Free Music and what rights you get with your music license.
RADIO and music samplers

Outlaw Radio Guy - DJs post playlists; artists find DJs; fans find stations - A forum for discussion and promotion of independent programming and music. Remember when radio was fun? Maybe even felt Dangerous?
Belgium - Planete Indie Since 1997, a leading European independent radio show, dedicated to airplay of independent music.
Wabbit W.I.S.E. (Wabbit Wadio Indie Song Exchange) Radio the way you like it!
Barbara Newman - Lampwork beads, unique jewelry & Museum demonstrations - Barbara's Etsy store
Christin Couture - Christin painted the cover art for TagYerit's CDs "Heavy Construction" and "Tubeman".
Stephen H. Schmidt - Steve is an award winning nature photographer, who contributed photos on TagYerit's CDs.
Janet MacFadyen - Poetry
"My Wild Friends" Blanche Cybele Derby's book about finding free food from field and forests. And you thought they were weeds. The book includes many mouth watering recipes. I know because I've had some of them. I highly recommend the Dandelion Rhubarb bread.
Marty Klein - Fine Art Scanography & Photography
Shingle Art Gallery - featuring "The Giant at the Back Door" and many more wonderful shingling projects.
The Collector - a vignette © Richard Newman, 1997
Trash Gargoyle - TagYerit's CD cover also carved by Flo
Spaceman Our Flower
Sculptures © 1996 by Rich Newman
Email us if you would like to swap links, update your listings, or make suggestions
---
Return to TagYerit's main page.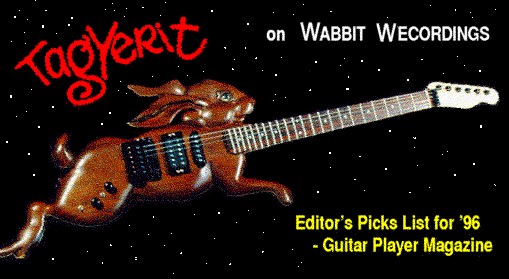 Click the Guitar to hear TagYerit's music.
Click here to fully explore the tagyerit.com pages
---
TagYerit Tails
Subscribe to TagYerit Tails , the newsletter for TagYerit (The Website) and TagYerit (The Band). This newsletter is our way to tell you when something new or exciting is happening. Expect it no less than twice a year and no more than once a month. Click here to sign up now.
---
Whether you'd like to say hi; make a request or a suggestion; discuss the use of any of these images; swap links; we'd love to hear from you!
We never disseminate email information. We are ever mindful of the privacy needs of our friends.
All text and images ©1998 - 2016 R & F Newman TagYerit.com except where noted.