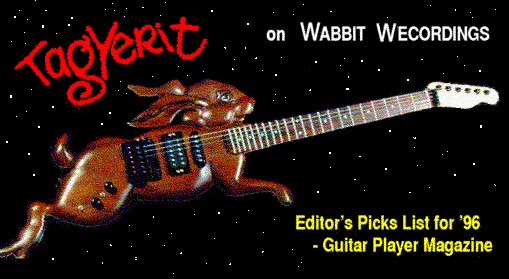 TagYerit's Music Musings:
Rich writes reviews
Richard Thompson, Bruce Cockburn, Meredith Brooks, Dar Williams, Huffamoose, Sonalysts Showcase
On occasion, I enjoy writing about other bands, and events. I am a songwriter, not a reviewer. It takes way too much time to do this regularly, and I have gained a great deal of respect for those who do this on a regular basis. For other conferences, check out NEMO 1998, PMC 1997 and The Loud Music Festival
So for the few of you who have ventured this far...
---
REAL LIFE SONGS - Northampton, MA - Tue, 16 Jun 1998

Richard Thompson, Bruce Cockburn and Dar Williams shared billing, with Karen Savoca as opening act.
Prior to the concert, there were several questions we had. Would it stop raining in time for this outdoor show at the Pines? After five days of rain, Tuesday morning's rain kept us guessing. This was a rain-or-shine event, and we were prepared for the worst. As it happened we were blessed with beautiful weather in Northampton, while just 8 miles east, the town of Amherst reported a heavy down pour in the early evening.
These 3 artists got equal billing and we had wondered how they would decide the order. Typically one thinks of the final act as the headliner, but in this case that would be a tough call. Richard Thompson and Bruce Cockburn each have 20+ recordings to their name while, Dar a relative newcomer has 3 full length CDs. After Karen Savoca opened the show, Bruce Cockburn was next, Richard Thompson followed and Dar and her band performed last. The finale had Bruce, Richard and Dar perform together on 4 songs. My guess is that the decision to put her on last was because Dar had a band,and was on home turf. At the beginning of her End of The Summer Tour she sold out The Iron Horse on 5 consecutive shows. Then again maybe it was a coin toss. Richard Thompson played the longest set and he was in great spirits and form. But then again, Bruce and Dar also put on great sets. The only thing that detracted from Dar's set was a poor audio mix.

By the time we got settled at the Pines Theater, we had missed most of Karen Savoca's set. Karen sings and plays conga and percussion. She has a powerful and raspy voice. She hits some wonderful low gravelly notes. Karen is accompanied by Pete Heitzman on guitar. He has a strong rhythm style that includes bass runs and well placed lead accents. I wish I had seen more. Then I'd have more to tell you. But I can recommend you checking out Karen Savoca's website. But not until you finish reading the rest of the review, please.

Bruce Cockburn came out with an acoustic guitar that looked like it had a blue graphite soundboard. While I've been a long time fan, I'm terrible with song titles, so you'll have to bear with me Bruce started with an exciting acoustic tune that reminded me melodically of Tibetan Side of Town.
Ever, the intense politically-active thought provoking songwriter, his 2nd song Justice, "Everybody likes to see justice done ... to somebody else."
Next he played a song that he introduced by saying that while we try to not be judgemental towards others, sometimes that's not possible. He dedicated this song, Call it Democracy to School of the Americas Watch As he said, "if you haven't heard of The School of Americas, you owe it to yourself. After all, you're paying for it." The S.O.A.W. is campaigning to close the School of Americas, which is the US army institution that routinely trains foreign military to kill. Typically that means their own civilians.
Next, he played 2 of my favorites, Lovers in a Dangerous Time, and A Dream Like Mine.
As he put down his guitar and picked up a hand-held framedrum, he said, "You're wondering what he's up to now?" My best guess is that the instrument is a bodhrán which is considered the heartbeat of Irish music. The bodhrán works to powerful effect in Stolen Land. The last 3 songs were either titled or include the lines, "Wake up children. It's your time to be born.", "One day I will be home", and "You were dancing"

Richard Thompson obviously was enjoying playing and joked with the audience quite a bit. He dug right in with Turning of the Tide, then Bathsheba Smiles. Next, How Will I Ever Be Simple Again, is about what happens when a soldier of occupation in Northern Ireland falls in love with a local girl. I Feel So Good (I'm gonna break somebody's heart tonight) really got the audience going. In response to some "Oohs" and "Ahs" Richard said that it sounded like someone was "sitting on an ants nest out there.". The Ghost of You Walks included a particularly beautiful guitar melody.
He then informed us that he was going to impart some culture on us with the story of Hamlet. But he condensed the 4 hour and 20 minute play into 2 minutes & 30 seconds. The result was the hilarious Dog Eat Dog Eat Dog in Denmark. He then explained, "The moral of this story: better get a muzzle if you get a great dane!".
Other highlights included:
1952 Vincent Black Lightning (very popular at WRSI Greenfield, MA),
Pharaoh, which he described as a song about accountants who run our lives. Now that one corporation owns all the radio and promotion, Michael Bolton just has to make one phone call to get bookings for the next 20 years.
Keep Your Distance
Walking on a Wire
As the sun is setting, one cloud above a stand of pines to the east (stage right) is reflecting the last light of the day. Richard introduced this next song, And You Wouldn't Want Me Any Other Way; as "contemplative twilight music". In the middle of the song he stepped back from the microphone and a few people offered to prompt him on the words. He just grinned and said, " I'm just catching my breath." as he finished the song.
He finished up with a charged Two Left Feet.

Dar Williams came out with her band. Stephanie Winters (cello),. Doug Plaven (drums) Billy Masters (guitar) and Richard Gates (bass). As the daylight was just about gone, and the stage lights came on, it seemed the red and yellow back lights cast halos over the band members. The only dim spot on this set was a poor audio mix. Dar's guitar was too loud and we could barely hear Stephanie.
I managed to catch some of Dar's comments, and I've included them with her set list in quotes.
What do You Love More Than Love - "a song we premiered in Northampton&quot
The Christians and the Pagans - "This song came out of living in the valley. I was asked to write a winter holiday song, just before break. A Christmas song with some surprises - some lesbian pagans come to Christmas dinner."
Bought and Sold - "I was thinking about dumbo float mansions in Utah ... In a discussion with someone who was sure that the government was helicoptering drugs into the cities, and that it was time to call the militia. And I wanted to say, if you really want to be subversive start a food coop." Dar's voice shone on this song, and Billy played a beautiful slide-guitar part.
You're Aging Well - duet with Stephanie Winters
Spring Street (new to me) - Named after the artery in NY where artists have beautified this run down area of town, and then the coffee franchises move in and gentrification happens ..." with too much caffeine ... every metaphor leads to "me" and how to stop gentrification / stopping Starbucks from taking control within."
If I wrote You
What Do You Hear In These Sounds - dedicated to Kate at the Smith School of Social Work ..."artists, religious people, psychologists ... each wants to be the other" ... as a buddhist (or trying to be) her mantra was "I'm so bad at buddhism. I'm so bad at buddhism."
As Cool As I Am - As an intro to this song, she mentioned that the last time she played at The Pines was for the Transperformance, where she became Barbra Streisand, and how the next day two reviewers discussed her hideous wig, and it was her own hair done up a la 60s! The tempo seemed fast on this, she could barely get out some of the words.
As soon as the band left the stage, the sound crew was out setting up 3 mikes and monitors across the stage, so we knew we were in for a treat. Bruce Cockburn, Dar Williams, and Richard Thompson returned to the stage, with Richard to the left (stage right), Bruce to the right and Dar in the center.
Dar, "This is our first time doing this, so even if it sucks, there's a bit of fairy dust in it. There's some of Richard in I Love, I Love. We were listening to Richard's album, when we recorded this. Richard will play Adam Rothberg's part."
After that Dar started to change the tuning on her guitar, and when she realized that Richard was waiting for her she said, "You can start, I'm going to turn off my guitar anyway." All three sang on Richard Thompson's song Wall of Death with Bruce Cockburn playing the solo. After the song Bruce said to Dar, "I thought you weren't going to play." Dar replied "I chickened out of chickening out. I wasn't going to play it, but Richard had said earlier "Go ahead play it. You bought it."" Then they played Bruce Cockburn's song, Waiting for a Miracle, with all 3 singing and Richard played lead on his acoustic. Richard introduced the last song, Turn, Turn, Turn "This is the most real, "real song" tonight."

It was a great evening and if REAL LIFE SONGS comes to your town, don't miss it.
---
Dar Williams At the Academy of Music, Northampton, MA Friday the 13th Feb. 1998
I knew it was going to be a great show, because the crowd in this old refurbished movie house was psyched. We were sitting next to a girl approx.19/20 who looked like she was going to burst with excitement..
Todd Thibaud warmed up the crowd with his guitar and harmonica. It's always a challenge to guess the titles of songs by which lines are repeated most or have some special emphasis. Todd did give the song titles about half the time. He played 6 songs from his CD " Favorite Waste of Time" (Doolittle Record) and here's the highlights as I remember them.
" I don't feel much like writing letters."
" Sweet Destiny" - a song about procrastinating
" Hanging in the breeze / Fall out of trees / Say you found some answers / A matter of degrees/ When you need forgiveness / You fall down on your knees / But you still do what you please!"
A nice fingerpicking tune, " 2 A.M."
"It got so cold ... have me like a book that's not been sold."
" Johanna's Dream" _ " In between the garden in this world / There lies Johanna's dream." There's a rich resonance in Todd's voice that really comes out, especially when his voice drops on the word 'world'.
WRSI dj Johnny Memphis ("Are you out there Jimmy Olsen Johnny Memphis") - Yes, that Johnny Memphis introduced Dar to the sold out show.
Dar explained that since it was Friday the 13th, it would not be a Valentine's show. The day more belongs to celebration by witches and pagans, which brought cheers from the audience. This show reunited her with the band she toured with for her End of The Summer Tour (EOTS). (See that show reviewed further down.) The band has really jelled since the kickoff of EOTS. It was great to hear how they have mastered the songs so that now they 'own' them. Stephanie Winters played cello and sings backup. Doug Plaven on drums. Billy Masters adds just the right environmment on guitars. I'm sure I'm not the only one who would have loved to get up and dance.
As Dar went on to explain, the theme for the night was "The Freestanding Goodness of Things That Don't Have To Do With Relationships ....", which was her lead in to therapy and her latest single"What Do You Hear in These Sounds."
The theme for the next song is a mitzvah, "I don't think of these words as Yiddush, but a tri-state language. ...on the corner where 3 states converge." Then they played If I Wrote You.
Dar's new song, "What Do You Love More Than Love" (WDYLMTL, for all you Dar-list abbreviators), was inspired by a visit to the country of Bhoutan, which has a Buddhist constitutional monarchy. The visit helped Dar to clarify some of her ideas about buddhism. (remember: Dar studied comparative-religion in college). The people of Bhoutan were clear on what was happening with the visits from the Hollywood Buddhists, "cause he wanted the mountain to love him back." As Flo says, almost matter-of-factly, "Another great song!". Dar also mentioned that she had bought the vest she was wearing there.
The theme for Road Buddies, Dar's next song; "Aimless travel ... travel is an important American myth ... to discover this great land of America, instead you discover generica." Dar's intros could be songs themselves.
Dar: "Uh oh, I forgot what this next song is supposed to represent....."
Stephanie: "Transition."
Billy: "Beer!"
"As I was driving from Northampton to Amherst, I had a suburban moment ... I'd accessed the butthead within." Summing up Party Generation, Dar said, "The one way out is through." The band added a solid rock ending, complete with dimming lights and 4 dramatic stops.
"Running on Route 47 ... You do want to hear this? (shouts of approval) ... then I noticed that I was actually noticing *nature* & the changing of the seasons ... asters and the goldenrods ... tag sale signs ... school busses... " as intro to The End of The Summer. "I raised up my arms / My mother put my sweater on."
Adding some twang to her voice, she sang Fred Eaglesmith's song, Wilder Than Her. Obviously she enjoys doing this song as she bounces and pogos.
Doug Plaven adds a metal 5 gallon pail to his kit for As Cool As I Am. They start right in. No intro, no theme mentioned. Stephanies backup vocals sound phenominal on this song.
Dar explains how poignant it was to play Mortal City in Ottowa after they had just gone through an ice storm.
To introduce Are You Out There, Dar talks of coming of age to WBAI Pacifica 95.5 in NY, and how the signal had to break through, "the dense suburban shrubbery."
(I think I missed one here)
The last song of the 'free standing' theme for Friday the 13th was The Christinas and the Pagans.
For her ovation she played You're Aging Well with Stephanie Winters on cello, and Billy Masters joined them on dobro for Iowa. Dar encouraged everyone to sing along to the chorus of Iowa. The audience's job is to be the undulating hills of Iowa to reach out to the neurotic personna in the song. As I sang (attempted?) Iowa, I sensed, for the first time, that the rise and fall of the pitch was intended as the hills themselves.
For her second encore, Dar sang The Babysitter song.
We decided not to stay to say, "hi and thanks" to Dar during her after-show Meet & Greet, but we did stay long enough to see Dar take her place in one of the theatre boxes, as the line formed, to say hi to several Dar-listers, and to see the wide-eyed fan score Dar's water bottle as a momento.
Video Moments:The Academy of Music with it's use of lighting added a sculptural feel to the event. Stephanie Winters dressed in black on her stool added a wonderful silhoutted presence. If I were to pick a spot to video tape a live Dar show, this would be it.
---
Meredith Brooks - Live at the Iron Horse Northampton Oct 29, 1997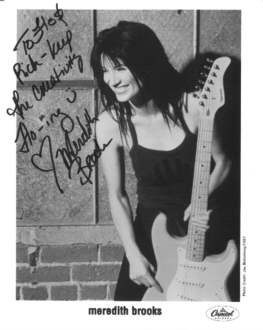 On Monday, we decided to see if there were still tickets left for Meredith's show. Since she has a platinum selling CD, and the Iron Horse is a small venue, I didn't really expect to get in. But surprisingly it hadn't sold out. Reading a few reviews and interviews, we realised that Flo had a lot in common with Meredith, as front woman guitarist for a band. Specifically the idea that to get credit for being a guitarist, they each had to record all of the guitar parts, for fear of being overlooked because of the attitude that a man must have played the hard parts. Laugh if you want, and in a few years this will seem absurd, but we've had people comment that I (Rich) played some interesting guitar stuff. Well maybe, I will play some guitar on the next project. We haven't decided that yet, but the point is that in the rock world, there are few women guitarists, who are perceived as role models.
The show was wonderful, but for a few details. The performance was solid, but they didn't kick in to high gear until the last few songs, including the encore. And I didn't think the audio mix did the songs justice. While there was adequate separation, Meredith's guitar(s) sounded a bit muddy. I'm not versed in the technical aspects, but it seemed overly compressed, and perhaps one too many guitars, at times there were 3 guitarists. I don't mean to nit-pick. I still highly recommend the show. Especially, since she's still playing at the smaller clubs, and is very personable on and off stage, as well as approachable.
I didn't catch all of the song titles, but here's the Set List. Keep in mind that my first exposure to most of the songs was at this show.
My Little Town
Shatter - "I may crack, but I'll never show it"
PollyAnne - It's okay to find the good side of life too
Birthday - This has the flavor of a Waitresses song. That's a plus in my view
(missed the title) "I'm making my move / Come and love me Now" - (little bit of Cheryl Crow flavor) - The fretless bass on this was very cool.
(also missed this title - maybe it 's Wash My Hands)
Somedays "quot;Somedays you just can't figure out" - A day-in-the-life song that Meredith says is " All true"
What Would Happen - the new single
Bitch - I have nothing to add to what's been said elsewhere
I Need - The rap-like verses spell out a Christmas wish list that would sink Santa's sled. Tongue-in-cheek take on materialism, and misplaced urges.
Meredith skipped the touch the back wall of the dressing room and return to stage routineby simply announcing they were moving right into the encore. A funny move
Lay Down - A Melanie song. They started off a capella with beautiful harmonies, showing a hidden side of their talents. Then they barrelled in to a hard rocking Joan Jett-esque take on the song. That was never one of my favorite Melanie songs, but now maybe, I'll have to reconsider.
It Don't Get Better - Truer words... The band was hot, the crowds energy was peaking, and Meredith's band had played all of the songs they knew.
By the way, Meredith is soliciting ideas for a name for her back-up band. Flo and I hung out for some autographed toilet paper. Meredith was great about it. She signed the sheet "Shit Ya!..." And after we gave her a copy of our CD and showed her Flo's guitar, she gave Flo a hug and also signed this 8x10.
---
Dar Williams - End of the Summer tour
We went to Dar's third of four sold-out shows at the Iron Horse in Northampton (Sept. 17, 1997) It was the beginning of her tour, which started appropriately enough, at the end of the summer.

I have never really understood the zeal with which sports fans cheer for their home team, although I am beginning to get a taste. It always seemed to be a little too nationalistic and arbitrary at the same time. And yet, I get a certain amount of satisfaction whenever local artists get some national notoriety. Whether it be Dinosaur Jr, Scud Mountain Boys, Pajama Slave Dancers, Sebadoh, or Dar Williams. Maybe it's the feeling that somehow we are cut from the same cloth, or that these are people that we could get to know, or bump into at the grocery store. No, it's not a "Northampton sound", but these are still "our folk". Of course it gets confusing when you consider, that I'm a transplant from Boston.

Charlie Hunter, Dar's manager introduced the show. He noted that with the addition of a tour t-shirt, "...for the first time, I feel like a real manager."

This is the first time Dar William's is touring with a backup band. This may disappoint some, but I found her as open and engaging as on her previous solo tours. She opened up, solo, with "When I was a Boy." This was the song that had originally won me over, a few years back, and it's still one of my favorites. It's one of the growing list of her songs where I find myself saying, "I wish I had written that!"
She was then joined by Stephanie Winters on cello and Bill Masters on slide guitar for "Iowa".
(If I've gotten their names wrong, it's because I was taking notes in the dark, and I can barely read my own writing under normal conditions) Doug Plaven joined them on drums for "The Christians and the Pagans". Richard Schindell, who had played warm-up, completed the band with guitar, and backup vocals. "If I wrote you." is Dar's tribute to Townes Van Zandt. Their harmonies in the chorus were quite powerful.
Dar introduced her next song by explaining that when she moved to the valley with it's "rainflooded streams and frost heaves a-plenty", she spent a year determined to be depressed. Through it all WRSI (95.3 FM) in Greenfield, with it's afternoon "Birdsongs", made her task especially hard. "Are You Out There?" immortalises two cheerful WRSI djs, Jimmy Olsen and Johnny Memphis, who continue to support a wide variety of non mainstream artists.

"Road Buddy" was a really good song for the band to cut loose in a funky countryish groove. "Bought & Sold" is her rant against the Walmarting (can you conjugate the verb 'walmart'?) of America, where weapons are made a little too accessible. In her self-mocking "I'm better than that,quot; sort of way, she took the opportunity here to mention that her t-shirts were made of 'green' (organic) cotton.
"The Party Generation" - This is the song of hers, that I want to hate, but can't seem to do it. It's kind of a male fantasy song, where the party boy gets off the hook, for all of his past deeds because obviously he's doing the best he can. It's also so insipidly hookish. Yet, at the same time, it demonstrates Dar's ability to get inside of our heads and reconstruct layers of our thoughts. As the party boy, who has just turned 34, lays down to reflect on the perfect party night, we are all transported to our earliest birthday parties.

Well by now, you get the idea how I feel about Dar's songs and performance. Also included in her set, End of theSummer, The Babysitter, I Will Not Be Afraid of Women, Jesus Loves Me (written by Richard Schindell - from Mary Magdalene's perspective), What Do You Hear in These Sounds, Teenagers Kick Our Butts, and February. I enjoyed every minute, but I did miss Alleluia.
If Dar is coming to your town, be sure to look for the tour bus with the white stallion on the side. It's named Fantasy II. Be sure to tell her Rich from TagYerit sent you.
Actually I've just discovered that one of the joys of writing this kind of review is that as I reconstruct it, I'm able to savor the experience all over again. The songs from this concert, are still playing in my head a week later.
---
Huffamoose Mini-review
Alright - So TagYerit was hanging around the other night (9/11/97) going, "Which of our crazy projects should we face next? Oh well. Why be overwhelmed when our local radio station (WRNX) is sponsoring a Huffamoose gig and charging only two bucks. (pardon the pun) ... Yeah!" One of their songs, 'Wait', has been getting airplay and we thought it was some real fine songwriting. Plus it sinks it's hooks directly into your cranial cavity.
So we decided to hear what else these guys write. We were not disappointed - great songwriting. tight band. Interesting changes within each song and all kinds of mood and groove changes through the set.
Kevin Hanson, the lead guitarist has the chops. His style produces some beautiful tones, with an array of pedal effects. But he owns them. He dances around more than just major/minor scales. Sometimes reminiscent of Jimmy Page, Steely Dan, Jazz Butcher ... (He also happens to look like our friend Mikie)
The only way to describe singers is by comparison. So here are the male vocalists that come to mind after hearing Craig sing ... Dave Matthews, Andy Partridge (XTC)
The only sad thing was that there was only a small but extremely enthusiastic audience there to suck up all of those great sounds. Despite the low turnout, Huffamoose gave back great energy and all of the band members were more-than-enthusiastic about signing toilet paper for TagYerit's Whole World Toilet Paper Museum and were quite gracious (there must be a better word).
Definitely a must see.

Huffamoose CD "We've Been Had Again" is on Interscope Records. Erik Johnson (drums), Jim Stagen (bass), Kevin Hanson (lead guitar and vocals), Craig Elkins (lead vocals and rhythm guitar)
Songs include Wait, James. Enigmatic, Buy You a Ring, Speeding Bullet, She Don't Get it, Snapshot
---
The Intermixx/Sonalyst showcase was in Waterford CT June 7,1997. Forty eight bands played, and there were a half dozen workshops.
While it didn't seem too well attended, the opportunities for networking were great. Flo & I met a number of contemporaries from indie bands and labels. It had to be tough for any band playing at 10:00AM, but even if there were only four or five listener's, at one of four stages, all of the bands that I saw played their hearts out anyways. The ratio of silver and black leather (vinyl?) to blue jeans was high. Flo says that seeing musicians in the morning is like watching vampires unused to daylight. But then we don't get down to the Village much.
At the workshops, Noel Ramos, who publishes Mixx magazine, is just as vocal live as on the Intermixx email list. Noel kept reminding us attendees that "Networking" is what it's all about. Of course those of us at the workshops already probably knew that, but the rest of the bands that played and left, may have missed some good opportunities.
The highlight for Flo and I was to get one of the songs from our CD up at the Listener's Party, in front of a variety of industry types. For a hit-em-over-the-head with something different, we submitted our quirky a capella song "Pointless Psychic Revelations".We managed to survive the scrutiny unscathed.
On the panel were Tony Bongiovi, Joan Holliday, Stevie B. Marty Walsh and Vic Steffans. The panel was extremely liberal with their constructive criticism. While they had many good things to say about the songs they heard, they gave lots of pointers on how bands could improve them. For over two hours we waited our turn. First getting really nervous, and finally, figuring they weren't going to get to us, we had relaxed.
Tony Bongiovi has produced many top notch albums including The Talking Heads as well as John Bon Jovi (his nephew). He asked us a few questions; looked at our CD cover; asked us if we put together the whole package, and then said, "It's perfect." Then he said since it had "niche' market appeal, we would have to work to find our audience. Joan Holliday is a dj at WWUH 91.3, a non commercial radio station. She also confirmed that she liked it, but not for her show. Stevie B. who is a music promoter and has worked with Madonna, came up to us afterward to ask for a copy of our CD. Vic Steffans is an engineer for Horizon's Recording Studio. His comment was, "I like this. I can see me buying this. In fact I will buy it."
Previous to this weekend, I have had several online conversations with Marty Walsh. He is a guitarist who has toured and recorded two albums with Supertramp and has worked on various studio projects including Dolly Parton's "9 to 5". So this workshop gave all of the people, who we had met, a first chance to connect with us on our "creative" venture. That is always the tough part for us non performance artists.

For what it's worth, the one criticism that was repeated most often by these panelists about the CDs and tapes that were presented ... Bands need to pay more attention to preproduction. At the very least, solicit some criticism from friends.
In our case, and the reason we escaped criticism, is that we had done that. Our producer Ed Vadas, spent as much time with us on pre-production as he did in the studio. That is why If you don't, you'll stand to waste more time and money and get a product that won't survive the scrutiny of the industry types. Of course if you're just doing this for yourselves, ignore what I just said.
And while there, we also added a few more luminaries to our autographed toilet paper collection.
---
Back to TagYerit's home page.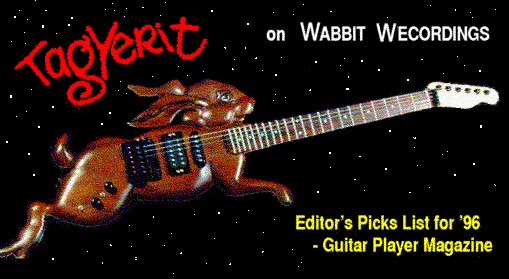 This

Dar Web Ring

site is owned by

Rich Newman

.

Want to join the

Dar Web Ring

?

[Skip Prev] [Prev] [Next] [Skip Next] [Random] [Next 5] [List Sites]

Comments? Suggestions? email rich@ tagyerit.com ©1995 - 2003 R. &F. Newman. All rights reserved