TagYerit's Take on NeMO 1998:
A Window on Boston's Music Scene
by Rich Newman


Fri. & Sat. January 16-17
TagYerit Subway Surf's to NeMO...
Through a small winter storm, Flo and I drove to the Boston suburbs and took the Green Line to Copley Square. It seemed only fitting since the Green Line of the T (MBTA) was inspiration for our song Subway Surfing. And Copley Square is home to one of my childhood haunts, the main branch of the Boston Public Library. With the snow blowing horizontally, it didn't exactly conjure up any long lost memories. But it did rekindle my desire to visit soon. The Copley Plaza Hotel was just across the square, an incongruous sight (sic) for most NeMO attendees. In the lobby of this grand old hotel were pictures of past events, including a 1950 playbill for a Lena Horne show. There was also a picture of a 1920's car dealer's convention, complete with cars, parked inside the Oval Room. So maybe a 1990's music convention was not all that unusual from the hotel's perspective.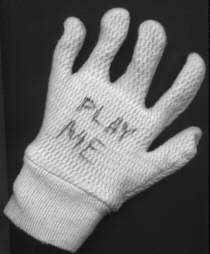 The Play-Me glove sums up the reason people come to music conferences. It gets my "Metaphor of the Moment" award. Inside is stuffed a demo tape. Within this tape are the dreams of one artist learning the business of music. More about her later...
The deal for us, as volunteers, was to work NeMO's t-shirt table, in exchange for letting us attend the conference for free. This was the sixth event we've worked this way, and we're beginning to see a payoff in the number of people we've gotten to know, since our first CD release in early 1996. I found working the t-shirts interesting for several reasons. Since I'm the one who does laundry at our house, it was great to see Flo fold more clothes in one day than I've seen her fold in the 25 years we've been married. I also got some first hand experience in merchandising. At least three factors affected sales: location, pricing and chance. By Saturday, the table was moved for higher traffic; the price was dropped ($15 down to $10); and the snow had stopped. Sales increased exponentially.
Confession Flo did most of the work, while I got to play at the panels.
There were panels, workshops and mentoring sessions running concurrently through the 2 days. I hope you enjoy my highlights.
THE WEB: ONLINE MUSIC
Obviously. having a web session is now a must at these conferences.
Patti Beninati of Surface Management was the moderator. She kept the panel moving and focused.
Lucas McDonough, Thinking Pictures (simulcasting on the web)
Trev Huxley. Muze Inc.
Jim Hoenschein (sp?), Lycos
Brett Fasullo, Surreal Multimedia - Brett claims the distinction of having the second band on the web. When IUMA was founded, his band was one of the original five.
---
RADIO FORMATS: The New Trends
If you're confused, about breaking into radio, you're not alone. I left this panel more informed yet more confused than when I went in. Maybe looking for the Secret Passage is the wrong approach. After all, what worked yesterday, may not work today. Do you long for the old days when there were fewer genres and you heard the same thing on most stations, or do you prefer today's innumerable niches, yet you still can't get what you like on the radio. Radio is important and these panelists offered some interesting, if random thoughts.
Moderator: Oedipus. WBCN Program Director
Scott Burton, Jeff McClusky & Associates, independent radio promotions
Jonathon Lev, The Jerry Brenner Group, independent radio promotions - (works with The Bosstones)
Paul Langton, Island Records, Director of Alternative Promotions
Gerry Spivack, Atlantic Records, VP Alternative Promotions
Radio stations have become overly niched. 1998 is not the greatest time for bands on the radio... You have to be really market specific. Get your music into the market and then give it to radio. ... Formats are expanding, but lines are being drawn more formally. ... In order to guage a song, the station plays a song a number of times and then polls audience. ... radio goes in cycles ... work consultants as much as DJs .. Get on Locals shows, typically on Sunday nights reserved for cult programming, when show values are low. ... Certain stores on Soundscan are weighted. Sales at Newbury Comics equals 12 sales in a big store. ... BDS - a song needs to be registered with each specific format. .. .AAA (Adult alternative) is definitely viable. their target is age 25 - 45 (sometimes to 54). Not as active a listenership (ed. note: I think 'active' refers to buying habits). AAA is a softer sound, the emphasis is on quality. A great idea, but the ratings are not as high ... Some labels work a record for a year. (TagYerit's been working Heavy Construction for over 2 years now) ... Boston is one of the best markets to break a record. As Good As Dead broke in Boston after 8 months, and a year and a half later in their home territory of Chicago. ... focusing promotion regionally makes sense. ... A great song will always get played. Just ask Chumbawumba, Squirrel Nut Zippers ...
---
CREATING A BUZZ ON A BUDGET
Doug Dubrosky, Ruder Than You - saxophone & vocals
Best way to make money on the road is to learn how to spend less.
Rent a van before buying.
Buy food at grocery stores instead of truck stops. Find the all-you-can-eat buffets.. Con clubs into giving you food. Send or fax a rider to clubs in advance.
The Punk Rock hotel trick - Do your show. Drive until 6 a.m. Convince hotel into letting you check in early for the next night. Get some sleep. After the gig you still have the room for the night. This way you're only paying for lodgings every other night.
Put begging poster at the merchandise table at the show.
Check out Traveller's Advantage plan and stay at budget hotels. You can often tell a budget hotel, because it has a number in it's name.
Eric O'Dell Grey Eye Glances - bassist
We sent our keyboard player to a conference in New Orleans with a backpack full of discs. He walked through the lobby, handing out discs to anyone who looked important.
To publicise showcases, send your faxes in the middle of the night for the cheapest rates.
Grey Eye Glances are three musicians from South Jersey with a neo-folksy sound. We started playing Borders Bookstores in 1992. There are now over 200 of them. They are cultural pockets in cultureless areas. Booked through the events coordinator, rather than the music department, we play full two hour shows, not 'in-stores'. Because we are providing free entertainment, they let us put our own merchandising table out.
Put your mailing list out and work the fan base.
One of the best things is to get a credit card machine. It cost about $1000. This increased our sales by 30%. We paid for it after 3 shows.
Do get a web site ... Grey Eye Glances is getting 48000 hits a month. Get your own domain name.
Make sure you search your name. We were originally Sojourn. There were 4 Sojourns at the time. It's a sin to have to change your name after building name recognition.
For selling CDs at live shows, the magic number is $12.
$15 is too much and $10 makes it seem like a budget CD,
Always talk your product on stage. Let people know you have stuff there. We did a festival with a number of bands, including Suzanne Vega, and we were able to sell more merchandise than the others.
Doug
For punk and ska bands, $10 is the cap for their audience. Swap CDs to sell, with other bands that you are compatible with. Then you have more items to sell on your table.

Eric
Develop good habits. If you can sell, while keeping your costs down, then the labels are happy. At Borders we have moved 600 CDs in 2 hours.
Darcy Mayers, Rykodisc, publicity
Press is the most important way to get buzz. Find local press to champion your cause.
Adam Lewis, The Planetary Group, radio promotion
Do your research Don't send CDs to every station. Look to college radio.
Carolyn Ballen, Disc Makers, Marketing Manager
Utilize the all-important mailing list. These are your fans. These are the people you need to contact. Keep your mailing list out at all times. Individually address your e-mail.

Eric O'Dell
We hand out our mailing list from the stage, while we're playing. We also have raffles. Buy 20 state lottery tickets, and give away a free lottery ticket with each of the first 20 sales. During the holidays, we do a Turkey Giveaway Raffle to all purchasers at the show. This includes a merchandise gift pack as well as a private 'in-house' performance.
---
PRODUCERS TALKING SHOP
The 6 producers on this panel have 150+ years of cumulative experience in the business. How they managed to get these 6 together for this panel is beyond my comprehension.
Eddie Kramer - Produced Jimi Hendrix, Led Zeppelin, The Rolling Stones, The Beatles, Anthrax : A producer is part psychologist, part musician ... helps to pick the material ... often does the engineering ... Get the musician excited ... I like to record in a big live room ... Songs are the first thing I look for ... Different artists need different microphones.
Gary Katz Produced Steely Dan (Katy Lied) Root Boy Slim : You need to understand the talent you are working with. I need my own monitors. You need to feel comfortable that what you hear in the studio is the same you hear in the car.
Tony Visconte - Produced 12 Bowie albums, 10 T-Rex albums, Moody Blues : Scary Monsters with Bowie was our Sgt. Peppers. The producer is the one who takes the blame for failure. We've all seen the artists who cry or breakdown or get drunk. If it's good, the A&R takes the credit. ... Record on analog and edit on digital ... Use equipment you feel good about. Monitors are not flat. they're as different as people. For reverb, Lexicon is still the best ... Performance is everything
Al Kooper - My 40th year in the business. Started in bands as sideman. (including Bob Dylan) Original member of Blues Project, Blood Sweat & Tears, and the seminal Bloomfield - Kooper Supersessions. Produced 3 Lynnard Skynnard albums, the Tubes, Nils Lofgren - A producer is the person who fills in for any deficiencies that the artist has, in order to get the artist's ideas across. Has to know when to step back and when to take the artist's hand. ... Digital mastering and editing are a tremendous tool. If there's a flash peak, that little red mark, just tap it down. I love having a studio in the house . Record your idea digitally to express yourself and then give it to the musician to play it and take it to the next level. I look for an artist ( or a project) where I can learn something and I want to have fun. The most common deficiencies in bands is the lack of arranging abilities. The only band I've worked with that knew their own arranging was Lynnard Skynnard. I had to show the bass player how to work with the bass drum. I only had to show them once. ... When I'm not sure which mics to use, I set them up in an array like a press conference and have the vocalist walk across. ... (on mics) Keep impedence down. Go directly to tape.
Joe Mardin - Produced Chaka Khan, Anita Baker : A producer also has to keep the project in budget. (What do you look for in artists?) Hoping to see some magic.
Rob Fraboni - Produced Joe Cocker, Bob Dylan, Bonnie Raitt, The Band : I'm fond of some mics. I like to keep it as simple as possible. With the right mics and the right gear you don't have to work as hard. I like the warmer pre-amps, and naturally the rooms. No substitute for the right room. I look for an artist who is unique and innovative as well as emulative.
---
Don't forget, I promised to reveal the Play-Me glove artist there
---
Or Head over to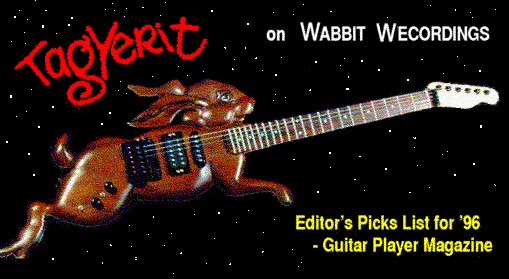 We want to hear from you Email rich@ tagyerit.com
©1995; 1996;1997 &amp 1998 R. &F. Newman. All rights reserved