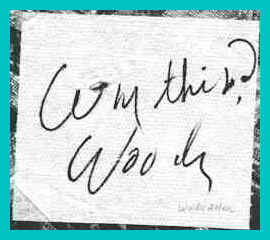 In the words of one humorist filmmaker:
"Why this?" (Woody Allen)
Ink on toilet paper from 2002 Cannes
Collector: D. Tox
Congratulations! You have found the Whole World Toilet Paper Museum, for the simple reason that you were looking for it. It's true you probably didn't even know you were looking for it until you found it, but find it you did.
On your left are the links to this site, where you'll find odd pictures, histories, stories and more. Perhaps there is nothing more inconsequential than a sheet of toilet paper. All the more reason to ponder it. If familiarity does indeed breed contempt, this site may hope to help you rise above contempt for the mundane. While the secret to the universe may indeed lie under our noses, don't expect to find that secret here. But do expect to have fun looking.
But WAIT - we're discovering that it is not inconsequential after all. Go to our blog and check out the entry A Scary Story to learn about the environmental issues.
Our interview with The Travel Channel - Originally aired Jan. 2012

Audio Interview New England Public Radio 5/22/2014
Interview by Jill Kaufman:
"Something Worth More Than The Paper It's Written On?"
Video interview for Springfield Union
An interview we did with the Springfield Union newspaper

"Life is like a roll of toilet paper, the closer it gets to the end, the faster it goes", Steven Tyler (in his autobiography: Does the Noise in My Head Bother You)

We were sad to learn that our interview on the Smithsonian Network is no longer available.

It was recently brought to our attention that the technical term for toilet paper collecting is "Latrinapapirophilia", which would either make us latrinapapirophiles or latrinapapirophiliacs.

-->

Subscribe to TagYerit Tails
TagYerit Tails is the newsletter for TagYerit (The Website) and TagYerit (The Band). This newsletter is our way to tell you when something new or exciting is happening. In other words expect it once or twice a year. Sign up now.
---
Click for TagYerit's Front Page music, gadgetrees, easterner bunnies, cool carved pumpkins, more, more, more ...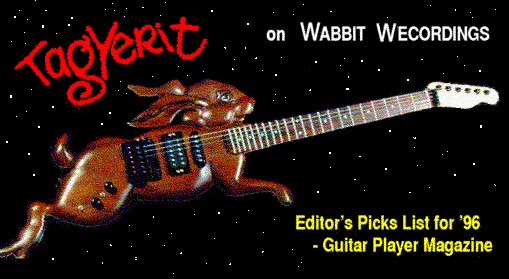 © 1995 to 2022 R. & F. Newman. All rights reserved | Contact us