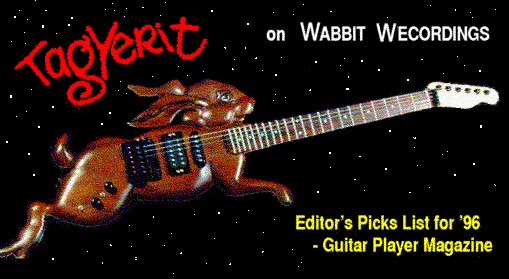 This is how the original museum looked from 1995 to 2003. If you are reading this, you're in the archives and the museum has been successfully upgraded.
Flo and Rich are not only curators of the Toilet Paper museum, but are also songwriter/members of TagYerit. While you explore the museum, you can enjoy our song "Embarrassed" in RealAudio. (from our second CD "Tubeman")
Click this line to hear Embarrassed.
---
(gavel sounds)
"This meeting will now come to order. We ask all of the current members to be patient while we explain the significance of this society to our new visitors. Please be seated so we may begin.
First I'd like to introduce our society's founder and benefactor. Without Flo, there would be no collection...
Sorry, we interrrupt this broadcast to let you know that, goofy script aside, this is an actual and extant collection
(applause fades) Thank You friends and contributors. My collection began as a slap in the face of all those collectors who ruin a good thing by trying to make everything valuable. So I figured what could be worth less than a sheet of toilet paper? (a heckler shouts, "a half a sheet") I began innocently enough asking friends who were travelling, to bring back a souvenir from any interesting place or event, without costing them money or taking up space. All I asked is that the Collector sign and date the sheet with a brief description. As near as I can remember, I began in 1977 or 1978. Sheets started coming in from all over the world. From the hundreds of uncatalogued pieces of the collection, I am listing a few examples
from somewhere over the Atlantic
"property" of the British government
Butte Montana (for our purposes pronounced "but")
from Russia during the failed coup attempt of ...
a piece from Laurie Anderson's loft
a piece from Edward Gorey's house
from a Three Star Rear Admiral (signed)
from a "Little Stinker" gas station
(just received) a piece from one of the bathrooms at Fuld Hall at ... If you don't appreciate the significance, it may be time to brush up on your physics
And then (drum roll as opposed to toilet roll) something happened that pushed me into the very trap I was mocking... People started getting celebrity autographs on toilet paper for me. Madonna, Harrison Ford, Penny Marshall
Predictably I have become a victim of my own parody. And then it became obvious that creating a site for the museum on the World Wide Web would broaden my chances of increasing the importance of my collection exponentially. Now before I turn this site over to those ubiquitous related links one gets so used to seeing on the web, are there any questions? Yes, you over there ?

Man in a blue shirt : Will you be able to collect toilet paper over the internet?

Rich: Just check out the Toilet Paper Museum Guestbook to find out! This is where you'll find the interesting stuff: history of toilet paper; samples (including Madonna's); links; funny stories; and odd commentaries. And don't be afraid to add your stories & pics - the guestbook is actually a fully functioning bulletin board.

Nine year old girl: Do you have any duplicates, so people can swap?
Flo: Good idea, but so far I haven't gotten any duplicates.
---
As in most great works of art, this one is only begun and may take a lifetime to complete . It's a bit rough you might say.
---
The Whole World Toilet Paper Museum - What's where? Links etc...

You are here. Just one of TagYerit's many creative outlets. Read on for more options.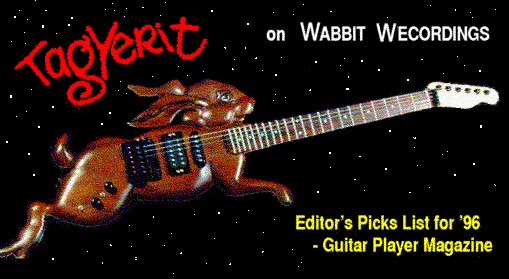 © 1995 to 2003 R. & F. Newman. All rights reserved