TagYerit Presents:
Toilet Paper Curiosities

Flushed with excitement???
For the Full Flush LISTEN
to TagYerit's embarrassing song
while you EXPLORE the Museum.
Toilet Paper Curiosities
from the Whole World Toilet Paper Museum
Items we've seen on the web, that we just had to share. All items shown will be credited. Let us know if you have an image you think worthy of this page.
---
PAPERS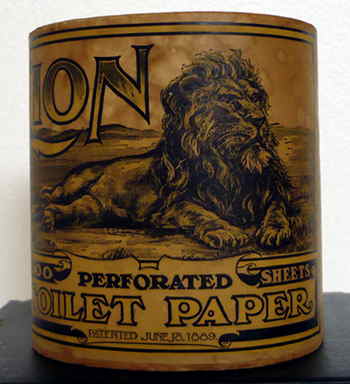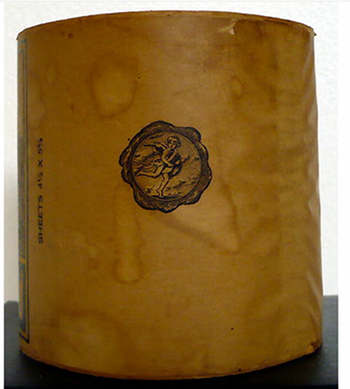 1889 Lion Toilet Paper - 1,000 sheets perforated - 4 1/2" X 5 5/8"
An antiques picker sent us these pictures when he posted them on ebay July 30, 2012
He wrote: "Holy crap! I just never know what I'm going to find next on my weekend picking excursions. This must be the holy grail of antique toilet paper. This roll comes from a hoarder's estate where it sat for decades in their dry heated storage area. I've never seen anything like it. I believe that the last one that showed up anywhere was on ebay in 2007."
---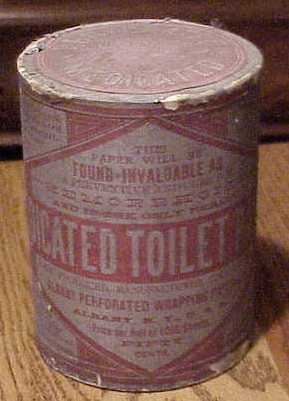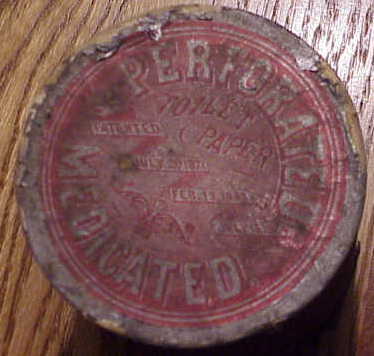 This is a rare vintage roll of medicated toilet paper. This roll of toilet paper has dates ranging from 1871-1884. It is in an unopened cardboard container with a foil type paper which has the printing and graphics on. The printing tells of the prevention and cure for hemorrhoids with the use of this item.It was produced by the Albany Perforated Wrapping Paper Co. and originally sold for fifty cents.
Originally seen on E-Bay. Click here to see what other unusual items Ragtop8 has to offer.
---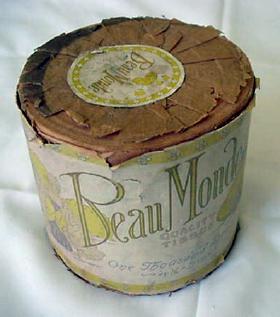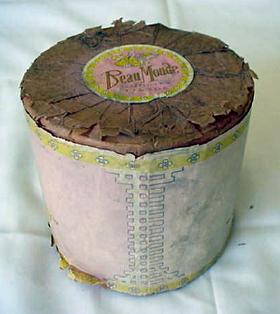 Rare Early roll of household TOILET PAPER in a fancy decorative wrapper. "BEAU MONDE" Quality Tissue, 1000 sheets 4 1/2 x 5 in. (Regular size) The wrapper is faded but shows two beautiful ladies and a gentleman in pink, white and yellow. Paper wrapping is definitely frayed and torn around the edges but in great shape for it's age.
Found on Vintage Plumbers ebay page.
---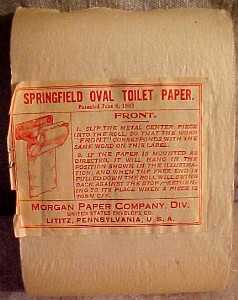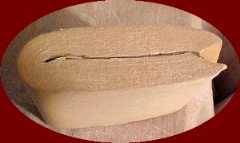 You know, there's no law that says that toilet paper should be on a round roll. You can just imagine the excitement when Morgan Paper came up with this innovation.
Extremely rare patented June 6, 1893 Springfield Oval Toilet Paper, manufactured by Morgan Paper Company Div., United States Envelope Co., Lititz, Pa. Never used with original label, graphic of how it was to be put onto the metal wall hanger. 41/8x61/4", some wear and creases on side of label, overall excellent condition. For more poetic license, visit Haiku2's ebay offerings.
---
All print medium are ripe for making political and cultural statements. Perhaps it's not a coincidence that cartooning and toilet paper evolved at roughly the same time period.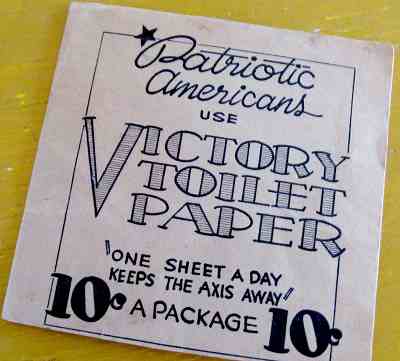 Booklet of WWII era Victory toilet paper in the collection of Jim D of Montana
"Patriotic Americans use Victory Toilet Paper"
"One sheet a day keeps the axis away"
"10 cents a package"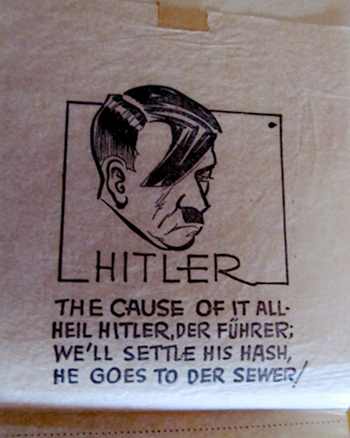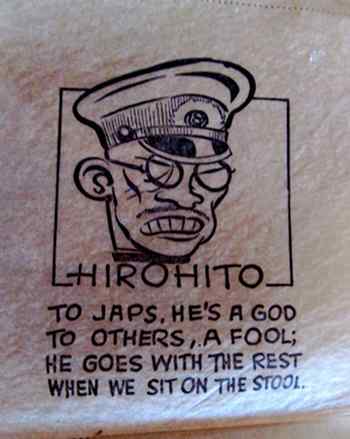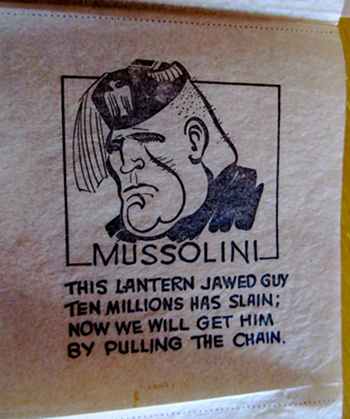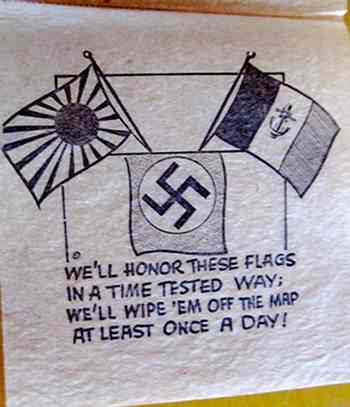 ---

Victory Morning Paper WWII Toilet Paper 1943
This vintage WWII novelty roll of toilet paper with original mailing wrapper pokes fun at Hitler, Hirohito, and Mussolini (Wipe out the AXIS!), based on the little bit we unrolled. The partial roll of tissue paper on a cardboard tube measures 4-1/2 inches wide. Printed on one of the first sheets of paper is "Second Edition, Copyright 1943, Randolph Novelty Co., Chicago, Ill.". The original wrapper measures 7-1/4 by 7-1/2 inches and is marked "Extra! Extra!, Here Is Your Victory Morning Paper, For laughing purposes only, Be An All American, Buy More Bonds, A Product of Randolph Novelty Co., Chicago.". There is also a place for an address and stamp for mail.
Click here to view other items for sale by mmccoy.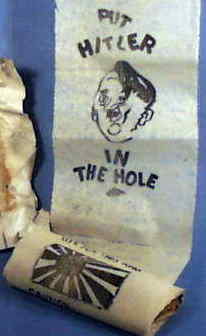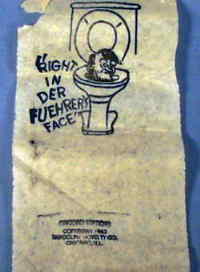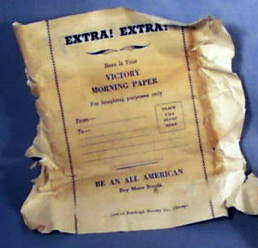 ---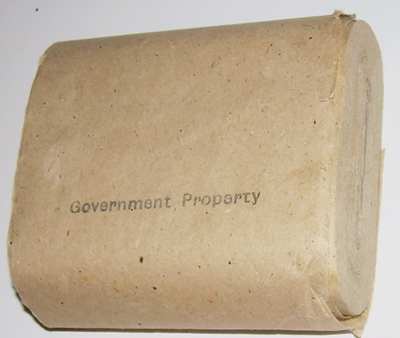 WWII era US Arm Air Corps
Stephen O. sent in these pictures from his collection. He had acquired a foot locker from a World War II WAC who had been stationed in Fort McCoy Wisconsin in 1945. She saved virtually everything she had been issued in the locker which included this roll of toilet paper(every sheet stamped GOVERNMENT PROPERTY).

---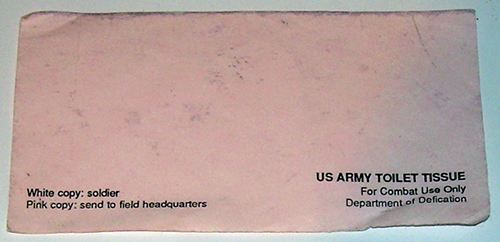 Vietnam Era Bureaucracy Parody TP
Stephen also sent this picture of a spoof sheet from the Vietnam era printed as a no carbon required duplicate form. He picked it up while in service in the early 1970s.

---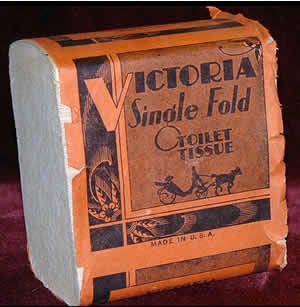 125 year old Antique Victoria Toilet Tissue Paper?
Jason posted this on Ebay and was kind enough to let us repost it here. Click here to see other items posted by Jason

Please note that Jason does not know the actual age of this, but has done some research that might support his theory.
As printed on the packaging:
Victoria Single Fold Toilet Tissue
Made in U.S.A.
Victoria Single Fold
1000 Sheets
41⁄2 x 5
"This tissue has qualities which make it especially suitable for use in hospitals, hotels, apartments, office buildings, industrial plants, etc. It is soft and strong, yet readily absorbent and dissolvent."
Mfg by
The Victoria Paper Bills Co.
Fulton, N. Y.

Jason further describes it as "The paper edges are yellowed (more so than the pictures show.) The wrapper is a bit beat all along the edges, as you can see, but remains intact. Definitely has a similar smell as some 100 year old books I found in an attic. According to a website I found when researching The Victoria Paper Mills Co, the plant at which these were apparently made produced toilet tissues from 1880 until a few years later when they switched to heavy manilla paper! I personally find it hard to believe that I've found myself in the possession of 125 year old toilet paper, but I'm not finding anything to contradict that conclusion."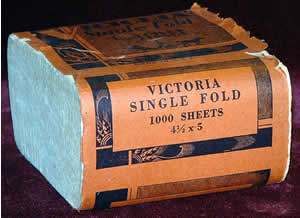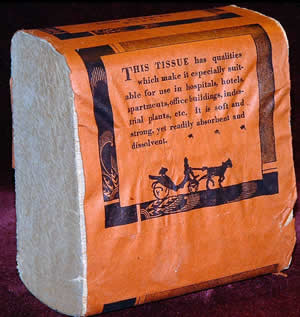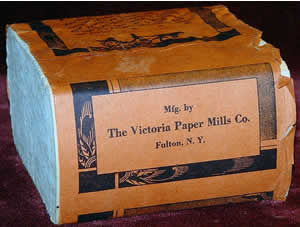 ---
Bookmarks?
It's not unusual for me to use tp for a bookmark. But finding a bookmark in an old book is much less usual. And to find it in an 1895 book on a page about excretion? A joke that took 120 years to get the punchline? Anyway, this is from the 1895 Peoples Medical Adviser by RV Pierce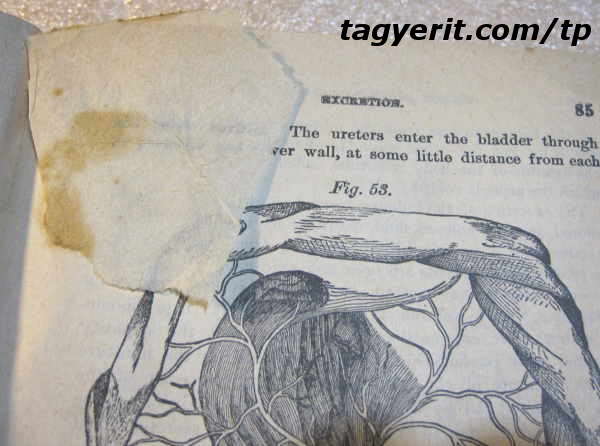 ---
HOLDERS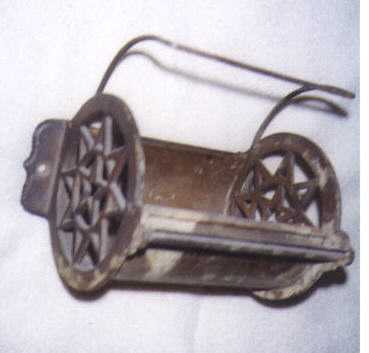 Where you find toilet paper, you are bound to find toilet paper holders too. "U.C.& P.Co. Boston, Mass. Pat'd July 17 1877 & Sept 25, 1883" is printed on this unique item. It also has a built in paper cutter. (Which tells you that serrated paper was not yet the norm.)
---
This holder is patented 1877 & 1883. It cradles the roll and has a saw tooth cutter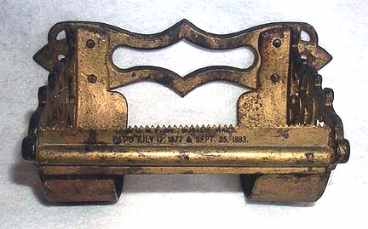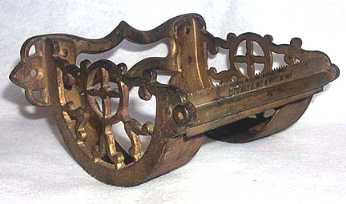 ---
It turns out that not all toilet paper is held for human consumption.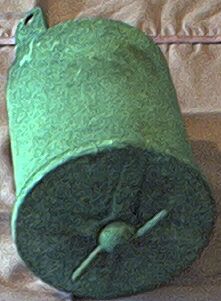 This is an add on oil filter for early cars and trucks. You would unscrew the top and place a cheap (thick sheeted) roll of toilet paper in the aluminum canister as the filter. You could change your filter for pennies. It is a very thick casting, nice and heavy. On the top is stamped "PRODUCT OF TRIPLE R MFG"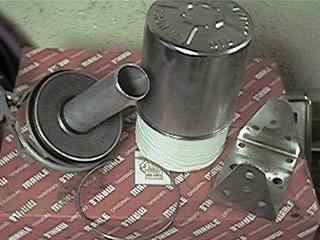 These are obviously different makers, but they're almost like before and after shots.
Frantz toilet paper oil filtration unit. - Undisputed as being the BEST oil fiter that money could buy in the 60's and 70's, it was simple and easy to use because the filter was a simple roll of toilet paper. The problem these days is to find a roll that will fit the housing......American rolls were changed a while back and made longer(a conspiracy?! You decide!).
---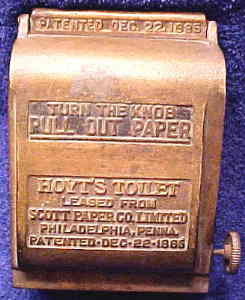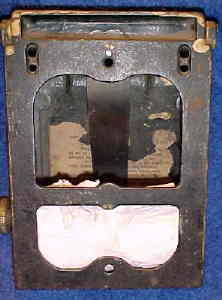 Brass Toilet paper Holder ... Patented Dec 22, 1885...What is VERY interesting about this is that it reads "Leased From Scott Paper Co. Limited Philadelphia Penna ... On the Back there is the remnants of a paper instruction sheet (installation instruction?) ... On its side there is a glass window, presumably to see how much paper is left... The round knob would distribute the paper. It looks to have held small rolls.
This item along with the description was originally listed on ebay. To see what Ken currently has to offer, go to Ken's Ebay page.
---
OTHER?
<-- Click image to left for more pics

1968 Delsey Mini Danish Rolls
1968 Delsey Mini Danish Rolls #584 Mini Rolls by H. Fishlove & Co. Chicago - The company was originally founded in 1914 and became H. Fishlove in 1968 - where they made many gag & novelty "joke store" items. The business was sold to Fun, Inc in 1985. Delsey is a toilet paper made by Kimberly Clark since at least 1941, if not earlier.

---
Based in Michigan, among their local advertisers printed and shown here are Ann Arbor Yoga & Meditation Center; Campus Food (now Grubhub); Tortoise and Hare Fitness Ctr; 201 Beats music blog; Create My Tee (t-shirts); Ben & Jerry's Ice cream store; Just Baked Cupcake bakery; The Pita Pit; Smoothie King; E.nopi Learning Center; QReditScanner.com (they provide free QR scanner barcodes); Textbook Outlet; Burrito Jam; Ann Arbor Used Clothes; Campus Clothing; Campus Bicycles; Michigan Diner; Jordan's Pizza; Shoe-a-Rama; University Tower; Dance Theatre Studio; Village Sav-Mor Apothecary; Managing Your Mind Books; Busybody's Student Laundry; Plus a row of QR code toilet paper - whew. What a great idea! Visit their website for more about Star Toilet Paper.
---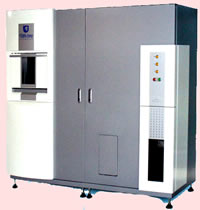 New in 2010: The Nakabayashi & Oriental companies teamed up to create the "White Goat". This machine makes a roll of toilet paper from shredded paper at office. It takes the "White Goat" 30 minutes to produce one roll of toilet paper using approximately 1800 shredded sheets of paper. Just add water.
PLEASE - If you know anyone who has this machine, we need a tp sample for our collection!

---
Tymatic Salesman Sample
A recent contributor, Michael, sent us these pictures of a traveling salesman's case for Tymatic's 2 roll TP dispenser. The salesman could demonstrate to his customer how the dispenser worked.
Michael thinks it might be from the 50's or 60's and from some informal googling that it might be one of the earliest multi roll dispensers. In Michael's case there are 2 empty roll cores, and on the inside of each core there is a metal ring; part of the dispensing system. The case is lined with red velvet.... it shows it's age; but in it's day it was really a nice display. If you know anything else about it, we'd love to hear from you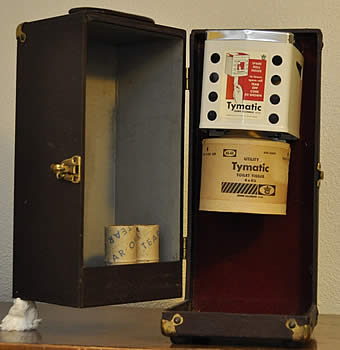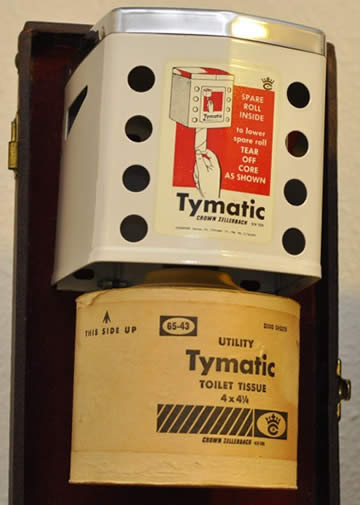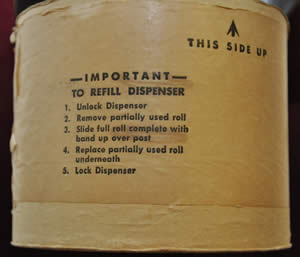 ---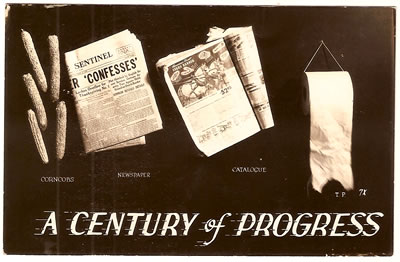 1933 Postcard "A Century of Progress"
shows the evolution of accessories from corn cobs to newspaper to catalogue to t.p.
This picture was sent to us from The Hurrah's Nest of Austin Texas - visit their ebay store
---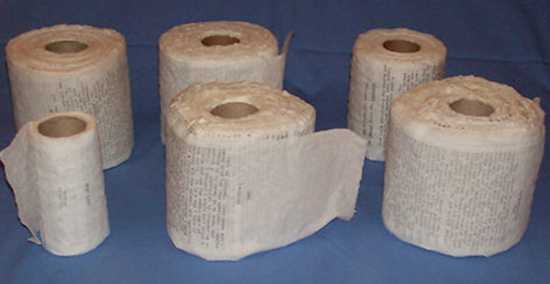 The Great White Whale Watch
In the 1990s on a bet, someone typed Hermann Melville's novel "Moby Dick" on toilet paper. In January 2012, they posted the rolls on ebay and other sites, asking for up to $1000 for this rare edition. To my knowledge,they didn't find a buyer.
---
Rolling Stones TP? not quite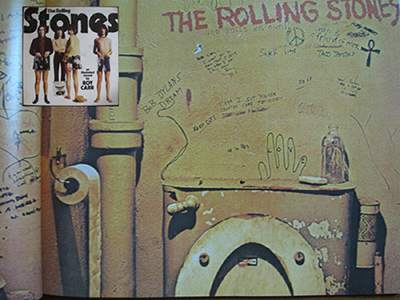 Found this picture in the book The Rolling Stones: An Illustrated Record by Roy Carr (1976). Now if we can only find a way to get their tp for real for our collection - till then, " Can't get no - Satisfaction".
---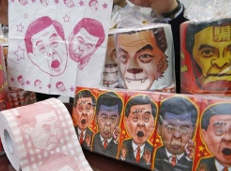 Sometimes It's Political
Not just the toilet paper, but the confiscation - Feb. 7, 2015 Full story here!. This time it's Hong Kong

---
In answer to which way does the toilet paper roll go?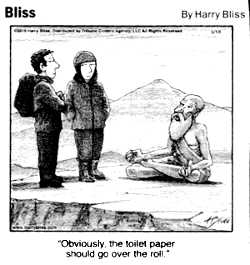 Click to see the original Bliss Comic (and all his others too)
---
Chanel Rolle de Toilette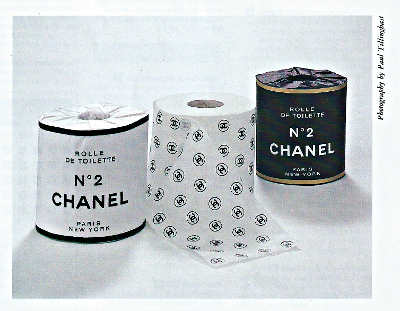 This is a fantasy piece for Design Magazine March/April 1989 (I don't think this magazine exists any longer)
Design: Phyllis Aragaki and Peter L Levine - Cato Gobe New York
Photography by Paul Tillinghast Article by Donna Green: Fantasy Portfolio:
How did we ever live without supermarkets? Long gone, almost unimaginable, are the humble days when we bought our vegetables from the greengrocer, our meat from the butcher, our bread from the baker. Nowadays we devoted consumers happily roll our wire cars down neon lit aisles, picking through comestibles from near and far: potatoes from Idaho and tomatoes from Israel, caviar from Iceland and coffee from Columbia. So much activity, so many brightly colored choices, so much "plenty," and it's all under one enormous roof.

To tempt our hungry eye, foods and products are packed into cardboard, styrofoam and tin emblazoned with attention-grabbing pictures. The actual bject to eat or use becomes almost irrelevant - it's a matter of design. And so for this Fantasy Portfolio, we invited designers to choose a supermarket product, any product … and then repackage i. With wit and candor, our designers not only created beautiful wrappers but also explored new marketing tactics and considered the environmental consequences of packaging.



---
---
Main page Find your way around.

... history, stories, tp-ing,

GALLERIES

Toilet Paper in Tax Law: a 1929 Case Study

"Embarrassed" Lyrics for TagYerit's song(from the CD Tubeman)

Excerpts from the Book of Toilet Paper, (Excretial 10:29-38) Poetry has never known a better medium!

The Fairy Flush Gets Married! - toilet paper wedding dress.

Archive: The original WWTP Museum page - A somewhat goofy explanation of the museum's origins.

The Toilet Paper Museum Visits WMAS in Springfield

The TP Museum gets a cover story in the Springfield Union July 30, 2009


Titlemax - Online car title loan provider. Titlemax can help you use your car title to get cash quickly.

Subscribe to TagYerit Tails
TagYerit Tails is the newsletter for TagYerit (The Website) and TagYerit (The Band). This newsletter is our way to tell you when something new or exciting is happening. In other words expect it once or twice a year. Sign up now.
---
Click for TagYerit's Front Page music, gadgetrees, easterner bunnies, cool carved pumpkins, more, more, more ...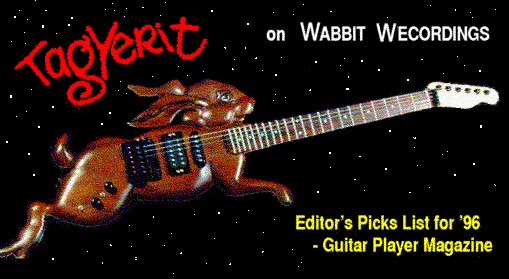 © 1995 to 2021 R. & F. Newman. All rights reserved | Contact us