GALLERIES

Toilet Paper in Tax Law: a 1929 Case Study

"Embarrassed" Lyrics for TagYerit's song(from the CD Tubeman)

Excerpts from the Book of Toilet Paper, (Excretial 10:29-38) Poetry has never known a better medium!

The Fairy Flush Gets Married! - toilet paper wedding dress.

Archive: The original WWTP Museum page - A somewhat goofy explanation of the museum's origins.

The Toilet Paper Museum Visits WMAS in Springfield

The TP Museum gets a cover story in the Springfield Union July 30, 2009


Subscribe to TagYerit Tails
TagYerit Tails is the newsletter for TagYerit (The Website) and TagYerit (The Band). This newsletter is our way to tell you when something new or exciting is happening. In other words expect it once or twice a year. Sign up now.
---
Click for TagYerit's Front Page music, gadgetrees, easterner bunnies, cool carved pumpkins, more, more, more ...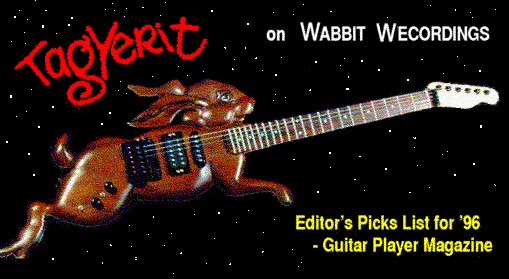 © 1995 to 2022 R. & F. Newman. All rights reserved | Contact us