Click here to hear TagYerit's song SciFi (first half) in RealAudio while you enjoy some of our carvings.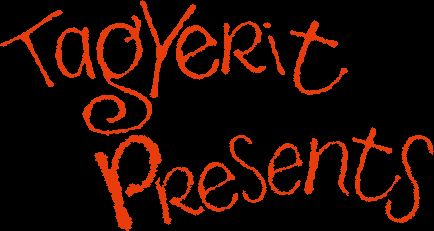 Picturing Pumpkins Page plus Pumpkin Links
Let the candle be your guide.
The pumpkins you find on these pages were either done by Rich & Flo Newman (aka TagYerit) or sent in by friends & contributors. There could easily be 20 pages by now, so give yourself plenty of time to explore the vast range of wonderful creations assembled here! (Sorry - these photos from 1997, but the principle is the same.)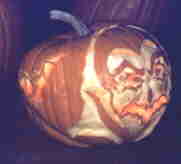 Do you want your photo to look like this?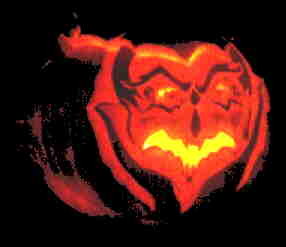 OR THIS!
This is actually a simple trick that a professional photographer, would already understand. But for the rest of us, the concept is to think about your light source. What makes a jack-o-lantern glow so wonderfully is the candle inside the pumpkin. So turn OFF your flash. If you have an automatic camera, then you need to cover the flash when you snap. I just put my hand over it and as you can see, it's very effective.
This update from Oct. 2002. Now that I have a digital camera, I've been playing around with a slightly different approach. The pumpkins that I photographed this year, were lit with an extension light inside the pumpkin. A 23 watt compact fluorescent puts out the equivalent of a 90 watt incandescent, but without the heat. This allows me to take a picture without flash in a regularly lit room. the pumpkin's glow photographs just fine, but you can see the details of the outside of the pumpkin including the stem. And it doesn't cook the pumpkin.
Now, while on the subject of lighting. The cooler the temperature of the lighting source is, the longer the pumpkin will last. That means keep the wattage to the bare minimum. LED lights are the best, though most expensive. Compact fluorescent lights are common now. Either of these options will make your pumpkins easier to see and create a great display whether you place them on your front porch, near your garden shed or on a stone wall.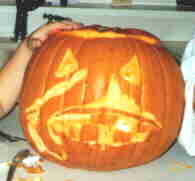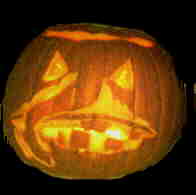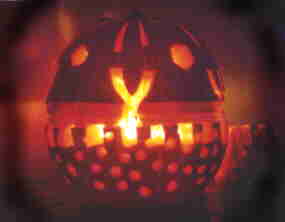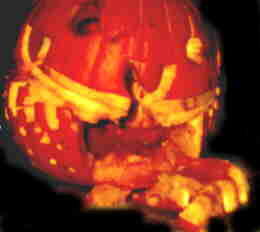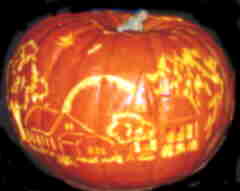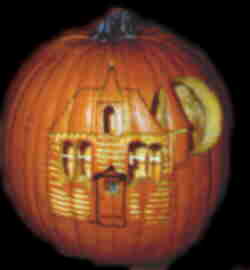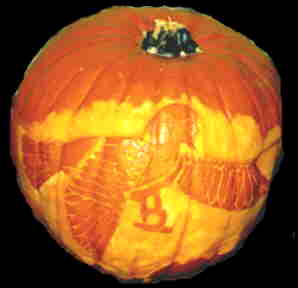 Three views of the moon
An occasional series: by Flo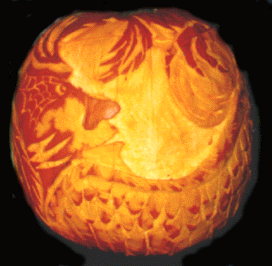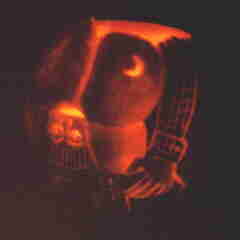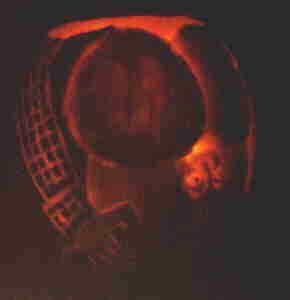 And speaking of moons, here's a few pictures that've been going around via emails. Sorry to say, I don't know who the original artists are.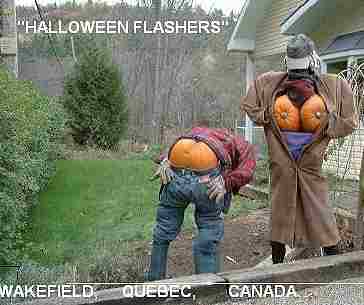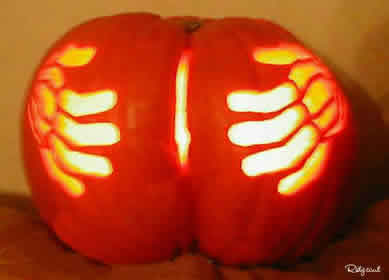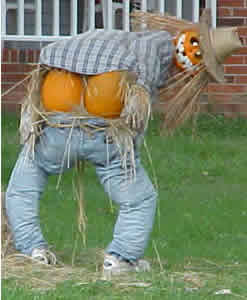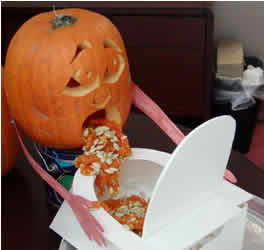 ---
Recommended Pumpkin Links
So you've bookmarked this page, and you're ready to see what other pumpkin madness awaits ...
Rad's Pumpkins wonderful fretwork pumpkins
Ray Villafane - Pumpkin Sculpture Tutorial - Go here to learn how to bring out a full three dimensional creation
The Pumpkin Wizard He'll make a pattern from your photo
Masterpiece Pumpkins - Custom carved pumpkins, pumpkin carving patterns, demonstrations. *quite an impressive selection*
Jack-O-Patterns Hundreds and hundreds of patterns and still growing.... Very well organized site.
Have you ever seen a wall of 13,432 lit carved pumpkins! Keene boasts the world record and they hope to top it at each year's Pumpkin Festival ...
Pumpkin Gallery - A Gallery of samples of pumpkin carvings representing some of the best carvers on the web.
Pumpkin Time's a Comin - All sorts of information about pumpkins - a web article on Fresh Food Central by Richard Harding

Homestar - Patterns for all the homestarrunner.com characters - such as HomeStar's "Strong Sad" pictured at left as carved by Ana Rocadas. If you get a chance, also check out Ana's blog, HowToWashAShowerCurtain.com


Halloween & Fall Links
Spooky World America's Horror Theme Park is buried deep in the woods in Foxboro Massachusetts.

Costume Links
Halloween Ecard Links
Other Holiday Links
Gadgetrees this is another TagYerit project involving building holiday xmas/yule trees
The East Pole When was the last time you visited the East Pole? How else do you expect to learn the origins of the Easter Bunny?
Other carving ideas? Hire a bunny. Here Mara, a 9 year old New Zealand shows off her talents. Mara loves pumpkins. As her human translator Laura says, " She takes pride in her craft. It is a labor of love for her and fine dining too. There is never a mess, Mara happily eats all her shavings, pieces and the juicy, stringy insides as she goes about her carving. Believe it or not, though she carries the scent of fresh pumpkin about her, never is she messy with pumpkin. Her face and paws remain clean and bright white."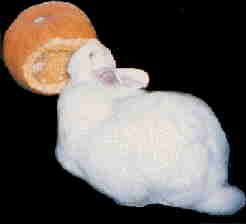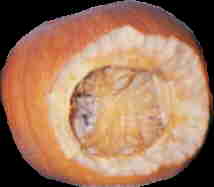 Don't stop now ... visit the following pages for more great pumpkins!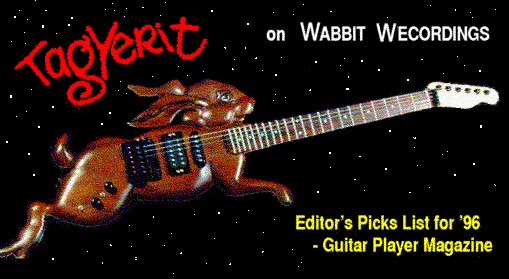 Click the Guitar to hear TagYerit's music.
Click here to fully explore the tagyerit.com pages
---
TagYerit Tails
Subscribe to TagYerit Tails TagYerit Tails is the newsletter for TagYerit (The Website) and TagYerit (The Band). This newsletter is our way to tell you when something new or exciting is happening. In other words expect it no less than twice a year and no more than once a month. Click here to sign up now.
---
Contact us
Whether you'd like to say hi; make a request or a suggestion; discuss the use of any of these images; swap links; we'd love to hear from you!
Do you carve pumpkins?

Occasionally we get requests for skilled carvers for festivals or special projects. Contact us if you're interested, and we'll do our best to facilitate.
We're always interested in posting examples from carvers of all skill levels. Contact us if you'd like to have your pumpkins up on our galleries.
Just so you know: We never disseminate email information. We are ever mindful of the privacy needs of our friends.

All text and images ©1998 - 2021 Rich & Flo Newman
(Any images credited to others remain their property and appear here by permission.)