To see the last minute of TagYerit's song Joy

Click here to see the whole thing (embedded)
To buy TagYerit's CD Heavy Construction from CDBaby, click box on the left (Joy is the 12th song).
Anatomy of a Bunny Binky
Binky (noun) - a spontaneous leap for joy
Perhaps you've heard of the Bunny Hop. Well then just wait. You aint seen nothing yet! Over a period of three years, I videotaped Shimmer and Kes dancing about our back yard. (Always under a watchful eye). Here Shimmer demonstrates several of her binky moves. Slide the lower scroll bar to the right (and back) to simulate animation. These remarkable dances are a normal part of a rabbit's play. These, and many others appear in TagYerit's music video "Joy".
"The Classic"
"The Dodge"
aka "The Sidestep"
"The Speedy Double"
Email me if you're interested in a quality copy for broadcast (or would like to buy a copy.)
Click here for more pictures and info on the video.
Oh yes ... the joyous grey rabbit, Shimmer, who stars in this video is one of these rescued rabbit ... and all the guitar parts are REALLY played on the rabbit shaped guitar.
---
Rabbit Links
---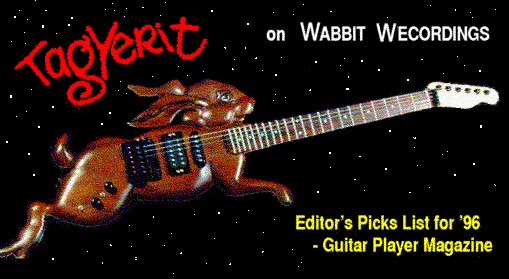 Click here to fully explore the tagyerit.com pages
---

--> To contact us please type in the email address shown in this image.

My website moved and I haven't figured out how to get the forms working yet.

Just so you know: We never disseminate email information. We are ever mindful of the privacy needs of our friends.
---
All text and images ©1998 - 2022 R & F Newman TagYerit.com except where noted.
All rights reserved.