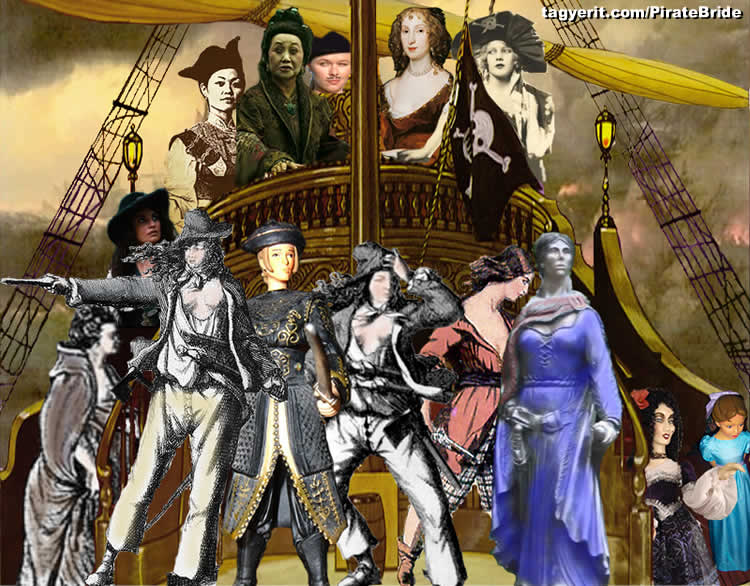 Listen and enjoy!
Possibly a few of these women started their careers just as the Pirate Bride in TagYerit's song. Whatever way they got started, they developed their skills to become terrors of the seas in their own right.
Top Row (l. to r.)
Cheng I Sao ("wife of Cheng I") (also Ching Shih) 1775 - 1844 - no known pictures. My guess is that this photo (from the web) is from an old movie about her. More of her story at Ching Shih and Cheng I Sao
Mistress Ching from "Pirates of the Caribbean: At World's End". You may have thought they made this character up. But not so! (see Cheng I Sao)
Mistress Prostitute from the movie "Yellowbeard"
Lady Mary Killigrew (1615 - 1686) painted by Van-Dyck - used misplaced harbor lights to sink ships.
Pirate Jenny (Lotta Lenya) - a song from Three Penny Opera by Kurt Weill, lyrics by Bertolt Brecht. Jenny, a maid at a crummy old hotel, imagines avenging herself. The Black Freighter with 8 sails and 50 cannons fires on the city & flattens every building except the hotel. The pirates chain up all the townspeople, and present them to Jenny, who orders the pirates to kill them all. Lotte Lenya, who played Jenny was married to Weill, so she was not only a pirate, but indeed a bride.
Bottom Row
Grace O'Malley - from a picture showing her in audience with Queen Elizabeth. (public domain)
Angelica (Penelope Cruz) Pirates of The Caribbean 4 : On Stranger Tides - release date May 2011
Anne Bonnie
Elizabeth Swann - Action figure from Pirates of the Caribbean movie franchise.
Mary Reed (this image has also been attributed as Grace O'Malley)
Mary Reed
Grace O'Malley - statue Westport House, Co Mayo
Czech Girl Pirate Marionette Contemporary marionette depicting a female pirate for sale on Czech Girl Pirate Marionette website
Wendy Darling - Travels to Neverland to mother Peter Pan and the Lost Boys. Captain Hook kidnaps her with thoughts of making her a pirate mother, but alas she is made to walk the plank ... from a Disney production.
Do you know of another Sea Bride in fact of fiction that we can add to the picture? If so, please let us know