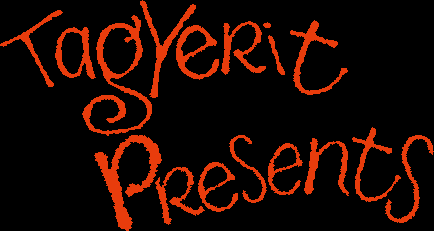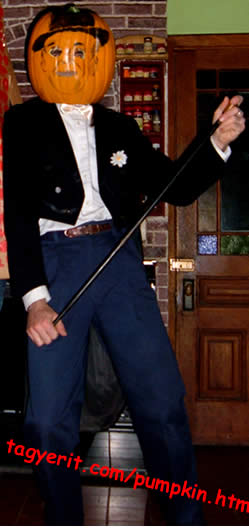 Painted Pumpkins
In 2002, Judy Summers was the first to send us a painted pumpkin, "Jack". It's not something that Flo or I have done (other than my Pumpkin Head Astaire mask). Had it not been for the unbelievably precocious painted beings that Judy has created with pumpkins and paint, we might never have agreed. Are we ever glad she found us. Since then we've had many other wonderful contributions and judging by the growing number of visitors every year, you're all glad about it too. ENJOY!
Judy Summers | Terri Matschilles | Carol Granquist | Spoony-G (aka Dr. Pumpkinstein ) | Janet Lange | Missala | Robin Johnson |
Michelle Lee Wagner | Denise A. Wells | Melinda & Kenny Johnston | Linda Gullikson | Julie Nebel Dooley |
Tonya Davis | Tally Tolbert | Faith & Kathryn | Yolanda Lopezsent | Paige Schlegel | Debby Smits | Nurse Karen |
The Matizza Family | Alison Posinski | Caroline Goodrich | Mary Kay | Lisa Weddell |Kathy Keene |Miles Best
Kathy Keene (Fulton MS)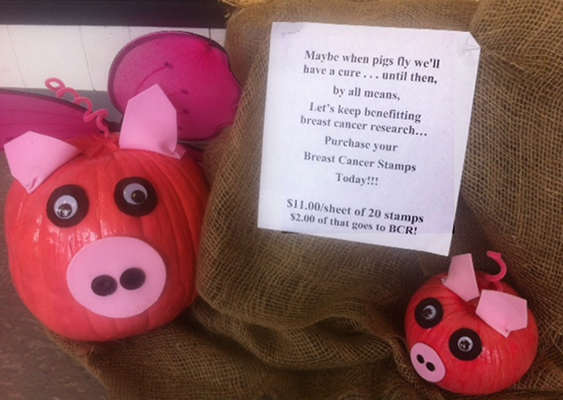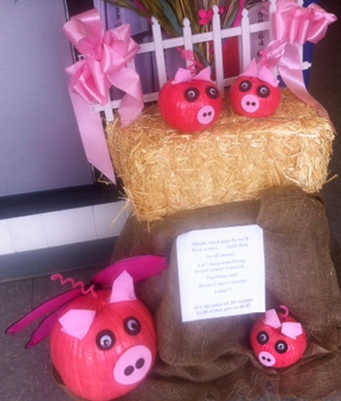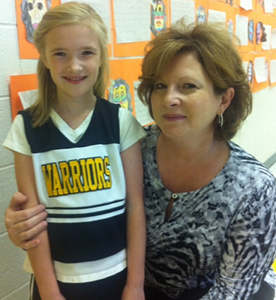 Kathy Keene is a Postmaster with the USPS in Fulton MS. She has painted pumpkins every year since about 1994. In 2012 she placed her pigs in the post office lobby to help with my Breast Cancer stamps sale. There are 3 baby pigs and the momma pig who has wings. "Maybe when pigs fly, we'll have a cure - until then help fund research for the cure. $11.00 sheet of 20 stamps - $2.00 of this goes to Breast Cancer Research!". Here she's posing with one of her grandchildren.
Judy Summers (Chillicothe, Ohio)
| | |
| --- | --- |
| | Here is Bette Davis Buckeye. Bette is quite a do-gooder. She raised $1200 in a raffle Oct. 2003 and the money went to a little boy with a rare genetic disease. Good work Bette (and Judy). |
| | Jack was painted in 2002, but that's not what's different. His shape is what's different. He was born this way. Judy Summers found him at the farm and immediately adopted him. Judy painted him with acrylic and sprayed with an acrylic glaze. And Jack, her first pumpkin was featured in 2007 in an issue of Birds and Blooms Extra! |
They each have been displayed at the Circleville Pumpkin Show, (the biggest free show in the US), for a week before they returned to Chillicothe, Ohio where they were auctioned off for a good cause? All of the pumpkins shown here have been raffled off for good causes.

Click to see Judy's exciting pumpkin characters in more detail.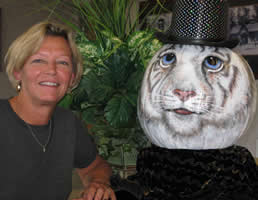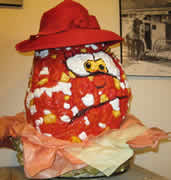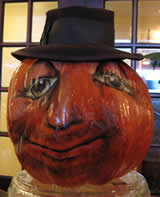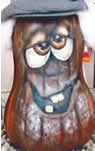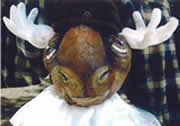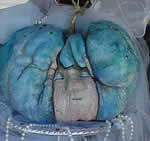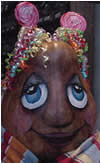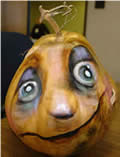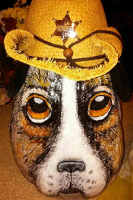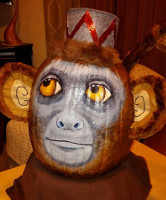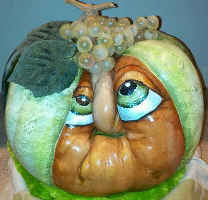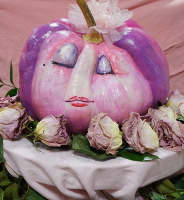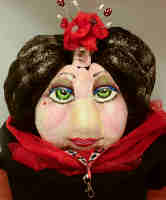 ---
Terri Matschilles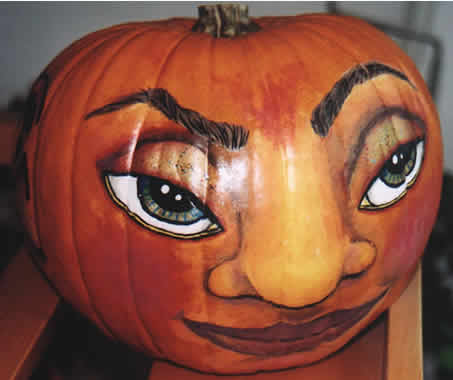 Terri Matschilles sent in this painted pumpkin along with the following message
10/6/05 -
"This guy (on the left) was painted for my daughter's kindergarten class in Munich, Germany.
The picture (below) is "Marina and Her Annoying Younger Brother". My oldest daughter named them and will take them to school with her. I really enjoy painted pumpkins for the obvious reason that they don't rot so quickly. They can be painted at the beginning of October and still be fine on Halloween. When we get closer to the holiday we will start carving!
Halloween is starting to take off here in Germany but it is new. It is probably the one thing I have missed the most about the U.S. :-) "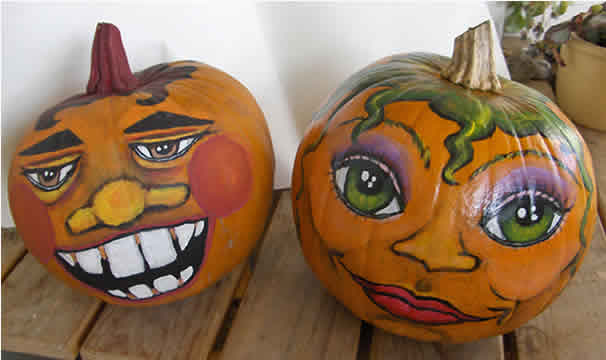 ---
Carol Granquist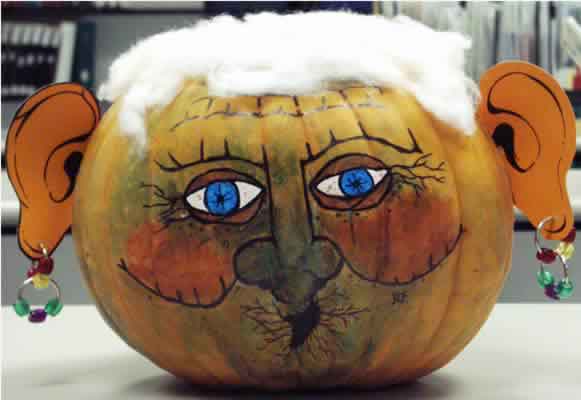 Carol Granquist sent us these pictures of her wonderful painted pumpkins with the following touching comments. "I am a graphic designer for the Utah Schools for the Deaf and the Blind. Every year we have pumpkins grow (our librarian grows some) and others are donated. I try to find the most deformed pumpkins and paint what I see in them.
I have the privilege of painting 12-20 pumpkins for our various classes. Each class comes to the library and during story time they have a drawing for one of the painted pumpkins. The special thing about all of this is that our students are deaf or hard of hearing, blind or visually impaired. Each year, the students look forward for a chance to win a painted pumpkin. These are some of the painted pumpkins that they receive. The look on their faces when they win is priceless."
Added 10/18/05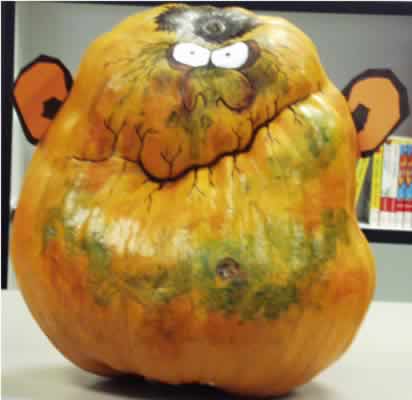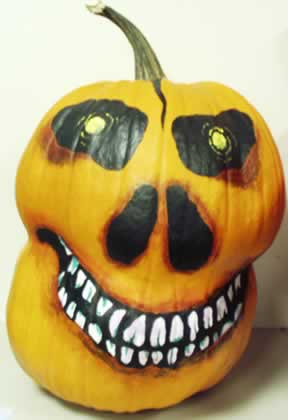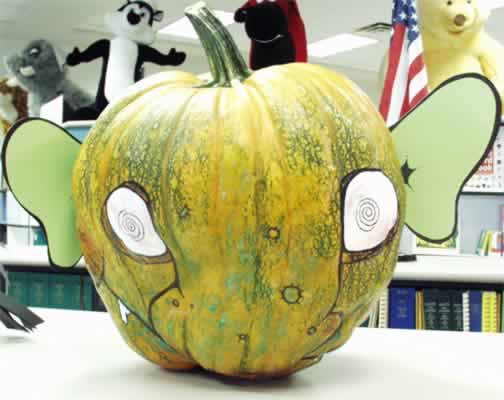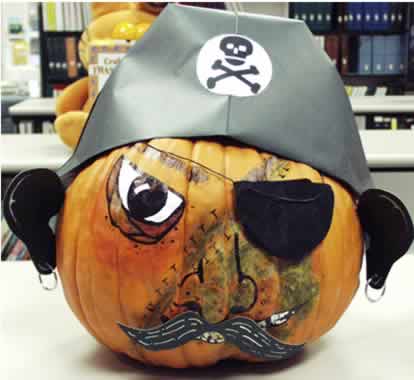 ---
Spoony-G (aka Dr. Pumpkinstein ) and his Uber Pumpkins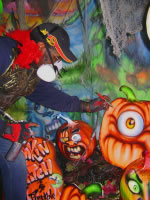 For a different approach to painting pumpkins we've discovered Dr. Pumpkinstein uses his talents to airbrush his pumpkins. Spoony-G from Saginaw Michigan says, ".I call my pumpkins Uber Pumpkins because they have a "3-D" realistic look".
His use of Airbrushing shows more depth color and brightness then traditionaly painted pumpkins.
You can see more of his painted pumpkins, as well as his other works at his website.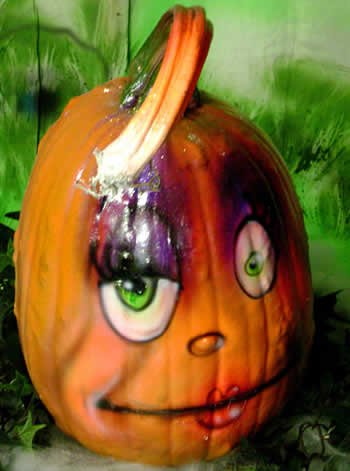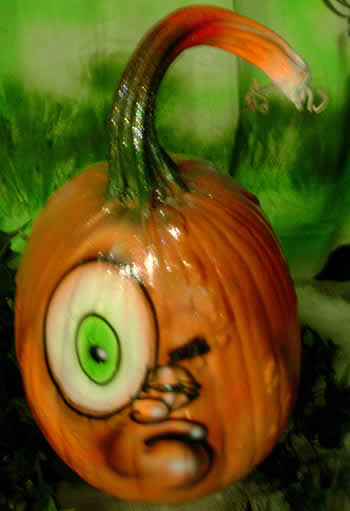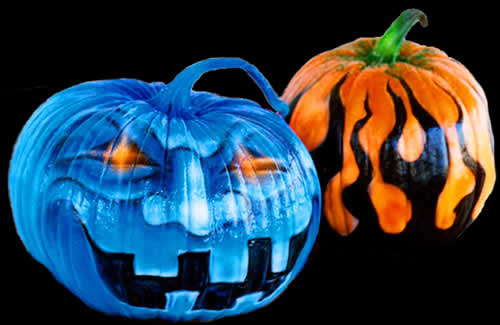 ---
Janet Lange
Janet Lange is a pumpkin painter as well as carver. You will find more of her work at 2006 & 2007. Some of Janet's pumpkins are raffled and some are sold in local festivals near Halloween. Janet also does professional face painting, art workshops in the classroom and art camps in summer, and much more.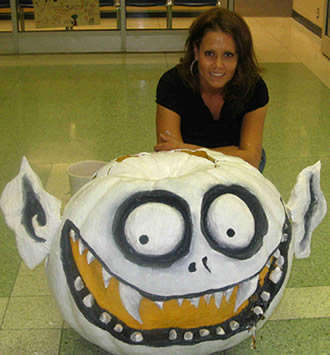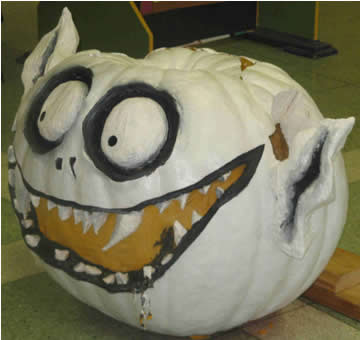 ---
Miles Best
Miles Best is a Colorado mountain artist and has painted pumpkins for many years. He use acrylics and an airbrush, and these days he likes to buy the artificial pumpkins when they go on sale so people can keep them as long as they wish! He's done many animals & caricatures on pumpkins but he always does a batch of scary pumpkins! (It was hard to select which ones to show here.)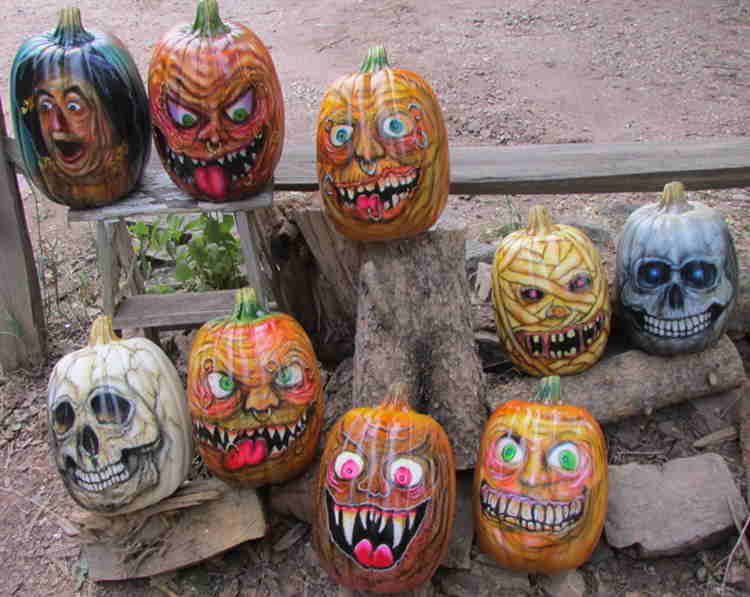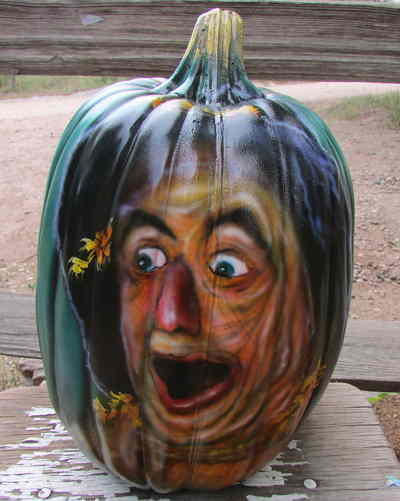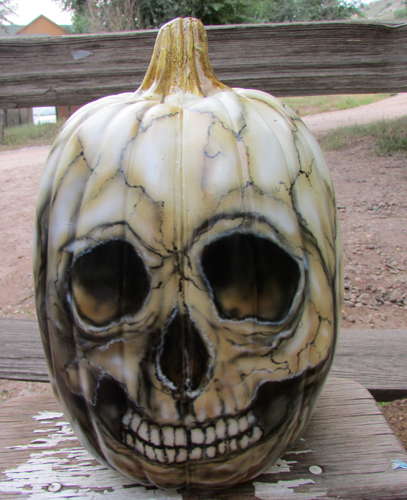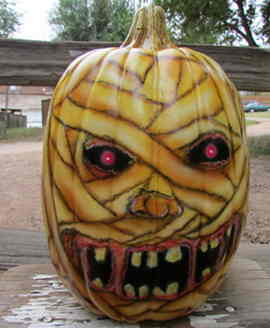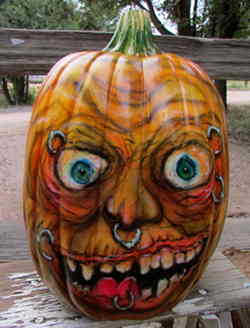 ---
Missala
Missala takes a slightly different approach. She embellishes her pumpkins to a nice effect as you can see. On the "Mike from Monster's Inc." pumpkin, she used coat hangers and pipe cleaners to make his arms. For her lion she bought two stuffed lions at the thrift store, took them apart and used their fur. She sewed together a few pieces around a coat hanger for the tail and even used the eyes from the stuffed animal. She teaches preschool and they asked us her to come up with something creative for Thanksgiving out of the pumpkins, so she made a turkey. We'd like to know if she had made it into a pie - would it be a pumpkin pie or a turkey pie? The man and woman greeted visitors on her front porch. Shrek was painted in 2004. Humpty Dumpty was painted in 2007.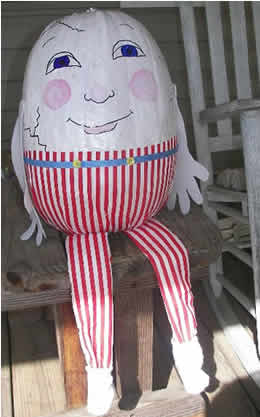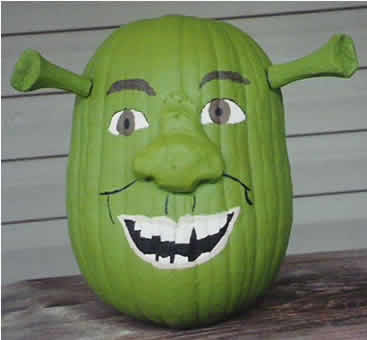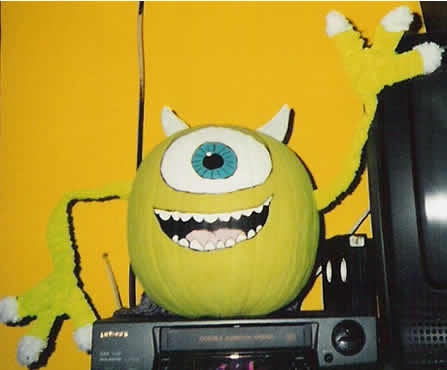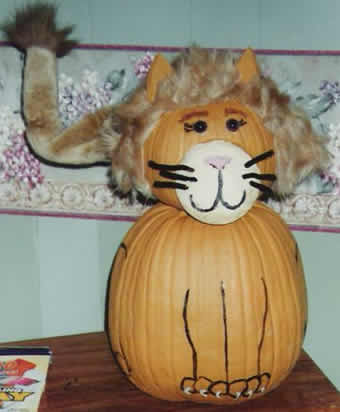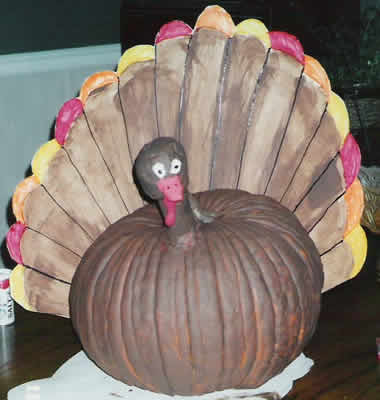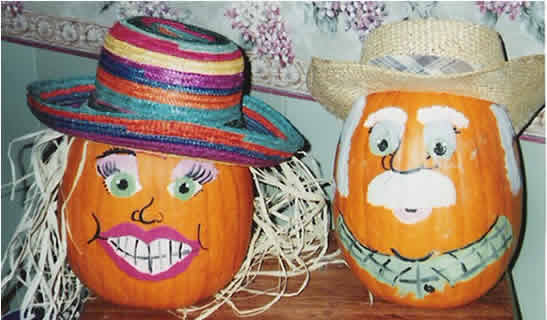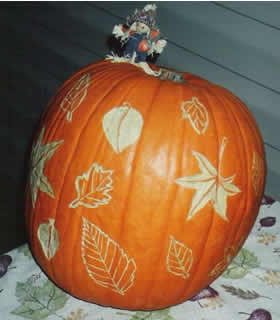 ---
Robin Johnson (Missouri)
Robin Johnson (Missouri) sent in this fine selection of celebrity cartoon painted pumpkins. She says, "I paint pumpkins every year for my 3 children for fun. The Winnie the Pooh pumpkin is for my mom's friend and she likes Natural Light beer so that's why pooh is drinking. The one with Donald and Goofy on it was for my son, he is a huge video gamer So i did Kingdom Hearts for him. Hello Kitty is for my daughter's friend. Strawberry Shortcake and It's a Great Pumpkin Charlie Brown are for my girls. I used waterbase acrylic paints and an ink pen. I think it's time to start for the holiday season. lol."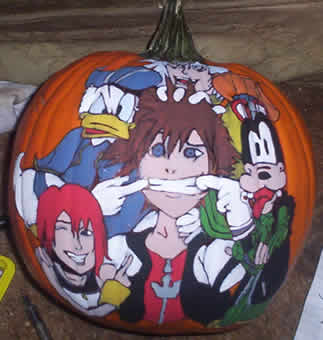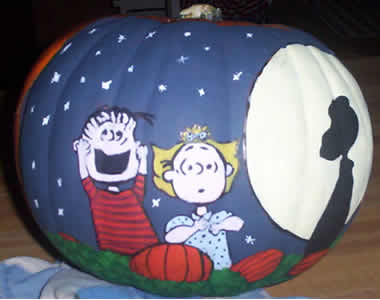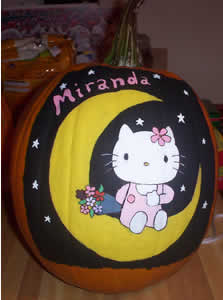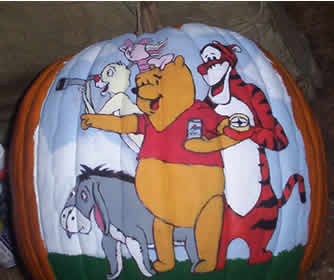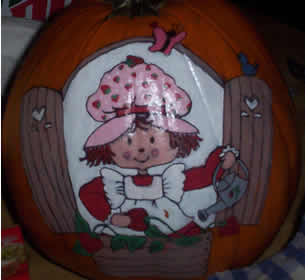 ---
Michelle Lee Wagner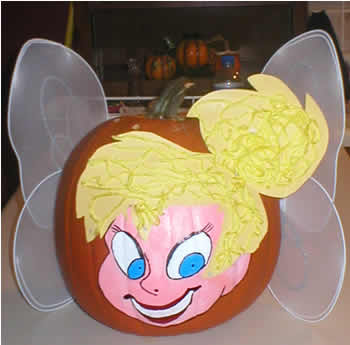 Here's 2 painted pumpkins from Michelle Lee Wagner (Tinkerbell & Hello Kitty), along with her comments,
"Um details.....I don't know it is just for Fun, I guess,,,,,Growing up mom always painted Pumpkins, and I guess I am just inherited the skills.....
It really is the only Artsy thing that I can do."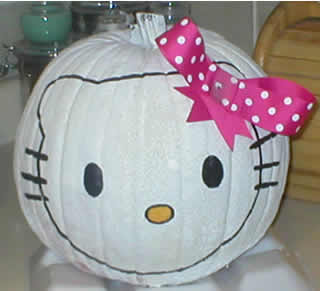 ---
Denise A. Wells
Here are just a few samples of the wonderful pumpkins that Denise has painted. Please visit her gallery page to see more of the pumpkins that she's been painting since 1997. *Worth the trip*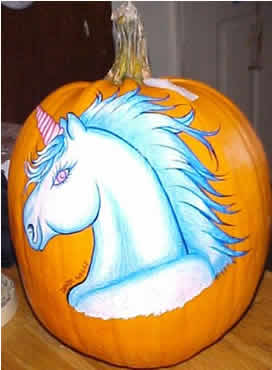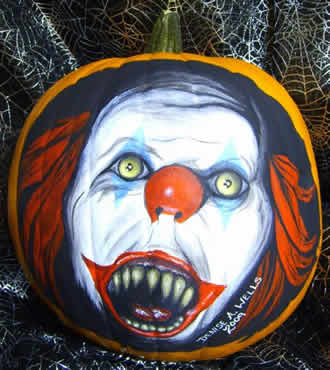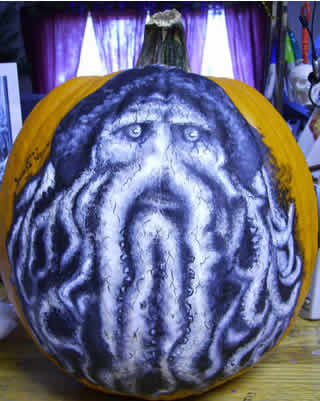 ---
Melinda & Kenny Johnston
Melinda Johnston sent us the following series that her husband, Kenny Johnston, created for a pumpkin decorating contest at his job. The devil won first prize in 2005 (not surprisingly).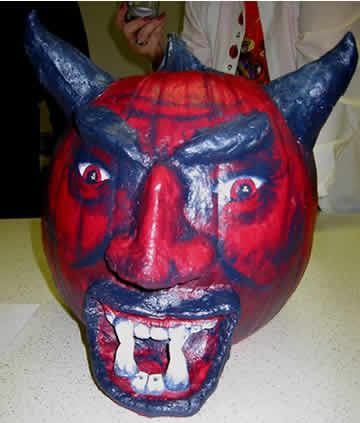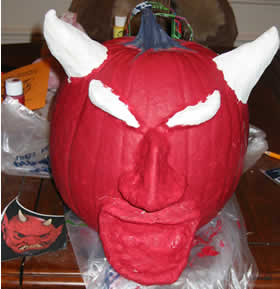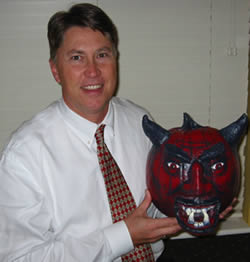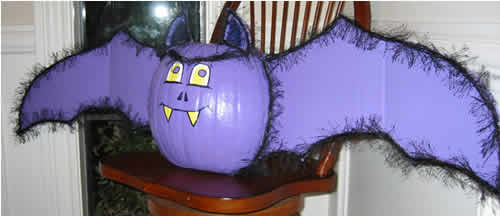 Below are the creations that Melinda & Kenny came up within 2006. Melinda added, "They may not be up to the devil of last year, but they're good (at least good enough to win the top two prizes at work again). We're both very competitive, so we pull out all the stops to win every year!"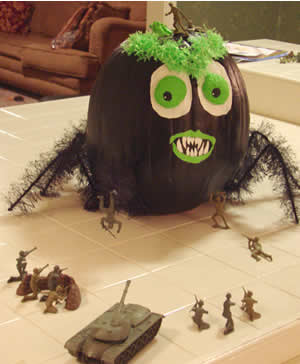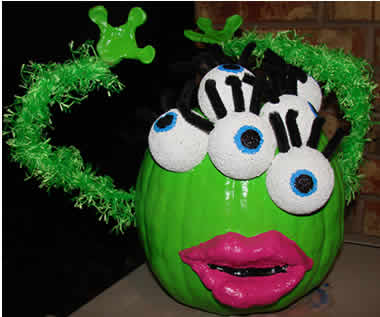 And here are Melinda & Kenny's hilarious 2007 pumpkins ...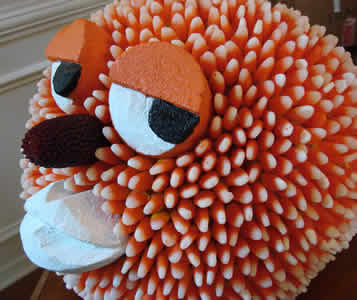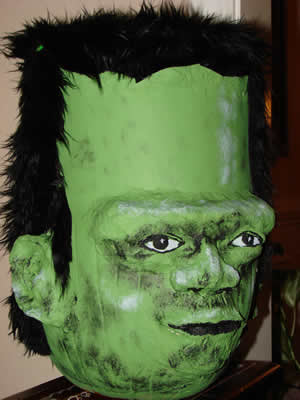 ---
Linda Gullikson
Linda Gullikson submitted this motley crew of painted faces. "I started painting pumpkins a few years ago when I worked in the produce department at a grocery in Lakeside, MT. There where a lot of pumpkins that looked like they just needed a little bit of personality. I study a pumpkin first and then decide what type of face it needs. We grow lots of pumpkins and in the fall my son and I set out by the road and sell them. Of course we have a sign that says, "I'll paint a face will you wait!" Several businesses in the area pay me for painted pumpkins because they last much longer than cut ones. A delightful bonus for having fun."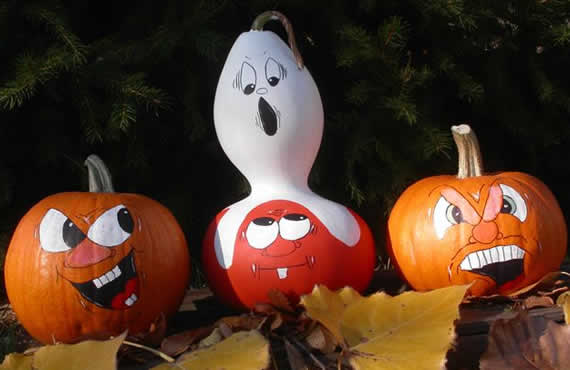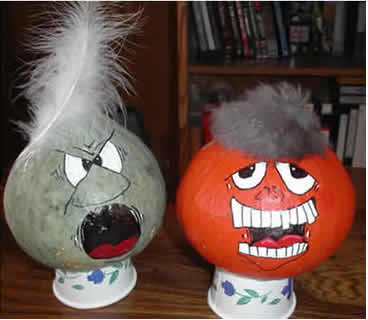 ---
Julie Nebel Dooley
Julie Nebel Dooley is an artist specializing in pet portraits " ...after I painted a pumpkin with a cat last year for a Halloween auction fundraiser, I got some great feedback and have decided to do some more for people this year! Here's a couple pictures of the pumpkin I painted last year, and a couple little gourds I painted like a cat and dog too. The cool thing I've discovered about the gourds is that they dry out and seem to keep forever, so I'm going to paint some more and use them for little Halloween gifts for friends. Some people I used to work with kept these up in their cubicles year-round :)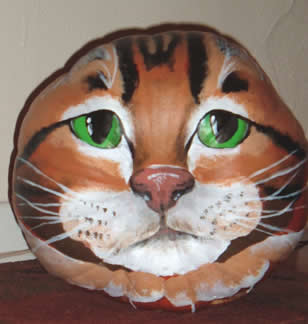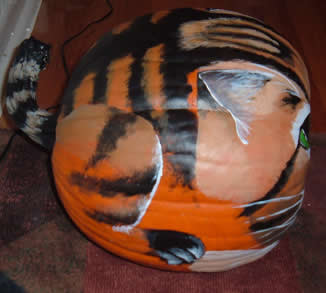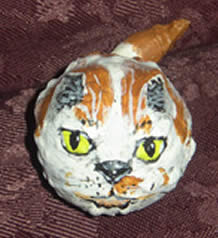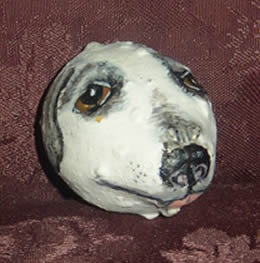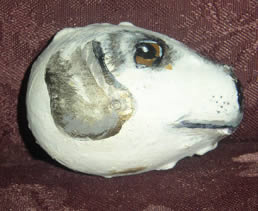 Click here to visit Julie's website and to commission work - (on or off the pumpkin)
---
Tonya Davis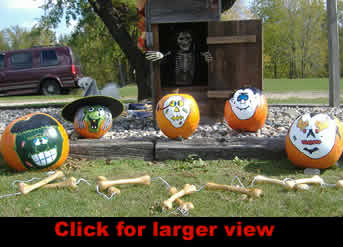 "I just can't wait to see what my pumpkins are going to turn out like while growing. And I'm always ready to start painting them. I have three to go and can't wait to think up some more faces."
- Tonya Davis

---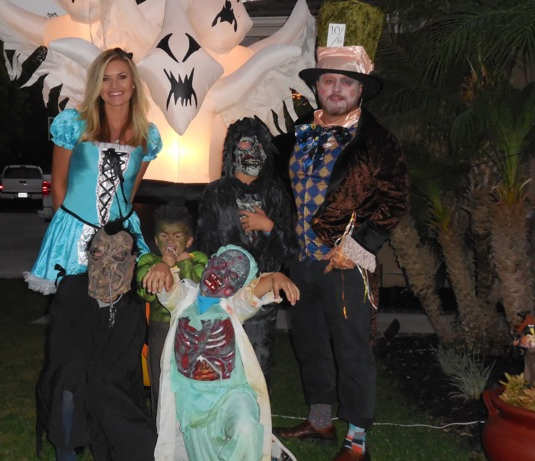 Tally with her crazy family!
Tally Tolbert
Tally Tolbert (pictured with her crazy family) - from Las Flores, CA

" I'm a stay at home mom who let's her kids pick the theme every year, and it has become our little tradition. I also do character cakes for their birthdays every year. I'm not an artist, I just have fun and do my best. "


2013 - Hulk, Iron Man, & Disney's Henry Hugglemonster.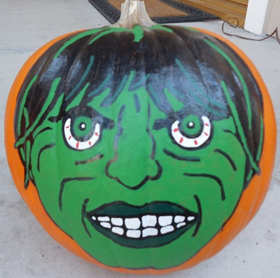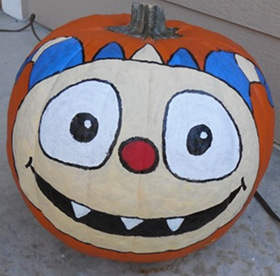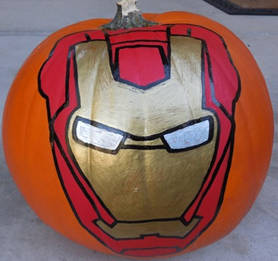 Tally painted Emo Spongebob Squarepants and Sally & Jack Skellington from "Nightmare Before Christmas" for Halloween 2010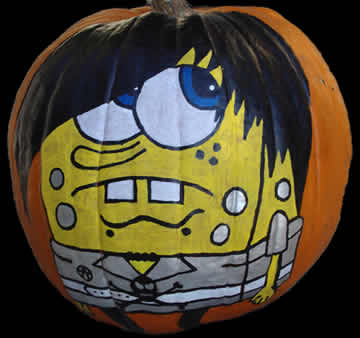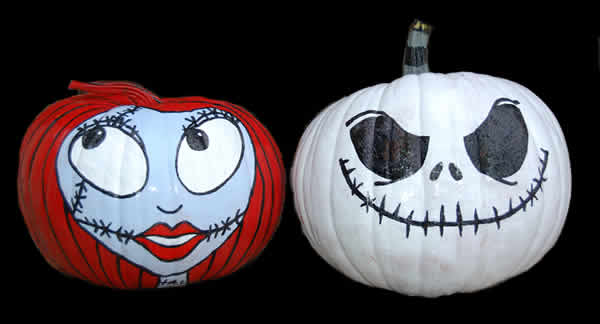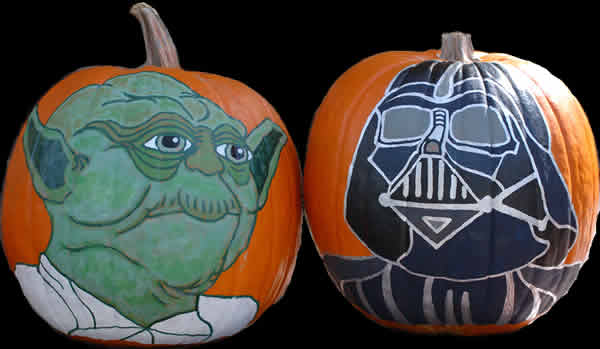 "The Force, I sense, is with these pumpkins", Yoda, & Darth Vader - The Light Side & The Dark Side of the Force - Tally painted these for Halloween 2008. She painted the M&M's in 2005, Spiderman & Batman in 2006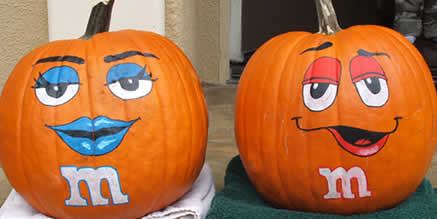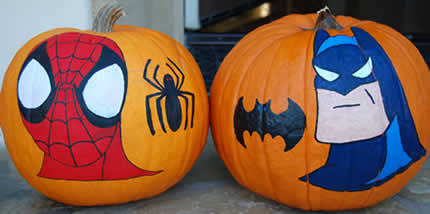 2007 - This is Tally's take on Mike Wasowski and Celia Welia from Monsters Inc. "I had to rinse the ashes off from all the fires the past couple of days to take this picture."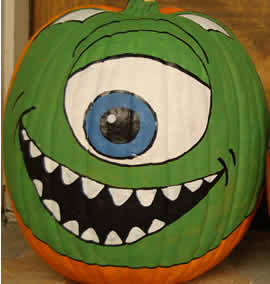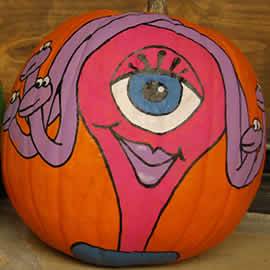 ---
Faith & Kathryn
Of course, that most famous of pumpkin transformations is Cinderella's Carriage! The pictures here show Faith & Kathryn with their materials and their finished pumpkin sculpture.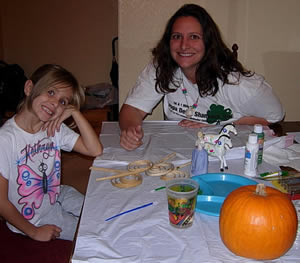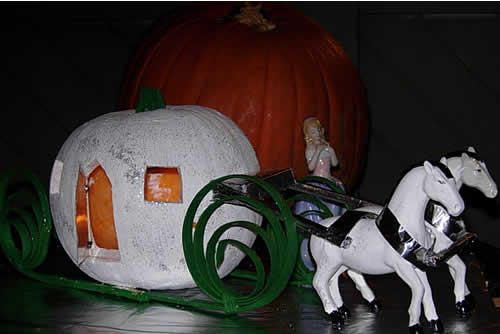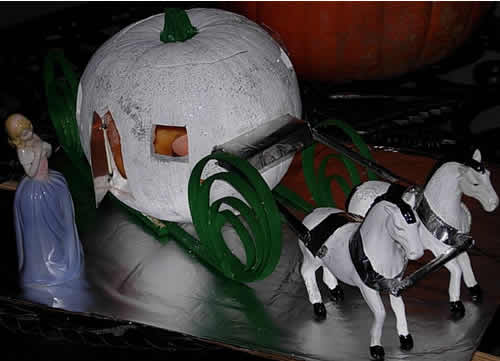 ---
Yolanda Lopezsent
Yolanda Lopezsent in this cinderella pumpkin for 2010 complete with a plumed horse and chrystal wagon wheels as well as Disney's Cinderella watching ruefully out the coach door.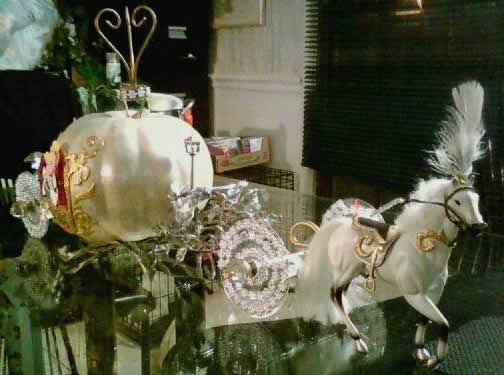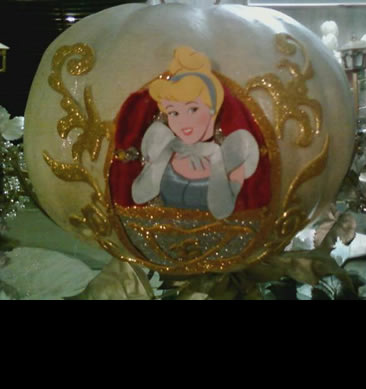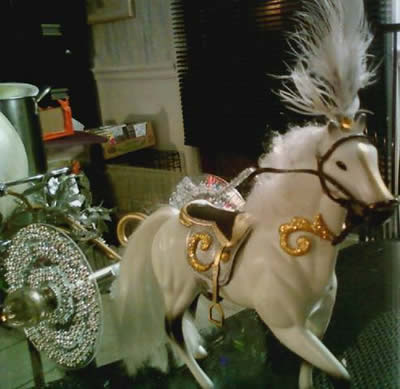 ---
Paige Schlegel
Paige Schlegel runs a pumpkin patch every year at her church, the Cornerstone United Methodist in Garland, TX. Watch out for some of these delightful faces cause some of them seem to have eyes everywhere and they may just be watching you.
Paiges says, "The painted pumpkins are always a big hit and last so much longer than the carved ones."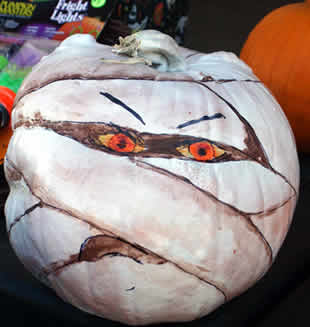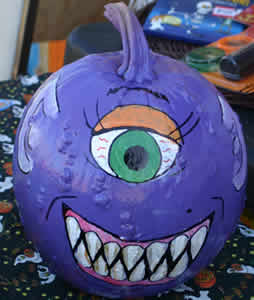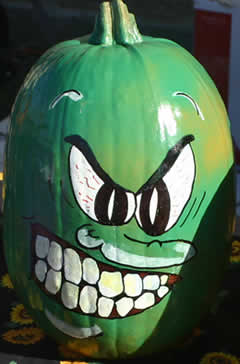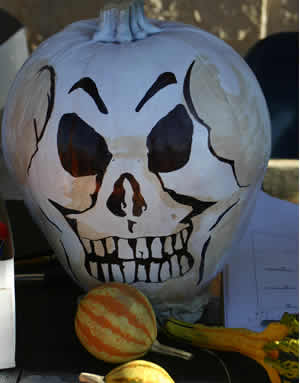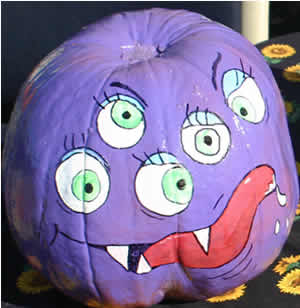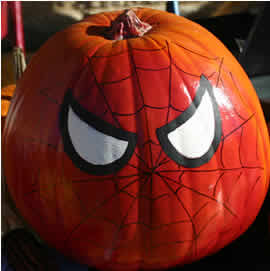 ---
Debby Smits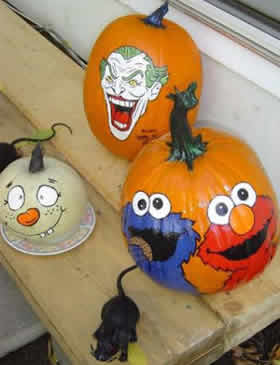 Debby Smits started painting pumpkins because she couldn't carve them.
"I had alot of little friends and started to make them for the kids. Then people asked me for things that just weren't possible but to my own amazment they were ... I have 20 years under my belt of painting pumpkins, and hundreds of pictures of them."
Debby sent in way too many pics for one page, so we had to give her, her own page. There you'll find many facets of Spongebob Squarepants, drunken bats, The Simpsons as The Addams Family, witches, skeletons, haunted house, Pooh, Eeyore, Tigger, So many that they line the stairs, and the walkways .... Click this link to see them, but watchout - she could paint you next.

---
Nurse Karen
Nurse Karen has been painting pumpkins for her hospital for many years now.
Here's her 2021 "Nurse Super Heroes" (Yeah!) pumpkins!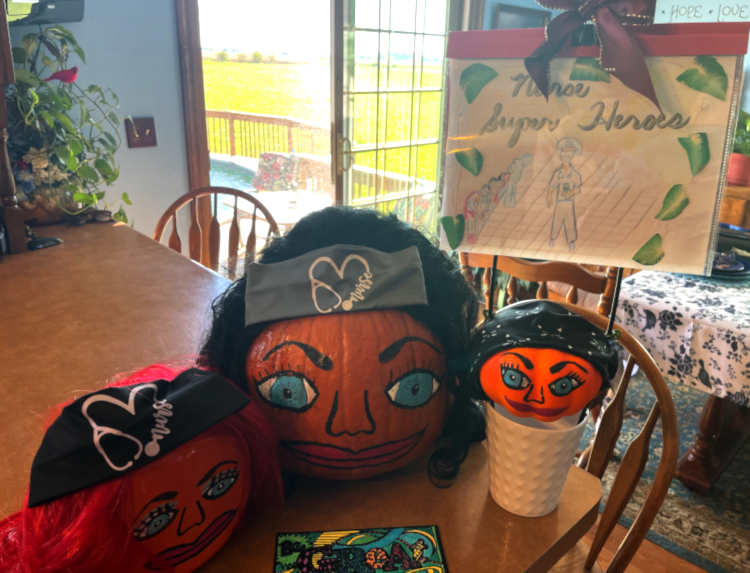 | | | |
| --- | --- | --- |
| | Every year since 2007, Karen has been sending us photos of her entries into her hospital's pumpkin painting contests. At left is Karen's 2007 entry for the pumpkin painting contest at her hospital. Her nurse pumpkin won the co workers of her entire unit candy apples. For the 2008 contest she entered this colorful turkey pumpkin. | |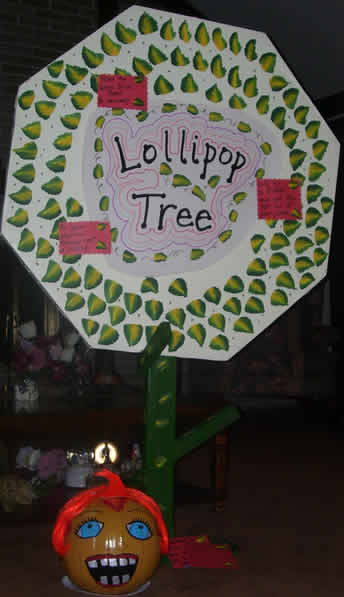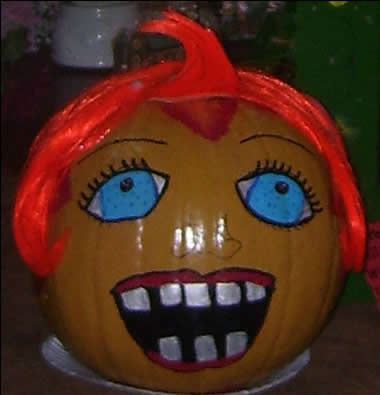 Here's Karen's 2009 painted pumpkin - The Lollipop Kid. The signs on the tree say, "Follow the Yellow Brick Road to recovery" ... "Lolly up to 3 West and get the pop out of your joints" ... "Do your physical therapy and get a free lollipop"
2010

"I transferred to the telemetry unit, so for our pumpkin contest I entered Vee Tach RN, she had a sign in her telemetry box that read, We get to the heart of the matter."

For 2011, Karen sent in another of her colorful creations. She entered it in her hometown contest and won 2nd place. The clown's heart says, "We get to the heart of the matter. No clowning around."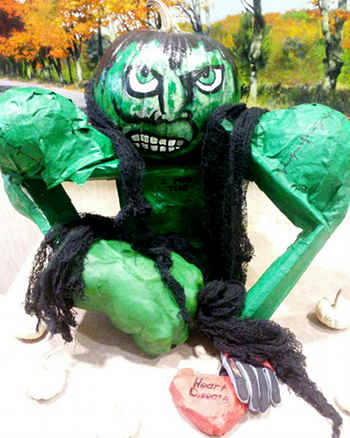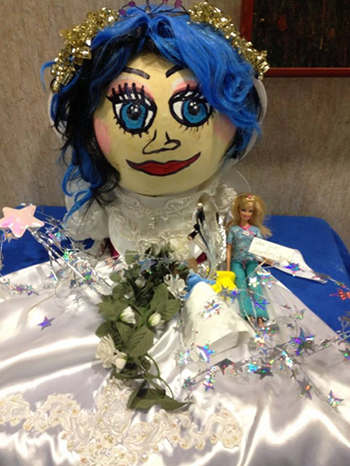 For 2012, Karen made this sculpted painted pumpkin: "The Incredible Hulk", who smashes out heart disease! The Guardian Angel (the nurse navigator) looks out over her charges as painted in 2013.
2014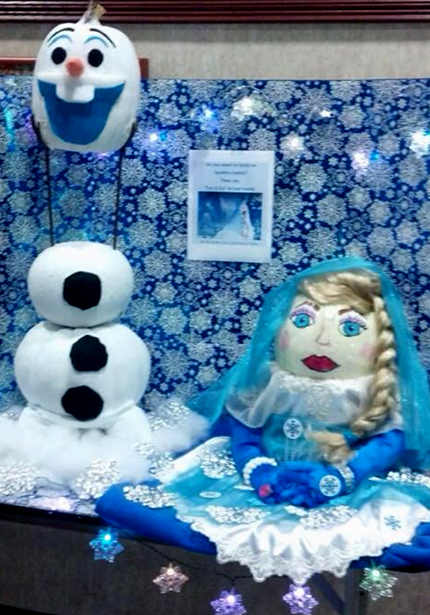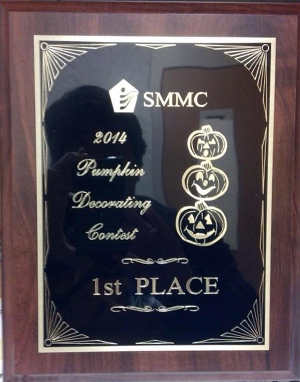 For 2014, Nurse Karen and a friend teamed up. The theme, "Build on healthy habits, and say Let It Go to unhealthy habits.". The story of Disney's Frozen was a perfect choice and together they sculpted and painted Elsa & Olaf from Frozen. As you can see, they won 1st place!
2015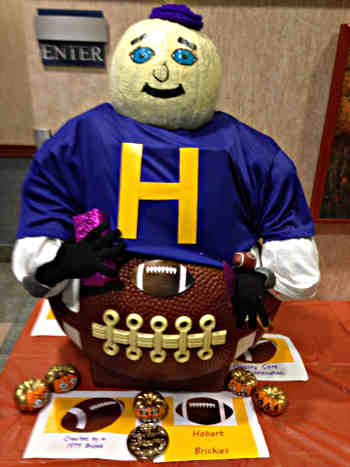 Meet Yohan. The Hobart, Indiana Brickie Mascot Hobart was originally known for having a big brickyard, hence, the "Brickie" was born.
2016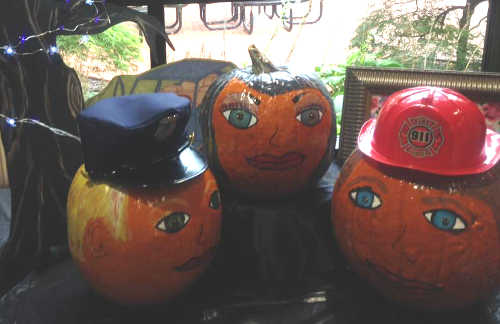 "First Responders"
---
The Matizza Family "Some Pig"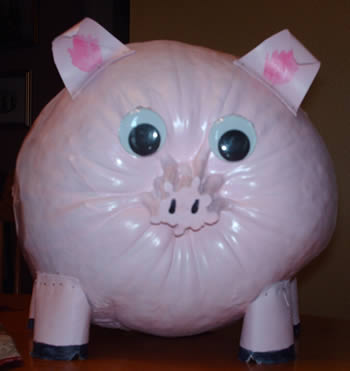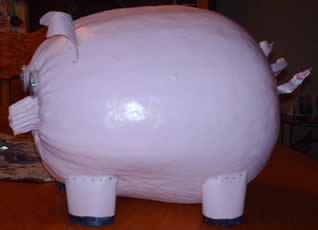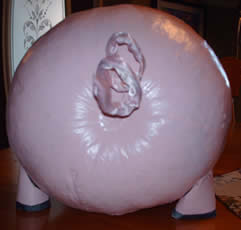 Sent in by the Matizza Family
"We had so much fun with this. Spray paint a TALL pumpkin pink. Use toilet paper rolls for legs and ears. Create tail out of pipe cleaners and pink
fabric. Googly eyes with hot glue. I adhered legs and ears with straight pins. Pig should last a long time!
---
Alison Posinski
Alison Posinski, " I have been painting them for 19 years, since my daughter Meg was in Kindergarten. Now my grandson, Brody is in Kindergarten and I am still painting them. I usually paint 20 or so each year and give away some as gifts but have recently started painting on \"faux\" funkins and selling them.
Those of us who love to paint pumpkins (especially the faux ones) can do it all year. I started painting real pumpkins and then 5 or 6 years ago the carveable foam pumpkins came along and I have been painting more of them since then (they last longer)
My favorites are the cute ones but my 5 yr. old grandson wanted spooky so I started that this year. Your website has inspired me with some new ideas."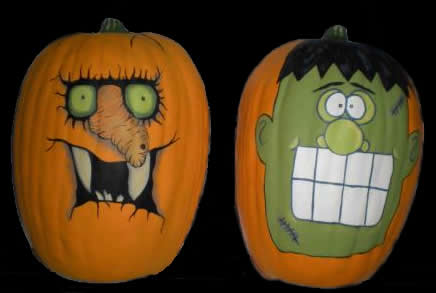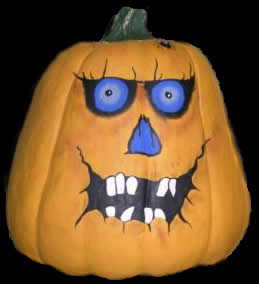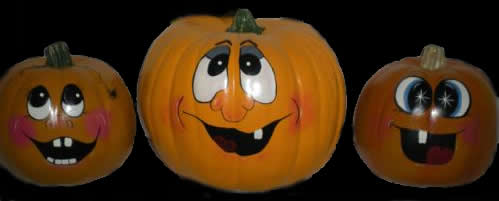 ---
Lara
Lara sent in these pumpkins for 2008 & 2009 - She says "Your website has inspired us for 2 years now."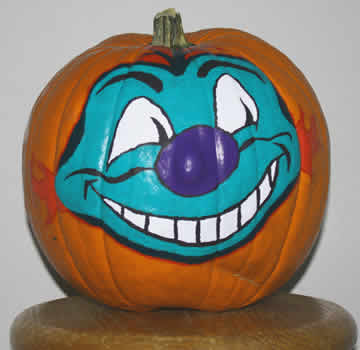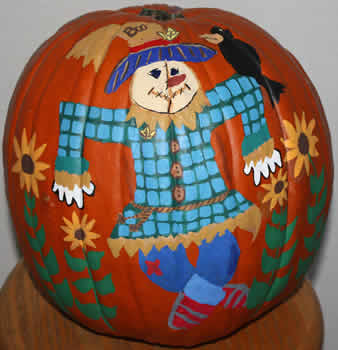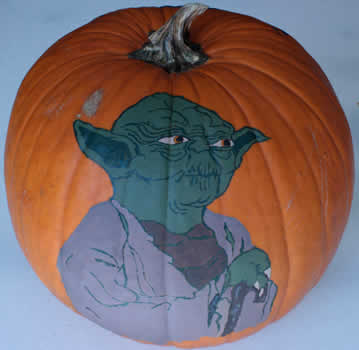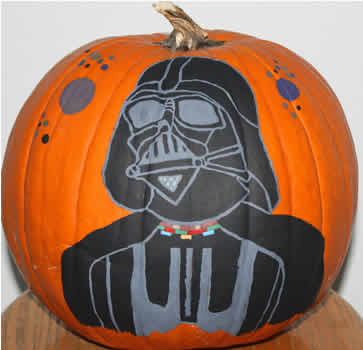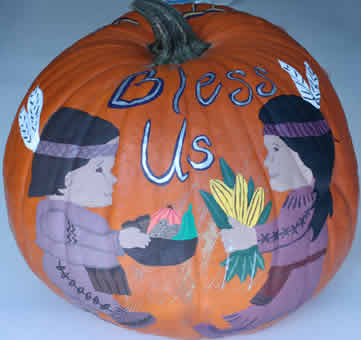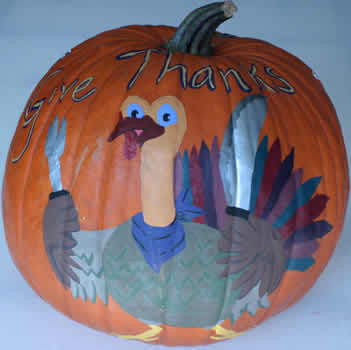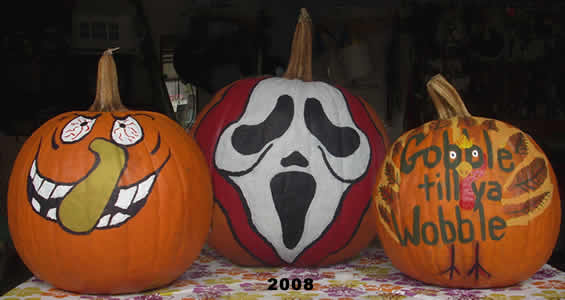 ---
Caroline Goodrich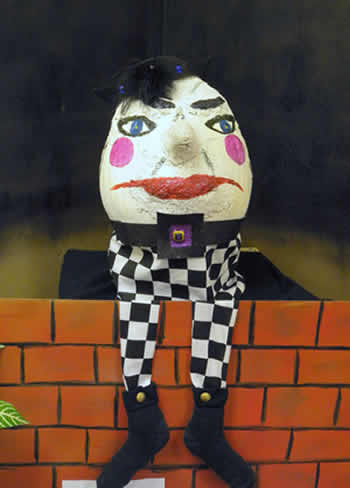 Caroline Goodrich (Tampa, FL) sent in these 3 pumpkins.
Pumpty's got a brand new rhyme ...
"Pumpty Dumpty sat on a wall
Pumpty Dumpty glared at us all
All the children with their costumes and wiles
Never got Humpty to even crack a smile
(No wonder he was pushed off that wall!)"

"For Pumpty, we used paper mache to create the egg shape and features, then primed, sprayed, and painted. He was a hit. We installed him in a dark-themed vignette outside the classroom."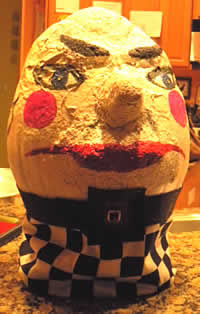 She also sent in a jack-o-lantern carved pumpkin and Chicka Chicka Boom Boom - painted with added feathers and sequins. A saucy chick, for sure.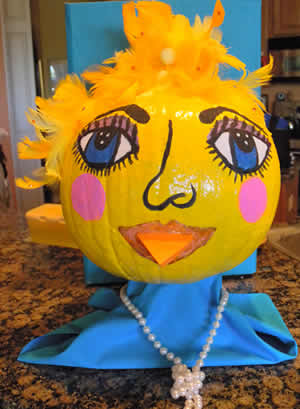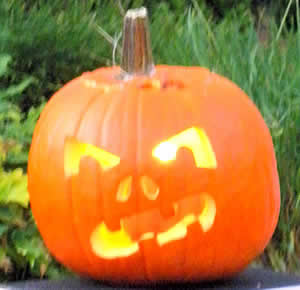 ---
Mary Kay
Mary Kay is from western PA, "This was my first attempt to paint pumpkins and I enjoyed every minute of it."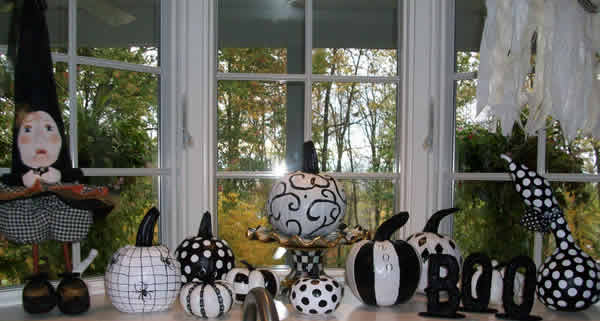 ---
---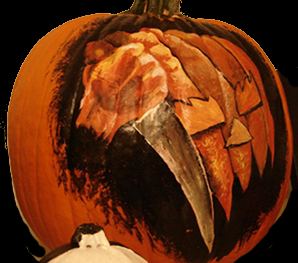 Lisa Weddell
Lisa Weddell (Philadelphia) painted this image from the Halloween Movie. You can see her other painted pumpkins and other artwork at her Facebook Page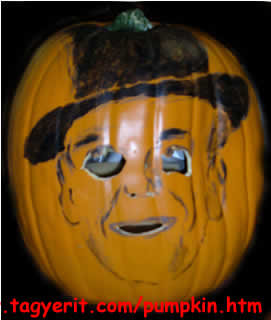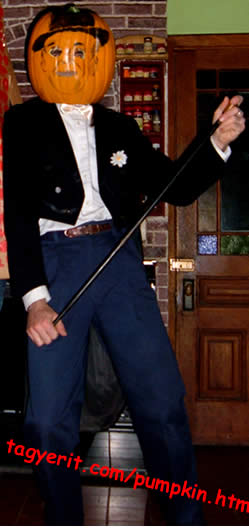 Here's my (Rich of TagYerit's) first, and to date, only painted pumpkin. It's a foam pumpkin I picked up at Michael's to experiment with carving. Didn't have much luck with the details I usually like to create ... instead created this mask of Pumpkinhead Astaire for my Halloween costume.

If you have any pumpkin pictures that you'd like to post, Contact us
---
The pumpkins you find on these pages were either done by Rich & Flo Newman (aka TagYerit) or sent in by friends & contributors. There could easily be 10 pages by now, so give yourself plenty of time to explore the vast range of wonderful creations assembled here! Keep going, there's so much to see!
Don't stop now ... visit the following pages for more great pumpkins!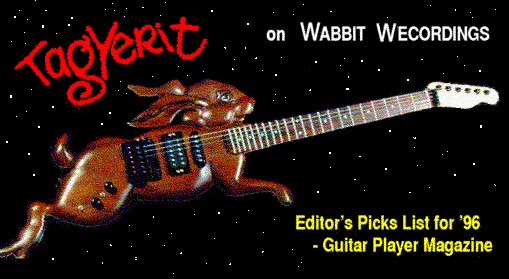 Click the Guitar to hear TagYerit's music.
Click here to fully explore the tagyerit.com pages
---
---
To contact us please type in the email address shown in this image.

After our website moved, I gave up trying to get the forms working again. - Whether you'd like to say hi; make a request or a suggestion; discuss the use of any of these images; swap links; we'd love to hear from you!

Just so you know: We never disseminate email information. We are ever mindful of the privacy needs of our friends.

All text and images ©1998 - 2022 Rich & Flo Newman
(Any images credited to others remain their property and appear here by permission.)