The Colors Collector Tissue Issue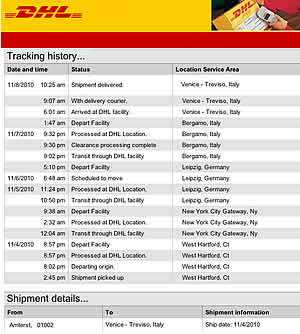 Halloween is usually a crazy time for us because we're steeped in pumpkin carvings. We were just about to start carving an elaborate dance pumpkin when we were contacted by Colors Magazine of Benetton who wanted to interview us abour our tp collection for their special Collectors edition. Their deadline was quickly approaching. How do you explain to a magazine that distributes to 40 countries and 5 languages that it's the wrong season - especially when you're hosting The Whole World Toilet Paper Museum? So we agreed to answer some questions and email them pictures. We took a day off from carving so that we could select some choice examples; set up a series of lights and cameras to get the best possible pictures with our amateur skills; sent them all off by email. It turned out that a professional magazine is selective about the quality and types of pictures they will use and ours just weren't up to their standards.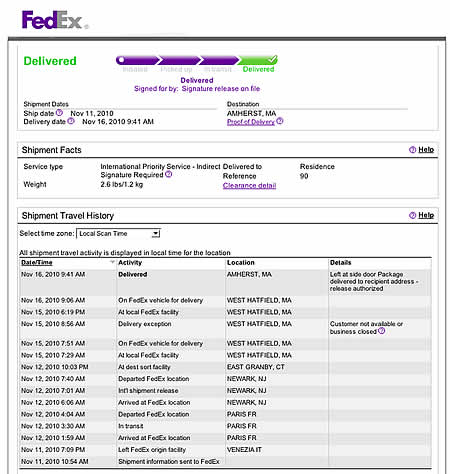 They wanted us to mail some of our collection.to Italy. It's an odd feeling to explain, but we started to collect toilet paper specifically because it has no inherent value. And yet we found ourselves extremely reluctant to part with some of our collection. What if something were to happen to them enroute? Couldn't they just go into their bathroom and photograph some of their own toilet paper as a representation? We eventually agreed to send some interesting sheets though not what we had originally planned to contribute.
As you may have guessed they all arrived back at the museum safe and sound.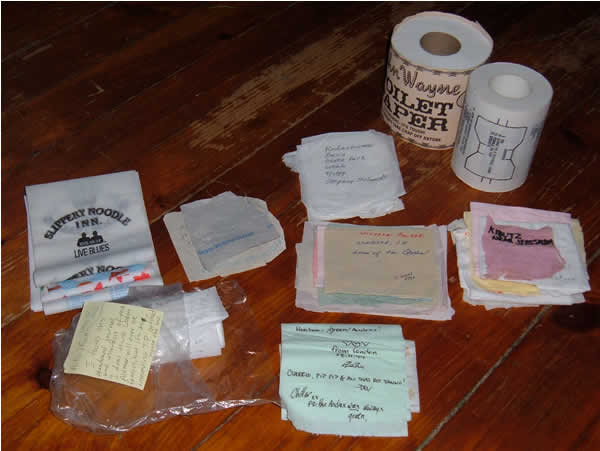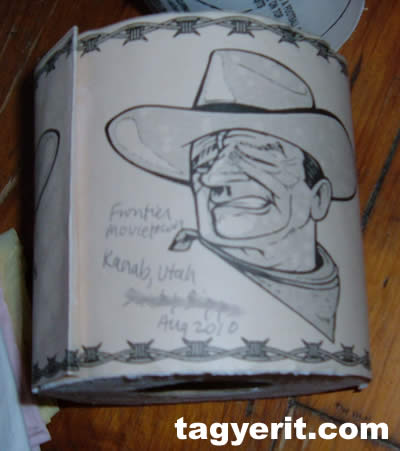 "John Wayne" toilet paper: "It's Rough. It's Tough. And it doesn't take crap from anyone!"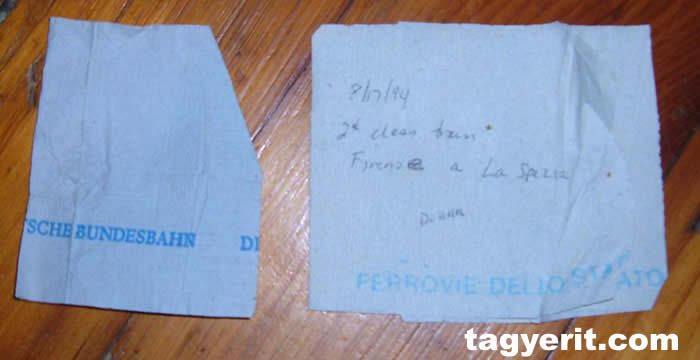 Deutcsche Bundesbahn and a 1994 sheet from a train from Firenze (Florence) Italy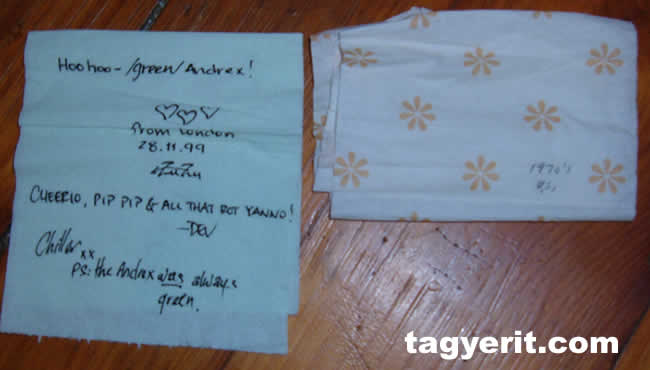 1999 Green Andrex TP from London UK signe "Cheerio, Pip Pip & All that rot" also 1970s TP with star pattern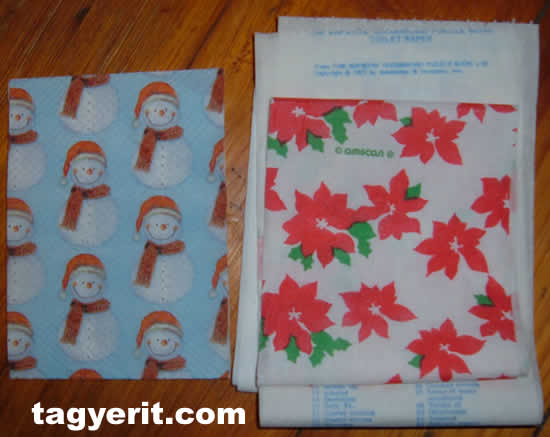 Two samples of Christmas novelty tp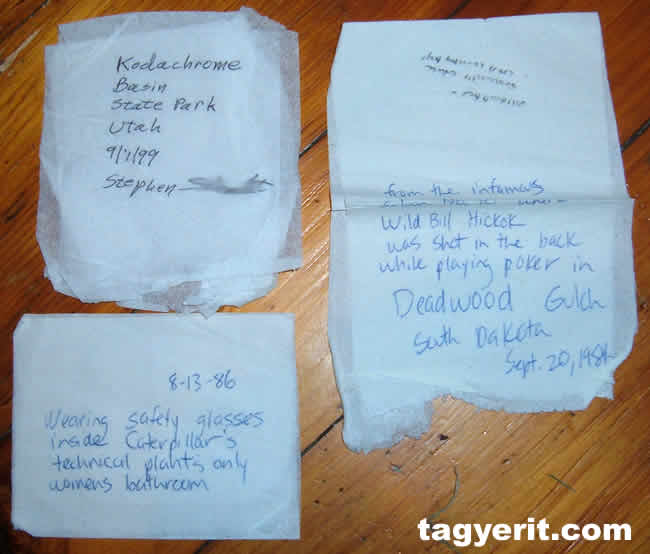 1999 "Kodachrome Basin State Parke Utah"
1984 "from the infamous saloon where Wild Bill Hickok was shot in the back while playing poker in Deadwood Gulch S. Dakota"
1986 "Wearing safety glasses inside Caterpillar's technical plants only women's bathroom."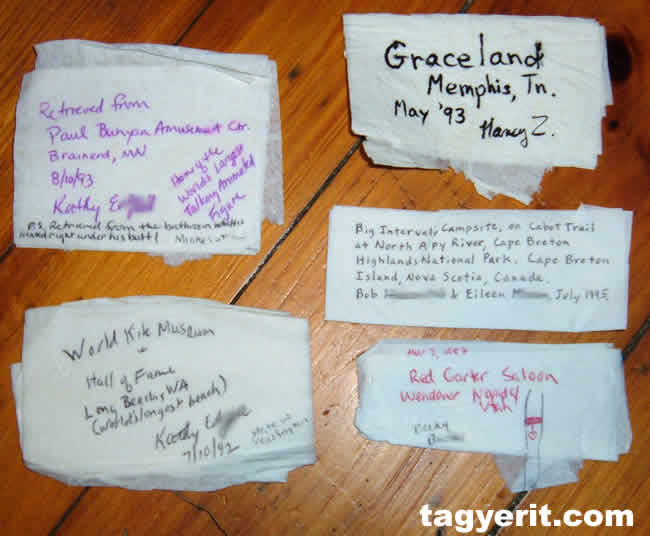 1993 "Retrieved from Paul Bunyan Amusement Ctr. Brainerd MN Home of the world's largest talking animated figure. p.s. Retrieved from the bathroom which stands right under his butt!"
1993 "Graceland Memphis TN"
1995 "Big Intervale campsite on Cabot Trail at North Apy River, Cape Breton Highlands National Park, Cape Breton Islnad, Nova Scotia, Canada"
1992 "World Kite Museum & Hall of Fame Long Beach WA (World's longest beach)"
"Red Garter Saloon" with drawing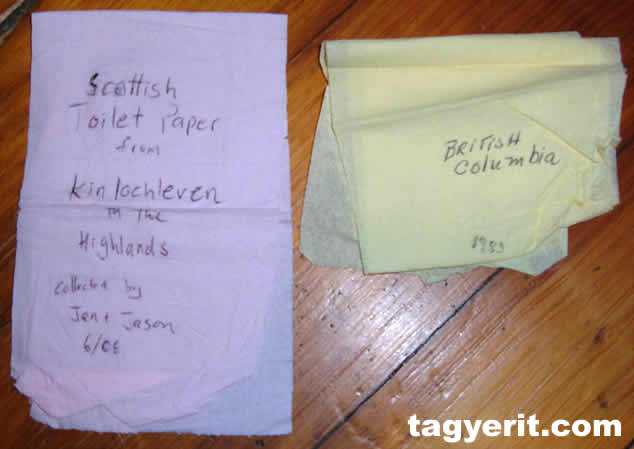 2008 "Scottish Toilet Paper from Kinlochleven in the Highlands" and 1983 yellow tp from British Columbia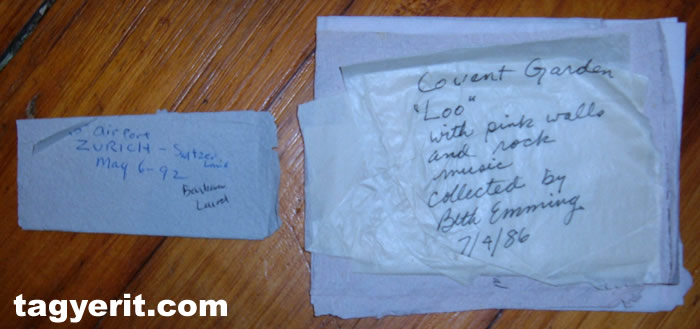 1992 "airport Zurich - Switzerland" and 1986 "Covent Garden "Loo" with pink walls and rock music"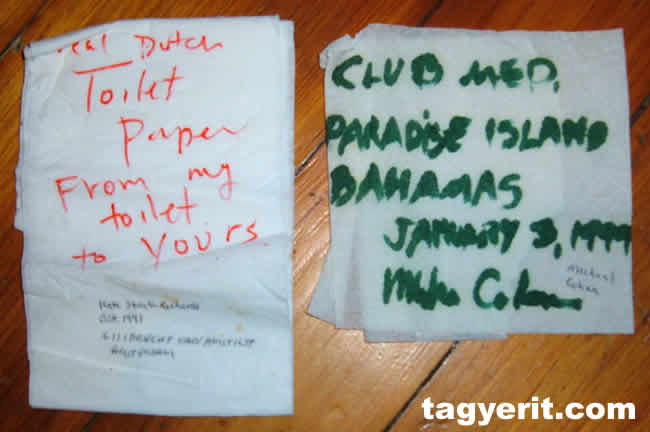 1991 "Real Dutch Toilet paper from my toilet to yours" and 1999 "Club Med Paradise Island Bahamas"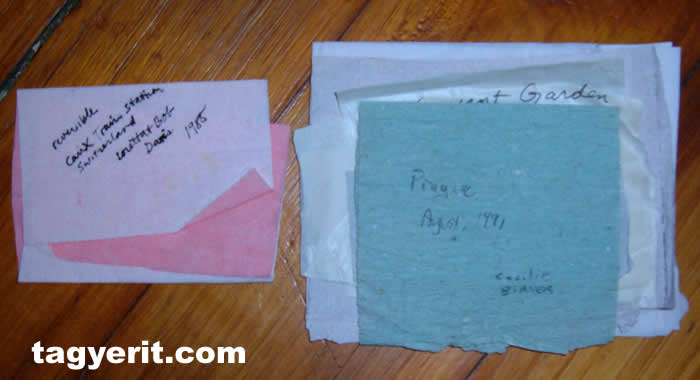 1985 "Reversible Caux Train Station Switzerland and 1981 Prague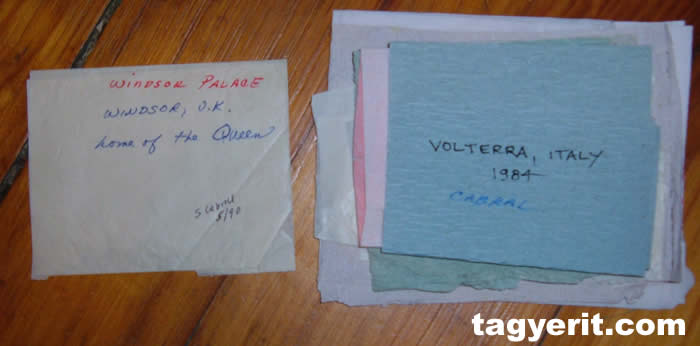 1990 "Windsor Palace Windsor UK home of the Queen" and 1984 Volterra Italy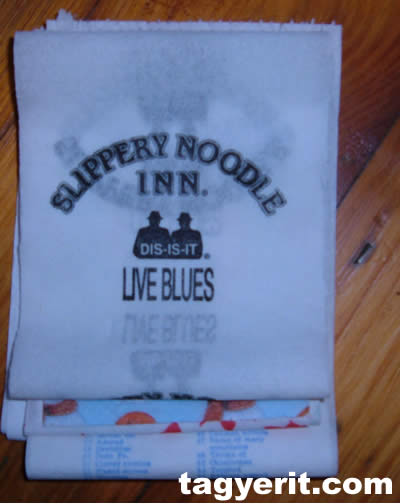 2010 "Slippery Noodle Inn Dis-is-it Live Blues collected by
members of Ameri-MF-Cana
Subscribe to TagYerit Tails
TagYerit Tails is the newsletter for TagYerit (The Website) and TagYerit (The Band). This newsletter is our way to tell you when something new or exciting is happening. In other words expect it once or twice a year. Sign up now.
---
Click for TagYerit's Front Page music, gadgetrees, easterner bunnies, cool carved pumpkins, more, more, more ...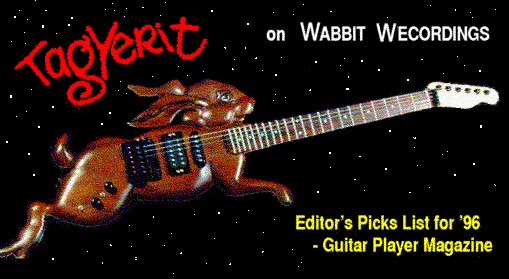 © 1995 to 2021 R. & F. Newman. All rights reserved | Contact us