TagYerit's Take on NeMO 1998:
A Window on Boston's Music Scene
by Rich Newman
Sat. January 17: Day 2
HOW TO GET YOUR MUSIC IN FILM & ON TV
Dave Gibbs - Gigolo Aunts - band member and songwriter: "Our publisher at Polygram likes us and our music. On spec, he asked us to write a song for That Thing You Do, about a Pennsylvania one-hit wonder in 1964. We had to imagine what that band would be writing about, and not writing about. He called us on Thursday, we wrote it that night and mailed it by Saturday. They didn't use that song, but they did use several of our other songs. ... Publishing has kept my bills paid for 6 or 7 years.."
Barbara Jordan - Heavy Hitters - Music publisher (including Party of Five, Jackie Brown) She specialises in film and tv placement. - based in Boston. Had been a songwriter: "I couldn't keep up with the demand in film. I have to be in L.A. 4 or 5 times a year. A publisher will try to work every connection possible. You have to have someone who is always watching all of the changes. I worked hard at getting the title spot on Melrose Place for one of my writers. From that, the writer was able to get instrument sponsors and the interest of A&R. That writer has been working the industry for 10 years, and couldn't get anywhere. Understanding licensing is important for negotiating. If you have a pre-existing hit, you can ask what you want. Make sure when you do your masters, you own the rights to them. "
Tracy McNight - Good Machine Music - film and soundtrack consultant. Looking for new artists. Credits include The Ice Storms, Sense & Sensibility, Brother's MacMillan: "Read the production lists in the Hollywood Reporter and others ... The music supervisor's job is to find collectively the best music for the film. I'm currently working on 3 films. You have to work with the music director. Find out "What is the direction of the film?" Dealing with source music, licensing, going to the band ... after that the sound track comes in. ... a big differentiation between studio films and independents. At studios, such as Sony, music from the Sony catalog will have a much better chance. ... (What payments can writers expect?) It depends case by case. Sometimes, it's not for the money but for the exposure. The whole budget for Reservoir Dogs was only $2 million. Register your music with one of the 3 licensing agencies ASCAP, BMI, or SESAC. For film and tv you need 2 licenses. A master license (license from the owner of the recording masters) and a synchronization license. One of the interesting things about synchronization license is that the artist has the right to decline.Some artists, such as Alanis Morisset and Neil Young, won't let their music be used on film. "
Bernie Wallace - composer - Originally a jazz sax player: "By a bizarre accident, I ended up making sound for films. I found myself doing stuff I never dreamed of, including Blaze, White Men Can't Jump, Bull Durham. I was recording at Blue Note, when Bull Durham was looking through their catalog for music. Their entire music budget was $40,000. They asked me to write an end-title . I recorded it with the Little Feat rhythm section and Dr. John.. Then they asked me to compose the score for their next film.
Writing for film is mathematics. Precisely fitting music to emotional moments. At a spotting session with the producer and director, watching the screening, they stop the film at certain emotional moments and spell out where the music comes in, or changes. It is most important to let the director know you don't talk musical talk, but you use emotional talk. Make music that's emotionally honest."
Steven Hill - MTV - among a team of people that selects videos. Worked 5 years as a dj in Boston at WILD. "Music video is just the opposite of film. The visual is made to match the music. Don't go for a big budget. Keep it smart and you can make it cheaper. It's not about how much money you spend.... Getting your music on a movie helps you get on MTV. "
Steven cannot take submissions. For MTV submissions, contact Fred Johnson.
---
PUBLISHING DEALS and INCOME STREAMS
Jonathon Love, ASCAP
George Stein, Stein & Stein - Attorney
Ted Piechocinski, Cherry Lane Music
Whitney Broussard, Selverne, Flam, Mandelbaum, &Mintz
Publishing is the gift that keeps on giving.
Publishing rights apply to songwriting. The type of deal with a publisher depends on the leverage of the songwriter. There are two fees that are paid out. Publishers fees and writers fees. The writer always gets 100% of writers fees, but publishing fees are worked out with the publisher. Up throught the 1960's the publisher used to get 100% of the publishing fee. Now the publishing fee is usually split 50/50 with the writer in a co-publishing deal. The next step up, later in a succesful career, is an administration deal, where the writer retains all rights, but pays an administration fee, usually between 10-15%. The difference in a co-publishing deal is that the publisher should be working your catalog and can be very instrumental in exploiting your material.
Not only can a large advance be good for the artist, but also for the publisher, since that gives them a vested interest. While the advance is recoupable against all earnings, it is non refundable. Timing is important when you make your deal. The range of money in a publishing deal can go from $10,000 where nothing is yet happening, to millions, if you get a hit first. Wait as long as you can. Preserve as much of your publishing as you can. It's yours to give up. A number one song can generate $100,000 to a million dollar just on first run in publishing money (as well as the amount to the writer)
The choice of publishing companies is between a multinational with a large catalog, where you won't be as important, and a little publisher where you will have more importance.
Try for a deal where you are able to walk.
A publisher can also be a back or side door to a record deal.
Always have an attorney, when you need one, but educate yourself first.
Don't ever give a small record label your publishing rights. It's a bad (bad, very bad) deal.
You can also get sub-publishing deals, where you give up North America, but not the rest of the world.
Reversion clause - Taking a second bite of the apple. This gives the writer the ability to renegotiate. It is very good for an artist, but publishers don't like it. It is the exception rather than the rule. If you can get one, they are generally for 5, 10, or 12 years after the term.
Creative Control is another issue. You assign certain rights to the publisher to exploit your works. Are you allowing them to do whatever they want? The first draft usually gives the publisher the right to change the words and the music, and use the song for any kind of commercial and other frightening things. The only places where allowing the changing of words should be appropriate is for gender issues (ex. he to she) and foreign translations.
It's important that you feel good about your publisher. A good publisher is about relationships. Publishing is more of a goldmine than records. Essentially a publisher wants to maximize his returns. They want to exploit their rights. A good publisher wants to be long-sighted. They have to foresee what uses are good for the song that will keep it active over the years?
Always get a music lawyer
Panelists suggested looking into Zomba or Bug Publishers.
---
RADIO PROMOTION AND CHARTS
Theda Sandiford-Waller, Billboard Magazine - Hot 100 chart manager
David Avery, Powderfinger Promotions
Laura Benanchietti, Mercury Records - promotion coordinator
Cheryl Botchick, CMJ New Music Report, music editor
Gary Jay, TVT Records - radio promotions
First things to know to get in to radio ...
Budget your time with radio music director. Do they have an open meeting time? Or find out what's their "call time". (Time they've set aside for taking calls.)
Work a genre. Joan Osborne in 1995. They decided she was going to go to modern. She actually broke at AAA, and then had her biggest success at Top 40.
College stations are looking for unique. AAA is looking for history and unique.
College radio is still the place that allows DJs to pick.
Songs should be 4 minutes or less for commercial radio. They average 12 to 14 songs an hour. Your song is competing for airtime with listener attention and advertising time. A longer song cuts into another band's time.
Try to master a region.
If you use regional promoters, research them well. Don't believe they have a relationship with a station, just because they say they do. Follow up. Powderfinger and Planetary Group are 2 recognised promoters in the Boston area.
What types of source material to send...
Most everything helps ... Most won't read bio
Cheryl, " At CMJ we function the same as college radio. We put CDs in one stack and the papers in another bin, if we want to refer to them. It's a good idea to attach the bio to the jewel case."
Most Outrageous things to get notice?
Cheryl, "We get an incredible amount of chatchkes and probably none worked. Someone came dressed as a cat delivering pizza." When asked who, she replied, "Prunella Seals" (which just goes to show that it can work)
Jim from Rusted Root sat outside the radio station in Philadelphia for 2 days.
A bottle of wine made a CD sound pretty good
Paid off parking tickets
What tools do you use?
Story telling .... try to convey that something is happening with the band or the song. Convey that there's an immediacy.
If there is a good time to start a campaign, it would probably be the beginning of spring and the beginning of fall. This gives you time to build your story.
Submit to the "locals" shows
With unsigned and indie bands, you have to have good songs.
Packaging
The listings in theYellow Pages of Rock
---
DEMO LISTENING SESSION
Shred, WBCN dj, host of Boston Emissions
Margot Edwards, Middle East Downstairs - booking and management
James Rotondi, freelance music writer (wrote 6 years for Guitar Player)
Steve Rizzo, Stable Sound Studio - producer and engineer (Throwing Muses)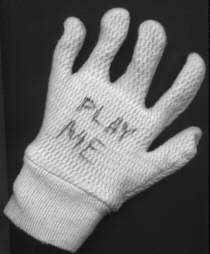 A few of the highlights ... a few comments
In a box with about 50 submissions was the glove that said "Play Me". And sure enough it was first to get played. "At Peace" is a demo tape by Krista Marie Cilfone (New Platz, NY). accoustic guitar "nice voice, nice song, a good contemporary folk vibe."
a CD single by My Favorite Relative. Started with an old scratchy LP sound, evolved into a very cool modern rock feel. "good pop song ... like the Beatles ... a bit of Roller Skate Skinny or Master Monkey"
Say Zuzu kicked right in. An uptempo rock song with country rock emphasis
Seandomonium (Sean Altman) Wild stuff! The track they excerpted was all vocal including the percussion sounds. "pretty insane ... great and unique ... a good song ... Squeeze & Moxy Fruvous ... The technique can give writers something to talk about (building 'the story')"
Baby Ray - With the bass carrying the melody line and the two guitars strumming the alternate beats which are separated on the tracks, this song got an applause from everyone in the room. "almost sounded like 2 things going on at once ... brilliant... nod to early XTC ... a well fleshed out song ... eccentric"
Of all the demo sessions I've been to, the music at this one was incredibly & consistently good. This speaks well for the maturity of the Boston based music scene. (Or was it just dumb luck?) If this reflects a trend, it's pretty exciting. I'll have to wait until 1999 to see.
As we were cleaning up, I discovered that many of the bands never picked up their CDs and cassettes from the session. I grabbed a bunch of them just as the hotel staff was about to dump them. I've only had a chance to briefly skim them, but the following 5 grabbed my attention for further enjoyment.
Honour the Rain by Caryn Lin
Sweeter by Lunar Plexus
Something to Stick in Your Ear by Son of Lucy
Release by Passion Seeds
Cousin Battie by Zola Turn
---
TagYerit Hits the Subway Home
As Flo & I sat on the Riverside trolley and reflected on the NeMo event, I spotted a teenager listening to his Sony Discman and reading the liner notes on his CD. I mentioned to Flo that I had the urge to walk up to him and hand him TagYerit's CD and flyer just to see what would happen. But I was too tired to dig to the bottom of the bag. A little while later, we noticed 2 teenage girls sharing ear plugs while listening to a tape. They were really enjoying the experience of sharing their reactions to the music. This time, it was too hard to resist. Flo grabbed a flyer and dug out a tape. She walked over to the girls, intruded on their party long enough to hand them the tape, pointing out her rabbit-shaped guitar, and before they knew what had hit them, she had returned to her seat. They immediately put our tape in and grinned as "Subway Surfing" started. Unrolling our 12 page j-card and our paper-airplane flyer they were like kids in an ear-candy store. They asked us, "Is this really you?" and said they really really liked it. Meanwhile the lady sitting next to me asked us what we had just given the girls and the next thing you know TagYerit's Subway Surfers had given out another tape. She was on the way to the hospital to visit her newborn niece. They all got a rush out of receiving the gift of music.
Who knows, the next time we're on the subway we might strike again. We'll know you by your headphones.
---
---
Or Head over to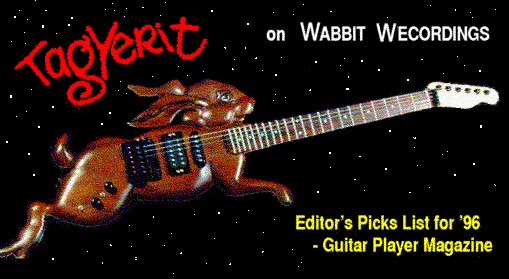 We want to hear from you Email rich@ tagyerit.com
©1995; 1996;1997 &amp 1998 R. &F. Newman. All rights reserved