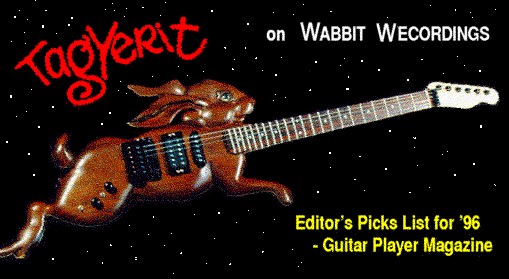 TagYerit - Quickie Reviews
Trimmed down to the adjectives...
on the advice of those who say "less is more"
BUT if you still want more, (as in, "More is more.") then see short reviews and full reviews
Guitar Player Magazine 2/97 Editors Picks for '96 list
Guitar Player Magazine 10/96 " pure joy of words and music."
The Riddle 2/97 (UK) "outstanding...take a chance, you won't be disappointed."
Virgin Records, Chuck, A&R 5/96 "very interesting. ... a lot of skill and passion.."
Radio Danube, Yugoslavia 2/97 " A lot of fun!!! Shall play many times, that's for sure!"
ROCKRGRL Dec 96 "TagYerit has a lot going for them. Their quirky, unusual tunes are a treat."
Consumable 9/96 "the enthusiasm & pure joy ...like being in (their) living room"
Carving Our Own Way - 8/96 "This CD is ******* great. It is going in my collection."
Alphabeats Radioshow, DJ Ottic, syndicated, 6/96 "brilliant"
The CD Spot 9/97" Pick up this soon-to-be Indie classic"
---
---
---
Valley Advocate By James Heflin - Oct 29, 2014
Amherst's Rich and Flo Newman wear several hats, and every hat is unusual. In one, you'll find a rabbit. Not only do the Newmans have a penchant for bunnies of the pet variety, big-eared rabbits are a motif in all their work, popping (hopping?) up in small details or in more overt ways, like Flo's rabbit guitar.

With that guitar, she makes weird and wonderful music in collaboration with Rich under the moniker Tagyerit. The two don't play gigs, but they've offered their unusual sounds on record for a good few years. The music is like pop with alien sensibilities, a fun listen that's full of surprising fizz and tang. Flo's often-ethereal vocals float along, buoyed by her off-kilter guitar playing and Rich's propulsive bass lines. Chances are high that you won't find anything quite like it.
(from a cover article about Rich & Flo's pumpkin carvings).
---
Valley Advocate By James Heflin - Nov 19, 2009
The Best Local Band You Can't Go See
There's a song on Tagyerit's latest album, Shimmer, that gets to the heart of many of Rich and Flo Newman's favorite things. It's called "Neat Junk," and it's a musical manifestation of, as they say, "the collecting mentality." The song is propelled by a skipping beat that is hard to avoid calling "peppy." Rich Newman's fat bass tones rumble beneath. Flo Newman's vocals lead the proceedings: "Here I'm piling my collection/ my neat junk—all my nifty stuff/… mermaid shaped swizzle sticks/ lagoon creature model kit/ dolls dressed like nuns and brides/ Jetson Viewmaster slides/ Crackerjacks—prize inside." It's hard to peg this music—it's got moments that invoke jam band languor, others that seem like art rock precision, and a strange, wonderful playfulness of a brand that is unique to Tagyerit.
---
GoGirls Music reviewed by Megan MeGehee (www.gogirlsmusic.com)

"TagYerit ... tempts listeners with endless treats of original songwriting and precise execution. ... (TagYerit)successfully combine the upbeat with the mellow ... imaginative leaps of interval and harmony ... and show provocative talent in painting nostalgic pictures through melody and lyric. The pair has the special ability to weave seemingly contrasting sections into seamless songs. Sink into daydreams in harmony with the soothing sounds or remain alert to carefully discern the many levels of nuance in these songs; it is up to you. TagYerit will guide you from an ode to the musicians in everyone (Music Makers) through animal-filled images and environmental warnings to a deceptively demure piece regarding blushingly embarrassing anecdotes that are "all true." However you choose to approach this album, you will not be disappointed that you took the trip.

Hit Picks: "Tubeman" and "Milestones"
---
Gary Carra The Valley Advocate - July 2000
Excerpted from the reader's poll issue.
The Advocate's is a celebration of the Valley's vibrant music scene. For the second year running, we asked Advocate readers to choose their favorite local musicians in a variety of categories -- and more than 5,000 ballots poured in.
Experimental/Progressive: TagYerit
Pinning down TagYerit's sound is as delicate a procedure as two porcupines humping.
Since we didn't have enough candidates for Sci-Fi or Disorienting Rock categories, Tagyerit found a home in our old catch-all: experimental.
And that's just fine with the band's bassist, Rich Newman. "Whoa! We love our fans," Newman said. "Apparently, they'll vote for us in any genre that will have us."
TagYerit relies heavily on the Internet and its 100-page Web site to spread its musical message. A lively mixture of songs, studio pics and assorted silliness ...
---
Melyssa Harmon Get Fancy! "We hail TagYerit for their eye-opening "Outlaw Radio Guy", a song for those programmers claiming to be innovative but a playlist that tells a different story!"
---
Terry Allen hEARd - http://www.ozemail.com.au/~hmag

... their latest album Tubeman continues their tradition of cool, slightly quirky pop.
There are some great moments here, ... "Embarassed (All True)", ... an excellent vocal performance as well as some very unusual pacing in the lead guitar.
Other highlights include "Dreading", the fabulous "One Crow Morning", opener "Music Makers", ... plus "Outlaw Radio Guy". ... a great bunch of tunes & it's now up to those of you looking for interesting new releases to get yourselves into this one.
---
VR Radio 27 Nov 1999 http://www.vrradio.com

"TagYerit will enter our first playlist chart at #1, with the song Outlaw Radio Guy. ... the response for ORG was overwhelming!"
---
Geoff Wilbur's Renegade Newsletter
Reviewer Pam West.

"What would happen if you floated into the Bermuda Triangle on an inner tube? Flo and Rich Newman have done it again. Savvy and sleek, quirky and fun, dark and funky pop with phenomenal lyrics. Flo's percussive vocal style has the rich maturity of Joni Mitchell, the Egyptian flair of the B-52s, and the flexibility of Bjork. The awards for musical inventiveness go to "Wendy Bird", "Outlaw Radio Guy", and "SciFi with Space Leprechaun Alien Appearance." "
---
Eric O'Brien 181.4 Degrees from the Norm! Oct 99 http://www.181-4.com (©99 181.4 DftN! )

Flo, is back and almost above her game with the rabbit shaped guitar and a mastery of the English language that rivals Ben Stein. I would be a fool not to scream the triumphs of "Outlaw Radio Guy" and "Dreading".... conventionally speaking this is a band that does nothing right but for some reason it works on every level. The verbiage, the music, the mix is all controlled chaos. .... Of all the bands I hear year in and year out this is one I have looked forward to and I must say it has been way too long.
... look for someone with the vision and fortitude to get these guys back on the radio soon. When you get this disc check out "Wendy Bird", "Betya" and "One Crow Morning" This disc needs your undivided attention ...
---
Mark E. Waterbury Music Morsels Oct.99

Flo's voice is reminiscent of Joni Mitchell and lends itself perfectly to the thoughtful lyrics. ... snappy rhythms ... driving folkish music ... Songwriter connoisseurs will enjoy this one.
---
MuzikMan September 28, 1999

Lead singer/guitar player Flo Newman adds color and humor with her quirky Joni Mitchell meets Alanis Morissette vocalizations. ... many different musical expressions ... come shining through. ... very notable. If you are in the mood for something different and original this is your fix. Tag yer it!
---
Barney Quick Indie-Music.com (http://Indie-Music.com/tagyerit2.htm) Sept.99

... after a few listenings, you find yourself needing an occasional fix. It's a big world full of all kinds of viewpoints, some confusing and disturbing. After you've been exposed to this unique little ensemble, it's comforting to know you can refresh yourself by looking at the world through Tagyerit-colored glasses.
It would be difficult for this reviewer to pick a favorite, but "Outlaw Radio Guy" is a strong contender. The bare-bones arrangement heard here is exactly as it should be ...
One of the most commendable things about Tagyerit's music is its instant recognizability. When you need that aforementioned fix of this stuff, you'll always know if you got the real deal. Their next outing is much anticipated.
---
Greger Ronnqvist The Prog-Reviews mailing list. Sept.2,1999
Rating: * * * *

" another crazy weird release.
... It's like they're from another planet. ... a mix between B52s, David Byrne, King Crimson, Talking Heads and Frank Zappa, ... excellent musicianship, many different time signatures, harmonies and loads of humor. One of the centerpieces are Flo's magnificent vocals that are very special, like a mix between Chrissie Hynde (The Pretenders), Joni Mitchell and Suzanne Vega. ... the guitar playing that is outstanding and in world-class.

The highlights are "Music Makers" "Tubeman", "Wendy Bird", "Outlaw Radio Guy", "SciFi with Space Leprechaun appearance" and the funny closing track "Embarrassed (All true)" that is about embarrassing episodes taken from real life.
... one of the most exciting CD's I've heard this year and it's got a great production. Check this unique band out!
---
Donnie Moorhouse Union-News 8/19/99

TagYerit in the Internet vanguard
More than three years ago, the breakthrough "Heavy Construction" CD heralded the online debut of TagYerit. The band has just released its sophomore effort "Tubeman" and the single (Music Makers) has already earned them over 1,000 downloads since June. The TagYerit site is fascinating. ...
For those familiar with the engaging sounds of TagYerit, the band's "Tubeman" CD will not disappoint. On a sonic level, the music is alluring and Flo Newman's vocals are a treasure.

Liner notes: Ed Vadas produced the tracks. One of the more interesting segments on the site includes notes from the studio, recording actual conversations while the CD was being made. One exchange suggests a great marketing idea for Northampton would be a picture of Vadas' face on a bicycle seat.
---
earBuzz Review 8/13/99

Musically and artistically you don't get any better than Tagyerit. This is one of the finest CDs we've heard.
... what matters is that you can absolutely "ear-witness" the result of collaborators who eat, drink, and sleep music together.. but not just music, all that comes along with it - life, taste, synergy, all that soul mate stuff, right?
Tagyerit's music is very very original. .very. .but we have to compare to relate, so they're like you took King Crimson, They Might Be Giants, Chrissy Hynde of the Pretenders ....
Tagyerit moves musically within different time signatures and keys, effortlessly, with lush vocal harmonies and bare speaking vocal delivery .... The guitar work is mature and accomplished - and the rhythm section ... is solid as a rock. Flo Newman, whose rabbit-guitar is pictured, and angelically underworldy voice is sampled here, has a musical and vocal delivery that's syncopated, dynamic, and full of character.
Songs are full of humor ....
Topically, "Music Makers" ... with lyrics that hit close to independent artist's homes. "a tiny fraction of music makers ever reach our ears. . . did you know - there's a giant network and it's kinda underground, from hand to hand, on homemade tapes they're passing it around." Exactly.
---
The Renegade Reviewer - Reviewer 13

Wow the vocals are incredible. ... a Joni Mitchell jazz fusion style ... a very snycopated sensibility, carried by a kick ass low end. ... You can tell this group has been gigging and writing together for a while. No wonder Guitar Player magazine likes them. ... I could listen to this style of music over and over and never get tired of it.
---
Duke Aaron V-Mag August 1999

"... 13 wonderful tracks ... a group of stylistically original songs, backed with excellent musicianship, interesting and fun themes, and a great voice ... some mixture of bluesjazzrockfusionslightlybohemianhippything ... I was at times reminded of the better Bongwater material sans the gross-out lyrics.
The production was lush and superb and (producer) Ed Vadas is responsible. He did a great job and this is one of the best produced recordings from the valley I have ever heard. ... .... Yeah, they're self-admitted tree-huggers, but the album is still great and Flo plays a wicked cool rabbit-shaped guitar. Check them out ..."
---
Jimmy Riddle - come.to/robots

" ...Tagyerit (is) not necessarily on the same frequency as the rest of us ... Flo sings in a bewitching folk fashion and the music takes in the stagger and jerk of a gentle Cardiacs or even the Soft Machine. ... a love of crisp pop segments that burst out of, and are swallowed up by, the twitching folk rock, hints of country music and even psychedelia.
---
Marc Ferrara DJ at "Audio Xtreme" Jul 99

... I'm very impressed. More importantly though our listeners have really responded well, very well. So far we've aired "Music Makers", "Outlaw Radio Guy", "Sci-Fi...", and the title track from the Tubeman CD. You guys definitely bring a unique style and I know that's why I personally, and I'm sure why the listeners really have enjoyed your music.
---
Gary Carra The Valley Advocate 7/1/99
Dubbed Tubeman, the 13-song CD offering is awash in haunting harmonies, textures and syncopations ...
---
Ben Ohmart www.atnzone.com 6/13/99

(Tubeman)
This band is alive again ... FAR AWAY from your TYPical brain-dead love song. ...
The beautiful one here is 'Outlaw Radio Guy'. I can't explain. You have to listen to it. Flo Newman's unadorned vocals spring out from the backandforeground. I can't Stand it, it's so pretty.
...it reminds me that .... Music can go anywhere; and more importantly, it can TAKE you anywhere.
Get this cd and you'll see what I mean.
---
The following reviews were written in response to TagYerit's first CD "Heavy Construction."
---
Kevin Kreiner mp3critic.com (4/17/99)

There are musicians who find their muse only when they meet the right partner. Apart, Gilbert and Sullivan were just two guys nobody ever heard of. But together, they were, well, Gilbert and Sullivan. You may not have heard of Rich and Flo Newman yet, but if this first record is any indication, you will be hearing from them in the future. Since you're going to hear it anyway you may as well turn it up.

"Heavy Construction," Tagyerit's first full length CD, is just plain fun. Think the B-52's meet They Might Be Giants.. Like the two Johns, the music manages to be witty and sharp without being overbearing, and Flo's vocals are fresh and clean.

... Quirk rock works just fine for me. How else would you explain an album with titles like "Hypnotease" (it really is just that) and "Pointless Psychic Revelation" with its simple strings and repeated vocal hooks? How else would you explain a guitarist who's got a guitar body shaped like a rabbit that she carved herself? How else would you explain a band who are also the curators of the Whole World Toilet Paper Museum and Society? These people aren't just quirky, they're fun, and so is this record.

... with thirteen tracks you'll be hard pressed to pick the best one. "Buried Treasure" shows off Flo's vocals .... "Pointless Psychic Revelation" has a terrific harmony, ... "Wound Up" is quietly relentless. ... Tagyerit has an impressive musical range, while still keeping every tune catchy. Still, I've got to give the award for best hook to "Subway Surfing," a song about riding the subway without holding the handles. If you've never tried it, believe me, it's a lot tougher than it sounds.

Listening to this album, on the other hand, is a lot easier than it sounds. With a style as inviting as a cup of hot chocolate on a cold night, "Heavy Construction" is not only fun, it's good for you too. Try it out.
---
Paul Doyle - Vermont Review 10/98

Wow. This is some wild stuff. This music comes from just beyond Planet Claire. ... Musically, there is lots of neat stuff going on, usually from various guitars and the layered vocals of Flo. ... Pointless Psychic Revelation (garbage in, garbage out) shows how sophisticated they actually are despite the comedic element. This music is out there for those of you who are too.
---
Ben Ohmart - @NZONE 10/98 http:// www.atnzone.com

Want to know what Joni Mitchell would've sounded like had she started in the late 90s?
... I love stuff like 'thought i heard Tweet minor for half a sec / are the blueprints being drawn / those brilliant flying architects / just labor on and on', ('Amelia, and All That Is') ... Refreshing.
my two favorites are 'Adam and Eve', ... I love hearing Flo Newman croon 'in this whole world 'round'.
(and) 'Pointless Psychic Revelation', ... a wonderful vocal treat, in which 'garbage in garbage out' keeps spinning round and round, like early progressive rock. It's short, but to the pointless.
The title song, 'Heavy Construction' starts stomping like a blues crew that lost all their heartbreak.
... This is as good as you can get and still be white.
---
Greger Ronnqvist - August 98 Prog-Net, Prog-Reviews

... "Quirk rock" is a very good description of this 13-song, outstanding, interesting, skillful, passionate, unusual, funny, brilliant, unique, beautiful, odd, different, surprising, wonderful, incredible album.
Just listen to "Hypnotease" and you will hum it for days. A special mention to the guitar playing that is exceptional and would appeal to all guitarists who listen to this album. ... This CD is fucking great, both musically and lyrically. From the first track, "Subway Surfing" to the last track "Picnic". ...The best tracks are ... That's right, it's all the tracks, and I love them all. On top of it the production is great too. I'll promise you that this album won't disappoint. Check them out!
---
GoGirlsMusic.com Cool Band Spotlight April 1998
What a sound! I absolutely LOVE "Subway Surfing" ... groovin' ... you'll come back for more.
---
Dave Burruto V Mag Jan.1998
... a truly strange journey into the minds of some deviant personalities. ... part Human League and part Devo, funny and interesting all the way. From the first track, "Subway Surfin'", the offbeat and quirky lyrics fly ... nothing short of fascinating ... one can only guess as to the disposition of its creators.
---
Music Scene: May 16,1997 www.muscene.com
"their blend of guitar styles and lyrics stand out as powerful sonic influences. ... a really good album ... but certain songs will fry your brain. ... so much to think about. Just listening to the music is fun. "
---
Radio Marabu Europe
"brilliant unique ... complete own identity ...You wouldn't believe how much I enjoyed" Lord Litter
---
KFIR 102.1FM 5/97
-"Being in Seattle, we still get lots of grunge/death/gothic/drone ... stuff to play, and TagYerit is a real nice bit of blessed relief from the "we take ourselves so seriously you could snap off a toothpick in our butthole" type stuff."
---
IMRS Reviews: 9/96 "Imagine They Might Be Giants...with Grace Slick (or) Suzanne Vega ... with David Byrne and Jerry Garcia. ...
"Buried Treasure"... a nice psychedelic and melodic rhythm, "Adam & Eve", a strange, acid reggae romp that could be Lene Lovich ... on Sesame Street, ... really nice bluesy guitar work on "The Boys"
---
Springfield Union 9/96 "Reminiscent of the B52s ... it grabs the listener's attention and holds it.... a refreshing original feel."
---
Eric Hultgren 181.4 Degrees from the Norm! 7/96 " bound to turn some heads. ... has an odd feel of being They Might Be Giants happy and at the same time Wild Colonials haunting. ... like you just got off a ride at Disneyland after eating an Arch Deluxe, ... But it is that odd queasy feeling that turned me on to them and kept me guessing at the same time.
... even cooler in ... "Buried Treasure," "Adam & Eve," or the most excellent acapella tune, "Pointless Psychic Revelation." The fly in the ointment here ...when you find out how beautiful Flo's voice is, you want her to sing the entire time. ... impressive ...worthy of a few hundred spins
I warn you, though, it's like flying a bike: it takes some getting used to but once you figure it out you fall in love. Thanks E.T."
---
hEARd Magazine 6/96 "beautifully crafted ... incredibly tuneful melodies & vocals that can at times make your hair (stand) on end. ...The unbelievable accapella of "Pointless Psychic Revelation" just has to be heard to be believed ... major highlight... excellent ... make an effort to hear."
---
Northeast Performer 5/96 "...gorgeously odd ... maybe a cross between Devo and some old 'Star Trek' episode with the omniscient disembodied head.... The songs are beautiful revelations about the absurdity of everything, including music.
'Subway Surfing' ... is the coolest 'T' song since the Kingston Trio lamented poor Charlie forty years ago. .... 'Pointless Psychic Revelation' is an a cappella stream-of-consciousness deep enough to reveal nothing. "
---
GaJoOb 'zInE 4/96 ".... different without sacrificing depth ... plenty of surprises... RATING: 9 out of 10"
---
Radio Horizonte, Argentina 10/97 "One thing is sure: we do play your music, people enjoy it. We are very proud of it and of the friendly relationship born between us."
Paul Lenhart - WMCR, NY. 9/96 "Thank you for putting a smile on our listeners faces."
Timm Foley, WRPS, MA, 9/96 " "Pointless Psychic Revelation". ... is spectacular..."
Dainius Saltenis, - Laisvoji Banga - Lithuania, 3/96 "We play this CD non-stop during our broadcasts. We think it is wonderful. It can't be another way"
Rhodes Music Radio, Chris Verrijdt, 3/96 " really cool. It wasn't what I expected, but I'm really getting into it. It's going onto our Bottom 40 "Heatseekers" ... I'm pushing it lank ("quite a lot")"
FANMAILFANMAILFANMAILFANMAILFANMAILFANMAILFANMAILFANMAILFANMAILFANMAILFANMAILFANMAILFANMAIL
FANMAILFANMAILFANMAILFANMAILFANMAILFANMAILFANMAILFANMAIL
" Well Flo, you've achieved Art!". Chetz Keegan (musician)
"... spooky mystery and webspun guitars, eerie vocals, great production ... very songy songs. Bloody hooray!" David Lenson (author)
"... so cool! I just got the tape 2 days ago and I've already listened to it 8 times! ." Chelsea from MA
---
---

Comments? Suggestions? >email rich@ tagyerit.com
©1995 - 2015 R. &F. Newman. All rights reserved