Antiques for sale
---
Items on this page are set up to accept paypal and include S&H to anywhere in continental U.S. unless individually specified. Contact us for any questions or to discuss other possible options. All Sales are final. We're a small business. We do not collect information other than to follow up on sales and inquiries and never share the information.
---
Vintage Cast Iron Dutch Oven Covered Pot No. 7 Made in USA - $90.00
<-- Click image to left for more pics
S&H included for US sales (all others contact us first)
Fine old lidded pot. We've owned it for 35 years. Probably came from Mystic CT. area when we were actively buying antiques and other old items. Lid is dimpled on inside says "No. 7 10 1/4in."
Pot says "Made in USa No. 7 10 1/4in."
Bale Handle
Pot has spout on one side and handle on other
Both are in excellent condition - We just dusted it off and wiped it down.
Shipping wt. 15 lbs.
---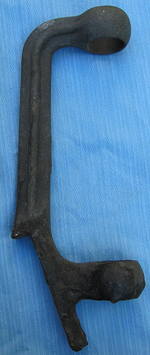 Antique vintage Iron flag holder - $32 incl. S&H
<-- Click image to left for more views.
While this flag pole holder only has one hole to screw it to a base, as you can see in one of the pictures, it's perfectly balanced to sit on a rail. There's old tar which makes me wonder if this may have mounted on a buggy or ship?
12 3/4" at its longest
5 lb. shipping wt.
---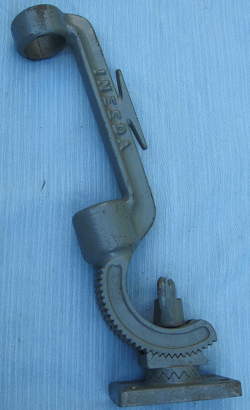 Antique Vintage Ineeda Flag Pole Holder - Great Condition Patent 1900 - SOLD
<-- Click image to left for more views.
Complete Ineeda Pat. Nov. 13, 1900. In great original condition. Great design. Mounts to hang in any direction. May have been repainted in past.
Clean untouched as found.
12 3/4" at its longest
7 lb. shipping wt.
---
Vintage wooden nautical 'Chip Log' - brass, pine and lead - $55.00
<-- Click image to left for more pics
S&H included for US sales (all others contact us first)
Consider this a piece of art. Either hang it on a wall or set it on a shelf.
It took a bit of care to craft this pie wedge shaped measuring tool. While it's basically a string with a piece of brass on one end and a pie shaped piece of wood on the other, there's much more involved in its construction. The rounded edge of the wood is rimmed with lead. The string attaches to the point.
The arc of the wood is 1/8 section of a circle which matches the length of the side of the wood which is a radius of 6 1/4" long. As simple as that sounds, here's what went into making it: One side is parallel to the grain. since the opposite side would normally have end grain, someone went to the trouble to add a tapered piece about 3/8" at its thickest in order to eliminate the exposed end grain (kind of like bread-boarding). The rounded arc has a piece of lead folded over it, so that protects that end grain as well as adding weight. Someone went to a lot of trouble to keep this piece stable - less likely to warp or absorb water.
The string off the log-chip is attached to a piece of brass that may have one time been another part off a ship or boat. Two of the holes are threaded. How old it is, I can't say. The nails that fasten the lead to the wood are round headed, This makes me think it's most likely early 20th century, though I don't know when people stopped using these devices.
At first I thought it was a plumb bob, with the point on top, then I realized there are 2 small pieces of string on the bottom corners where it was also tied.After some searching online here's what I came up with. It's a chip log (also called a log-chip and a log-ship). The 'Chip Log' would have been attached to a reel of rope & used with a time measuring device. Rope had knots tied at equal distances along the reel. Sailors would throw the log-chip behind the ship and measure the speed as it unwound. By counting the number of knots that went overboard against the time, they could tell the ship's speed. In fact that is the origin of the nautical speed unit: the knot.
---
Vintage Tin & Wood Sunnyland Washboard Columbus Ohio Laundry Room Scrub Board - $22.00
S&H included for US sales (all others contact us first)
Nice old, well used 2 sided scrub board. Has surface rust for that rustic look. You can tell the circular motion of the washing process by the way that the galvanization was worn off from use, which allowed the iron to rust. Writing on both sides. One side says "Sunnyland." The other side says, "Standard Family Size Galvanized No. 2090 Manufactured by Columbus Washboard Co. Columbus, Ohio." Overall dimensions 12 1/2" X 23 3/4"
4 lb. shipping wt.
---
Vintage 1950s package with HoopLa Wire Flared & Bouffant Skirts - Skirt Hoop $29.00
<-- Click image to left for more pics
S&H included for US sales (all others contact us first)
Wonderful accessory for a 1950s style skirt. The package states: "ready to wear in a jiffy, cool, feather light, packs flat, with or without the petticoats - it flatters the silhouette". Made in Milford, Connecticut USA. No size is mentioned on the package.
This is definitely a fun item. I do not know how many wires there should be or how it should go together. Package measures approx. 13" square. Sold as is.
---
Vintage 1940s to 1950s Embroidered Blue Denim Gas Station long Jacket - Size 44 - $84.00
<-- Click image to left for more pics
S&H included for US sales (all others contact us first)
The label reads:
Star Mfg. Corp.
Yarick Ave. Bklyn, (Brooklyn) NY
Overall Uniform * Industrial Uniforms * Overalls
Sanforized Shrunk
Size 44
Ray is embroidered over front top left pocket. Embroidered on the back on 3 lines it says "Pines Service | Ray Labbee | Northampton Mass"
It looks like after Ray retired the jacket from the garage, he painted with it. The snaps and the belt buckle have rusted, 3 of the snaps still function. The other 2 tore off the jacket. The jacket has rust spots and holes. This workwear jacket has been broken in, so you won't have to do the heavy lifting. The jacket has 3 pockets as well as slits for reaching your hands to get into the pockets of inner clothing.
---
Antique Automobile Photograph Album (Deco) 1913 to 1959 - $189.00
<-- Click image to left for all the photos including closeup details.
S&H included for US sales (all others contact us first)
Dimensions: Cover: 15 1/2" X 11 1/2" - Pages: 15" X 11"
17 photo pages - 51 photos - A few of the photo pages are not shown, but all of the photos plus closeup details are provided.
Presumably this is a photo journal of one family's car ownership over a 46 year period. This family knew how to enjoy their cars. Camping and picnicking. Then there's the picture of 2 horses pulling the Overland in 1914 through the snowy mud. While they are standard pictures of the time, the photographer had a good eye and a steady hand (or tripod). With my consumer grade digital camera I was able to zoom in to get some license plate info and sometimes a closeup of some of the people. A scanner or a higher quality camera could glean even more out of these pictures.
There are also 3 or 4 pictures of cars from magazine or brochure that I'd guess were used because the person who assembled the album didn't have the corresponding picture for that particular car.
Here's a list of the cars photographed along with the year and the miles. It's hard to know what the miles indicate - an odometer reading or number of miles traveled or other? 
1913 Ford - Model T Roadster (6,200 miles)
1914 Willys- Overland Sedan (26,400 miles)
1914 Metz Sedan - used (11,000)
1919 Studebaker Touring - used (17,500)
1922 Durant Touring (22,442)
1922 Durant Sedan (9,336)
1922 Flint Touring (5,001)
1925 Flint Roadster (11,223)
1926 Packard "6"  Sedan (21,663)
1928 Packard "8"  Sedan (35,530)
1932 Packard "8"  Club Sedan (26,717)
1936 Packard "6"  Convertible (3,620)
1937 Cadillac 75-Sedan (34,641)
1940 Plymouth Station Wagon (25,732)
1948 Cadillac 62 Sedan - used (8,435)
1949 Plymouth Suburban (12,793)
1950 Cadillac 62 Sedan - used (7,830)
1954 Plymouth Suburban (3,943)
1956 Plymouth 4 door Sedan (600)
1956 Chrysler Windsor (17,434)
1959 Cadillac Coup de Ville - used (33,500)
---
Antique Car Horn North East Electric Model XL Type 6102 - $84.95 includes S&H
Click image to left for more views.
I do not know if this works. I've seen it described online as a "vibrator horn". We cleaned it up some but it still could be cleaned up more. Some of what appears to be rust is dirt and grease. But there are a few spots where the paint is gone. We've owned this horn for over 30 years
The horn is 9" long. The overall length is 11 1/2" Not including the mount, the widest diameter is 5"
The plate says:
NorthEast Electric Co | Rochester NY
Serial No. 426 | Model XL
Made in USA | Patents Pending
Type 6102 | 6 Volts | Adjusts
---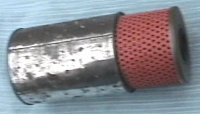 Old Mercedes Benz Filter (unused) - $36.00
Click image to left for more views.
I assume that this is an oil filter. Never used, but there is a little bit of rust on the tin. It is 7 1/2" in height and 3 5/8" diameter. The following info is imprinted on the end. "617 184 01 25 k.01.2/1 Kombi-Einsatz Made in Austria"
---
Antique Figural Textile: Woven Centaurs Table Runner from Perugia $175.00 incl. S&H
<-- Click image to left for different views of the table.
Antique Perugia (Perusia) Woven Table Runner (towel) with Centaurs
Probably linen and cotton. The side panels are a woven pattern of tiny diamond shapes around smaller diamonds. 61" long X 16 1/2" wide This piece is a wonderful example of Perugia weaving using centaurs for the figural motif. There is definitely a bit of whimsy in these characters. I suspect they're toasting each other - with flasks of foaming beers or goblets of wine. We believe this to be from the 19th century.
We hand washed this twice and got a little of the staining out, but because of the age of the cotton/linen fabric, we felt it best to leave the final cleaning to the experts. We feel that most of the stains should be removable by someone more knowledgeable than us.
There's one 1" section of the border edge that is threadbare near the upper left corner And the hem on the back on one end needs to be resewn and has a short tear within the hemmed area.
One of the characteristics that is common in Perugian weavings is that figures are mirrored and then repeated. Besides the centaurs that are done this way, above and below the centaur is the word Perusia (spelled with the 'S') which is also mirrored. Unfortunately the blue dye has faded and it has stains that hopefully, someone with skill might be able to clean. Perugia has a long history of artists and there are still weavers today in Perugia who carry on this art. We do not know the age of this runner. We believe this to be from the 19th century.
- Perugia is an ancient region in Umbria part of central Italy that was originally spelled Perusia
- The Metropolitan Museum of Art has on display several examples of Perugian textiles from the 16th century to the 19th century such as this towel
http://www.metmuseum.org/collections/search-the-collections/120039249
- For a great description of perugia towels check out
http://alina.wasteofbandwidth.info/perugia.html
---
1980s Mattel He-Man Snake Mountain & Castle Grayskull - Masters of the Universe MOTU $52.00 incl. S&H
<-- Click image to left for more views.
Here are the basic pieces for Snake Mountain and Castle Grayskull - with no accessories. Many of the original pieces may be missing, but this is a great addition to use as a setting (backdrop) in any Halloween display.
Each piece is approx. 18 1/2" tall x 9" X 12"
10 lbs. shipping wt.
---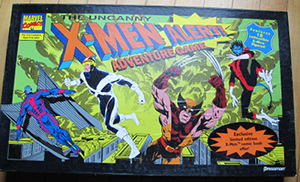 The Uncanny X-Men Alert! Adventure game 1992 Pressman - $34 incl.
<-- Click image to left for more views.
Vintage game board; original box; Complete - good clean condition. The box cover has some rippling (visible in the picture)
9 Game Dice
18 Collectible X-Men Figurines
18 X-Men Power Stat Cards
3 Strength Indicators (Red squares)
36 X-Men Alert Cards
27 Training & Luck Cards
4 Team Experience Movers
4 player bases
55 Hit Chips
---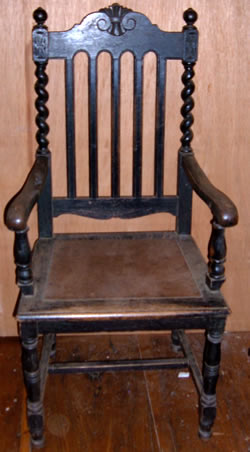 4 Wonderful Antique Barley Twist Rope Turned Oak Jacobean Chairs - As Is
$250.00 PICKUP ONLY
This set consists of 2 arm chairs and 2 side chairs shown with their original black jacobean stain on quartersawn oak. The back rails feature barley twist rope turnings. Probably early 20th century English.We're selling them in as is condition. They need regluing, new seats, and refinish work. Click here to see more pictures and information.
* - Willing to discuss delivery within 100 miles of Amherst, MA. - If you are near a Greyhound bus terminal it may also be feasible to ship via Greyhound PackageXpress . Contact us if you'd like to discuss this or other options.
---
Painted Tole Table $123.00 includes S&H
<--Click image to left for different views of the table.
Vintage Hand Painted Tole Tray w/ flowers on Folding Iron Stand
Paper Label under tray says "Fine Arts Studio Handpainted Phila. 47. PA"
Dimensions: Tray 17 1/2" diameter, Base 17"w x 19"h.
Has pierced (reticulated) gallery edge - graceful metal legs - original label
Vintage toleware end / side table --- Tole tray with detachable and foldable stand.
Shows normal wear and tear - some scuffed and chipped paint. Rubber suction cup pads on folding base still work but could use replacing.
Shipping weight 9 lbs. shipping dimensions 22" x 20" x 6"
---
Vintage Rexall Stork Baby Bottle 1958 Unused $21.00 includes S&H
This 8 oz. baby bottle came from the attic of an old drug store that was closed in the early 1980s. The paper insert has © 1958. Embossed in the bottom of the bottle it says "Nurs-Matic Corp. Chicago USA Where the ounces are marked it says in blue enamel "Duraglass®". We are selling the bottle as originally displayed along with the Nurser Cap. There is no nipple. New Old Stock.
PLEASE NOTE: We bought several of these and the one in the photo may not be the actual one we send.
---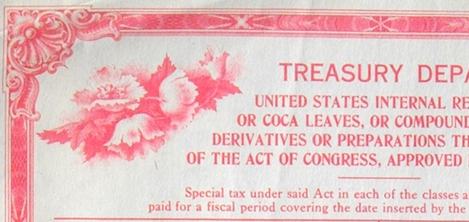 1936 Treasury Dept. Opium / Coca Leaves Order Form - $17.00 includes S&H
This is a pharmacy / drug store duplicate for tax purposes in the sale of opium and or coca derivatives. This one was issued Dec. 2, 1936 from the Tilton Corner Pharmacy of Haverhill, Massachusetts.
This is an original "duplicate" that the pharmacy kept with the relevant information carbon copied. The top copy would have been filed with the US Treasury Dept.
Nicely bordered with what I presume to be an opium flower rendering on the top left corner. Printed in a red ink
In part it reads: " Treasury Department / United States Internal Revenue Order Form for Opium or Coca Leaves, or Compounds, manufactures, salts, derivatives or preparations thereof under Section 2 of the Act of Congress, Approved December 17, 1914. Series of 1936.
9" X 10 3/4"
I believe the Large picture shows the condition. On the left there are small rust staple marks from where it had once been in it's original book. Several creases. The carbon copy writing is sometimes hard to read.
Click for LARGE image
---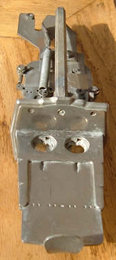 Greenwald Coin Mech 2 coin horizontal - dimes Patd 1936 $41.00 includes S&HClick image to left for more views.
Patent dates ranging from 1/2/34 to 9/8/36 ...other patents pending (of course it could have been manufactured more recently than 1936.
It takes dimes. The photo that shows "H. Greenwald Co. Bklyn NY. Patent Pend" is unfortunately not a clear picture ... The patent dates are above it. The mech is also marked "<ABT>MFG CO" & "B-60"
To the best of my limited knowledge, every part moves. it does need cleaning up. We bought several in this lot and sold the one photographed, but I'm offering one that is identical except for the 6 1/2" shaft that attaches at the back top. This one we're now offering has a round shaft. (The one in the photo was hexagonal)
12" long
---

Greenwald Coin Mech single coin horizontal - quarter Patd 1936 SOLD
Click image for more views.
7 Patent dates ranging from 5/9/33 to 9/8/36
H Greenwald Co. Inc. Brooklyn NY for vending machine.
It takes 25 cents.
To the best of my limited knowledge, every part moves. It needs a lot of cleaning up.
Overall length 11 1/2" long. (7 1/4" inside and 4 1/4" in front
shipping wt. 4 lbs.
---
Vintage Oak & Brass Samson Intercom / Telephone - $41.00 includes S&H
Click image to left for more views.
Highly figured oak looks great with the brass details. The bells are iron. The brass which was once plated is marked "Samson" above the mouthpiece. There are traces of old paint on the plastic mouthpiece. This piece (bakelite? guttapercha?) has a chip on the screw thread but still screws on firmly. Has grommets for screwing directly to a wall.
Dimensions: 5 1/2" x 7 3/4"
---
1905 Roto Salt Company Salt Feeder Stoneware Crock for horses - SOLD
<-- Click image to left for more pics
There are some cracks & chips but none that go through. (see pictures) - This is from the first days of the company which started in 1904 in Brooklyn but moved in 1910.
Front printed in blue glaze reads:
Roto Salt Feeder
Pat. 8-15-05 (1905)
The Property of Roto Salt Company
Brooklyn N.Y.
This Feeder is loaned for use with Roto Salt Cakes Only. A Deposit is charged on each Feeder. Deposit will be refunded on the return of this feeder in good condition.
Approximate Measurement : 7 3/4" tall x 5 3/4 " round
The following is from rotosalt.com which is still in business: "Roto Salt Company was formed in Brooklyn in 1904 by Frank Beyea. Frank felt that horses deserved a better salt supply than the coarse and dirty chunks of rock salt that were used as ballast in ships returning from Russia. The patent Frank secured was related to his method of using a mold, pure salt mixed with water, and a hand press to make salt bricks. Bricks were soon shipped everywhere including, in 1905, to the U.S. Cavalry at Fort Riley, Kansas and Fort Sill, Oklahoma. … Also in 1905, Beyea designed a rotary stoneware receptacle to hold the salt bricks in place on a wall while the animals licked it. In 1910, came the first big move – this to Watkins Glen, N.Y."
---
Woodland Jug Thermos with Top Pour spigot - $44.00
<-- Click image to left for more pics
S&H included for US sales (all others contact us first)
Decal in good condition says:
Woodland Jug Thermos
Keeps Hot and Cold
Guaranteed Unbreakable
Poloron Products Inc.
New Rochelle NY

I believe Poloron was in business from 1937 to 1981. This is most likely circa 1960. Probably 1 gallon. Has nice simple spigot design on top. Just turn it to pour or to close. Comes off easily for cleaning.
Base diameter is approx. 9"
approx. height is 10 3/4" to top of spigot.
---
NFL - American Conference Metal lunchbox 1962 - $55 incl. s&h
Click image to left for more views.
This is a vintage well loved, used 50 year old lunchbox. Check out the pictures which show the description better than I could say it. There is no date, but the books list this as from 1962. The box opens and closes. The handle is still attached and strong. NO Thermos, but the original wire thermos holder is still there.
---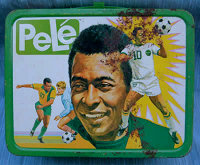 1975 Pele' Metal Lunch Box with Thermos - $69.95 includes S&H
Click image to left for more views.
The first superstar soccer (football) star is featured on all sides of this King-Sealy Thermos lunch box. Copyright date on the bottom is 1975 Warner Communications.
This is considered a rare box.
It does have rust spots, as you can see. There is no drinking cup with the thermos.
---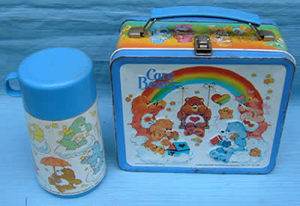 Vintage 1983 Care Bears Metal Lunchbox by Aladdin w/Thermos - $25.95 includes S&H
Click image to left for more views.
In good used condition. with a few scratches and a little metal showing through
©MCMLXXXIII American Greetings Corp.
Aladdin Industries Incorporated, Nashville Tenn USA 37210
---
Two General Electric X-Ray Calibration Charts $31.00 (includes S&H)
Click image to left for more views.
At the bottom of both black frames it says General Electric X-Ray Corporation
11 3/4" tall x 12 1/2" high
The glass on the one showing the graphs is intact, the other is missing. You can't tell from the photos, but the paper is more of a manilla color. The paper on each has minor staining and ripples.
Description: (top chart)
"General Electric Model DX2. 0-4.5 X-Ray Tube
"Ratings when operated on self-rectified equipment"
Chart #11221C
The graphs are titled, "Large Focal Spot" "Small Focal Spot", "Filament Increment Chart Large Focal Spot", & "Cooling Curve"
Description (bottom chart):
Calibration Chart For G-E Model R-2, R-38 or R-39 X-Ray Unit
Pub.4A-773
---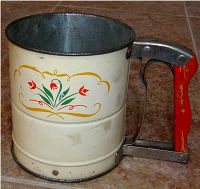 Vintage Androck Handi-Sift Flour Sifter - $17.00
Click image to left for more views.
Vintage flour sifter. This sifter is marked Androck Hand-i-sift U.S.A. It has triple blades for sifting the flour. The red wooden handle, reads "3 Screens". This sifter is in working condition. 5 1/4" tall.
---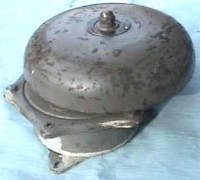 Navy Submarine bell - electric - $81.00 includes S&H
Click image to left for more views.
We bought this bell when we lived in Groton CT, near the sub base in the 1970s. It reportedly came off a diesel sub, although I can't verify that. It is iron, with a very nice clear tone. The bell is 8" in diameter and it is approx. 5 1/4" deep. The following information is imprinted on the top.
"Bendix Aviation Corp. BKLYN NY"
"OR NO CAL5673-S ALT Date INSP"
"115 V.A.C. 60 CYC 346 Amps - Type B-4 Contr"
---
2 Hardware Store vintage draw boxes Oak, pine and galvanized steel - $37.00
<-- Click image to left for more pics
S&H included for US sales (all others contact us first)
These boxes were once used for stock items from a hardware store in Easthampton MA. Probably early to mid 20th century. There's a painted yellow square that was then stamped for listing inventory. Would make nice staging shelves for your collectibles.
The drawer fronts are oak, the body is galvanized metal and the back is probably pine.
Dimensions 7 1/2" X 6" X 12"
shipping weight and dimensions 9 lbs. (16 x 14 x 7)
---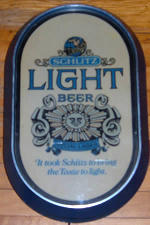 Schlitz Light Beer Bar Sign - plastic - $29.00 includes S&H
Click image to left for larger view lit & unlit.
DIMENSIONS: 19 1/2" x 12 1/2" x 4"
There is a crack in the plastic over the "IG" in LIGHT, though you can't see it in the pictures. The lit color is not correct. That's just the best I could get with my digital camera.
Shipping Weight 3 lbs.
---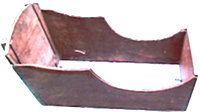 Antique Pine Baby Sled Frame - $69.00 includes S&ampH;
Click image to left for more views.
This frame is made from 1/2" wide pine boards. It is 28" long, 15 1/2" wide, and 13 3/4" high. The back was cracked a long time ago, and was repaired with the 2 iron bars you see pictured. I would assume the 2 small pieces of wood that are visible at the back of this were the arms that held the handles. If this is the case, someone cut it a long while ago, because where it was cut has darkened with age. Also as you will note, there is no bottom.
This must have been a very sweet sled in its day. Even if left as is, it would make a great display for dolls or other small friends.
---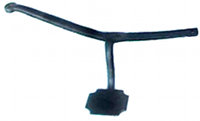 Forged Iron Buggy Step - $21.00 includes S&H
Click image to left for more views.
Need a step up? The step is 4 1/8" wide and 3 3/8" deep. The support bar is 19/5" long. It would bolt to the underside and the step protrudes enough to help climb up. Probably late 19th century.
Could be a conversation piece as a plant stand.
---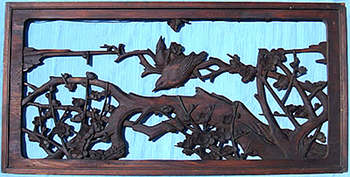 Antique Oriental Carved Panel: 2 Birds w/Blossoms - $95.00 includes S&H
Click image to left for more views.
This is a beautiful 2 sided relief carving. It's viewable from both sides, although there is less detail on the carved back side. As you can see there are pieces missing off the top and a few spaces in the middle as well. There are also 3 or 4 cracks that should be relatively easy to reglue. The carving on the flowers is a beautiful example of low relief carving and incorporates the feeling of real movement in the petals.
Dimensions: 18" high by 36" wide. A nice addition to any wall.
I have saved this for a long time, hoping I'd find time to do some minor restoration and then display it. It looks so nice, even incomplete. But now I'm pretty sure I won't find that time. There is a slight reveal inside the frame that could accept a piece of glass (or plexi) on either side if you wanted to display it with both sides showing.
---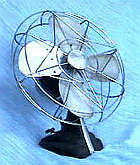 Wizard Reciprocating Electric Fan -$47.00 includes S&H
Click image to left for more views.
Just in time for the summer? This "Wizard" reciprocating electric fan has a really cool streamline-shaped base and chromed accents, including a chrome vertical stripe in the front of the base which is not visible in the pictures. Even the control knob has a rocket futuristic look to it. This is being sold as is. There is no chord. There is also a screw missing on the bottom. The picture of the bottom also shows how it was designed to be wall mounted as well as sitting on a table top.
It is also hard to see in these photos the word "Wizard on the center of the cage, or the information that is on the base - which says, "Wizard 105-120V 55W Model 45K - 60 cycles Bersted Mfg. Co. Fostoria Ohio Oakville Ont. Canada.
DIMENSIONS: 15 1/4" tall - The diameter of the cage is 13 1/2" - The Fan blades measure 12" end to end.
---
Vidicraft Cordless Headphone System CSH-200 $49.00 includes Samp;H
Click image to left for more views.
Cordless Stereo Headphones
Never used. We took these out of the box when they were given to us brand new. We never set them up. Just put them back in the box and stuck them in the closet till we had a good place to use them. As you might guess, that never happened. That could easily have been over 20 years ago.
shipping wt. 8 lbs.
---
Worn Machine Oriental-style Mid 20th Century Carpet. 4 X 5 - $38.00
<-- Click image to left for more pics
S&H included for US sales (all others contact us first)
This machine made rug is well used. It is worn and has a few holes. But it may still have more life in it yet. See the pictures. 46 1/2" X 62 1/2"
6 lb. Shipping wt.
---
Shirley Temple - Type Doll 1950's As is! $89.00 includes S&H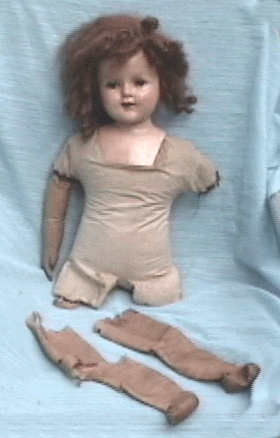 Help! Shirley Temple - Type doll 1950's In as found condition.
Reddish hair - hair is mostly unglued from head

Shoulder and head are hard plastic
No markings
Cloth body
Remnants of vinyl legs and remnants of 1 arm
open mouth with 4 teeth and tongue
Blue open and close eyes with lashes. Lower lashes are painted on
Get me to Intensive Care!!!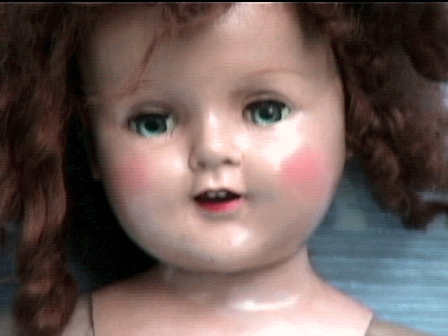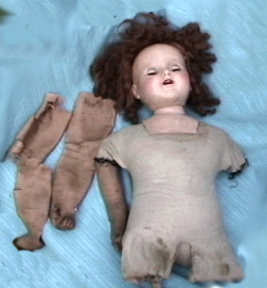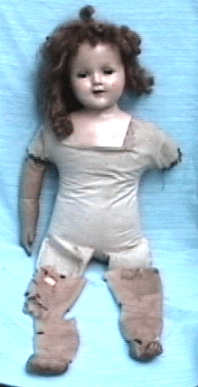 Estimated s&h weight - 5 lbs.
---
Vintage Slide Projector - Homemade electric - $74.95 includes S&H
Click here to find more pictures and a complete description.
---
1919 Barber Shop Sterilizer - Electric - $65.00 includes S&H
More pictures and complete description here.
---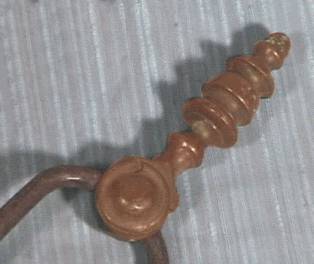 Antique 19th century forged brass and iron fireplace tools -
More pictures and complete description here.
---
Items on this page are set up to accept paypal and include S&H to anywhere in continental US. They handle all major credit card transactions. Contact us for any questions or to discuss other possible options.
---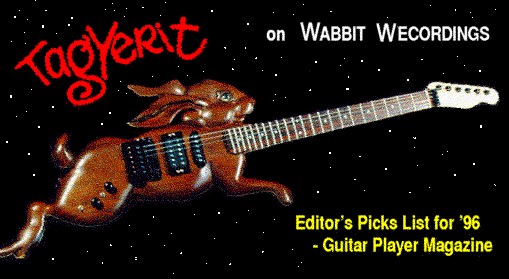 Click the Guitar to hear TagYerit's music.
Click here to fully explore the tagyerit.com pages
---
TagYerit Tails
Subscribe to TagYerit Tails
,
the newsletter for TagYerit (The Website) and TagYerit (The Band). This newsletter is our way to tell you when something new or exciting is happening. Expect it no less than twice a year and no more than once a month.
Click here to sign up now.
---
Whether you'd like to say hi; make a request or a suggestion; discuss the use of any of these images; swap links; we'd love to hear from you!
We never disseminate email information. We are ever mindful of the privacy needs of our friends.
All text and images ©1998 - 2013 R & F Newman TagYerit.com except where noted.