Antique Tools & Hardware for sale
---
For your convenience Each item has a PayPal Buy Now Button. But if you are interested in more than one item, or if you have any questions, contact us to discuss various options.
Caveat: Due to the vagaries of shipping, please contact us first if you're located outside the US.
---
Vintage 1924© Cardboard box Irwin Augur Bits - $25.00
<-- Click image to left for more pics S&H included for US sales (all others contact us first)

Box that once held an Irwin augur bit. Box labels reads, " The Genuine and Original Irwin Bits - Copyright 1924 by The Irwin Augur Bit Company Wilmington, Ohio - Chas. H. Irwin original patentee - Cuts True Clear Thru"
Has a really nice crossed augur bit logo tied with a horizontal ribbon
Ephemera
11 1/4" X 3 1/2" X 1 3/4"



---
Vintage Small Mahogany Tool Box - $97.00 includes S&H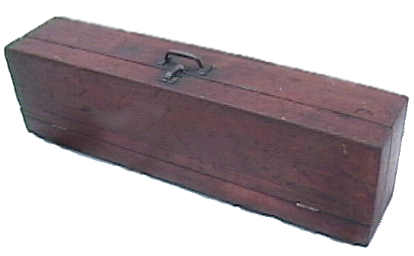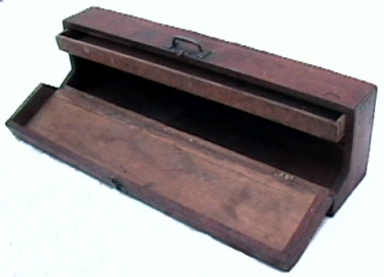 This mahogany tool box is 30" wide, 8 3/4" high and 6 1/4" deep. Often these were made in high school shop class. This one is built with lap joints that are glued and screwed. It has one drawer. It has the original finish, and the mahogany would look beautiful refinished.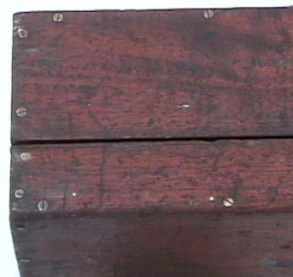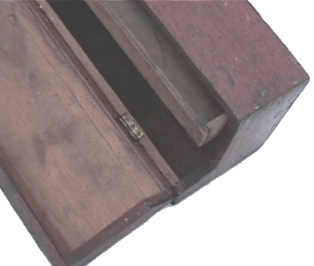 Shipping weight - 14 lb.
---
Antique 19th century forged brass and iron fireplace tool - $29.00 incl. S&H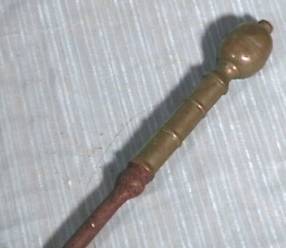 Antique brass and iron shovel handle with shaft
Antique brass and iron shovel handle with shaft. You can see on the bottom right where it would have been joined to the shovel scoop. The brass handle is 5" long where it meets a nice bulbous shape in the forged iron. Overall length is 24 1/4".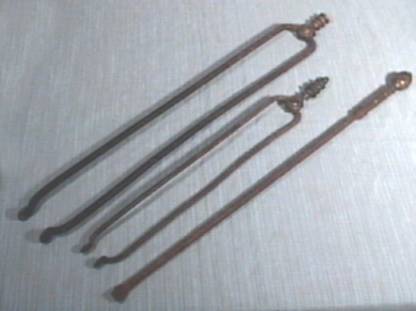 Both fireplace tongs in the pictures have been sold - Only the shovel handle on the right is still available.
---
2 Vintage Weather-Pak Sealing Strip (rope caulking) mid 20th century - $13.00
<-- Click image to left for more pics S&H included for US sales (all others contact us first)
Vintage Hardware store Stock. New Old Stock
To conserve heat in winter . . . To keep out dust and insects
A quickly applied calking compound
Babbit Chemical Specialties Co. - Division of Southern Products Co. - NY

I don't know when this product first came out, but this must have been before it was called rope caulking.
Selling 2 packs - one in good condition and the 2nd has been folded in half and the plastic window is ruined. They have the original 49 cent price tags from Teppers, a store that closed in Northampton, MA in the 1970s
14 1/2" X 2 3/4"




---
Vintage Hardware store Stock. 2 Foot Activated Door Holders NOS - $21.00
<-- Click image to left for more pics S&H included for US sales (all others contact us first)
New Old Stock
2 Foot Operated Door Holders on original display cards
Card says " Door Holder - Holds door in any position - Always in place - Easy to operate - Complete with screws - Operate with foot - Release with foot - Install 1/4" from bottom of door"

---
Antique 54 3/4" Wood Clamp (vice) w/ wood screw - $45.00 Pickup / Delivery

Probably 19th century. The all wood turn-screw is 7 3/4" long for a working depth of 5 ". It looks to be made of oak.
The body is hardwood (possibly maple) is 54 3/4". There are 2 rows of holes which allows pegging in 1 1/2" increments. As you can see from this photo, it's completely pegged together. I believe the only metal in the whole thing is a point sticking out of the end of the wooden screw thread presumably to stabilize the piece being clamped.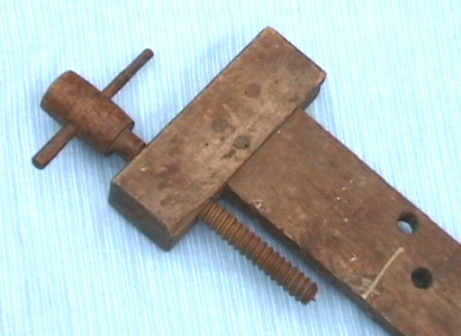 The shoe (jaw) and bottom peg are not original.
Willing to discuss delivery within 100 miles of Amherst, MA. Will research shipping beyond that on request. Greyhound Package Xpress is an option here..
---
Please e-mail rich@tagyerit.com for more information. By the way, the sellers have been on the web since 1996 sharing their music as the band TagYerit (tag you're it).
---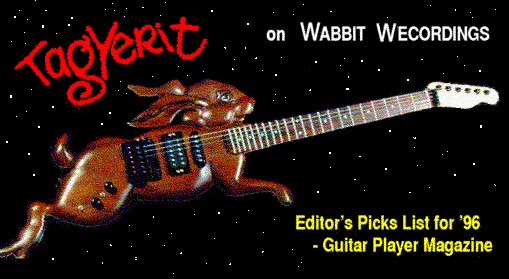 Click the Guitar to hear TagYerit's music.
Click here to fully explore the tagyerit.com pages
---
Whether you'd like to say hi; make a request or a suggestion; discuss the use of any of these images; swap links; we'd love to hear from you!
To contact us please type in the email address shown in this image.

My website moved and I haven't figured out how to get the forms working yet.
We never disseminate email information. We are ever mindful of the privacy needs of our friends.
All text and images ©1998 - 2022 R & F Newman TagYerit.com except where noted.