Antique Tools & Hardware for sale
---
For your convenience Each item has a PayPal Buy Now Button. But if you are interested in more than one item, or if you have any questions, contact us to discuss various options.
Caveat: Due to the vagaries of shipping, please contact us first if you're located outside the US.
---
Antique Vintage Wood Shoulder Yoke Water Bucket Carriers 28" long $73.00
<-- Click image to left for more pics S&H included for US sales (all others contact us first)
These could be the oldest tools I own. Honestly, I don't know where this was used or how old it is, but it would definitely predate indoor plumbing.

Whether you're a history teacher looking for real articles to demonstrate the labors that our ancestors and founding fathers underwent when starting out on their own, building on their land grants with scarce resources; or you're looking for primitive objects to create your Calder -esque art work from antiques; this piece will fit the bill. And it's unique. Taking a bent piece of wood, someone notched the ends to hold buckets for hauling water up from the well. With no money or skills to waste on those yokes that you'll see that fit nicely over both shoulders and around the neck, this piece was made for strictly utilitarian purposes. That's where it hides it's true beauty. You can see many of the original knife marks. It probably never had a finish. There is the remnants of some green paint on one end of one side. My guess is that someone was painting the wall above where this hung and realized too late that they had forgotten to move it.

It may also have had some other origins. Who knows? Maybe an old prospector used it to haul 2 sacks of gold up from the mine shaft (though probably not).



---
Unusual Vintage 1918 Wall Cleaning and Sizing Apparatus (looks like squeegee) - Patented Painter's Tool $49.00
<-- Click image to left for more pics S&H included for US sales (all others contact us first)
American Handy Cleaner Mfg. Co
Patent 1255695
405-407 Grand St. NYC

"Wall Cleaning and Sizing Apparatus" patented by Alfred Blumenthal.
Patent granted Feb. 5, 1918 - A few years later he patented an oiling device for oiling floors and woodwork, that looks very similar. I've included a picture of the diagram patent found online.

The apparatus has a reservoir to hold water, calcimine or other suitable liquid . . . Looks like it was probably never used. Designed so the liquid in the reservoir would distribute evenly onto the ceiling or wall across the felt. The rubber squeegee is cracked and the felt has a few holes, but otherwise in great condition. (you weren't really planning on using it?) While it may have been an ingenious innovation, it doesn't strike me as very practical. One would spend as much time filling it as the time it takes for repeated dippings in the bucket. In fact, I'm not even clear how one should fill it, unless it's to remove the portion that holds the felt pad, which I'm not going to try.

11 7/8" X 3 1/4" X 5 7/8"
---
Vintage J.P Hyde Century Wallaper Trimmer 777 With Arm Roll Control - $25.00
<-- Click image to left for more pics
S&H included for US sales (all others contact us first)
1930's paper trimmer from the JP Hyde Co – model #777. It was meant to smoothly cut wallpaper, pictures and other similar materials and as you can see in one photo. The Hyde Co is still in business today in Southbridge, MA and was started in 1875 making it one of the oldest surviving businesses in the US.

---
Vintage 1924© Cardboard box Irwin Augur Bits - $25.00
<-- Click image to left for more pics S&H included for US sales (all others contact us first)

Box that once held an Irwin augur bit. Box labels reads, " The Genuine and Original Irwin Bits - Copyright 1924 by The Irwin Augur Bit Company Wilmington, Ohio - Chas. H. Irwin original patentee - Cuts True Clear Thru"
Has a really nice crossed augur bit logo tied with a horizontal ribbon
Ephemera
11 1/4" X 3 1/2" X 1 3/4"



---
Vintage Small Mahogany Tool Box - $97.00 includes S&H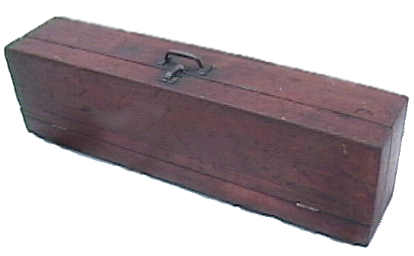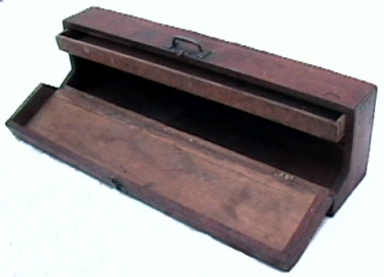 This mahogany tool box is 30" wide, 8 3/4" high and 6 1/4" deep. Often these were made in high school shop class. This one is built with lap joints that are glued and screwed. It has one drawer. It has the original finish, and the mahogany would look beautiful refinished.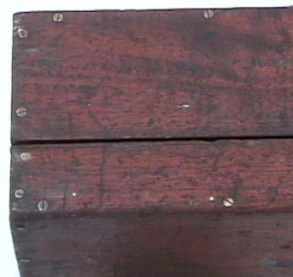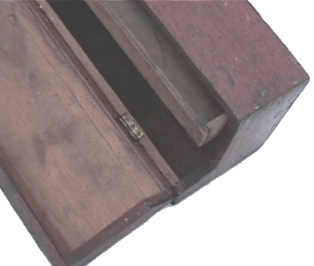 Shipping weight - 14 lb.
---
Antique 19th century forged brass and iron fireplace tool - $29.00 incl. S&H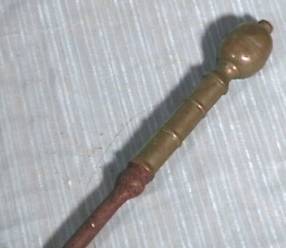 Antique brass and iron shovel handle with shaft
Antique brass and iron shovel handle with shaft. You can see on the bottom right where it would have been joined to the shovel scoop. The brass handle is 5" long where it meets a nice bulbous shape in the forged iron. Overall length is 24 1/4".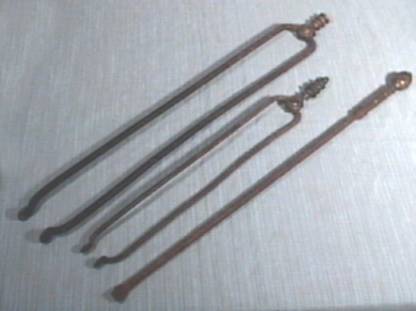 Both fireplace tongs in the pictures have been sold - Only the shovel handle on the right is still available.
---
Wrought Iron Early 1800s Horizontal Rim Lock with brass knobs - $95.00
<-- Click image to left for more pics S&H included for US sales (all others contact us first)

This lock came from a door in Hadley or Amherst, Massachusetts. No key. The sides of the casing need to be re-welded and there's a piece broken off the face plate. As near as I can tell, all the internal pieces are there and working, but I'm selling as is.
6 1/4" X 4" - It is 15/16" deep. The brass door knobs are approximately 1 3/4" in diameter and 1 5/8" deep.



---
6 Antique Victorian Window Sash Locks Cast Iron 1880's Eagle Wing Feather - SOLD
<-- Click image to left for more pics
Stamped inside, though mostly unreadable is the patent information Pat. Oct. 16, 83 (not sure about the 3) And the number 10 ( I think) .
2" wide
Cast iron
They work great. I sprayed them with light oil. Otherwise, just as found.
---
8 Mid 20th Century Black Aluminum & Brass Kitchen Drawer Handles - $28.00
<-- Click image to left for more pics S&H included for US sales (all others contact us first) <
Set of 8 handles. ( 4 pairs). One of the handles is missing the 2 brass ferrules and 1 screw.

For holes 2 3/4" apart. I believe the handles to be aluminum with a coating of black which is worn off in some places.



---
Set of 4 old original vintage Rustic Country kitchen / Hardware store bin Tin handles - $29.00
Top bevelled
approx 3 3/4" X 1 1/2" x 7/8" deep
3 1/8" on center holes
These came from an old hardware store in Easthampton MA in the 1970s


These antique primitive cup bin cabinet drawer / door pull handles - would be great for restoration. I have also seen them mounted upside down for flower arrangements or to hold / display small items.
---
2 Vintage Weather-Pak Sealing Strip (rope caulking) mid 20th century - $13.00
<-- Click image to left for more pics S&H included for US sales (all others contact us first)
Vintage Hardware store Stock. New Old Stock
To conserve heat in winter . . . To keep out dust and insects
A quickly applied calking compound
Babbit Chemical Specialties Co. - Division of Southern Products Co. - NY

I don't know when this product first came out, but this must have been before it was called rope caulking.
Selling 2 packs - one in good condition and the 2nd has been folded in half and the plastic window is ruined. They have the original 49 cent price tags from Teppers, a store that closed in Northampton, MA in the 1970s
14 1/2" X 2 3/4"




---
Vintage Hardware store Stock. 2 Foot Activated Door Holders NOS - $21.00
<-- Click image to left for more pics S&H included for US sales (all others contact us first)
New Old Stock
2 Foot Operated Door Holders on original display cards
Card says " Door Holder - Holds door in any position - Always in place - Easy to operate - Complete with screws - Operate with foot - Release with foot - Install 1/4" from bottom of door"

---
Large Antique Oak Patternmaker's Woodcarvers Gunstock (rifle stock) Vise Circa 1900 $35.00 (PICKUP ONLY)
<-- Click image to left for more pics
PICKUP ONLY contact us first to discuss options.
The headstock is pegged mortised and tenoned. The tailstock slides to allow for various lengths. At it's widest it takes a piece of stock 35 1/2" long. There are 3 small holes in the pin that locks the mortise and tenon. ( See pics - possibly powderpost beetles, though I see no other sign of activity.). The throat is approx. 11" (8 3/8" from body to pivot points)

The threaded iron crank has a machined thread. I wonder from the size of the nut which is smaller than the slot, if this was a replacement.
You can still see the saw marks from the maker of this tool.
I believe the headstock and body are oak and the tailstock is possibly maple. The piece has chamfered bevels. Someone took some care to build this. The body is 46" long.
The locking shim is a 'recent' replacement.
I'm no expert on this, but my guess is that this is from late 19th century.
11 lb.
Willing to discuss delivery within 100 miles of Amherst, MA. Will research shipping beyond that on request.



---
Antique 54 3/4" Wood Clamp (vice) w/ wood screw - $45.00 Pickup / Delivery

Probably 19th century. The all wood turn-screw is 7 3/4" long for a working depth of 5 ". It looks to be made of oak.
The body is hardwood (possibly maple) is 54 3/4". There are 2 rows of holes which allows pegging in 1 1/2" increments. As you can see from this photo, it's completely pegged together. I believe the only metal in the whole thing is a point sticking out of the end of the wooden screw thread presumably to stabilize the piece being clamped.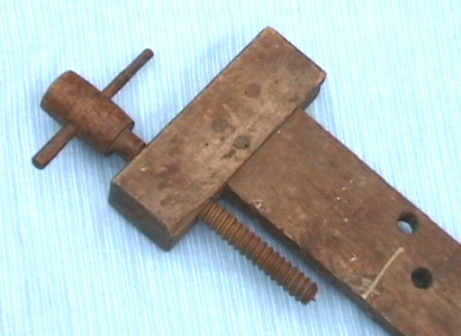 The shoe (jaw) and bottom peg are not original.
Willing to discuss delivery within 100 miles of Amherst, MA. Will research shipping beyond that on request. Greyhound Package Xpress is an option here..
---
Vintage Round Column or pipe bar clamp - $79.00
<-- Click image to left for more pics S&H included for US sales (all others contact us first)
I'd guess this is for some special trade or industry use. Maybe for large iron pipes or wooden columns? Steamfitters clamp? I've been repairing houses and furniture for 40 years and never had a situation where I can imagine using this bar clamp.

The lower jaw has a 5 1/2" diameter and the upper jaw is approx. 3 1/2" diameter.

the span for the 2 jaws is from 35 3/4" at it's widest position to 20 1/4" at its narrowest.
The bar itself, not counting the crank and thread is approx. 41 1/2" long


It weighs 19 lb. (26 lb. shipping wt.)
44 X 12 X 6



---
Old Plumber - Pipefitter's Iron Vise - $39.00 incl. S &H

This vise clamped iron pipe for threading. It is labeled "No.1". The 'V' jaws are 3" across (2" down each part of the 'v'). The overall height is 16" when totally tightened down, and the overall width is 7 3/4" wide.

According to Tom MacGregor, (a site visitor 11/1/09), "This vise is for holding the pipe, not a tap or die. The diamond shape stepped opening will grab a variety of diameters of iron pipe and keep them from turning as the pipe cutter is spun around, a reamer in a brace removes the burr left by the cutter, and the die is turned to cut threads. I used my grandfather's 1920's era vise (nearly identical to this example)and thread cutting tools just last week setting up an air compressor system."
Shipping weight - 18 lbs.
---
Rare 19th century oak & pine clamp press - $64.00 includes S&H

This is a wonderful primitive. But I can only guess to it's function from it's design. It was built for utility so it shows repairs at different periods of time. The boards are pine and the posts are oak or chestnut.

The pine top and bottom planks show the marks from a large circular blade typical of mills in the last half of the 19th century. They each have a groove on one edge that leads me to believe they may have originally been made from leftover wide tongue and grooved planks (sub-flooring?). The bottom board has a narrow and shallow groove on either side, I'd guess to direct liquid away from the object(s) being pressed and dried. There are remnants of square nails. The current foot was a more 'recent' addition.
The 4 narrow cross boards on the top piece were probably added as reinforcement, because it was easier to nail them on than to make a new top piece, as the wood started to split. I'd guess these repairs were made ca. 1920 ... (9" wide and 24" long)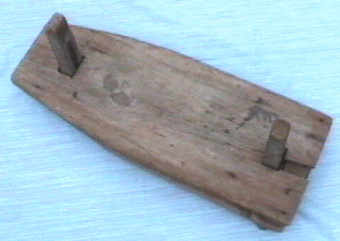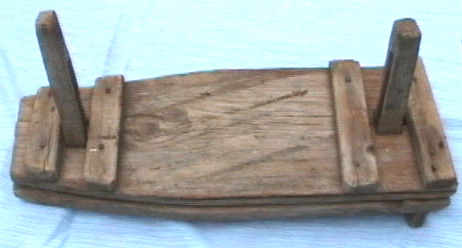 The posts are hand hewn oak (or chestnut)pegged, and slotted. The bottom of the posts are larger squares that hold it in place along with pegs on top of the lower board. I imagine the slots would have had 2 bevelled wedges to clamp the top down ... (12" tall)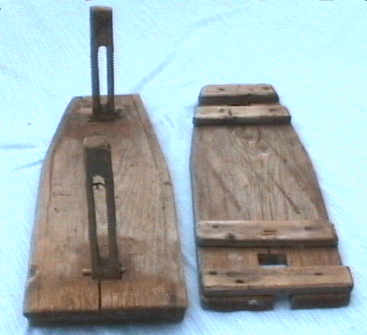 I'm open to suggestions, but my current guess is that it was used to press cheese (farmer's?). I had originally thought it might have been for pressing plant leaves such as tobacco, but there's none of the dark staining that I'd expect to see.
Shipping weight 12 lbs.
---
More tools may be found at our Designer's Corner
---
Please e-mail rich@tagyerit.com for more information. By the way, the sellers have been on the web since 1996 sharing their music as the band TagYerit (tag you're it).
---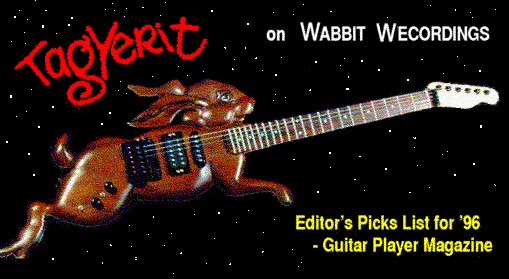 Click the Guitar to hear TagYerit's music.
Click here to fully explore the tagyerit.com pages
---
Whether you'd like to say hi; make a request or a suggestion; discuss the use of any of these images; swap links; we'd love to hear from you!
To contact us please type in the email address shown in this image.

My website moved and I haven't figured out how to get the forms working yet.
We never disseminate email information. We are ever mindful of the privacy needs of our friends.
All text and images ©1998 - 2021 R & F Newman TagYerit.com except where noted.