Featured Musician Toilet Paper (posted 2010)
At right, curators and TagYerit band members Flo & Rich Newman display some of the toilet paper samples collected from musicians who graciously added their signatures to the collection. Some samples are clipped to Flo's trademark hand-carved rabbit guitar.

Below:
Leon Russell
Noel Redding - bass player for The Jimi Hendrix Experience - collected at NEMO Boston
Buckethead - signed it "Your Disembodied Friend" (1997)
Al Kooper - singer, guitarist, keyboard player, producer - collected at NEMO Boston 1998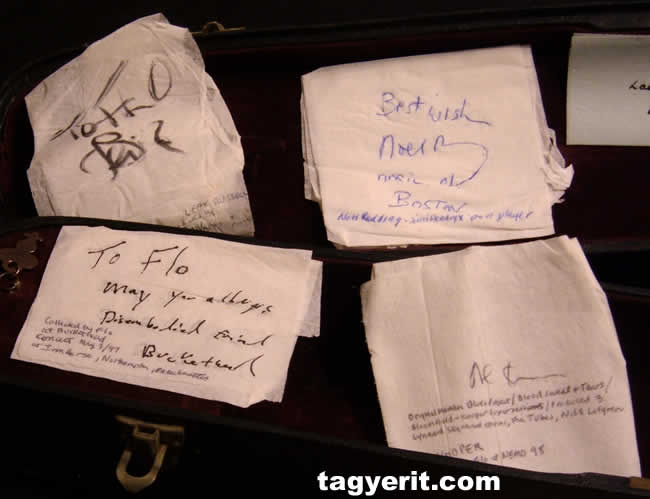 Below: L to R & Top to Bottom:
Laurie Anderson's Loft, NYC (unsigned) (1987)
Maddy Prior - singer Steeleye Span (1996)
Ray Charles (unsigned) - from his hotel room during a stay in Amherst, MA (1988)
Robert Fripp forged Brian Eno's name (2000)
Little Steven - solo artist, actor and guitarist E Street Band - he was keynote speaker at Philadelphia Music Conference (1997)
Grouping several members of Talking Heads: Jerry Harrison; Chris Frantz, Tina Weymouth & Bernie Worrell
Foreigner (2010): Kelly Hansen (lead vocals); Mick Jones (lead guitar & vocals), Thom Gimbel (guitar); Michael Bluestein (keyboards); Jeff Pilson (bass); Brian Tichy (Drums)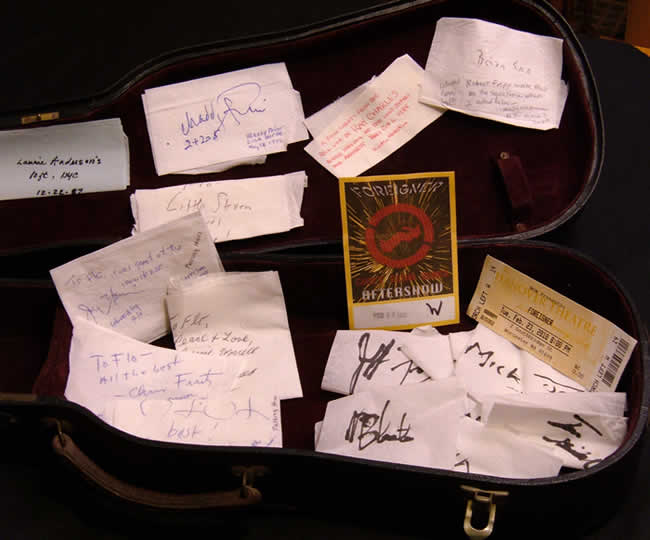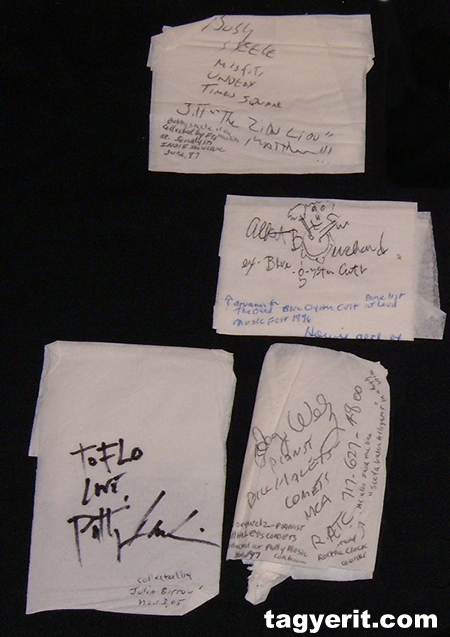 Bobby Steele (Misfits, Undead & Times Square)
and Jill "The Zion Lion" Matthews (1997)
Albert Bouchard - founding member and drummer for Blue Oyster Cult. Signature includes cartoon of him playing drums.(1996)
Patti Larkin (2005)
Joey Welz - pianist with Bill Haley and the Comets in the 1960s (1997)

Below: L to R :
Melissa Etheridge (2008) - - - - - John Sebastion (Loving Spoonful & solo) - - - - - - Jason Lowenstein (Sebadoh, solo, Fiery Furnaces & Circle of Buzzards)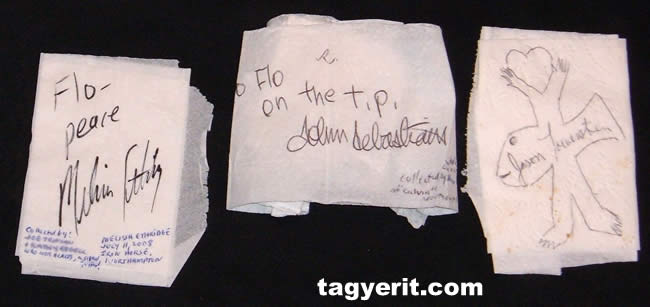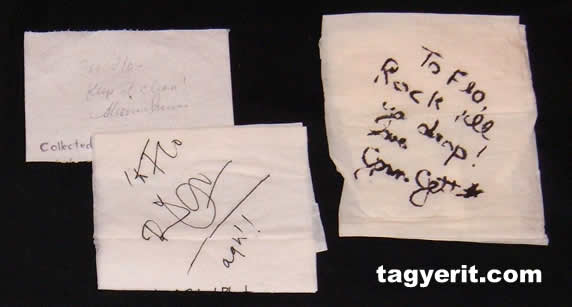 Alison Krauss - "Keep it Clean"
Robert Plant - "Agh!!"
Joan Jett

Below: L to R & Top to Bottom:
Corky Lang: drummer for Mountain "Wipe it up - Cork it up!"
Bill T Miller
Tony Visconte - producer for David Bowie, T. Rex & the Moody Blues (1998)
Junior Walker and his band (1995)
Rob Fraboni - producer for Bob Dylan, The Band, Joe Cocker & Bonnie Raitt (1998)
unsigned toilet paper at a Patti Smith keynote speech Philadelphia Music Conference (1997)
Dar Williams (1997)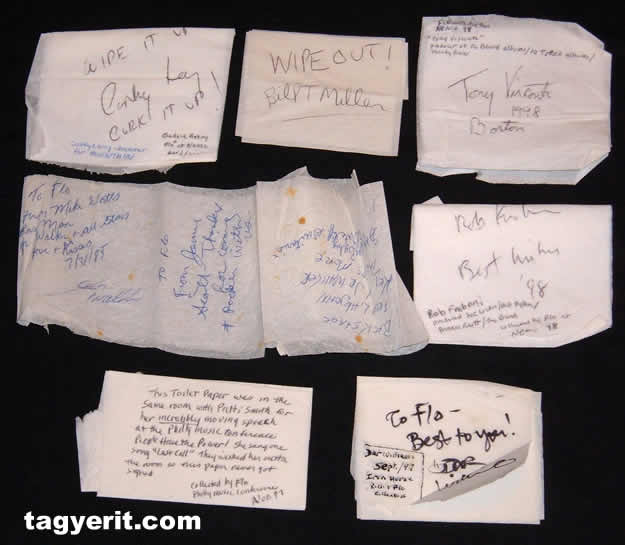 Subscribe to TagYerit Tails
TagYerit Tails is the newsletter for TagYerit (The Website) and TagYerit (The Band). This newsletter is our way to tell you when something new or exciting is happening. In other words expect it once or twice a year. Sign up now.
---
Click for TagYerit's Front Page music, gadgetrees, easterner bunnies, cool carved pumpkins, more, more, more ...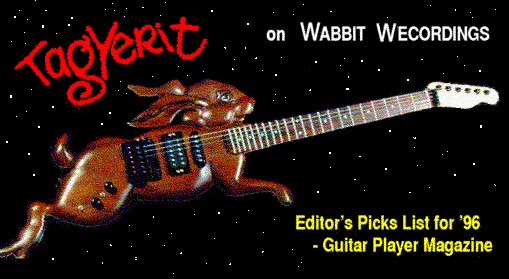 © 1995 to 2021 R. & F. Newman. All rights reserved | Contact us