2010 Featured Toilet Paper
Click for the latest 2011 items below
We had the chance to photograph a cross-section of some favorite interesting toilet paper from our collection for a magazine. It was a great excuse to update these pages a bit.
At right, curators and TagYerit band members Flo & Rich Newman display some of the toilet paper samples collected from musicians who graciously added their signatures to the collection. Some samples are clipped to Flo's trademark hand-carved rabbit guitar.
Keep in mind, that the "in the field collectors" of each of these signed samples has an interesting story to tell about how they managed to obtain their prize. From polite requests to outright bribery, their resourcefulness is evident in these pages.

Historical
These are a few of the older samples in our collection. They were saved from the flusher by concerned people long before this collection was conceived. The Softex is from April 1942. The Gayetty packet is among the oldest. Gayetty is considered the inventor of commercial toilet paper, which he first sold in 1857. Gayetty paper was reportedly sold into the 1920s. Eagle Tissue from Vermont first sold toilet tissue in 1869. We don't know when Novelty toilet paper first popped up, but this roll is representative of the genre.Includes several gems such as "The apple may have caused The Fall of man, but the Banana is the cause of many a "Slip" and "Knock knock ... Who's there? jitter ... Jitter who ... Jitter get off the pot".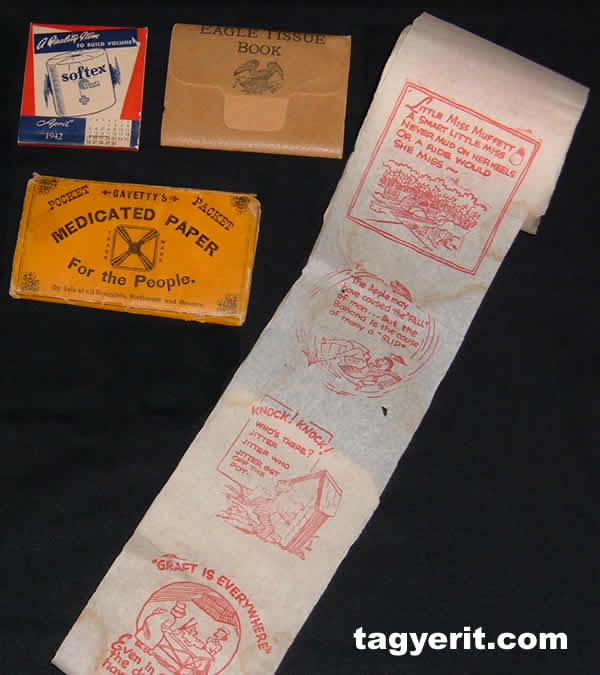 This oval roll of toilet paper was removed from the bathroom stall in an old 4th floor brothel in Seattle WA by Second Use. Second Use is in the business of reclaiming building materials & the 1889 building which had once housed Warshall's Sporting Goods store was in the process of being replaced with the luxury Hotel 1000.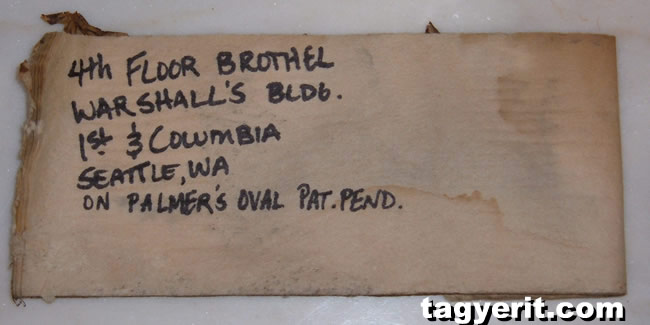 Geographical
Below: l to r & top to bottom - Estonia; Loch Ness (1988); "Reversible" Switzerland (1985); "It set me spinning" Windmill in Kinderdijk, Holland (1986); "Cheerio Pip Pip" Green Andrex London England (1999); "Staying between the lines" Bettystown Ireland (1989)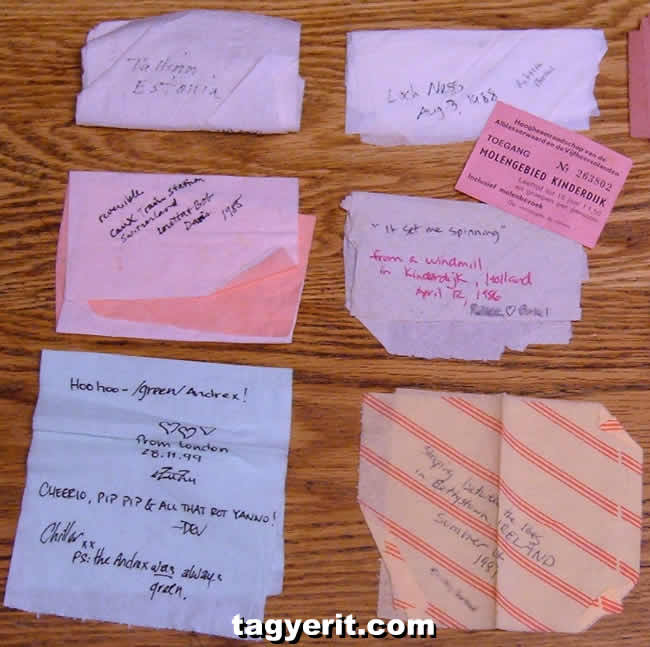 Below: l to r & top to bottom; "Home Sweet home" Negril Jamaica West Indies; Austria Switzerland train; Sealink Ferry Dublin; Recycle "Aus 100% Altpapier - Ohne Farbung U. Bleiche Recycliert Danke" Germany; "Spanish Lace" Madrid Airport (1986); Dusseldorf, Deutschland (1985)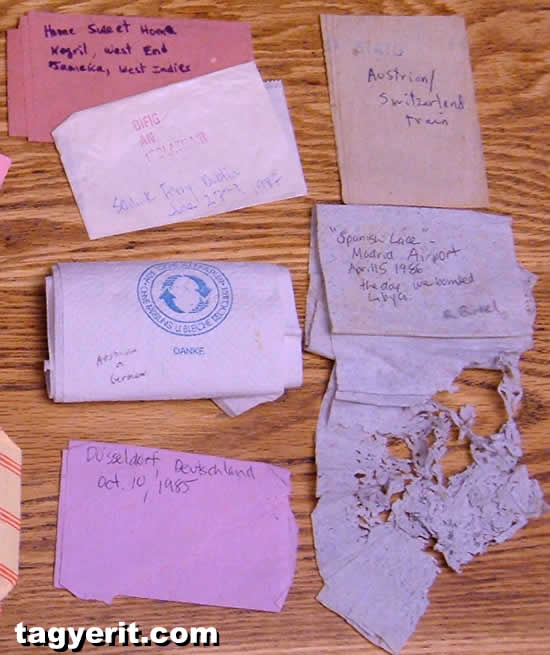 Occupational
Below: l to r & top to bottom; Cady Coleman - Female Astronaut (2001); Ronald Kurth - Three Star Rear Admiral (1995); David Tivoli Consultant for Hamilton Sundstrand Makers of Spacesuits (2003); Alyssa Manzi - New England Patriots Cheerleader (2000); Lorin Fries - trained search & rescue dogs in the Absacroka Beartooth Wilderness (2000) ; Steve Hamlin -" The Cobbler of Whoville" clown shoemaker (2000); William Cumpiano - Luthier, guitar maker, quattro builder, filmmaker and author (1987); Richard Meehan - Amtrak train engineer (1995); Captain Denault Donovan - Tugboat captain for the "Cheyenne" (2003)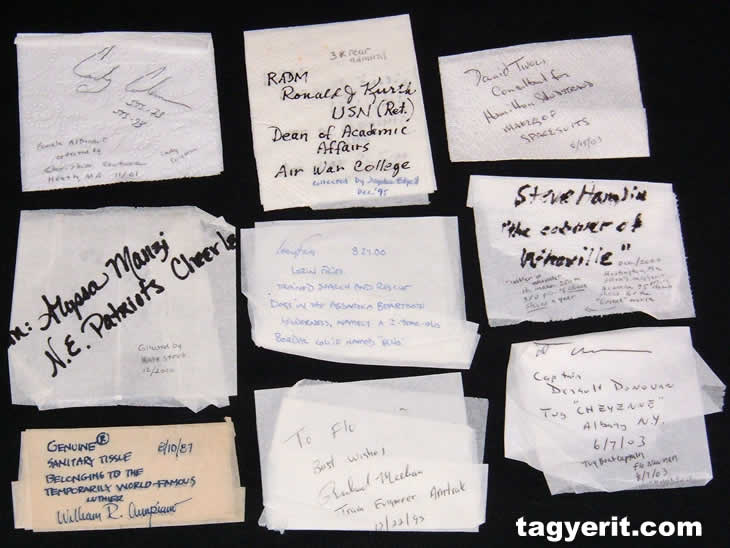 Below: l to r & top to bottom; Candy Kane - Exotic Dancer & Blues singer; Chuck Schmidt - builder for Go Kart motors car racing (2000); Stephen Gorin - ice cream maker (1987); Mike Morini - grip Law & Order NYC (2005); Holly Baldwin - a dinghy builder (2000); Stephen Breyer - Supreme Court Justice (2010); Teri Mare - hostess at the Disney's Haunted Mansion (1997); Noah - Anarchistic wheel wright of Russian heritage; Jill Danari - paper doll technician for a fashion designer (1996)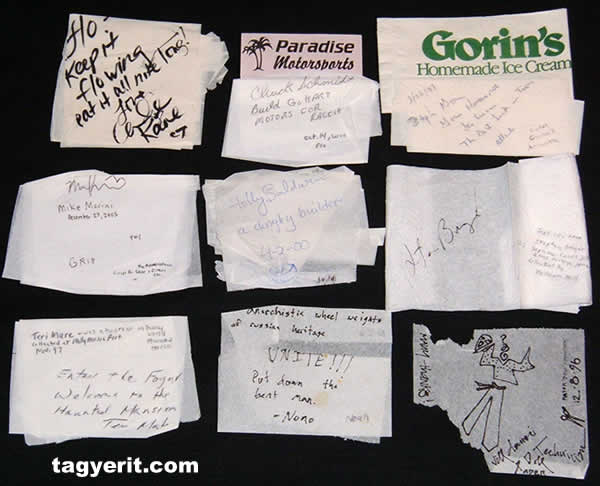 Celebrities
Below: l to r & top to bottom; Al Franken - launch party for Air America ; Kate Mulgrew - Captain Startrek Starship Voyager (2004); Penny Marshall - actress, director (1993); Lily Tomlin - Comedian & actress; Viggo Mortenson - actor played Aragorn in the Lord of the Rings movies; John Turturro - actor; David Lynch - director signed at Cannes Film Festiva (2002)l; Woody Allen - actor, director, comedian - signed at Cannes (2002); Madonna - actor, singer & dancer (1991); Harrison Ford - actor; Barbara Walters - news anchor- collected at Latin Quarter Dancers reunion show (2000)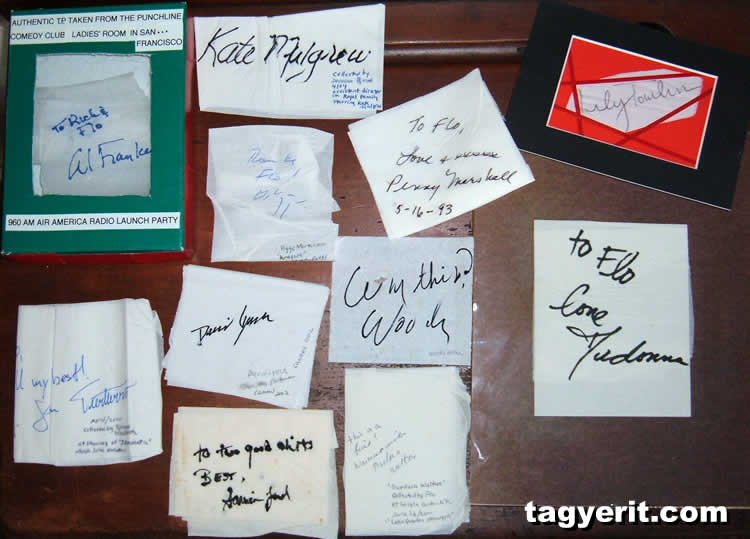 Musicians
Since music is a big part of what we do, it should not be surprising that it's among the biggest part of our celebrity/occupational category of toilet paper. - Click to see more in the music department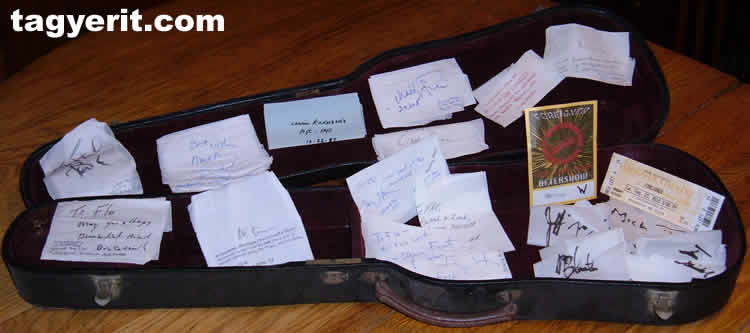 2011 Featured Toilet Paper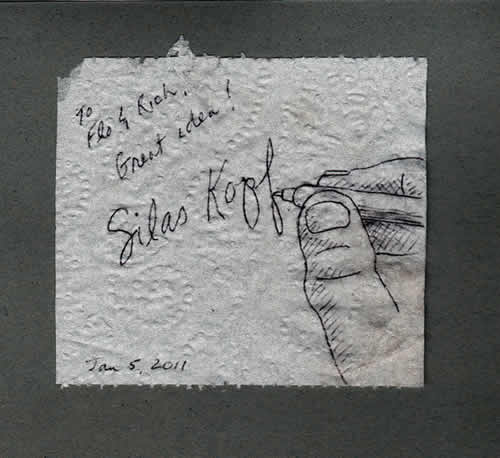 Here's a piece from from friend and marquetry furniture maker Silas Kopf. Please visit his website -his work is truly outstanding with pieces on display in museums and collections around the world

Subscribe to TagYerit Tails
TagYerit Tails is the newsletter for TagYerit (The Website) and TagYerit (The Band). This newsletter is our way to tell you when something new or exciting is happening. In other words expect it once or twice a year. Sign up now.
---
Click for TagYerit's Front Page music, gadgetrees, easterner bunnies, cool carved pumpkins, more, more, more ...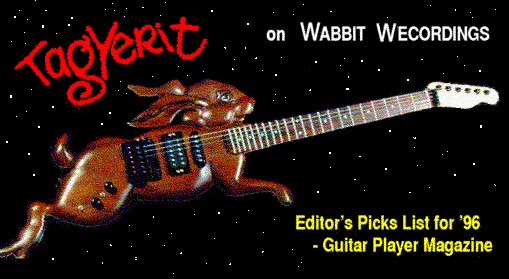 © 1995 to 2021 R. & F. Newman. All rights reserved | Contact us