TagYerit BIO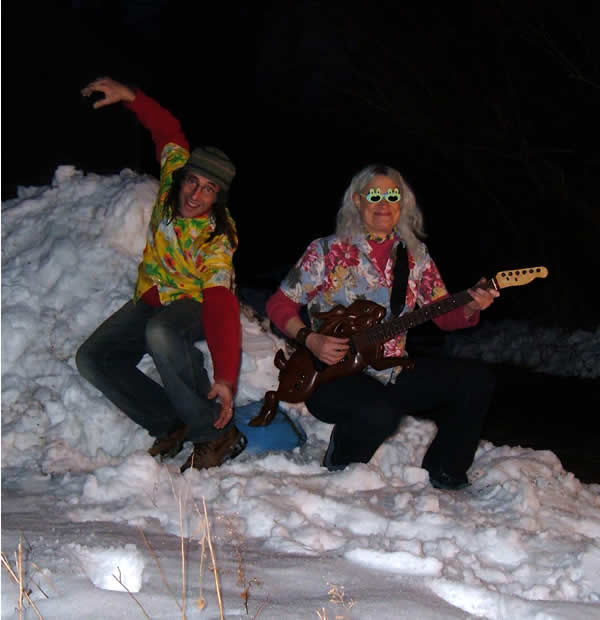 It was 1993. Flo & Rich Newman had been sitting at home for a number of years strumming their acoustic guitars and writing songs wondering how they could reach an audience without leaving their homes and their pet bunnies. The news media was full of talk about this new invention, the World Wide Web, and suddenly it became clear. The time was right. Rich took up the bass and Flo went electric after carving her own trademark rabbit-shaped guitar - yes, it is a real guitar! (Built with the help of luthier William Cumpiano.) As soon as they entered the studio in 1995, TagYerit (Tag you're it !) was born.

The name TagYerit speaks loads about the playfulness they bring to their music. It's melodic story telling and introspective musings on subjects as diverse as: the adventures of the "Outlaw Radio Guy"; dealing with "Self Sabotage"; and unbelievably "Embarrassed" moments ... to the silent mystery of a spooky gardener and the plaintive cries of a tomboy being forced to go to "Charm School"! Reveiewers have called the songs, "witty, dynamic, full of humor" ... ""bewitching" ... "Very original" .... "from another planet" ...

Their debut CD "Heavy Construction" was on Guitar Player Magazine's Editors Picks List for 1996 ... "Full of the pure joy of words and music ..." Their heavily trafficked website (tagyerit.com) reflects their wide range of interests and combined experiences which also impacts Rich & Flo's songwriting. "Messing with music since we could hold a spoon ... animal friends (rabbits in particular - surprised?) ... crazed costume making ... wood carving, over-the-top pumpkin carving, collecting the old and the tacky, recycling and re-use of neat junk, stunning immaturity, toys, toys, toys ..."

TagYerit held their 1999 "Tubeman" CD release party on their local town common while simultaneously running a wildly successful fundraising tag sale that benefitted 2 local animal rescue organizations. In 2005 Rich & Flo released TagYerit's third CD, "Gazing Globe". In "Gazing Globe" they tried to incorporate backup harmonies in 'twisted' Hawaiian - to date, no one from Hawaii has confirmed or denied the abuse of their native tongue. They also told the plaintive story of the wanderings of a depressed cowgirl in their song "Deranged"...

In 2006 Charlemagne sampled and remixed TagYerit's song "Subway Surfing " for use as the theme song for Marc Ecko's Getting Up video game. Talib Kwelli & Rakim rapped over a bed of TagYerit's music and vocals. The new incarnation of the song is called "The Getting Up Anthem". The soundtrack won MTV's Best Videogame Soundtrack award for 2006.

TagYerit has received a lot of attention on youtube for their elaborate pumpkin carvings of the characters that people their songs. While listening to the music, the viewer can watch the characters 'magically' appear on the pumpkin surface through stop-action photography.

TagYerit's most recent release - their 4th CD, "Shimmer", was in 2009. Just as TagYerit was putting the final touches on their new song "Neat Junk" about the perils of 'collection addiction', one of their own longtime collections became the focus of a Smithsonian Channel interview. The Channel's "Stories From The Vaults" series featured songwriters Rich & Flo Newman's "Whole World Toilet Paper Museum" in September 2009.

TagYerit continues to write songs. No recording date is currently scheduled, but there is motion in that direction.

All text and images ©1998 - 2021 R & F Newman TagYerit.com except where noted.
All rights reserved.