Vintage Store fixtures and artifacts
---
Cardboard Star Brand Store Display with 9 empty packages Repeating Paper Roll Caps circa 1950s - $39.00
<-- Click image to left for more pics
S&H included for US sales (all others contact us first)
Selling very much as is and as found in an attic. The display box is stained, warped & unglued. The roll cap packages also have stains, though in better shape than the display box.
Manufactured by M. Backes' Sons Inc. Wallingford Connecticut
The box indicates it originally had 48 boxes each with 10 rolls 500 shots.
The Backes company was started in 1876 by Michael Backes for fireworks production. In 1962 they stopped making fireworks and were making cardboard boxes.
Box would be 12" X 4 1/4" X 4"
We are selling this for the advertising display. There are no actual toy gun caps included.

---
Multimixer Model 9B 5 Five Cup Milkshake Maker Stainless Steel Chrome Vintage - SOLD
<-- Click image to left for more pics Selling AS FOUND
Prince Castle Multimixer
Sterling Illinois
Model 9B Serial # 47878
1/3 H.P. G.E. Motor

The motor works. I temporarily connected a cord to test the motor. It works fine, but you are buying as is. As you can see in the inside top picture, only 2 of the 5 drive disks are intact. One is in place, but broken and 2 are missing. When I lift the mechanism for each of the cups, they all lift upward and call for the motor. But of course only the 2 with the drive disks engage fully, and the one with the broken drive disk works after a fashion. I imagine these can be bought new as replacement parts or made up.

I cleaned it some - Just a quick once over. There's probably still residue from 40 to 50 year old milkshakes. It looks nice, but there is a small amount of pitting on the top and more on the base. See pictures

I'd guess 1950s to 1960s.
I acquired this in 1980 or 1981 from a pharmacy in Easthampton MA that had once had an ice cream / lunch counter.
Approx. 14" wide X 11 3/4" deep X 19" tall
Weighs approx. 38 lb (45 lb. shipping wt)



---
1917 Vintage Glass Orange Crush Inverted Soda Dispenser - $195.00
<-- Click image to left for more pics S&H included for US sales (all others contact us first)

This is a beautiful old heavy glass soda fountain syrup dispenser made by Cordley & Hayes & marked C & H, NY, Pat'd Sept. 4, 1917, on the tap. The tap appears to be Bakelite. It worked by placing an open, inverted, jug on the top of the dispenser. The dispenser sat on the edge of a backbar and the syrup could be dispensed by simply pushing in the finger button. The dispenser is in good condition, though I haven't tested the seals for leakage. See Pictures.

Overall height is 9 1/2"
Base is 7 1/2" diameter
The top inner rim is 5 1/8"
Spigot (tap) is 3" long
weighs 5 lbs



---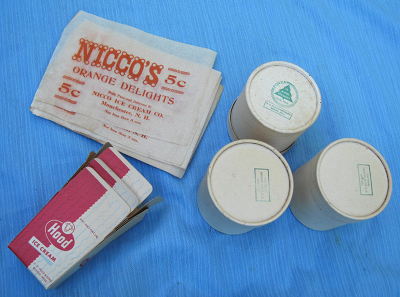 Vintage Ice Cream Ephemera Soda Fountain lot circa 1950s - 1960s SOLD
<-- Click image to left for more pics 3 Unused Hood Half Pint cardboard Ice Cream boxes. (have age spots - see pictures)
H.P. Hood & Sons Boston, MA
Boxes marked on bottom Bloomer Bros. Company Newark New York Exid Pail CO2
Base - 1 1/2" X2 1/2" - 3" tall (when closed)
3 One Pint generic unused round cardboard ice cream containers. (have age spots - see pictures)"Serial FC-1"
The bottom side marked Fonda St. Albans Vermont One Pint U.s. Liquid Measure Serial FC-1
Fonda Container Co.
3 1/2" tall X 3 1/2" diameter
Small stack of wrappers marked: Nicco's 5C Orange Delights Made Pure and Delicious by Nicco Ice Cream Co. Manchester N.H. Not less than 3 ozs. - all have some water damage, but the top 4 are passable. (saw one ad for Nicco Ice Cream Co. for 1931)
5 1/2" X 8"
---
1919 Barber Shop Sterilizer - Electric - $65.00 incl. S&H

The last patent date on this barber shop sterilizer is 1919. It looks to be nickel plated on brass (or copper). It's marked "Castle" on the front and the other identifying information is on the bottom. " Licensed Under MPRSH Patents. (the PRSH is inside a large M). Pat. Feb. 6 '06, Pat. July 25 '16, Pat. July 1 '19; 110 Volt 9 AMP; Made in USA"

There is a dent on the top that's visible in the end shot - about 1/4 of the way back from the lever. This is an " AS IS" sale. The porcelain on the electric box shown on the bottom is cracked, and the wire and plug would also need to be replaced. I have no way of knowing if it works in it's current condition.

Dimensions: Box is 13 1/2"w, 5 1/4"deep, 5 1/2" high
Overall (including lever, switch and electric box) it is 15 1/2 x 8 1/4 x 7 3/4
Shipping weight: approx. 10 lb.
---
Lot of Vintage Pharmacy Medicine Bottle Labels from a long closed Haverhill, MA pharmacy - $71.00
<-- Click image to left for more pics
S&H included for US sales (all others contact us first)
I'd guess these gummed back labels are mostly mid 20th century. The Tilton Corner pharmacy was closed in the 1980s and Stanley Blake, the pharmacist listed on the labels had retired much earlier. The numbers of labels are approximates only - they were estimated by counting a sampling. Also while the majority still seem to be ready to stick some of them have been damp at some time and occasionally there are labels stuck together.
Approx. 200 Oil of Wintergreen Synthetic - For External Use Only - 1 1/4 X 2 1/2
Approx. 175 Aromatic Spirit Ammonia - Alcohol 68% - Dose 30 to 60 drops in a little water 1 1/4 X 2 3/8
Approx. 15 Sedatole (S&D) - Each fluid ounce contains Codeine Sulphate - Warning may be habit forming … 1 3/8 X 2 1/4
Approx. 35 Lime Water 1 3/8 X 2 3/8
Approx. 25 Camphorated oil - For External Use Only - Useful in Sprains, Bruises, Rheumatism, Acute Bronchitis and other inflammatory conditions. 1 3/8 X 2 3/8
approx. 10 For External Use Only 1/2 X 1 3/4 ( the gummed backs have definitely been compromised)
approx. 25 Ess. of Peppermint - Alcohol 85.5% - Dose Two Year old 6 drops . . . adults, one half teaspoonful. To be taken in sweetened water 1 3/8 X 2 3/8
Approx 40 According to Law this prescription cannot be refilled nor copy given 1 3/8 X 1 3/8
Approx. 35 This Prescription May Be Refilled 3/8 X 1
13 Cosanyl (Syrup Cocillana Compound) Parke Davis & Co. on a roll 1 3/8 X 2 1/4
Approx. 200 Keep This and all Medicines out of the reach of Children 3/8 X 1
Approx. 300 Warning May Be Habit Forming 5/16 X 1 1/16
---
1950s Pharmacists Cabinet Doors & Cubbyhole Doors $75.00 (Pickup only)
This came out of an old pharmacy in Haverhill MA. in the 1980s. It is only the front of the cabinet as pictured. Two glass doors over two cubbyhole doors. Just the 4 doors in their frame. Made from plywood and pine (or possibly poplar). Two upper doors are glass and the lower are hinged cubbyholes that open as doors.This is a great design if you have the right place for it.
The dimensions of all 4 doors are 15" wide X 20 1/4" high. The overall dimensions of the piece is 34 1/2" wide X 44" high.

The individual nooks are 2 1/4" wide and 9 1/4" tall. The furthest left and right compartments are slightly deeper at 3 1/2" deep than the rest at 3" deep.

We are selling this as pickup only
- but we will consider delivery within 50 mile radius of Amherst. Contact us before paying if you'd like me to give you a delivery price.
- If you are near a Greyhound bus terminal it may also be feasible to ship via Greyhound PackageXpress . Contact us if you'd like to discuss this option.



---
2 Vintage Hardware Paint Chip Sample Signs Eureka & Ferro Bond - $59.00
<-- Click image to left for more pics S&H included for US sales (all others contact us first)
mid 20th century
Mfd. by Permanent Sign &Display Co. Inc. Reading PA.
Each 5 3/8" X 16"
Judging from the cut up Eureka sign (Eureka Quick Dry Enamel Color Chart), they are vinyl covered paper over tin.

The Ferro Bond sign is in very good condition with a few minor marks which might be removable with some care. The Eureka paint sign has some splits and pieces cut out. Still has a charming graphic of a housewife in an apron painting her kitchen cabinets.

Ferro-Bond Super Quality
For the Home Painter
One Coat Flat Wall Oil Base Paint
Easy to Brush or Roller
One Coat Covers Most Surfaces
For Use on Interior Walls and Ceilings
Color Chips Show Approximate Colors
A Quick Drying Washable Oil Base Paint



---
2 Large page ad spread for Timely Clothes 1940s - $19.00
<-- Click image to left for more pics
S&H included for US sales (all others contact us first)
Each printed on one side on newsprint.
The 2 pages are a collection of store newspaper ads that show different stores each with an ad for men's suits made by Timely Clothes.
Timely Clothes was in business approx. 1934 to 1973
I don't know what the function of these sheets are. One possibility is that the advertising department for Timely Clothes made these ads for their customer stores and these are the proofs.
Size of each: Approx. 22" X 34"


---
21 piece collectible paper lot soda and beer distributor sales receipts and bills of sale billhead - $17.00
<-- Click image to left for more pics S&H included for US sales (all others contact us first)
1950 to 1961
size range approx. 3 1/2" X 5 1/4" to 8 3/8" X 8 3/8" (Country Club)
most are in good shape. some are dog eared or have creases and / or cuts
Old Store ephemera
1 Canada Dry Springfield, MA 2 sided showing "The Big Four"
1 Pepsi-Cola Bottling Co. Northampton, MA
1 Coca-Cola Bottling Co. Northampton, MA
2 7-Up Springfield Bottlers
1 Cliquot Club Distributing Company Springfield, MA
4 Canada Dry Bottling Company Springfield, MA
5 Cott Quality Beverages Hartford / New Haven Conn. (CT)
2 Pioneer Valley Ginger Ale Co. Northampton, MA
1 Henry Sears Co. Holyoke, Mass. (Ballantine Beer logo)
3 Country Club Soda Springfield, MA
---
24 piece collectible paper lot Beer and alcohol distributor sales receipts and bills of sale billhead - $19.00
<-- Click image to left for more pics S&H included for US sales (all others contact us first)
1951 to 1961
size range approx. 5" X 8" to 8 1/2" X 11"
most are in good shape. some are dog eared or have creases and / or cuts
Old Store ephemera
1 Commercial Distributing Co. Westfield, MA
4 Commercial Distributing Co. Westfield, MA logos showing Rheingold & Miller
1 Hampden Brewing Co. Willimansett MA
1 Henry Sears - Holyoke Mass. - has a Ballantine logo
1 McKesson Liquor Co. Springfield Mass
1 Narragansett Distributing Co, Springfield, MA - logos for Narragansett Lager Beer and Croft
1 Healy and Sullivan, Sprinfield, MA
1 Bogey Beverage Co. Springfield, Mass.
1 Federal Liquors Ltd, Boston MA - logo for House of Nuyens
1 Handy Beer and Wine Company, Boston & Springfield - logos for Canadian and Pickwick Ale
1 Country Club Soda - Springfield
1 C. Pappas Company - importers Boston / Springfield - logo has seagull and ship
2 Liberty Liquors - Springfield - logo for Harper Kentucky Bourbon (I think)
1 Burke Beverage - Springfield
4 Williams Distributing Corp. with logo Shaefer Beer - one also has logos of Budweiser and Michelob
2 Mr. Boston Distiller, Boston Mass. with logo of Old Mr. Boston
(The Supreme Wine Co. Receipt which shows up in some of these pictures has been removed from this lot)

---
Vintage 1930s / 1940s Letterpress Stamping Printing Machine Laundry Marker - $165.00
<-- Click image to left for more pics S&H included for US sales (all others contact us first)
The manufacturer's i.d. plate tells the story:
"Perfection Marker
1221 Marion St.
Denver Colo.
Pats. 2136461 - 2157497
Other Pending
Serial L10-769"

This specialized printing press machine seems to work fine, though the handle is broken off at the casting. Made of iron and aluminum. You can see what the handle originally looked like at the following link. I believe that to operate, the letters are slid down the front of the piece. There may have been an ink pad underneath that the letters were rolled through. The article of clothing, for example the inside of a shirt collar would be placed over the inside of the handle and when the handle was pulled up would print the letters upside down, which would read correctly when the shirt was lifted up.

Approx. 20" tall and 20" long and 7" at its widest. Weighs 30 lb. (40 lb. shipping)

I found the following info concerning Pat. 2136461Pats. 2136461:Pats. 2136461 Patent US2136461 - Marking machine Filed Feb. 4, 1937Pats. 2136461 Patented Nov. 15, 1938 UNITED STATES PATENT OFFICE to Russell and William Young, Colo. both of Denver . . .
"This invention relates to a marking machine, more particularly of the type for placing identification marks upon laundry and has for its principal object the provision of a rapid, simple, lightweight,- highly efficient machine which can be used by anyone without damage to the goods or the operator.
Another object of the invention is to eliminate the large number of complicated parts usually employed in a machine of this character and to enclose all-of the type wheel operating mechanism within the type wheels themselves so that an enclosing cabinet or case will not be necessary.
A further object is to provide a highly efficient inking mechanism for the type wheels which can be quickly and easily reached for the re-inking and which will not interfere with the goods being marked or the operation of the machine. Other objects and advantages reside in the detail construction of the invention, which is designed for simplicity, economy, and efficiency. . . ."



---
Vintage 1950s Century High Speed Drill Bits Display Case - $75.00 incl. S&H
Late 1950s - from a hardware store in Salem, Massachusetts - "Lafayette Hardware". Tin & glass. It's missing the drill gauge. Cleaned up, this would make a nice display case for various collections. There's rust and the door frame needs to be resoldered (or glued).
Dimensions: 20 3/8" wide X 21 3/4" high X 17" deep
Shipping weight 25 lbs.

---
Please Contact us for more information.
---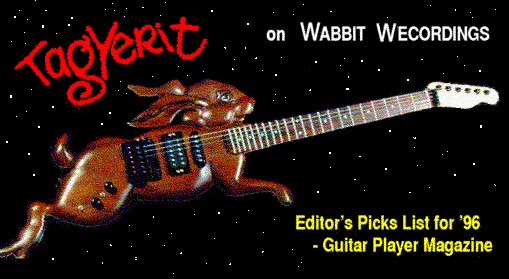 Click the Guitar to hear TagYerit's music.
Click here to fully explore the tagyerit.com pages
---
TagYerit Tails
Subscribe to TagYerit Tails , the newsletter for TagYerit (The Website) and TagYerit (The Band). This newsletter is our way to tell you when something new or exciting is happening. Expect it no less than twice a year and no more than once a month. Click here to sign up now.
---
Whether you'd like to say hi; make a request or a suggestion; discuss the use of any of these images; swap links; we'd love to hear from you!
We never disseminate email information. We are ever mindful of the privacy needs of our friends.
All text and images ©1998 - 2019 R & F Newman TagYerit.com except where noted.