Antiques we've sold
Provided as a courtesy to those researching their own items.
---

Greenwald Coin Mech single coin horizontal - quarter Patd 1936 SOLD
Click image for more views.
7 Patent dates ranging from 5/9/33 to 9/8/36
H Greenwald Co. Inc. Brooklyn NY for vending machine.
It takes 25 cents.
To the best of my limited knowledge, every part moves. It needs a lot of cleaning up.
Overall length 11 1/2" long. (7 1/4" inside and 4 1/4" in front
shipping wt. 4 lbs.
---
1905 Roto Salt Company Salt Feeder Stoneware Crock for horses - SOLD
<-- Click image to left for more pics
There are some cracks & chips but none that go through. (see pictures) - This is from the first days of the company which started in 1904 in Brooklyn but moved in 1910.
Front printed in blue glaze reads:
Roto Salt Feeder
Pat. 8-15-05 (1905)
The Property of Roto Salt Company
Brooklyn N.Y.
This Feeder is loaned for use with Roto Salt Cakes Only. A Deposit is charged on each Feeder. Deposit will be refunded on the return of this feeder in good condition.
Approximate Measurement : 7 3/4" tall x 5 3/4 " round

The following is from rotosalt.com which is still in business: "Roto Salt Company was formed in Brooklyn in 1904 by Frank Beyea. Frank felt that horses deserved a better salt supply than the coarse and dirty chunks of rock salt that were used as ballast in ships returning from Russia. The patent Frank secured was related to his method of using a mold, pure salt mixed with water, and a hand press to make salt bricks. Bricks were soon shipped everywhere including, in 1905, to the U.S. Cavalry at Fort Riley, Kansas and Fort Sill, Oklahoma. … Also in 1905, Beyea designed a rotary stoneware receptacle to hold the salt bricks in place on a wall while the animals licked it. In 1910, came the first big move – this to Watkins Glen, N.Y."



---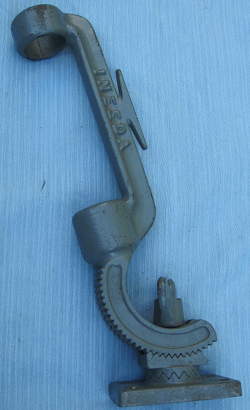 Antique Vintage Ineeda Flag Pole Holder - Great Condition Patent 1900 - SOLD
<-- Click image to left for more views.
Complete Ineeda Pat. Nov. 13, 1900. In great original condition. Great design. Mounts to hang in any direction. May have been repainted in past.
Clean untouched as found.
12 3/4" at its longest
7 lb. shipping wt.
---
Vintage wooden nautical 'Chip Log' - brass, pine and lead -SOLD
<-- Click image to left for more pics Consider this a piece of art. Either hang it on a wall or set it on a shelf.

It took a bit of care to craft this pie wedge shaped measuring tool. While it's basically a string with a piece of brass on one end and a pie shaped piece of wood on the other, there's much more involved in its construction. The rounded edge of the wood is rimmed with lead. The string attaches to the point.

The arc of the wood is 1/8 section of a circle which matches the length of the side of the wood which is a radius of 6 1/4" long. As simple as that sounds, here's what went into making it: One side is parallel to the grain. since the opposite side would normally have end grain, someone went to the trouble to add a tapered piece about 3/8" at its thickest in order to eliminate the exposed end grain (kind of like bread-boarding). The rounded arc has a piece of lead folded over it, so that protects that end grain as well as adding weight. Someone went to a lot of trouble to keep this piece stable - less likely to warp or absorb water.
The string off the log-chip is attached to a piece of brass that may have one time been another part off a ship or boat. Two of the holes are threaded. How old it is, I can't say. The nails that fasten the lead to the wood are round headed, This makes me think it's most likely early 20th century, though I don't know when people stopped using these devices.

At first I thought it was a plumb bob, with the point on top, then I realized there are 2 small pieces of string on the bottom corners where it was also tied.After some searching online here's what I came up with. It's a chip log (also called a log-chip and a log-ship). The 'Chip Log' would have been attached to a reel of rope & used with a time measuring device. Rope had knots tied at equal distances along the reel. Sailors would throw the log-chip behind the ship and measure the speed as it unwound. By counting the number of knots that went overboard against the time, they could tell the ship's speed. In fact that is the origin of the nautical speed unit: the knot.



---
Vintage Belt-Driven 1/2" x24" Shaft w/ 9 Pulleys & Swivel Base for Power Tools - SOLD
The feet pivot to enable mounting at various angles. They have some of the original green paint and partial labels. Jersey City
Large double pulley wheel says "Walker-Turner Co. Jersey City NJ PV953" 2 7/8" outer dimension


---
Vintage Canada Dry Jet Spray Cooler (Dispenser) - SOLD
<-- Click image to left for more pics
Jet Spray refrigerated drink dispenser. As is and incomplete. The toggle switch for the refrigeration needs to be replaced - it's frozen so I could not test it,
Parts included
blue refrigeration unit - Approx. 17 3/4" X 15" X 12+" (14" including 2" tray brackets
Soda holder dispenser w/ Canada Dry labels 17" X 13 1/2" X 7"
Cover 17 1/2" X 14" - stamped Part 103A
Blue plastic drip tray (spill catcher) with metal insert 14 1/2" X 5"
Pink piece w/ magnet
Blue Cup Lift Plate
warped gasket - providing in case it's any help in finding / fabricating a replacement
From an old pharmacy in Easthampton, MA. Circa 1950s to 1960s
Unit weighs approx. 70 lbs + 20 lbs. shipping. May ship in 2 parts.

---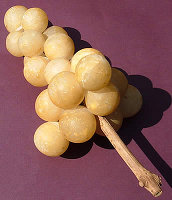 Vintage Alabaster Stone Grape Cluster - SOLD
25 grapes in this cluster wired to a natural wood (presumably grape vine) stem. Diameters between 1" and 1 3/8". Length from tip of wood stem to end of top grape is 10"


---
Vintage Unique walnut foot stool - SOLD
<-- Click image to left for more pics including how it works
What is it? --> It's a walnut foot stool
A Walnut one legged mono-pod store-in-the cushion gout foot stool to be precise.
The design of this unique footstool is deceptively simple. Whether you're a collector of footstools or just someone who likes to sit back and put your feet up, you'll be hard pressed to find another one like this. When I got this, I was told it was a gout footstool. I guess in victorian times people must have needed an excuse to relax with their feet up.
The stool is made out of 2 pieces of wood. The side with the hand hold on top and feet on the bottom is 19 1/2" tall; 12 3/8" wide and 5/8" thick. The leg rest board is 10" wide; 17 3/8" long; stands 9" off the ground. This board tapers from 9/16" at the leg side to 3/8" on the side near the sitter - Which leads me to suspect that this was made to more easily slide the stool under a cushion and out of the way when not in use.
---
Watercolor: Windmill on The Point by AA Dunham SOLD
Windmill on a point of land with a house and 2 barns and showing 4 distant ships in the ocean.
Watercolor by A. A. Dunham
11 3/8" X 3 3/4"
gold frame & gold mat. There appear several spots on the mat that may or may not just be dirt on the back side of the glass.
The frame is chipped on the corners. 17 3/4" X 10 1/4"
---
Vintage lot of paper labels for drug store pharmacy apothecary bottles -SOLD
Large early lot of paper bottle labels from a closed Haverhill, Massachusetts (Tilton Corner) pharmacy drug store. All labels are loose and not stuck together.
To give you the idea of the quantity of labels:
the largest stack "Oil of Wintergreen Synthetic" is 1 1/4"
Aromatic Spirit Ammonia is also about 1 1/4"
There is a 2" diameter roll of Sedatole labels
Several hundred labels that say " Keep this and all medicines out of the reach of children" Red label in McCourt envelope (originally 1000)
Also hundreds that say "Warning May be habit forming" in small manilla envelope
Small 3/8" stack of "According to law, this prescription can not be refilled nor copy given"
2" outer diameter roll of "After __refills, or 6 months from date of issue, this prescription can only be refilled on authority of your physician"
label roll in McCourt box - 2 1/2" diameter "For external use only"
1/2" stack of camphorated oil labels
1/2" stack of lime water
3/8" stack essence peppermint
1/4" stack argyrol solution
Miscellaneous: glycerin labels; a few syrup ipecac labels; a few paragoric; a few "shake well before using" approx. 20 "This prescription may be refilled"; one poison label; a few Rexall Sign making numbers and labels; The tiny plastic box has the sign making word "For"
S&H 2 lbs.

---
Universal Drafting Machine (.ca 1910) SOLD
Marked "Universal Drafting Machine Co. Cleveland O Patents Pending"
It moves in 2 dimensions similar to the human arm, so I'll use those terms to describe it. The arm swings almost 180°. The shoulder joint would clamp down on something near the top of the table. From its shoulder to its elbow it is 26 1/2" long. From its elbow to the end of its fingers is 33 1/2". On its wrist is stamped #55646. The hand has a nice turned wood palm-rest with nice figure and stained a walnut color (it could be walnut wood, though I can't say). The fingers / hand pivots on a compass gauge which allows precise positioning of 130°
I suppose not many people use mechanical tools for drafting these days with the advent of CAD, but this 100+ year old drafting tool is a wonderful example of late 19th century and early 20th century design and ingenuity. I'm sure someone out there will point me to a much earlier example. In fact, I'm hoping they will! - But that doesn't detract from the look and functionality of this piece in the least. While you're waiting for your commission to draft an Empire State building to add to the growing skyline of your city, hang this proudly on your wall over the drafting table. May it inspire you as it has architects of old.

---
24" Ornate Cast Iron level Ca. 1900 SOLD
Is this on the level? Hard to tell because the center bubble is gone. Someone got a replacement bubble, it's still waiting for someone to install it. The level was made to last (the iron that is). Most likely made by Starret in Athol Massachusetts. Clean it up and reset the bubble and you'll have a nice vintage working tool. - or hang it on the wall.
Dimensions: 24" X 2" X 7/8"


Candy Vending Machine (ca.1950s)- SOLD
"Selecto-Vend" One Cent Candy dispenser / vending machine.
17.5" tall, 7.25" wide, 7.75" deep (plus the 1" knob)
Flavors offerred are Hersheys, Beechnut Gum, Dentyne, Beeman's and Suchard.
One side panel of glass is gone. There is some rusting, and it is missing the key as well.

---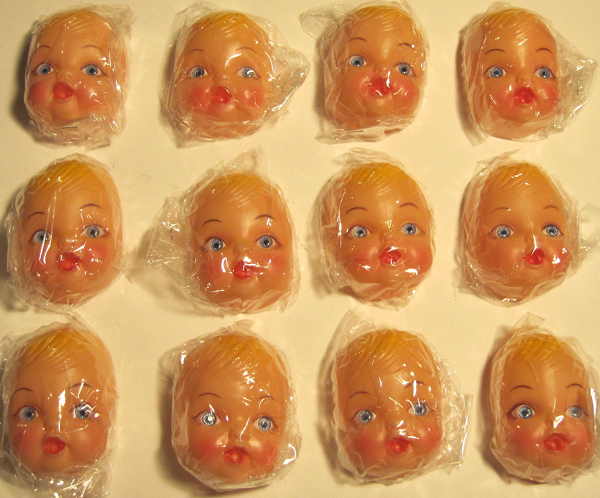 Lot of 12 New Old Stock Vintage Plastic / Vinyl Craft Baby Doll Faces & Hands - SOLD
Blond hair, blue eyes. Each with pair of hands - one hand holding a bottle. Faces measure 3" X 2" X 1 1/4" deep.
New Old Unused stock from the 1960s to 1970s. You will receive 12 faces and 24 hands.
We have had several sets of these and the photos may not be for the actual set you are bidding on, but they should be similar if not identical. Through their original plastic wrapping, they appear to be in perfect condition. Some may be marked Hong Kong on the underside of the chins. A few also have a hole under the chin or a half hole at the back.
They make cool garden art with the babies peaking up from the soil between the flowers. But you have to take them in for the winter.

---
Vintage Heinz 57 Soup Warmer - SOLD
<-- Click image to left for more pics
Selling as is - Good used condition (see pictures) - With minor wear and minor rust on underside. We don't know if it was working. We cut off the chord because it was cracked. Swing away can opener is missing. Still it's a great old Heinz advertising display piece. This came from the cellar of a drug store / soda fountain lunch counter in Easthampton, MA which closed in the late 1970s.
Model 563
Bright red bakelite knobs
1280 w. 118v. - AC
"For use only with Liberty Cup No. 56 Designed and Mfg'D by Liberty Electric Co., Inc. Indianapolis, Indiana"
19" X 13" X 13"
15 lb. Shipping Wt.
---
Twix 6' Aluminum Folding Rule - SOLD
<-- Click image to left for more pics
6' aluminum folding rule by TWIX
Made in the USA
12 6" sections
Good functional condition
Joints are not loose
Sections are straight

---
Vintage Rockwell Delta Milwaukee Wood Lathe 12x 39" - SOLD
<-- Click image to left for more pics
Iron leg stand with nice wood table, shelf and drawer. Circa 1940.
Lathe works nicely though it has some surface rust from being in my damp cellar. I last used it about 20 years ago. Currently has a 1/4 hp motor which started right up when I tested it.
The lathe bed is 48" long. The height to top of pulley is 11 1/2". Looks like it will take stock that is up to approx. 39" long.
A few tools go with it as shown in the drawer ( Click image to left for more pics).
Serial # 66 9797 indicates that it was probably made in 1948. Someone suggested that it was model 930.
Pick up only. May be able to deliver up to 50 mile radius of Amherst, MA

---
2 Vintage Meters - Knight & Triplett Ohms / Voltmeters (VOM) - SOLD
These were my father's. He worked in the electronics industry until 1970. It's been 50 years since he showed me how to use a voltmeter, so I don't recall how they work or how to test to see if they work. SO, I'm selling them AS-IS.

Triplett Model 666HH circa 1950s - Serial # 141166
Patents 2346521 & 2364724
Condition: Missing the knobs - Cracks in the bakelite casing and the glass is askew, but looks like it's intact.
3" wide X 6" high X 2 1/2" deep

Knight Voltohmeter Made by Triplett Elec. Instr. Co. Bluffton, Ohio
Dimensions of the case (not including knobs and handle): 5 1/4" X 6 3/4" X 2 7/8"
Big center knob and small metal ohms adjuster knob on left
The case (possibly bakelite as well) is in good shape.
Apparently this was a kit. The following information was provided by someone who is familiar with this item: "the only portion of this Allied-Knight (Kit) 83Y140 VOM which was made by Triplett is the actual meter movement and the scale. The bakelite box, switches, and remaining parts were from Allied or others . . . Many of these Triplett-Knight movements over time have lost enough magnet field to not be adjustable to 50ua/250mv full scale anymore."
---
Set of 4 old original vintage Rustic Country kitchen / Hardware store bin Tin handles - SOLD
Set of 4 vintage Rustic Country kitchen or Hardware store bin pull handles
Flat backed Pulls
approx 3 5/8" X 1 1/2" x 3/4" deep
3" on center holes
These came from an old hardware store in Easthampton MA in the 1970s


These antique primitive cup bin cabinet drawer / door pull handles - would be great for restoration. I have also seen them mounted upside down for dry flower arrangements or to hold / display small items.
---
Antique Electric Pelton Air Compressor - SOLD
This Pelton compressor looks to be in good original condition with the exception of the broken (and missing)casting piece shown in the detail ... next to the stencil that says "Automatic Pelton Switch". While I once tested the motor with a temporary chord, I am selling it as is. As you might expect, the wiring is brittle. I know very little about compressors, but there does seem to be compression as it cycles through.
Pelton & Crane has been in business since 1900. Their products were built for use by dentists ...

---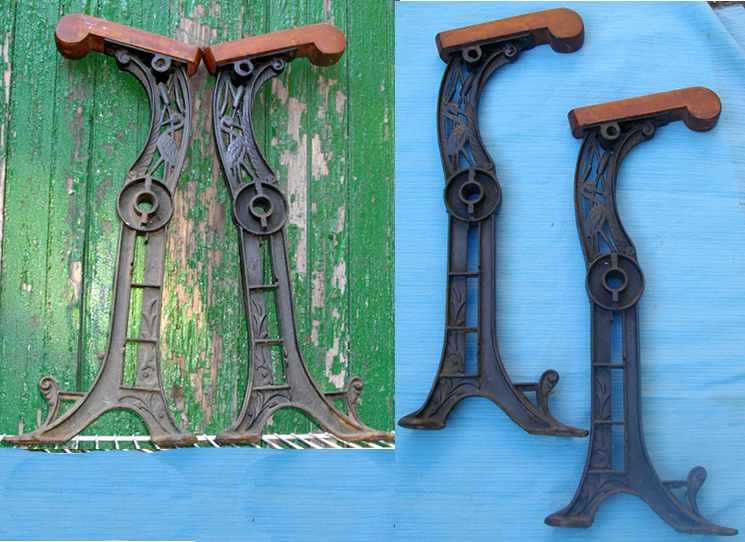 2 Cast Iron Theater Seat Legs featuring Herons - SOLD
One pair of cast iron legs with wooden arm rests (possibly maple) are all that we have from some long lost theater. The upper part of the casting features a heron or stork (or other long legged water bird) standing next to a cattail. There is a leafy design near the base of the legs. Now that the home theater is replacing the movie theater, these are just the thing to extend your home's ambience. But don't forget the popcorn!
Height: 24" Length of the foot: 9 5/8"
Shipping weight 18 lbs.

Vintage 1940s to 1950s Embroidered Blue Denim Gas Station long Jacket - Size 44 SOLD
<-- Click image to left for more pics The label reads:
Star Mfg. Corp.
Yarick Ave. Bklyn, (Brooklyn) NY
Overall Uniform * Industrial Uniforms * Overalls
Sanforized Shrunk
Size 44

Ray is embroidered over front top left pocket. Embroidered on the back on 3 lines it says "Pines Service | Ray Labbee | Northampton Mass"

It looks like after Ray retired the jacket from the garage, he painted with it. The snaps and the belt buckle have rusted, 3 of the snaps still function. The other 2 tore off the jacket. The jacket has rust spots and holes. This workwear jacket has been broken in, so you won't have to do the heavy lifting. The jacket has 3 pockets as well as slits for reaching your hands to get into the pockets of inner clothing.



---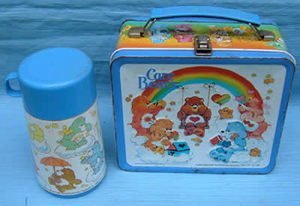 Vintage 1983 Care Bears Metal Lunchbox by Aladdin w/Thermos - SOLD
In good used condition. with a few scratches and a little metal showing through
©MCMLXXXIII American Greetings Corp.
Aladdin Industries Incorporated, Nashville Tenn USA 37210

---
Vintage 1984 Transformers Plastic Lunch Box - SOLD
"The TRANSFORMERS"
"More Than Meets The Eye!"
"©1984 Hasbro Industries, Inc. All Rights Reserved"
"Aladdin Industries Incorporated, Nashville, Tenn. USA 37120"


Label still firmly attached. Slight wrinkling at the edges.Used condition.



---
Vintage Sailing Ship Round Hooked Rug (Chair Pad) SOLD
13" diameter. This old antique nautical theme chair pad was most likely made in the early 1900s. The edges are fraying as you can see, and we are selling it "as found". The edge desperately needs binding. Pictured here are the view of top and bottom.
---
Click to see books that we've sold in the past
---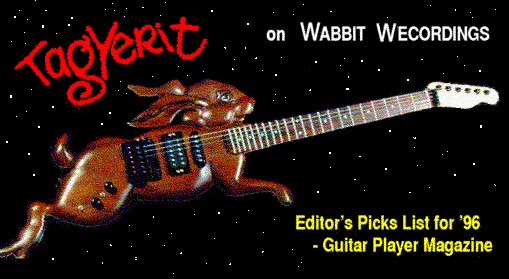 Click the Guitar to hear TagYerit's music.
Click here to fully explore the tagyerit.com pages
---
Whether you'd like to say hi; make a request or a suggestion; discuss the use of any of these images; swap links; we'd love to hear from you!
To contact us please type in the email address shown in this image.

My website moved and I haven't figured out how to get the forms working yet.
We never disseminate email information. We are ever mindful of the privacy needs of our friends.
All text and images ©1998 - 2021 R & F Newman TagYerit.com except where noted.