Antique & Vintage Jewelry & Clothing for sale
---
Items on this page are set up to accept paypal and include S&H to anywhere in continental US. Contact us for any questions or to discuss other possible options.
---
S&H is listed with each item on this page for US standard postage. If you would like insurance and other that will be extra. Contact us for more options.
---
Necklaces
---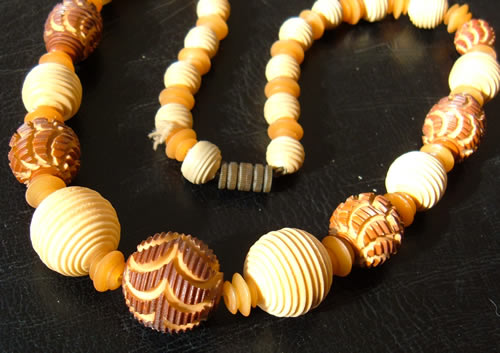 Unusual vintage carved nut beaded necklace $59.00 incl. S&H
Carved from nut also known as "vegetable ivory". Very detailed beautiful and precise carvings. The amber colored spacer beads that have some translucence. We don't know what the material for the amber beads are. Barrel clasp.
17" long (opened out end to end)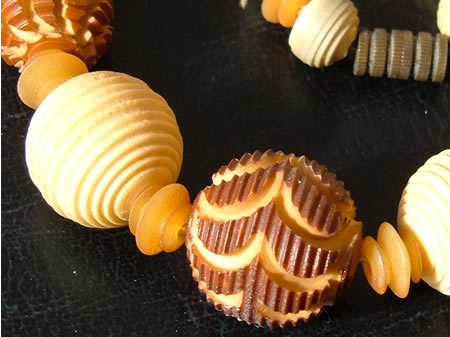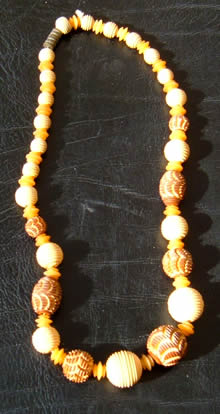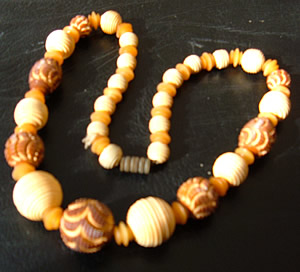 ---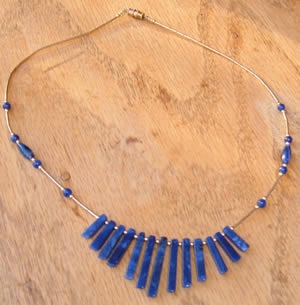 Lapis Necklace with Gold-toned Beads $15.00 includes S&H
- Shaped and tapered lapis stones range in length from 1/2" to 1 1/8" as well as lapis beads.
- The necklace is 17 3/4" long with long gold toned beads.
- Closes with barrel clasp.

---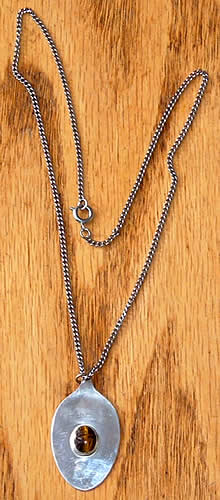 Sterling Spoon Necklace Pendant with tiger eye scarab in bezel - SOLD
Marked Sterling on back. Length of spoon is 1 1/2", with a 17" chain.

---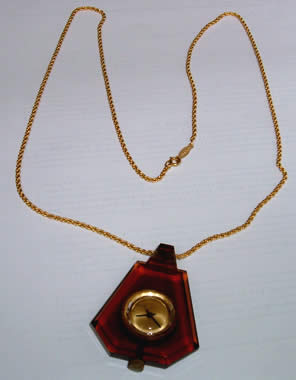 Vintage Amber Colored Lucerne Watch Pendant $18.00 includes S&H
The amber color of the bevel plexiglass, sets off the satin gold colored watch face which is wreathed in a row of diamond shaped faceting. The face says "Lucerne" and Swiss" and the back says "All Plexiglass Case". Considering the fact that they are proudly declaring the material, I'd guess that plexiglass was still a relatively new product. Plexiglass was first used in the late 30s. My guess is that this piece if from the 1950s. You can clearly see the watches insides through the back. The clasp on the 28" gold colored chain says "Napier".
Watch is 2" tall and 1 1/2" wide.
The watch is not currently working. We are selling it "as is".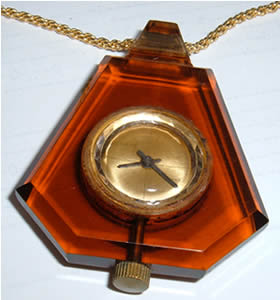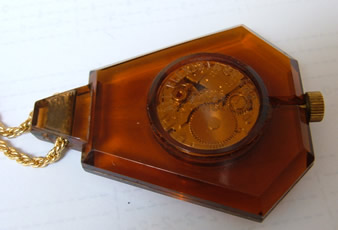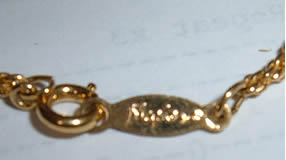 ---
Bracelets
---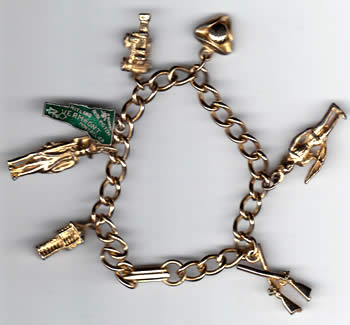 Vintage Gold toned charm bracelet with enameled sterling Vermont-shaped state charm $21.00 includes S&H
ca. 1950s - 1960s
Colonial era Historically themed
The gold tone charms are:
- colonial guard
- canon
- a tri-cornored hat
- a native american with bow and arrows; crossed rifles
- log fort guard house. State of Vermont charm is marked "Sterling" - The mark also has a little warrior figure - Green enamel charm lists "Vermont, Rutland, Montpelier, Burlington, Quarry (picture of machinery) " Also depicts a tree being tapped for maple syrup and little figure carrying the sap buckets. 3/8" x 3/4"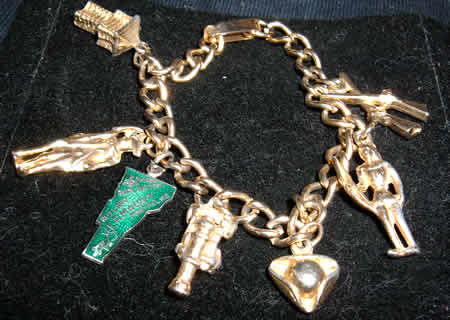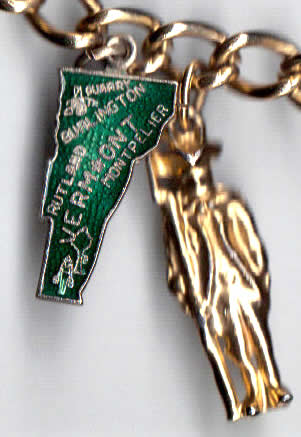 ---
RINGS
---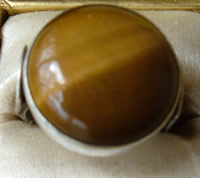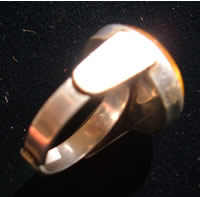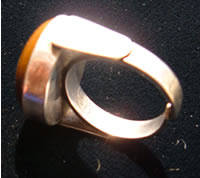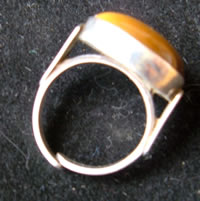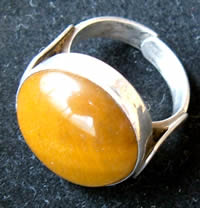 Heavy Sterling Silver Tiger Eye Ring $28.00 includes S&H
Striking large round tiger eye heavy sterling ring marked "Israel .925"
adjustable back currently at size 6 1/4 (approx.)
Stylized modern setting
stone is 11/16" (17cm) diameter
---
Pins & Clips
---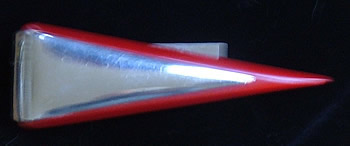 Art Deco Red Bakelite & Chrome Signed Triangular Clip $33.00 (includes S&H)
Signed B. Blumenthal Co. Design Reg.
2 1/2" x 7/8"
Most surfaces show slight age scratches
This sleek isosceles triangle design is reminiscent of a rocket ship ready to take you on new adventures.

---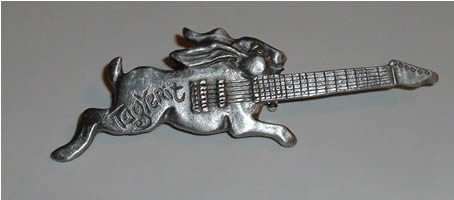 New Pewter Rabbit Guitar Pin - TagYerit - $18.00 includes S&H
Perfect for pin collector's ... rabbit loving guitarists to add to their guitar straps ... rabbit fanciers who can't get enough items to remind them of these wonderful furry friends. ... Also for those who wonder what Easter rabbits do on their off time when they're not painting and distributing eggs.

New Pewter. Made by Spoontiques. Not an antique, but certainly destined to become a collectible. These were commissioned by the band TagYerit from Spoontiques of Canton MA - a limited run of 200 in 1998. There are a small number left. TagYerit has a signature rabbit shaped guitar, which you can see on the band's website tagyerit.com and this casting was made for other rabbit lovers who also love guitar.
The pin you are bidding on may not be the one used for the photo.
3 1/8" long
---
Buttons
---
Sterling & Turquoise Button Cover - R. Coriz (Native American) $23.00 includes S&H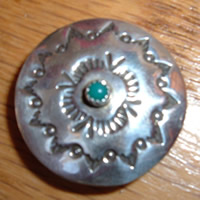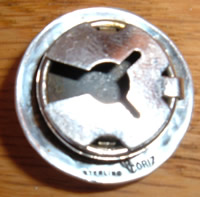 7/8" Diameter
This button cover is sterling with a turquoise stone set in a bezel. It is signed "R. Coriz", a southwest Pueblo artist
---
CUFFLINKS
---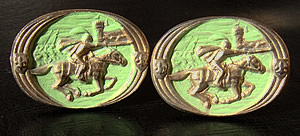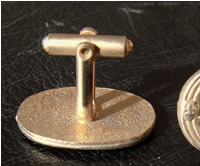 Pair Charging Lancer Knight Cuff Links $19.00 w/ S&H
Wonderfully detailed casting on each cufflink shows a knight charging, with his lance thrust forward and his cape & feathered helmet blowing back ... his trusty steed in hot charging pursuit. A castle is visible on the background. Also in the background are 2 horsemen carrying their banners. All that on a 3/4" x 1 1/8" ovate cast metal cufflink. On top of that , there's a theater mask on either side of the bordered curtain. Probably early 1960s.

Never used. We bought these from a pharmacy in Haverhill MA 25 years ago where they had been in the back room for years.
---
EYEGLASSES
---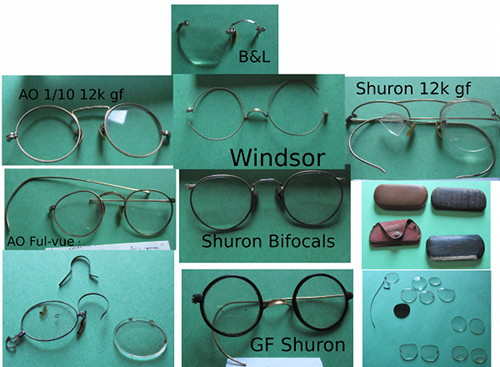 Antique Gold Filled Eyeglass lot - 8 partial frames etc. As Is - $120.00
<-- Click image to left for more pics S&H included for US sales (all others contact us first)
1 Shuron Bifocals (no temple arm pieces) - Very fancy herringbone type embossing around entire rims and bridge - as well as 'beaded-type- embossing trim around lenses. Can't read other stamping, but looks to be g.f.

1 Windsor frame (no temple) - gold colored - Almost looks like there's an 'e' after the 'Windsor'. don't see any other marks

1 AO (American Optical) 1/10 12k g.f. - frames, no temple, 1 lens - fancy embossing and beading around entire glasses & on the bridge as well as on hinges. Interesting shaped bridge.

1 AO Ful-Vue (1 1/2 temple, 2 lenses) - frame, bridge and wire hinge all have a beaded embossed trim. On the bridge it says Ful-vue AO and then a mark that looks like top and left sides of a square with maybe a '6' inside. Color appears to be g.f.

1 B&L (Bausch & Lomb) 1/10 12k (does not say g.f.?) - bridge, 1 lens and hinge - silverish color. Beautifully engraved deco designs plus beaded edging. Hinges have a leaf design and beaded edging 1 Shuron ** 1/10 12k g.f. - 2 temples, broken lenses - embossing design on upper 1/2 temples (ear wires) and on the hinge that holds them. Also says "44 long" on one side and " Shurset Aimway Ful-vue" on the other (we think)

1 Shur-on g.f. black rims - 1 temple 2 bifocal lenses - Cool round black rimmed glasses - reminiscent of Jon Lennon and Teddy Roosevelt

1 Lorgnette - steel - missing 1 eyeglass rim . . .

13 unattached eyeglasses & 1 temple and 1 metal scrap (3 pairs, 1 is colored)

4 cases

View 12 pictures here, plus see all 33 pictures visit this picasa album.



---
---
SOLD
---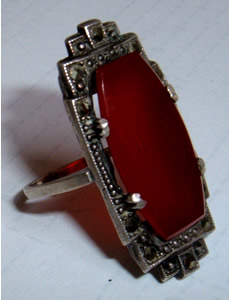 Vintage Carnelian Marcasite Sterling Ring - SOLD
The ring is about 5/8" diameter. My guess is that it's between a 4 1/2 to 5 1/2 ring size.
The carnelian is a beautiful shade when held to the light. The setting is raised - it almost seems to float -so that the stone can capture some of that light.
Deco-style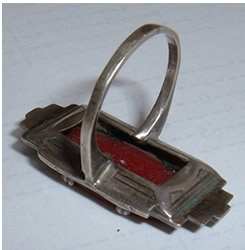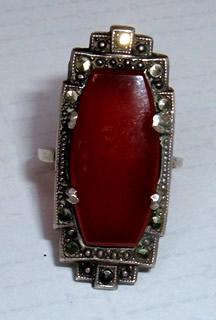 ---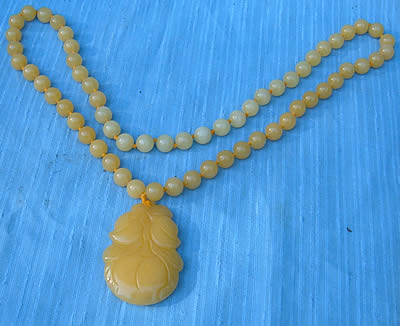 Vintage Necklace of Yellow Dyed Beads & Fruit/Leaf Pendant - SOLD
Old beautifully hand-knotted necklace with carved(?) pendant. Pendant is 2 1/4" x 1 1/2" with a stylized fruit and leaf design on both sides. 3/8" Beads are approximately 27 1/2" length not including pendant.
The design is similar (mirrored) on other side of pendant.
6 oz.
We don't know what it's made of. The color is lighter on the top of the necklace as you can see in the photo

p.s. I never should have shot this on a blue background - sorry!



---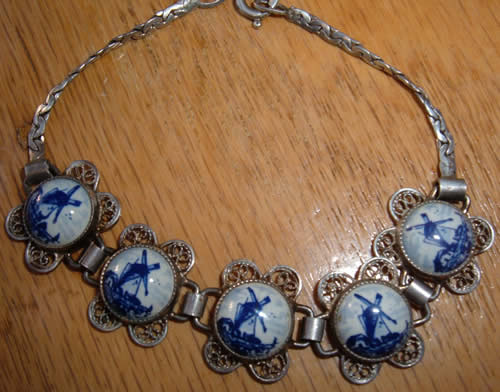 Vintage Hallmarked Delft filigree bracelet - SOLD
The bracelet has 5 delft windmills (3/8" diameter) each surrounded by rope filigree. The bracelet is 7".
The flattened clasp ring has a sword mark on one side that looks like a sword or saber, and the other side says"GB5" and then there's a number 2 inside of an oval that has a loop on either end. Unfortunately it's too small for my camera to get a picture. I've indicated in the 2nd picture where it's marked.
---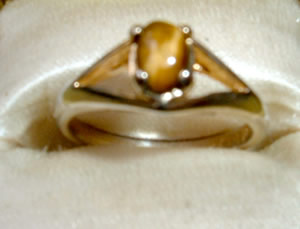 Elegant Tiger Eye Gold Toned Ring by Uncas - SOLD
Marked: "U" with arrow through it (arrow points to left). Looks to indicate Uncas Manufacturing which began in 1920.
Uncas delicate gold toned ring
elegant open backed setting
oval tiger eye 1/4" ( 6 cm)
Ring size = approx. 4 1/2
---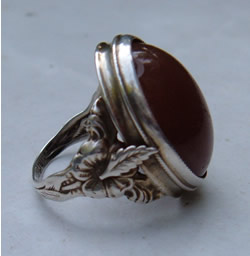 Vintage Sterling & Carnelian Ring SOLD
A beautiful floral silver setting on the side. Yet the design still maintains an overall simplicity based on the large oval stone. The stone itself changes color in various light from a rosy sunset hue to a sienna amberish color. The silver bezel has quite a bit of depth to it, which helps reflect the stone's light from the open back even more.
size of stone & bezel - 3/4" x 7/16" (approx. dimension of the visible part of stone)
Approx. Ring size - 5
(aka cornelian)
---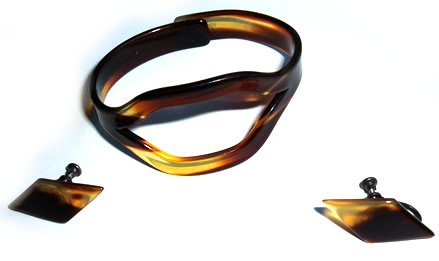 Celluloid tortoise shell bracelet & earrings SOLD
Vintage 'tortoise shell' celluloid bracelet & earring set.
The elegantly shaped bracelet is marked "France" on the back. It measures 2 1/4 inches across the widest diameter. The front design part is 1 1/8" tall. The diamond shaped earrings have screw posts that are marked "sterling T2", and they are 1 1/8" and they are 1 1/8" from tip to tip.
---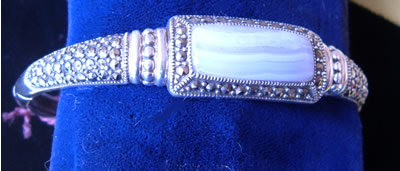 Sterling, marcasite, and Lace Agate Bangle Bracelet - SOLD
Beautiful lace agate rectangular stone has slight white & lavender toned striations. - 7/8" long
The silver rectangle around the stone is 1 1/8" x 9/16"
The inside diameter of bracelet is 2 1/2" x 2 1/8"
Hinged bracelet has a push-to-release clasp and safety keeper chain.
Marked "A925 Thailand"
This bracelet is approx. 10 to 15 years old but was never worn.
Original tag says:
"Victoria Crowne & Co. All Victoria Crowne & Co pieces are stamped 925, the hallmark of fine sterling silver jewelry. All of our semi-precious stones are genuine and, like the marcasite stones, are set by hand. ..."
weighs approx. 1 oz. (weighed on kitchen scale)
---
SOLD
Vintage Cinnabar carved rectangular pin
Marked "China" on metal backing (silver color with some copper color showing through). This has some real age to it. It's surrounded by 3 different sizes of rope twisted trim.
Dimensions - 1 7/8" x 1 1/8"
Lovely high relief carving of blossoms & leaves in deep rich reddish tones.
---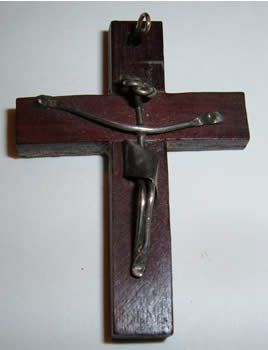 Unusual Old stylized Silver & Wooden Crucifix - SOLD
There are no marks, but I'd guess this artistic rendering of Christ to be of silver. The cross looks to be made possibly of rosewood or walnut.
---
Please e-mail rich@tagyerit.com for more information.
By the way, the sellers have been on the web since 1996 sharing their music as the band TagYerit (tag you're it).
Occasionally, we add an item or two, so do check back. At one time, we worked full time in the antiques business, and it's true that you're never really cured. If you're looking for something in particular drop us a line, and let us know.
---