Folk Art items for sale
---
Vintage Brinquinho, Folk Art Musician Puppets - Castanet Rattle - $95.00
<-- Click image to left for more pics S&H included for US sales (all others contact us first)
5 Wonderful old percussion dancers with castanets on their backs jingle and make lots of happy jingling noises. Each cheerful reveler is approximately 6 1/2" tall. Some have lost parts of their faces. They're made from wood, cloth, plaster, bamboo, reed, metal, bottle caps etc.
Clever, easily operated mechanical up and down movement which makes the musicians dance and bow. Each musician is a unique character with interesting painted facial characteristics, jewelry, clothing etc.
Traditionally used in the Madeira, Portugal folk dance, the Bailinho da Madeira. We bought these in the early 1970s and they already had some age. But whether from the 1950s or much earlier I couldn't say. Recycled materials were used in this including bottle caps for rattling.
The person who sold it to us said he thought it was from Peru, but I recently discovered it's a brinquinho, an instrument from Madeira.
Overall height is 24 "
Approximate width is 12"

Click here to View a youtube video of the rattle.



---
Vintage Folk Art Wooden Windmill Wall Sconce Lamp - $35.00
<-- Click image to left for more pics S&H included for US sales (all others contact us first)

A great little piece of cottage type decor. The blades of the windmill spin with a light touch. Reminiscent of whirlygigs.

Small wooden windmill mounted on a shield shape. Holds the sconce. The socket cover sleeve simulates a candle. Ideally it would have had a flame shaped bulb, though some of the compact fluorescent bulbs have a funny and possibly compatible shape. Needs to be rewired.

DIMENSIONS:
Shield back 6 3/4" X 4 3/4"
Depth - 7" from wall to front rim of the bobeche
Overall height - bottom of shield to top of 'candle' sleeve approx. 9"



---
Very Old Wooden Whirlygig Windmill / Lighthouse - $59.00
<-- Click image to left for more pics S&H included for US sales (all others contact us first)

One of the blades and the tail is missing, but the tail might have been shaped like a cloud with the name of a tourist location painted on it. (see example) - The ones we've seen usually are from Massachusetts which might have said Cape Cod or Nantucket.
These pieces could easily be made to bring it back to functioning shape, or just set it on a shelf as a sweet folksy ornament.
5 1/4" wide span of blades
Height from table to top of blade socket (without fan blade) 5"
Base is 2 5/8" X 2 5/8"



---
Vintage Long Narrow Handmade Macrame Wall Hanging - Signed 1971 Boho - SOLD
<-- Click image to left for more pics
Macrame hangs on a molding strip 15 1/4" long. Stamped on the back F Polansky Salem 1971
It's made from naturally colored baling (bailing) twine, which is most likely sisal. Has some fraying. The strands can be left as is, or trimmed.
Would be great to add bohemian flavor to that small wall or corner space.
Approximately 10" wide X 60" long (from molding to bottom)
11" from top knot to cross piece.
1 lb. (3 lb. shipping)

---
Vintage Slide Projector - Homemade electric - $74.95 incl S&H
We like to think that this homemade slide projector is the "Missing Link" - bridging the gap from the early tin candle powered magic lantern projectors to the slide projector we know today. The early magic lanterns projected delicate images that were often hand painted on glass.
This is unique and very homemade.Very ingenious! We picture someone very resourceful heading for their workshop - a piece of an old wooden prune box, a part from an old brass flashlight holding the front lenses (it took us a few minutes to figure that out!), and so on. How many hours of tinkering ... then voila! - a light show for the family. This is a really nice example of shop "folk art."
Details above:
Left - the brass flashlight tube, with the holes where the switch had been
Right - There is still a paper label on the upper left corner of the large lens which says "France". This is also a pretty good shot, showing the construction of the slide holder. The slide opening measures roughly 1.5"x1.5"
The 2 pictures below show a detail of the inside where the embossing from the tin has the letters "Keys ... Copper". I would guess that the first word was Keystone, although I have no idea what it might have been scrounged from.
Needs to be rewired!
It measures 6" wide, 14.5" long, and 7.5" high.
---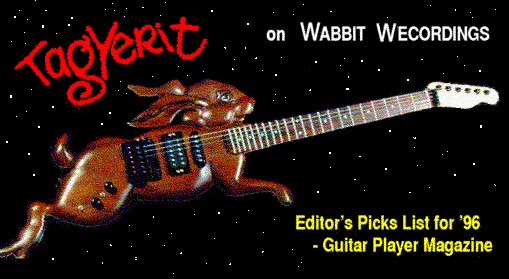 The sellers have been on the web since 1996 sharing their music as the band TagYerit (tag you're it).