Old Books for sale
---
S&H is free for all books mailed in the continental US via USPS Media Mail. Contact us for more options.
---
First Edition Surgical Anatomy by Joseph Maclise 1851 68 Color Plates $995.00
<-- Click image to left for 123 pics
S&H and insurance included for US sales only. All others contact us first.
Published by Blanchard & Lea, Philadelphia
156 pages
15" X 11 1/2"

Condition: I replaced the spine to help keep the book together, but left the pages loose and detached. The edges of many of the pages are brittle and there is some discoloration throughout. You can see photographs of all the plates as well as an assortment of other pages to show the condition at Picasa

It's safe to say that this book has been used to save lives and improve the health of the people who were treated by any owners of this book. There is only one owner's name within the pages. If my research is correct, he was probably not the first person to use it. This copy was owned by James A. Somers MD, who has marked his name on various pages as well as his bookplate. I found one James A Somers, born in Norwich CT in 1860 who got his degree from Long Island in 1893.

I found the following quotes online from the author. I did not read the introduction to see whether these are from this introduction, but I found his description enlightening.
"The object of this work is to present to the student of medicine and the practitioner removed from the schools, a series of dissections demonstrative of the relative anatomy of the principal regions of the human body. Whatever title may most fittingly apply to a work with this intent, whether it had better be styled surgical or medical, regional, relative, descriptive, or topographical anatomy, will matter little, provided its more salient or prominent character be manifested in its own form and feature. The work, as I have designed it, will itself show that my intent has been to base the practical upon the anatomical, and to unite these wherever a mutual dependence was apparent.
"illustration by figure is a medium by which this subject may be presented to the understanding in more vivid reality than it can be by any mode of written description."
"An anatomical illustration enters the understanding at once in a direct passage, and is almost independent of the aid of written language. A picture of form is a proposition that solves itself. It is an axiom encompassed in a framework of self-evident truth."

There is some confusion online as to the actual year of publication, but a review of the book for The American Journal of the Medical Sciences Volume 23 (Jan. 1852) clearly states that the 1851 Philadelphia publication had 68 plates. It seems that Maclise did also release a folio in 1851 with 35 plates that was published in London.



---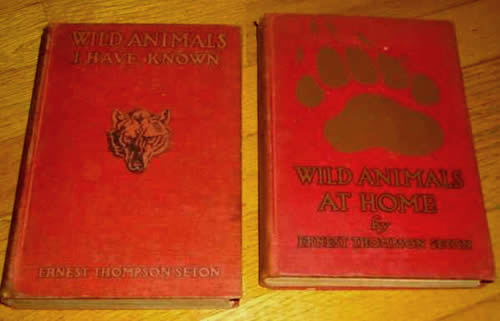 2 Wild Animal books by Ernest Thompson Seton $22.00
Wild Animals I Have Known 1916
Wild Animals At Home 1913
by Ernest Thompson Seton (Naturalist to the Government of Maintoba)
Grosset & Dunlap NY

Each book is 5 3/4" x 8" in red cloth / board - books are in good clean condition

S&H included for US sales (all others contact us first)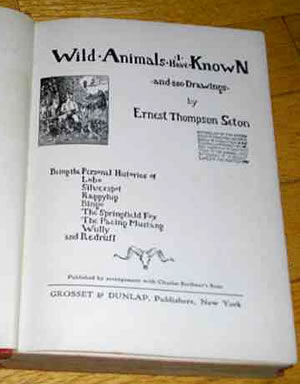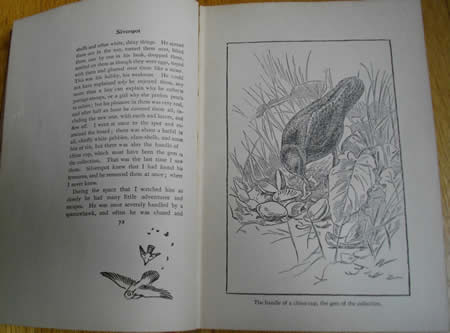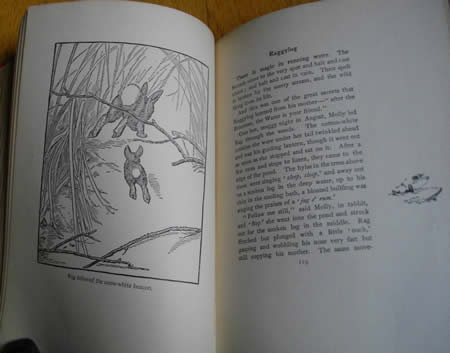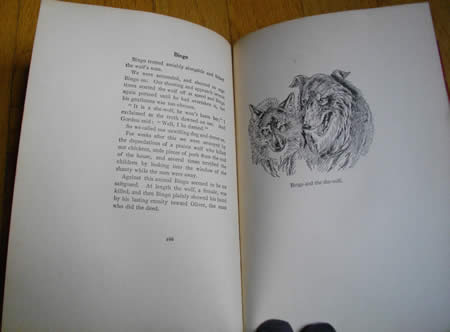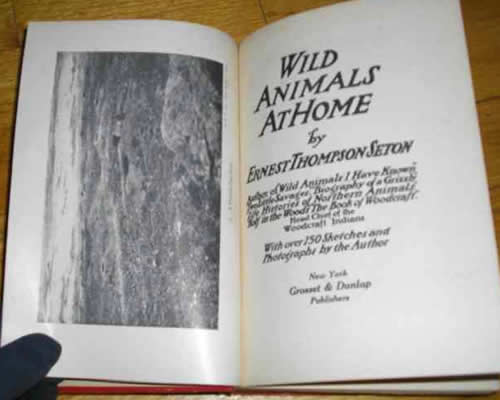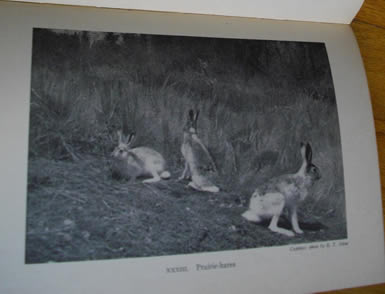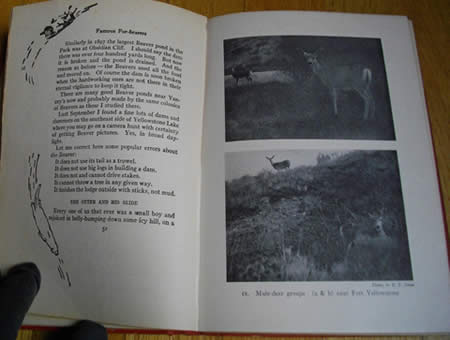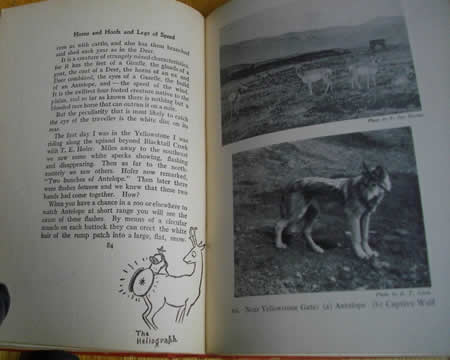 ---
1911 American Medicinal Leaves and Herbs by Alice Henkel - $18.00
<-- Click image to left for more pics S&H included for US sales only. All others contact us first.


Published by the US Dept of Agriculture Bureau of Plant Industry - Bulletin # 219
by Alice Henkel Assistant Drug Plant Investigations 1911
Descriptions with photo illustration of 36 plant found in the U.S. - includes their common names, habitat and range, description, collection, uses and price per pound value. Plants: sweet fern; Liverleaf; Celandine; Witch-hazel; American senna; Evening Primrose; Yerba santa; Pipsissewa; Mountain Laurel; Gravel plant; Wintergreen; Bearberry; Buckbean; Skullcap; Horehound; Catnip; Motherwort; Pennyroyal; Bugleweed; Peppermint; Spearmint; Jimson weed; Balmony; Common Speedwell; Foxglove; Squaw vine; Lobelia; Boneset; Gum plant; Canada fleabane; Yarrow; Tansy; Wormwood; Coltsfoot; Fireweed; Blessed thistle
Condition: Good clean condition
Size:5 3/4" X 9 1/4"
56 pages




---
1908 Gray's New Manual of Botany - Leather Bound $23.00 incl. S&H
<-- Click image to left for more pics
Seventh Edition Illustrated copyright 1908
soft leather cover
A Handbook of the Flowering Plants and Ferns of the Central and Northeastern United States and Adjacent Canada
American Book Company
926 pages
4 3/4" X 7 1/2"
condition: fair to good - pages are clean. The spine is worn and fraying - the back hinge is weak.

---
Botany for Beginners: by Mrs. Almira Phelps 1833 - $28.00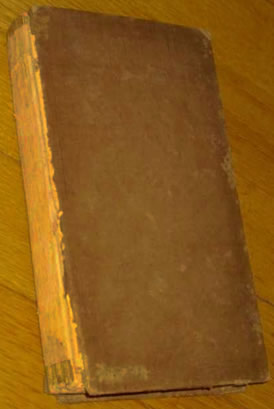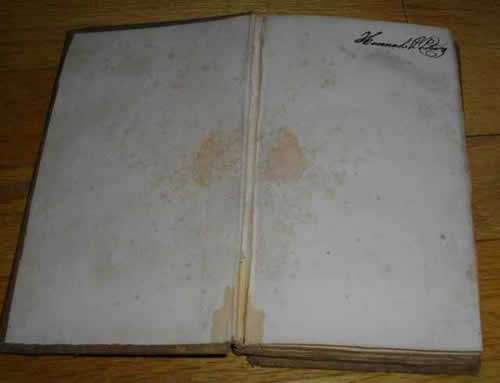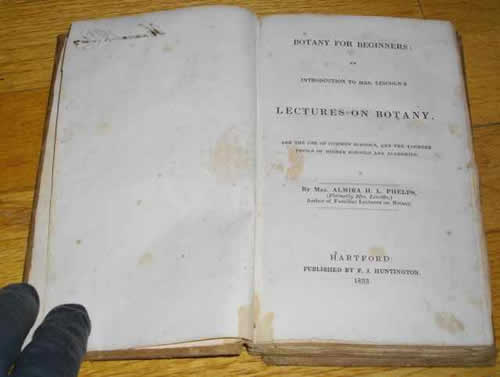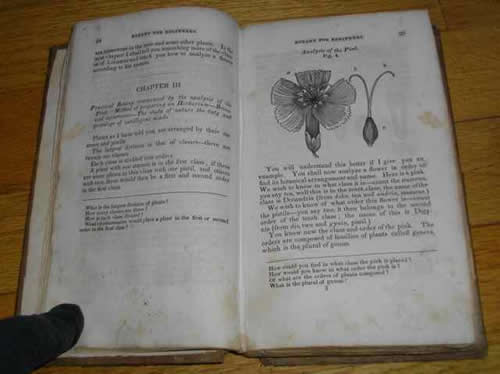 Botany for Beginners: An introduction to Mrs. Lincoln's Lectures on botany. For the use of common schools and the younger pupils of higher schools and academies
by Mrs. Almira Phelps (formerly Mrs. Lincoln)

Published by F.J. Huntington / Hartford
Nicely illustrated with engravings
1833 edition 256 pages
4 1/8" x 7"

CONDITION: Fair - the outer binding is shot - the cloth board book is rough as pictured - there's foxing and staining throughout.- consistent with what you'd expect in a very old school book..

S&H included for US sales (all others contact us first)
---
Elementary Physical Geography by Ralph S Tarr - $29.00
<-- Click image to left for more pics S&H included for US sales only. All others contact us first.


Description: Hardcover - The Macmillan Co. 1896 (reprinted March, July 1896 - My assumption is that this makes this 3rd printing)
100s of illustrations including graphs, charts, diagrams and photographs. (see additional pics)

Contents:
Part I. The Air.
Chapters I through VIII: The Earth as a Planet; The Atmosphere; Distribution of Temperature; General Circulation of the Atmosphere; Storms; The Moisture of the Atmosphere; Weather and Climate; Geographic Distribution of Animals and Plants

Part II. The Ocean
Chapters IX to XI :Form and General Characteristics of the Ocean; Ocean Waves and Currents; Tides.

Part III. The Land.
Chapters XII to XXIII: The Crust of the Earth; Denudation of the Land; Topographic Features of the Earth's Surface; River Valleys; Deltas, Floodplains, Waterfalls, and Lakes; Glaciers; The Coast Line: Plateaus and Mountains; Volcanoes, Earthquakes, and Geysers; The Topography of the Land; Man and Nature; Economic Products of the Earth

APPENDIX I through IV.
Meteorological Instruments, Apparatus, and Methods; Topographic Maps; Suggestions to Teachers; Questions upon the Text 453

Condition: fair to good - some water staining on end papers, but inside is clean. Owner's name penciled in on front end paper. Back cover is separating at spine.
Size:6" X 8"
xxxi + 488+ 8 (publisher's ads) pages




---
The People's Medical Adviser by R. V. Pierce M.D. 1895 - $24.00
<-- Click image to left for more pics
S&H included for US sales only. All others contact us first.


Description: Paperback edition 1895 Printed and Published at the World Dispensary Printing Office Buffalo NY, which was part of Pierce's empire including manufacturing and sales of patent medicines, machinery and an invalid hospital. The book contains over 500 illustrations plus the photos & drawings in the Testimonials which could be 100 pages of this book. Fascinating look at medicine, and nostrums for late 19th century in America. As well as what might be considered state of the art knowledge are some pretty far fetched notions which have long been debunked.

Condition: Good condition - some water stains - some creases on paper cover. This book is in original condition. I noticed that it was mis-bound. At page 192, it skips back to page 161 thru 192, and then continues at 193. I didn't count the pages. I did not see any missing pages, though I did not count them, but it seems to be all there. See the pictures for an idea of the condition as well as the author's scope. Check out the following website for more about Pierce and his legacy.
Size: 5" X 8"
1008 pages




---
Paypal is the quickest, easiest, and securest way to buy, including credit card payments. Just click the 'Buy Now' Button next to the item you want.. Otherwise please contact us for more options.
S&H is free for all books mailed in the continental US via USPS Media Mail
By the way, the sellers have been on the web since 1996 sharing their music as the band TagYerit (tag you're it).
---