Old Books for sale
---
S&H is free for all books mailed in the continental US via USPS Media Mail. Contact us for more options.
---
1916 Webster's New International Dictionary of the English Language - $55.00
<-- Click image to left for more pics
S&H included for US sales only. All others contact us first.

Description:
India Paper Edition (By using thin Indian paper, they were able to offer this 2,620 page dictionary at approximately half the thickness.)
Based on the International Dictionary of 1890 and 1900. Now completely revised including also a Dictionary of Geography and Biography, Being the Latest Authentic Quarto Edition of the Merriam Series
W.t. Harris Editor in Chief
Charcoal cloth over board hardcover

Condition: Cover is intact. The hinge is a little loose. Overall good condition. Clean throughout. A few pages have dog ears. The title page is wrinkled and a corner missing. I found one page that has a small bit of yellowed tape to repair an old tear. I did not notice if there were other repairs. See pictures.
Size: 12 1/8" X 9 1/4" X 2 1/2"
2620 pages



---
Walden by Henry David Thoreau / 142 Teale Photos $16.00
<-- Click image to left for more pics
S&H included for US sales only. All others contact us first.


Description: This is Edwin Way Teale's illustrated with 142 photos that he had taken in 1945. Along with an introduction to each chapter; his photographs help to annotate the context in which Thoreau worked and explored. Teale was there at the time that Roland Wells Robbins was excavating the exact site of Thoreau's cabin at Walden and so there is a photo Roland at work. The photos also present a view of the changes of the 100 plus years since Thoreau had written Walden.
Presumed 1st edition
Dodd, Mead & Company, New York (1946)
Condition: Fair condition. No dust jacket. Penciled notes. staining inside, cover is separating from book - see pictures.
Size: 6 3/4" X 10"
386 pages




---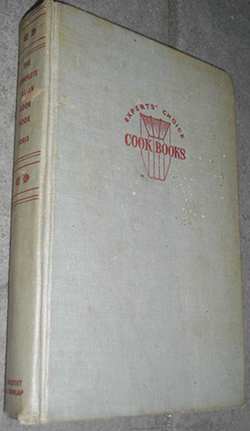 La Cucina: The complete Italian Cookbook by Rose L. Sorce - $18.00
Grosset & Dunlap, 1953. Hardcover. 362 pages. Good condition. Some foxing, several pages are dog-eared - (well it is a cookbook).
5 1/2" x 8 1/4"

This is from the book's forward:
"Unfortunately for many Americans who know Italian cookery only through the common run of Italian restaurants, this joy in a good table is not an ingredient that lends itself readily to commercial success … The good Italian restaurant is a joy indeed, but one is not always easy to find. And unless you do find one, there is only one way to get a good Italian meal, you have to prepare it at home! ... Miss Rose Source has had the good fortune to be born the joyous daughter of a joyous mother, and to learn at their source, the celebrations of the true Italian home kitchen. In THIS book, she compiled her learning for all to share! "

Chapters: Antipasto, Wines, Soups, Salads, Meats, Poultry, Fish and Seafood, Vegetables, Rice, Cheese & Eggs, Dressings & Sauces, Breads ...



---
Life, Letters, and Journals of George Ticknor - 1878 in 2 Volumes - $39.00
<-- Click image to left for more pics
S&H included for US sales only. All others contact us first.


Description: Life, Letters, and Journals of George Ticknor. Ninth edition.
Boston: James R Osgood & Company 1878 9th Edition in 2 volumes
half leather in green and brown with raised bands - and a green marbled paper on cover.
Gilt lettering on spine - gilt top edge
Marbled endpapers - Has a few images of George Ticknor and his library. (see pics)
Edited by George Hillard, and the wife and eldest daughter of George Ticknor (1791-1871)

George Ticknor (August 1, 1791 - January 26, 1871) was an American academician and Hispanist, specializing in the subject areas of languages and literature. He is known for his scholarly work on the history and criticism of Spanish literature.
This work should be an item of interest for scholars interested in complit as it pertains to pre 20th century Spanish literature.
Condition: Good Condition. Minor wear on the outer hinge joints of the spines. Very good inside, except for minor foxing in the first several pages of each. Also there is a stain left from one of the bound-in ribbon bookmarks (aka register) See pics.
Size: 6 1/4" X 8 7/8"
Vol. 1 - 524 pages. Vol. 2 - 533 pages.




---
2 Booklets concerning Massachusetts Agricultural College 1872 & 1917 - $29.00
<-- Click image to left for more pics
S&H included for US sales only. All others contact us first.


2 booklets of Mass Agricultural College - 9th Annual Report 1872 & Brief History Semi-centennial 1917 Massachusetts Agricultural College (Mass. Aggie) was a land grant college originally chartered in 1863 eventually to become University of Massachusetts by the year 1947.

Ninth Annual Report of the Trustees Massachusetts Agricultural College 1872 - The cardstock cover is a replacement.
Wright & Potter 1872
Introduction; Report on Sugar Beets Raised upon the College Farm; Report on Farm Operations; Trustees; List of Students & Graduates 1871; Budget; And a summary of the meterological Observations for 1871 - 43.5 inches of snowfall - 92.8 degr. high for the year | -9.5degree low for the year Includes an engraving of "Massachusetts Agricultural College" - R Sayer DGL (on lower left) W.H. Morse S.C. (on lower right)- showing a glass greenhouse conservatory; a mansard roof house; possibly a fountain; various other buildings lined across the back; and a cultivated field to the left.
Condition: Fair to good condition - front free endpaper has water stain. fore edge of pages becoming brittle.

Brief History of the Massachusetts Agricultural College Semicentennial 1917 by L.B. Caswell
Besides the text, there are several photographic illustrations including a view of the grounds in 1868 (which appears to be a photograph, but could be a print. It is from the exact same vantage point as the engraving in the 1872 publication but with several different details; a view of the grounds in 1917; Photographs of the first 8 College President; a photo of 6 members of the winning regatta crew of 1871and photos of 6 of the buildings.
Condition: good condition inside - there are missing chips on the cover.
Size: 5 5/8" X 8 5/8" amp; 6" X 9"
108 pages & 72 pages




---

Harvard Examination Papers Collected and Arranged by R.F. Leighton - $23.00
1873 Second Edition, 5" x 7 3/4"
Crack in binding front end paper and yellowing including a few stains. Otherwise it's ready for your use prior to taking your admission test.
From the preface: "The following questions make a complete set of the Examination Papers (except on the subject of Geometry) which have been used for admission to Harvard College since 1860. No papers on Geometry are given previous to 1866, as the requisites ofr admission to theat department were changed in theat year. The papers on Trigonometry previous to 1871 are for examination for advanced standing; since then, for admission to Course II."
I wonder how many people were accepted to Harvard based on their study of this book. The original owner's name & other information is penciled in the front page. Hard to make it out, but he wrote Class '74 so presumably he got this in time to prepare for the exam.
S&H included for US sales (all others contact us first)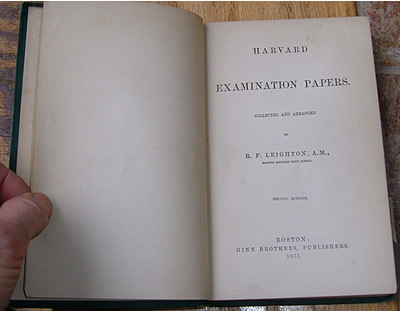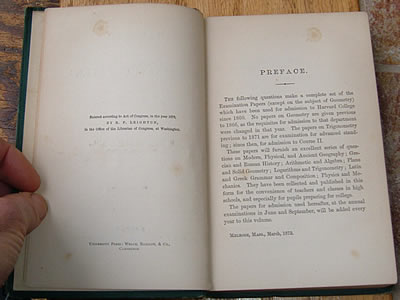 ---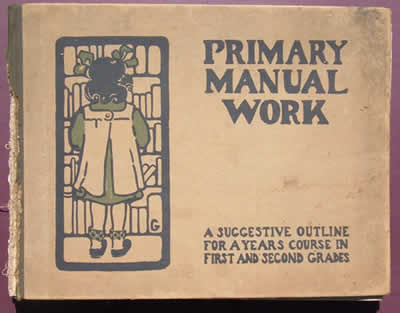 Early Primary Education Lesson Plans for 1927 in Manual Arts for 1st & 2nd Grades
Primary Manual Work a Suggestive outline for a Year's Course in First and Second Grades - $24.00
by Mary Ledyard & Bertha Breckenfeld
Springfield, MA: Milton Bradley Company 1927 (first copyright 1910)
Lucy Savage Wilson - Illustrator
Cover Design - May Gearhart
124 pages
12" x 9 1/2"
Outline of hand work originally tested and used with children in first and second grades in the Los Angeles Public Schools in 1910. Exercises are described for particular months and recommend tools, models, material requirement per pupil and "principles of design and methods of construction". There are corresponding pages illustrating the various layout and patterns, such as those pictured here. Essentially a book on lesson plans for the entire school year. Projects include making stars, hearts, birds, kites, etc. Also contains many instructions for bead stringing, paper weaving, spool knitting ...
Condition is fair. This is a reading copy. The pages are clean, but the binding is mostly missing and many pages are loose. All the pages are here.
S&H included for US sales (all others contact us first)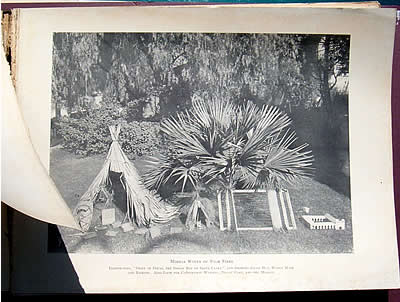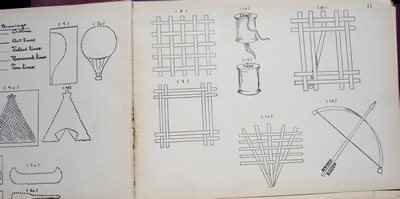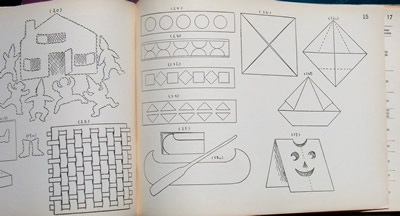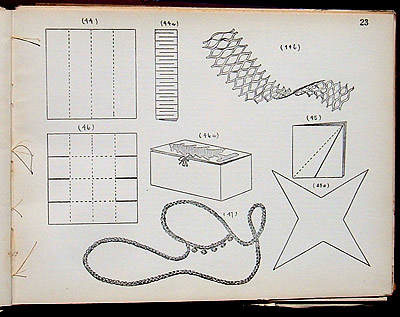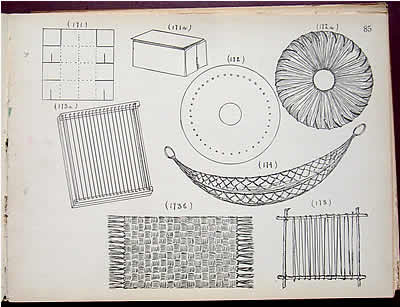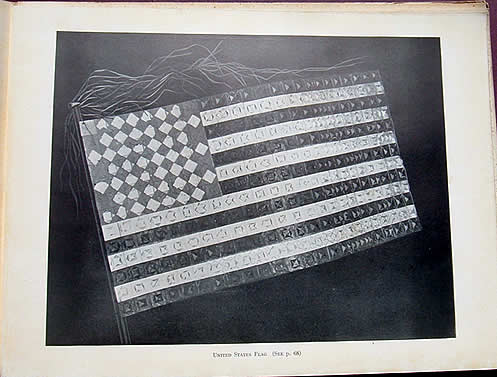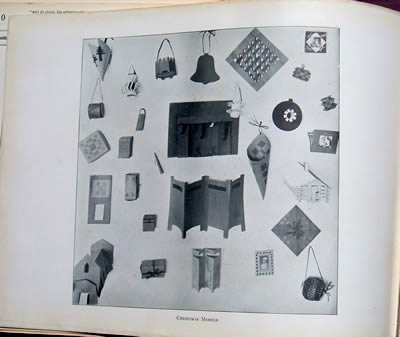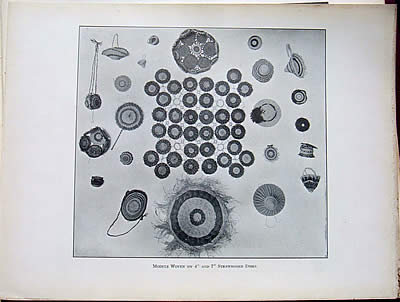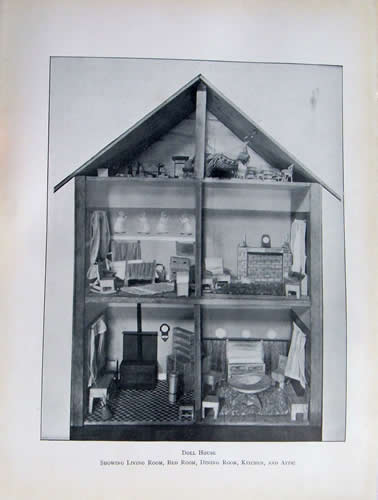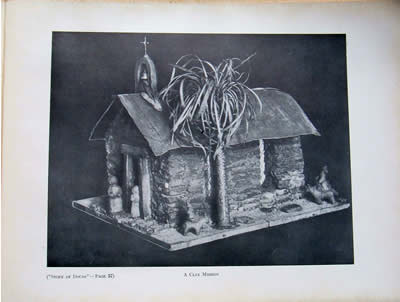 ---
The Marshallite 1931 Yearbook of John Marshall High School Richmond, VA - $85.00 incl. S&H
<-- Click image to left for more pics Owned by 1931 graduate Henry Tragle
Good condition. 8" X 11"
signatures and autographs of various students and teachers - I've provided a few sample pages.
The artwork and the clothing / hair styles are nice examples from this period of time
A web search for 1931 indicates that Judge Edmund Waller Hening, Jr. a noted Henricoan graduated that year, though I didn't find him in a cursory glance through the yearbook.
The Carter sisters attended John Marshall High School later in the 1940s
The high school building of this period was closed in 1960 and demolished in 1962

---
1900 Paragon Autograph Olive Velvet Album Lancaster Academy - $35.00
<-- Click image to left for more pics
S&H included for US sales only. All others contact us first.


Description: Antique vintage autograph book - Olive velvet Owned by Warren Halliston. 21 signed entries between May 15, 1900 to September 23 1900. This includes Warren's calligraphic writing on first page Another 2 entries are from a much later owner.
South Lancaster Academy is a Seventh Day Adventist academy in Massachusetts that opened in 1882 and still exists today.
Condition: Pages are clean, but binding is weak
Size: 5" X 7 3/4"
90+ pages




---
1914 Bradford Academy Annals Yearbook $29.00
<-- Click image to left for more pics
S&H included for US sales only. All others contact us first.
Bradford Haverhill, MA
Tuttle Company Publishers Rutland VT
In 1914 Bradford was a High school for women
Faded Red Cloth
According to wikipedia, Bradford went through different incarnations in its 197 year history (1803 - 2000)
The 14 pages of ads includes a half page ad of Jordan Marsh Company.
Condition: Good condition. Some fading and staining on cover. Inside is clean except for staining on first several pages (see pictures accessible by clicking the picture of the 1913 Women's Basket ball team.
Size: 7 1/2" X 9 1/2"
90 pages + 14 pages of ads.

---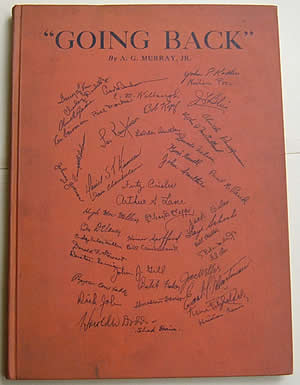 "Going Back" by A.G. Murray Jr 1933 Princeton Tigers Undefeated Season $48.00
First Edition January 1934 Cloth hard cover
41 pages
Going Back (Undefeated football team and season of 1933) by A. G. Murray,
Jr. Privately printed at the Princeton University Press, 1934
8 5/8" x 11 3/4"
Essentially Reprints of articles featuring the Tigers' stellar 1933 season
including punchy headlines such as "Tigers Claw Helpless
Amherst 40 - 0", Last Quarter Nassau Surge Sinks Fighting Navy 13 - 0" and
"Princeton, Completing Perfect Season, Crushes Yale 27 -2"
Condition: No DJ ... tear in binding all down inside 2nd leaf. Elsewhere
mostly tight. pages and copy are clean.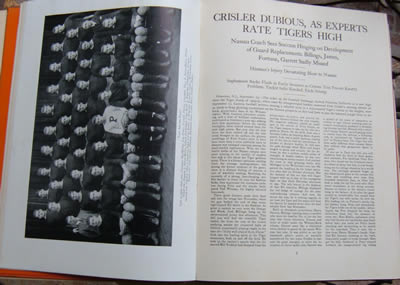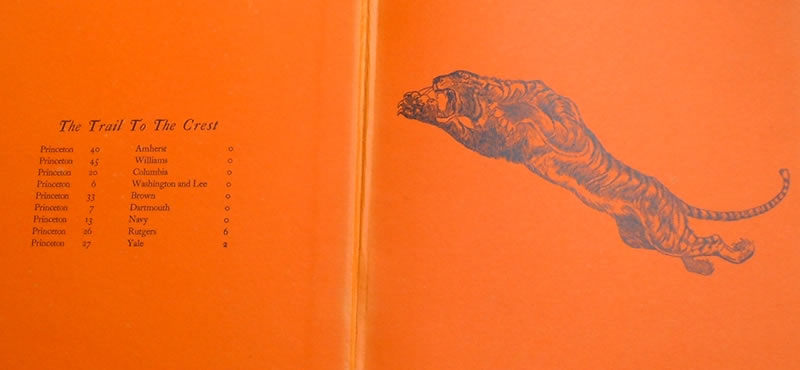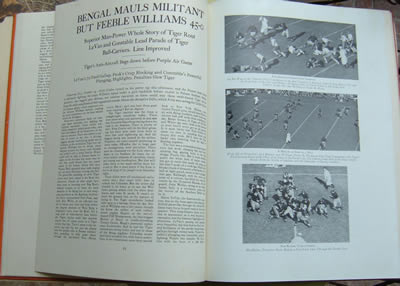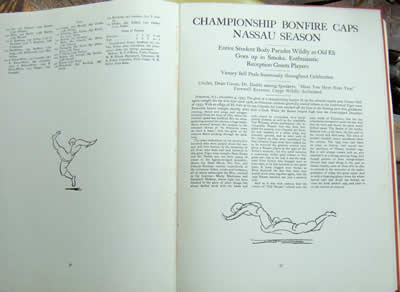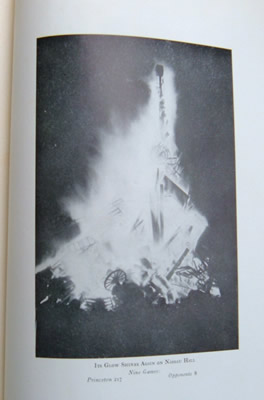 ---
Six Men of Yale by Francis Parsons 1939 - $29.00
<-- Click image to left for more pics
S&H included for US sales only. All others contact us first.


Description: Ex-library
Yale University Press, 1939.
Biographical essays on Elisha Williams (4th Rector of Yale University); Ezra Stiles (7th President of Yale); Benjamin Silliman (scientist, educator); Edward J. Phelps (founding member of the American Bar Association); Timothy Dwight (Yale President 1886 - 1898); Henry Augustin Beers (author, literary historian, poet, and professor at Yale)
Condition: Good clean condition, except for library stamps and discard stamps on front and back end papers. Slight tear on top of spine
Size: 6 1/4" X 9 1/2"
145 pages




---
Beautiful Thoughts from French & Italian Authors with English Translations 1866 by Craufurd Tait Ramage - $69.00
<-- Click image to left for more pics
S&H included for US sales only. All others contact us first.


Presumed First Edition - Rare
Beautiful Thoughts from French & Italian Authors with English Translations and Lives of the Authors
Pub. Edward Howell, Liverpool, 1866

Hardcover. Originally three quarter leather. The spine was missing and I made a reasonable replacement with Torinoko Gampi japanese paper - Fraying to the remaining leather.
Marbled covers and endpaper, with all edges marbled as well. Edges worn to boards on the spine tips and corners, with surface rubbing to the covers.
A few pencil marks otherwise the pages clean. The first several pages through the preface have some chipping along the edge. Some pages were reconnected with Japanese repair tissue (kitakata). I noticed while photographing that pages 341 to 348 (from within the middle signature are no longer connected. So most of the book is tight, but alas, not all. See pictures

Size: 4 3/4" X 6 3/4"
613 pages




---
Sexual Behavior in the Human Female - Kinsey 1953 - $19.00
<-- Click image to left for more pics
S&H included for US sales only. All others contact us first.


Description: Sexual Behavior in the Human Female By the Staff of the Institute for Sex Research, Indiana University
Kinsey, Alfred C., Wardell B. Pomeroy, Clyde E. Martin and Paul H. Gebhard
Published by W. B. Saunders, Philadelphia, PA (1953)
Condition: Good condition - the lower 1/4" fore edge, towards the center pages has a slight stain - does not show on the pages. Pages 343 to 360 has slight insect damage on the outside fore edge approx. 2 1/4" from the bottom. See the pictures.
Size: 6 1/4" X 9 3/8"
842 pages




---
Erlauschtes und Erdachtes by Paul Oppenheim 1909 auf deutsche - $79.00
<-- Click image to left for more pics
S&H included for US sales only. All others contact us first.

Erlauscht und Erdacht (Conceived and overheard)
Kritische Gänge (Critical Inputs)

als manuskript gedruckt - printed as a manuscript
In all likelihood, this was privately self published. Most likely he did not have many printed. There is a paste in hand written page which I am unable to decipher. I have seen no other reference to this work online.

from the contents page (my rough translation are in parentheses)
Inhalt (Contents)
zum geleit - Guide
über die begriffe "Genial" und "bedeutend" About the Concepts "ingenious (inspired, resourceful)" and "important (notable, distinguished)"
über geistige entwicklung About Mental Development
über irrtümer About Fallacies
über Zufall - About Chance
über beifall klatschen - About Applause (Cheer Clap ??)
über müssige politische gespräche About Idle political Discussion
über energieprinzip - Energy Principles
aphorismen - Aphorisms

Paul Oppenheim (b. June 17, 1885 in Frankfurt, d. June 22, 1977 ) was a German chemist, philosopher, independent scholar and industrialist. After studying natural sciences and chemistry at the University of Freiburg Oppenheim earned his doctorate in chemistry and philosophy. He emigrated to the US in 1933 and he is known for the Hempel-Oppenheim schema (Deductive-nomological model) - see wikipedia for more details ...

82 pages
4 3/4" X 6 1/2"
Very good condition - scuffing on cover. Clean inside other than the paste in referred to previously.

---
Ireland Since The Union - McCarthy 1892 $48.00
Caxton Edition
Subtitle: Sketches from Irish History 1798 to 1886
by Jutin HM McCarthy, M.P "with Copious Notes
published by Donohue, Henneberry & Co.
368 pages
5 1/4" x 7 1/2"
Good condition, though the pages have a consistent darkening

In the Preface, the author starts off by saying "Home Rule is the question of the hour" and he ends the preface, "Not to Ireland alone, will the advntges be limited. All that is to be gained from friendship instead of enmity, from trust instead of distrust from loving friendship instead of suspicion and the heirloom hate, all these may yet be England's if England choose. In God's name, is it not better to have across that strip of stormy water, a nation of free men who are friends, fellow workers for the Empire's welfare, firm allis in danger, than to be the most unhappy masters of an island of unconquered and insurgent bondsmen?" If only his advice had been heeded!

This book belongs on the shelf of anyone interested in the history of the Irish struggle for sovereignty.

S&H included for US sales (all others contact us first)

---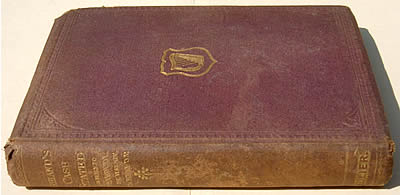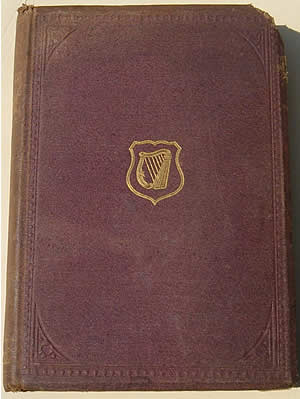 Ireland's Case Stated in reply to Mr. Froude by Rev. T. N. Burke $22
Publ. by P. M. Haverty, New York. 1873 Hardcover. 238pp.
Overall the book is in fair to good condition. The top right corner of the cover is broken off.and the color of cover is faded and / or stained. The inside text is clean right through page 238 -except for the back 10 ad pages which are water stained (see pic below). There is a beginning tear on top third inside left front cover hinge.
5 1/4" x 7 3/8"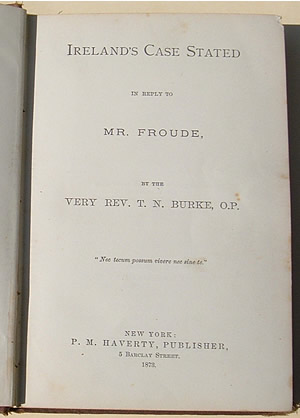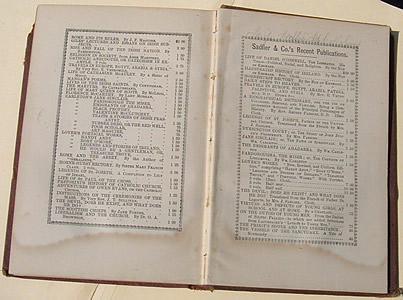 ---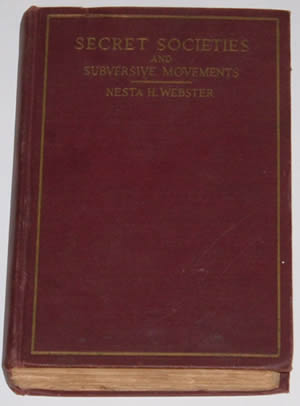 Secret Societies and Subversive Movements
Nesta Webster SOLD
Published by E.P. Dutton,, New York, printed in Great Britain by Hazell, Watson & Viney, Ld., London and Aylesbury.
Undated - I've seen descriptions putting it at 1924
Book Condition: Very Good. a few spots on cover. - Deckled Edges
original owner's name in front end paper
6 1/4" - 9" tall. Maroon cloth boards.
Frontispiece portrait of Adam Weishaupt.
419 pp w/ index.

Includes: The Ancient Secret Tradition; Revolt against Islam; The Templars; Three Centuries of Occultism; Origins of Freemasonry; Grand Lodge Era; German Templarism and French Illuminism; Jewish Cabalists; Bavarian Illuminati. Modern Freemasonry; Secret Societies in England; Pan Germanism; Real Jewish Peril; Jewish evidence on the Talmud; Protocols of the Elders of Zion.

This is a book that purports to be an unbiased historical perspective on how secret societies and subversive movements have operated and controlled revolutions from behind the scenes. In hindsight, with the events that followed this book in the first half of the 20th century, hopefully, we recognize diatribes such as this for what they are. This book carries a strong bias for conspiracy and is an example of anti-Jewish propaganda. Great fodder for novelists such as Dan Brown, but beware if you think this is an honest historical work.
S&H included for US sales (all others contact us first)

---
The Children of Israel 1952 $18.00
B/W Photographic Essay showing children at various activities in the young state of Israel in 1952
Written in 3 languages: Hebrew, English and French

Edited by I. Klinov & L. Kuperstein
Laam Israel Pub. Co, Tel Aviv, 1952.
Hardcover.
Condition is good. Spine is split at several pages. There is some hinge pivoting..Pages
are clean. The cover is starting to tear at the lower binding.
Inscription on front flyleaf in hebrew 4/9/1955.
144 pages.
Leatherette covered boards with title on copper-colored plate.(probably copper plate)
Minimal text and captions in English, Hebrew and French. Numerous black and white photos.

S&H included for US sales (all others contact us first)

---
Booklet "Album of Life in Israel Today" ca. 1950 - $13.00
I did not see a date, but is between 1949 to 1952 showing Chaim Weizmann president, Ben-Gurion Prime Minister 1948 to 1953; and Sharett as Foreign Minister. This is a fundraising plea from the Kupat Holim to help them complete building a larger medical center. 14 pages of photographs. 7" x 10". The pamphlet is held together with 3 plastic coil hinges. The cover is torn at these hinges and has water marks. The inside is in good condition.

S&H included for US sales (all others contact us first)



---
Paypal is the quickest, easiest, and securest way to buy, including credit card payments. Just click the 'Buy Now' Button next to the item you want.. Otherwise please contact us for more options.
S&H is free for all books mailed in the continental US via USPS Media Mail
By the way, the sellers have been on the web since 1996 sharing their music as the band TagYerit (tag you're it).
---