J.M. Barrie first introduced Peter Pan and the Lost Boys in his novel "The Little White Bird" in 1902. Since then, his ideas and imagery have sparked countless versions of Neverland and it's inhabitants. In fact, he produced several follow-ups himself: the play "Peter Pan; the Boy Who Wouldn't Grow Up" (1904) and "Peter and Wendy" his novel of the play (1911). There was a silent movie in 1924; the 1954 Broadway musical with Mary Martin & Cyril Ritchard which was televised in the 1960s airing had been rebroadcast enough times to imprint Peter in the psyche of every US child growing up in front of the tv then. In 1976, another all-star cast presented a different tv musical with Danny Kaye as Captain Hook (& Mr. Darling) with Mia Farrow as Peter Pan. Though highly acclaimed this version quickly disappeared. We only saw it that once, but recall Capt. Hook saying, "Infamy! Infamy! Why does everybody have it in for me". Then there's the 1953 Disney animated cartoon, which Disney originally optioned in 1939. Disney installed Peter Pan's Flight in Disneyland in 1955. There have been many other notable adaptions which we've listed in the links section.
Now that the copyrights to the Peter Pan story and characters have become public domain(*), prepare for the onslaught of spin-offs. Disney has the book series Peter and the Starcatchers. Macy's has their online marketing scheme "Wendy". The Syfy Channel has a 'prequel' "Neverland".
* The Ormond Street Hospital continues to hold a unique right of royalty for all performances that takes place in the UK.
Having trouble finding Neverland? If you live in the northeastern part of the U.S. you can hop on the Peter Pan Bus founded in 1933. Among other places they'll take you is to UMass Amherst, MA which is pretty close to Neverland for some of the students. I know it was for us.
In music Peter Pan has been inspiring us for years. There are songs for the various theatrical, film and tv shows about Peter Pan. There was probably a score for the original silent film of 1924, though I've only seen Andrew Birkin's mention that his mother sang the overly sugary 'Peter Pan Song' at the beginning of every performance of the 1924 silent film at her father's theater.
There are songs about how Peter Pan and other characters from the story become imagery and symbols for many of us.
Dar Williams sings in "When I Was A Boy":
"I won't forget when Peter Pan came to my house, took my hand
I said I was a boy; I'm glad he didn't check.
I learned to fly, I learned to fight
I lived a whole life in one night
We saved each other's lives out on the pirate's deck."
Our band TagYerit wrote "Wendy Bird" , using several scenes from the story as a cautionary tale on environmental degradation:
" Well they shot the Wendy Bird /
Hook keeps leaving those poison cakes /
One's an act of sinister intent / The other was all a huge mistake"
Others including Kate Bush, Kula Shaker & James McMurtry have also written songs. (See the music links below)
Peter Pan Records was a record label of children's music from the 1940s and on, though other than the name and logo I'm not sure if there was any other connection other than they wanted to sell us this cool music in the hopes we never grew up. FWIW,they currently own the peter pan.com domain name.
---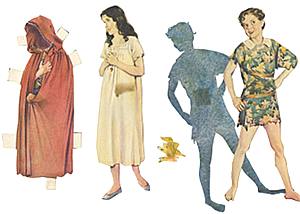 Peter Pan, Shadow, Wendy Darling & Tinker Bell Paper Dolls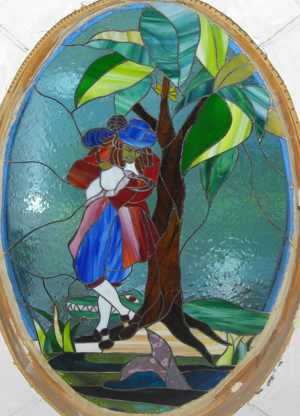 Captain Hook Stained Glass Window "Peter & Wendy" book cover illust. by F.D. Bedford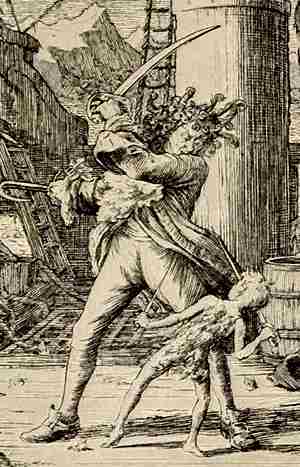 Capt. Hook & Peter Pan fighting on the Jolly Roger deck. Illust. by F.D. Bedford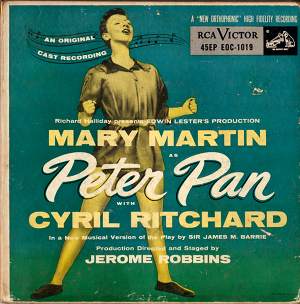 Mary Martin as Peter Pan - 45rpm EP
Cyril Ritchard as Captain James Hook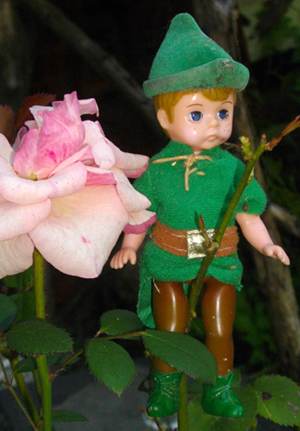 Plastic Peter Pan Doll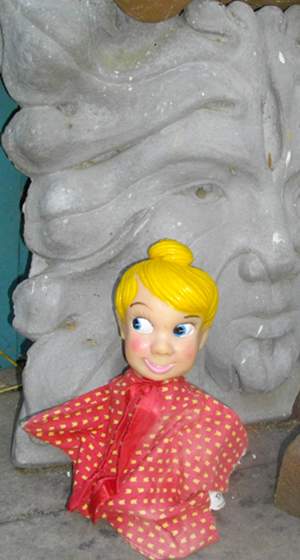 Tinker Bell Hand Puppet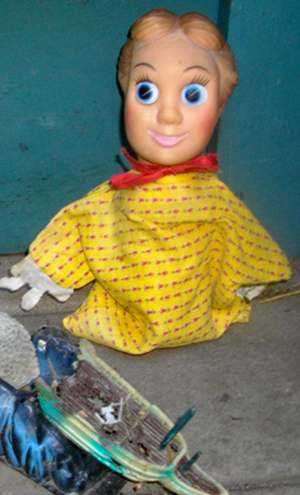 Wendy Darling Hand Puppet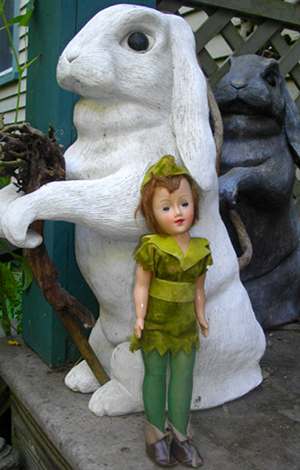 Peter Pan - Madam Alexander Doll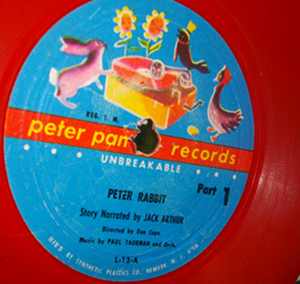 Peter Pan Records
---
A Collection of Links about Peter Wendy & James Barrie
If you'd like to swap links or have your link added then Contact Us
Research
Literature
Imagery
- not surprisingly, the majority of images online are from the Disney animation - however here are a few other resources.
Film, Television, Theater
1950 Peter Pan Broadway musical. Music and lyrics by Leonard Bernstein. Jean Arthur played Peter Pan and Boris Karloff was Captain Hook. I did not find any mention of original recordings, but in 2005 Alexander Fray recorded the Bernstein: Peter Pan CD.
Flying by Foy Peter Foy developed a number of theatrical flying innovations and directed the flying sequences for the Mary Martin Peter Pan.
Peter Pan w/ Mary Martin Part 1 on Youtube (1960)
Mia Farrow & Danny Kay in Peter Pan 1976 on youtube
Sandy Duncan as Peter Pan (1979)
Kathy Rigby as Peter Pan on youtube (1990s ?)
Never Never Land (1980) 1980 British drama starring Petula Clark, Cathleen Nesbitt & Anne Seymour. - a parallel tale to the Peter Pan. When 7 year old Zena runs away she finds an abandoned townhouse occupied by young ruffians & Wendy plays "mother" to the Lost Boys. It did poorly & was never released in the US. Petula Clark sang the film's theme song "Fly Away".
Hook directed by Steven Spielberg (1991) with Robin Williams as a grown up Peter & Dustin Hoffman as Capt. Hook. While this film has lots of fun moments, it tries to answer several questions that should never have been asked.
Return to Never Land (February 2002), an animated sequel to the 1953 Disney film, in which Wendy's daughter Jane becomes involved with Peter Pan, set during World War II.
Peter Pan (2003) Delightful retelling of this story with up to date special effects.
Nicolas Duval made a short film in French " Peter" (2008) based on the Régis Loisel comic book series
Finding Neverland Johnny Depp plays J.M. Barrie in this semi biographic film
"Wendy" - produced and available only on Macy's. 6 mini-episodes released October 2011. Macy's made this pretty difficult to find on their website and then once there, it just didn't hold up. And by the time you read this, it may have vanished from their site too.
Neverland - trailer & preview videos. A 2 part prequel. - At the time of this listing, Neverland is scheduled to be aired December 4th & 5th 2011 on the Syfy channel. Should be good
More related Peter Pan films - just couldn't link them all here.
Environment
As I mentioned TagYerit's song "Wendy Bird" is about our concerns for the environment and various ecological issues including pollution, global warming, loss of habitat etc. so here are links to a few organizations that have been working hard to protect this amazing natural world that we've inherited.
Music
Other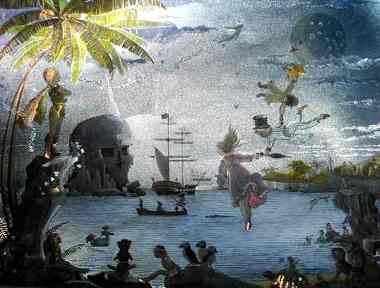 "Never Never Land" is a print on foil by Jean & Ron Henry 1992 - showing Mermaid Lagoon and all the major characters.