Report From the 1997 Philadelphia Music Conference
A TagYerit Diary
Between November 5th and 8th 1997, these two weary travellers, (Rich & Flo) went down to the PMC (Philadelphia Music Conference) to meet and listen to some of the nicest people on any side of the music industry.
I won't lie to you. When we got there, we saw chaos and confusion. As volunteers, we immediately jumped into the fray. BUT don't get me wrong! In the end, it left us more pumped up, than I've felt in years.
And the reasons:
Patti Smith: Her Saturday Keynote speech was the most moving I've heard since Dick Gregory in 1970
Bernie Worrell, T.M. Stevens, P.M. Eaton, & Van Romaine: Four reasons why funk is still so vibrant
Little Steven: He renamed his Friday Keynote speech, his State of the Union address.
The Panels: Packed with information and resources
The Music
Did I mention the people?
Here are some of the gems that we harvested. I hope you understand, that even when I use quotes, I'm paraphrasing. I'm not much of a stenographer. A recurring theme throughout the four days, is the problem with radio. Since the deregulatory days of Reaganomics, radio stations have been bought out by large corporations who hire consultants to determine what the lowest common denominator is for any particular formatted station. What this means is that there are probably four major consulting firms in the United States, who determine what is played on a majority of all radio stations. This is a problem for not only the independent artists who are trying to break their music, but for listenners who are sick of hearing the same five major artists. With major labels complaining about lackluster sales, there are some very good reasons to reexamine the infrastructure, and discuss what we can all do about it.
Wednesday November 5th
The 5 1/2 hour drive down was smooth, timed to avoid heavy traffic. The highlight of the drive for Flo came when some idiot, weaving in and out through 3 lanes of traffic, cut us off. Flo restrained her urge to jump out of our van moving at 55+ mphs to accost the driver. She shouted "Where are the cops, when you need them?" along with a few other choice thoughts. Immediately, her call was answerred. A police car zipped past us, and we watched with amazement and delight, as he pulled over the idiot. It was a sweet moment. I hope I don't have to remind anyone that automobiles are as deadly as guns.
As soon as we arrived at the registration rooms, we immediately got to work distributing badges and sorting. If it's any consolation to those who found themselves in limbo, many people told us that this was a major improvement over previous years and other events. Who knows? Maybe next year it'll be smooth sailing. We worked until 3:15 a.m. and then drove back to our hotel room.
Thursday November 6th
Back at the PMC in the Doubletree at 10 a.m. Flo dove back into the registration party and I took off to "network". First stop was the exhibition hall for a hello to Noel Ramos, list-owner of the online networking forum The Intermixx Musiclist (To join put "subscribe" (without the quotes) in the subject line.) I dropped a Tag Yerit CD off with reviewer/promoter/stand up comedian George Diaz of the Manhattan Mirror. But the exhibition hall hadn't openned yet and most exhibitors weren't set up.

COLLEGE RADIO
College Radio is the only reliable avenue for small independent labels and artists. The panel included Maud DeCamillo from WBZC 88.9FM in Burlington County. While Maud is a "fully amped punker", she listens to all styles, and loves to have live on-air shows. She also produces a show on the state of the music industry. Chuck Miller, is the new program director of WRTI - a NPR affiliated station, playing jazz, classical, reggae, & blues. Blake Dannon is a dj at WZZO, a commercial Modern Rock / AOR (album Oriented rock) station. The moderator was Jim Mcguire from Y100, an Alternative Pop station. Vince Kirschner works for Evidence Music to promote his labels catalog of jazz and blues artists to radio stations. He indicated the strongest market for blues & jazz is in France & Germany.
Frank Hogan is general manager of the college station WGLS, Glasboro NJ, and Andy Gradel is a dj there. Frank McGuigan, of WZXL, Atlantic City (commercial radio) is an alumnus of WGLS.
WGLS is atypical of college radio, because they are a top-40 station during daytime primetime hours, with block programming at night, and a one hour weekly show of local music. This last detail brought a collective gasp to the room.
Frank Hogan explained that the purpose of college radio is to serve the community. Apparently that doesn't include the community of local artists. But it does include the students who are training for disc jockey jobs in commercial radio. And it also seems to provide for the outlying off campus community that can't seem to find the right mix of top forty in their area. While I have no problem with training DJs to a higher standard than typical college djs receive, or providing to the outside community, this approach strikes me as narrow, and demeaning. Not to jump too far ahead of myself, but there seemed to be a concensus among the commercial radio jocks, that there is a lot wrong with commercial radio. And it is only the non-commercial radio stations that are able to provide any access at all.

Press And Promotion
I missed the beginning of this panel and the introductions, but that it included Mark Scheerer, a CNN entertainment reporter, and Tom Moon from the Philadelphia Inquirer.
There was a question about how many photos to send with a press kit. While there was no concensus, keep in mind that many publications are not likely to run any particular photo more than once. Also stay away from the arty (i.e. blurry) photos that seem to be popular among European artists.
Include fun stuff in the Press kit. It's never a bad idea to send candy. (Assuming it's not too hot to melt it.) But don't send glitter!
Be sure to send the media updates whenever there is something of interest. Every two weeks is not too much.

Internet / New Technologies Since you're here on-line this probably relates to you.
Stephen Masur is an Attorney in Entertainment and New Media Law. He addressed questions and issues of the law as it applies to the internet and copyright protection. He maintains a website dealing with related issues. His list of on-line clients includes Local Music Store Online, Outersound, Soundwire, as well as many others.
Daryle Seidman, of the ISP, U.S.Online discussed issues to weigh in selecting an isp for putting your site on-line. When shopping for an isp, ask about modem to customer ratio. Concerning bandwidth, how close are you to a major backbone. If you are running on Win95, (which I'm not) apparently you can run a trace root, that tells how many hops to reach your destination, and how many milliseconds to each route. This will vary, but 6 to 12 hops is average.Find out what support services they provide. And when you set up your site, make it as interactive as possible, including guestbooks, and feedback forms.
Ted Hooban discussed his company, Supersonic Boom. They make custom CDs. The customer picks the cuts they want and Supersonic Boom burns them onto a CD, prints the label, and ships. There is no fee for the participating artists. This works on a licensing deal. Currently they are geared up to press 700 CDs a day.
Jason Costoniros, of the Reohr Group is a web site designer. He stressed the importance of building a team. That way everyone can bring in their own expertise.
Richard Nye was there representing Liquid Audio. They are one of the companies on the fore front of the online digital delivery systems. In other words, you can sell (or buy for that matter), a digitally encypted song. After buying the song online, it resides in your computer to be played back at any time. From there you can load it onto a tape or CDR (CD Recordable). In fact, Gateway is including CDR with their new computers for only an additional $99.
The Liquid Audio format also has an inaudible encrypted signature, that identifies the purchaser. This allows a level of security, to minimize the risks of bootlegs. While this feature sounds nice, it doesn't strike me as very significant, at this stage in our career, or for any of the indies that I know. I think it's more of a peace of mind guarantee for major artists. After all, the botleggers can still pick up a coy of most CDs to copy from.
While they are offering free service to major artists, the price seems steep for indie bands. An entry level site with 5 streaming beds is $1,000. But, at the very least, I suggest talking with them, to keep up with the latest in the music technologies. And who knows, maybe there's space for a few beta testers?
Here are a few stats that Richard offerred.
Of the 70 million people who are online, 10 million are active buyers.
There are currently over 70,000 internet music sites.
Music represents 3 of the top 10 sites

Besides the panels, Flo and I continued to work at registration. By closing time, we were ready to go back to our room, sort our notes and relax. Two days at a music conference, and we were too tired to go out and hear the music. There had been a few people singing and jamming in the lobby. And there was plenty of sounds coming out of boom boxes, as people played their recordings for others.
Friday November 7th
Little Steven Keynote Address
Little Steven (Van Zandt), had a seminal roll in publicising the racist resort of Sun City, South Africa during Apartheid. In 1985, he wrote and produced the 5 minute anthem Sun City (Aint gonna play in Sun City). It included rappers, and the video essentially broke MTV's color barrier, as well as strengthened the coalition for a musicians boycott of S.Africa. After showing the video, Little Steven came out. He was wearing his usual scarf, and a leather jacket over a NY baseball shirt. Having never heard him speak before, I was surprised to hear his heavy New Jersey accent. His voice and his mannerisms reminded me of a cross between Ralph Cramden,, and Archy Bunker. He can be very funny. (While his speech was well deliverred, my notes are kind of choppy.)
When asked to give the Keynote address, he said, "Sure I'll do it. What's a keynote address?" "Well I figure it's sort of like the State of the Union Address, that the president gives every year.
... There's too much fragmentation in radio. Radio DJs need more leeway in what they play.
...Music execs ... Half are hard working and honest ... that would include, of course, those in this room. The other half are morons.
At one time there were white "artists" and black "singers ". Now I had this 5 minute song that radio said was too long. (It had black hip hop artists as well as white artists). So I went to MTV and said, "You guys are supposed to be on the edge, but you have no black performers." So they helped me produce the video and MTV and BET supported the song. MAde it a hit. But not radio.
Hip Hop is doing fine. But personally, I'd like to see black musicians in Hip Hop. And now 2 or 3 generations of artists without instruments ... Kids need to see black musicians... Rock and Roll is built on some of the finest black artists and musicians.
MTV took the mystery out of Rock. It's too much information that dilutes. Needs to be a sense of mystery to trigger the imagination. ... to give the spiritual connection.
People get tired of paying $16 for two good songs. Bands are breaking up to early in their development.
Here's a good example to close. RCA had been a parking lot since Elvis died. But with this band Verve Pipe from Michigan, and they are great live, and the label has been actively supporting them for a whole year. (In conclusion) I think I see the future and it is 'Huffamoose' " (ed. note Huffamoose is an up and coming Philly band that's been making waves with their first single "Wait")
In resopnse to a question from the floor, Little Steven responded, "The way to get a record deal is to tell them you don't need them."
Making Your Own CD
My notes are short form this panel, but for a few items. Pay attention to pre-production. Plan a budget. If you're considering radio promotion, expect to spend $1,000 per month. Joe Tarsia's (Sima Sound) advice is to keep it shorter. Always leave peole wanting more to play again. Rather than having people say, 'when is it going to end'.
Pop Radio Promotion, &amp What is Rock Radio
These two panels overlapped so ...
Major labels spend on average $460,000 to put out a pop single. It takes 12 to 20 weeks to break A/C (adult contemporary).
But here's an important piece of information. In order to get your song tracked on radio, send your songs to be loaded at BDS (Broadcast Data Systems), so that a "footprint" can be made. Send two copies of your music to:
Broadcast Data Systems
8100 NW 101 Terrace
Kansas Cit, Missouri 64153
Attn: Lana Goodman
While it costs nothing to get listed, it is expensive to get the tracking information. The one exception is that some college radio stations apparently have a free hook up with BDS.
Discussed why a band should hire a promoter. A promoter knows what the program directors and music direectors are looking for. They are willing to give radio what they need.
Jim McGuinn of Y100 said, " We'd love to set trends, but eventually you realise that (as a dj) you're reflecting trends. ... Third Eye Blind has been played (on Y100) 1200 times, where research is showing no burn. (In other words) less than 10% of their audience can even identify it. "
Neil Mersky of WYSP, which is a heavy 'agressive' rock leaning station. Example Ozzie, but will play the Wallflowers. "The lines change all the time. Radio's job is NOT to break bands. It's to make money. (i.e. sell advertising). But, by playing the Van Halens, Pearl Jam etc., then there's room to break a few of the new bands."
Promotion perks to radio ... can include ticket give-aways for concert. Even fly one lucky listener to a distant show. ... (I suspect that's from the $460,000 promotion package and not the $1,000 package)
Funk 'n' Stuff
Listed as a 'clinic', this turned out to be a down and dirty jam, where somewhere in the middle, T.M. Stevens stopped for a beat to say "Any Questions?"
As the 'personality', T.M. Stevens was frontman for this session. An impressive 6'5" (I'm guessing); colorful dreads clusterred as a topknot; a crazy-quilt of applique colors & patches, on his brightly colored 'camouflage' jump suit; and an ever-present smile; all this shouts that T.M. is having the time of his life, and he's bringing you along for the ride. As well as two solo albums on Polystar, he has been bassist-sideman on recordings by James Brown, The Pretenders, Joe Cocker, Steve Vai, The Jacksons, Al Dimeola, Billy Joel, John Maclaughlin, Miles Davis, and others. (whew)
T.M. embarrassed keyboardist, Bernie Worrell with his lavish intro. He had first seen him play at the Apollo. Called him the Wizard of Wooze. Bernie Worrell is noteable for his work with P-Funk, but most know him from the Talking Heads movie, "Stop Making Sense". Another ebullient player, his keyboards are glued up Sunday-funnies.
Guitarist, P.M. Eaton has two solo CDs on Ankh Records. I have his "HardCore Funk 'n' Soul" and it's great. He has also worked with Peter Himmelman, 3 Times Dope, Dee Dee Sharp, Ohio Players,, Screaming Headless Torsos, and others. His playing is a jazz-tinged funk that also crosses over into the aggressive rock (Led Zeppelin & Living Color).
Drummer Van Romaine has recorded with Naughty By Nature, Steve Morse, Bernie Worrell, Adam Holzman, T.M. Stevens & others.
Their warm-up was a funk jam that never wanderred too far from the 'one' (musician talk). Three minutes into the jam, I'm in my seat in this conference room ready to jump out of my skin. T.M. made up a 'Bernie rap' and P,M. scatted. Bernie took some solos that carried us way beyond the room, with funked Bach quotes and many esoteric, but somehow familiar references.
Two songs written by T.M. (are you getting confused between T.M. and P.M.?) "I'm a Believer" from his first album Boom, and " Turn Me On", an aggressive head banging James Gang/Led Zepelin/ Living Color kick-ass song.
Next was a P.M. Eaton song. I can't be sure of the title, but it sounded like he was singing, "I'm a Window" on the chorus. More strong funk here.
Starr Cullins stepped in to play bass, appropriately enough for Bernie Worrell's tune "She Was Smoking". And she was. Starr told us afterwards that she had recently finished a tour playing bass with George Clinton and P-Funk, and is getting her own group together Starr Cullars and the Enterprise.
T.M. finished off by playing a solo on bass. If I've given you the impression that T.M. was already colorful, you should see him with the double neck bass that he brought out for this number. The body, almost as wide as two regular bass bodies. is painted to represent Africa surrounded by ocean. The lower neck was a typical sounding bass, but the upper neck is an 8-string bass that, because of the harmonics of the octave strings, gave a keyboard quality to the sound. And it lit up with multi-color lights on the 3,7,12,15,20 frets.
What else can I say about it?
Well read follow on to PMC Page 2 to find out. The BEST is yet to come. Patti Smith's steaming Keynote Address on Saturday was steaming. And of course my wrap up... PMC Page 3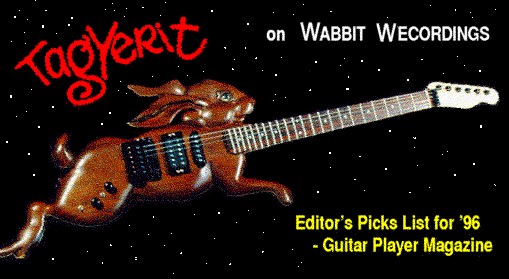 We want to hear from you Email rich@ tagyerit.com
©1995; 1996; &amp 1997 R. &F. Newman. All rights reserved